When i8tonite came up with the idea of a dining out series highlighting neighborhood eateries, we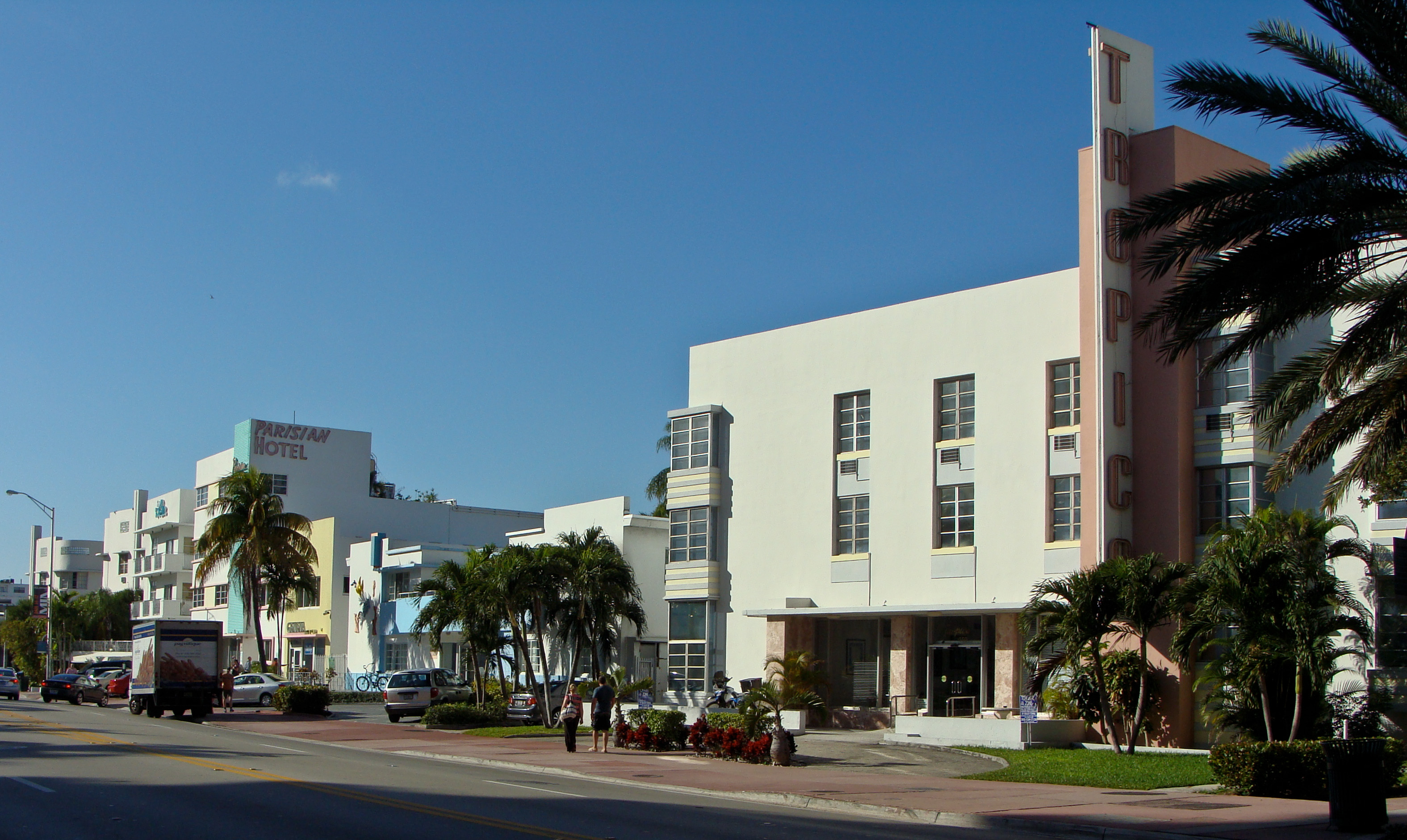 were a little surprised by some of the suggestions which included South Beach.  My partner, Nick, lived there for 20 years and the perception of South Beach – at least mine – is through a Hollywood camera. Beautiful but violent, with really pretty people in muted pinks and blues ("Miami Vice") or hot crimson, emerald greens and bright yellows ("CSA: Miami"). It's colorful, lively and murderous. (Let's not forget "Scarface").
Our cultural viewing of these shows cloud the real goodness of South Beach which is its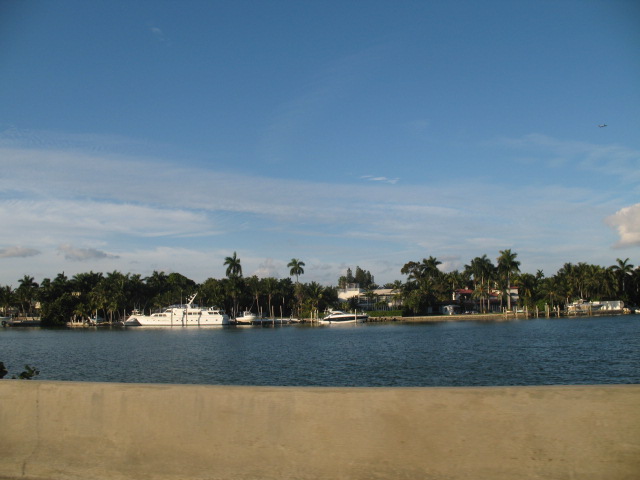 very much an American city, a melting pot of cultures and cuisines.  Smack dab in the South Beach's presumed debauchery is a charming enclave of young families, vintage buildings and elementary schools. This is the area of South Beach that Nick hearts and that I know. Truth be told, South Beach is a neighborhood with superb, laid-back eating where the old and the young sit languishing with Cuban coffee in the tropical heat.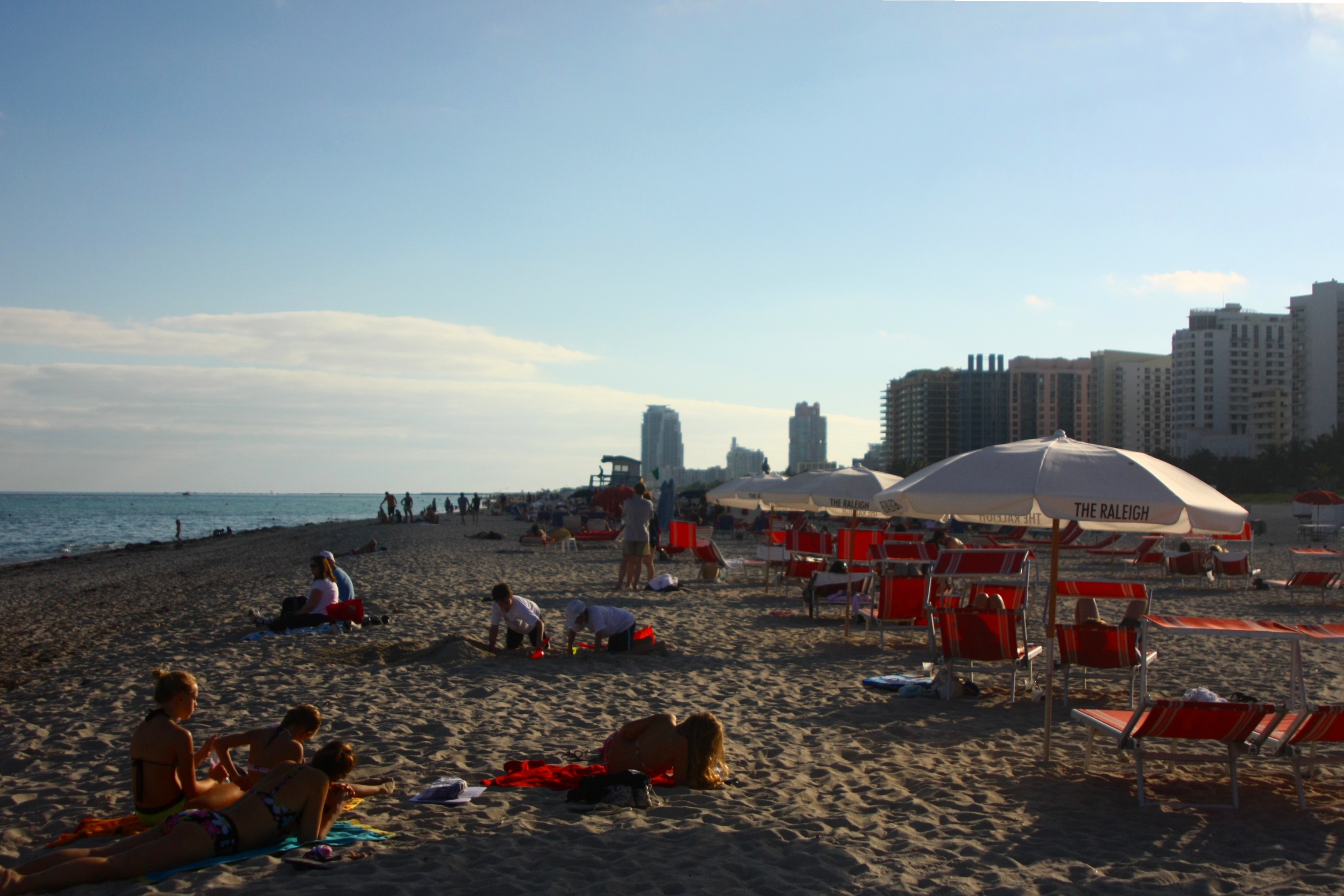 Animated with Cuban, Puerto Rican and Haitian music throughout the day, provided by street performers, the sun-drenched neighborhood is a showcase for the Caribbean culture, with a smattering of New York City's Jewish retirees who defected from the harsh winters. Once visitors push past the paparazzi, the Latin and Hollywood stars and the world-weariness of the second-home owning Europeans, South Beach is a charming mix of American values and delicious foods which is really what gives it bragging rights — finding a new and exciting culture without having to drag out your passport or get on that plane – which is just a big expensive bus with wings.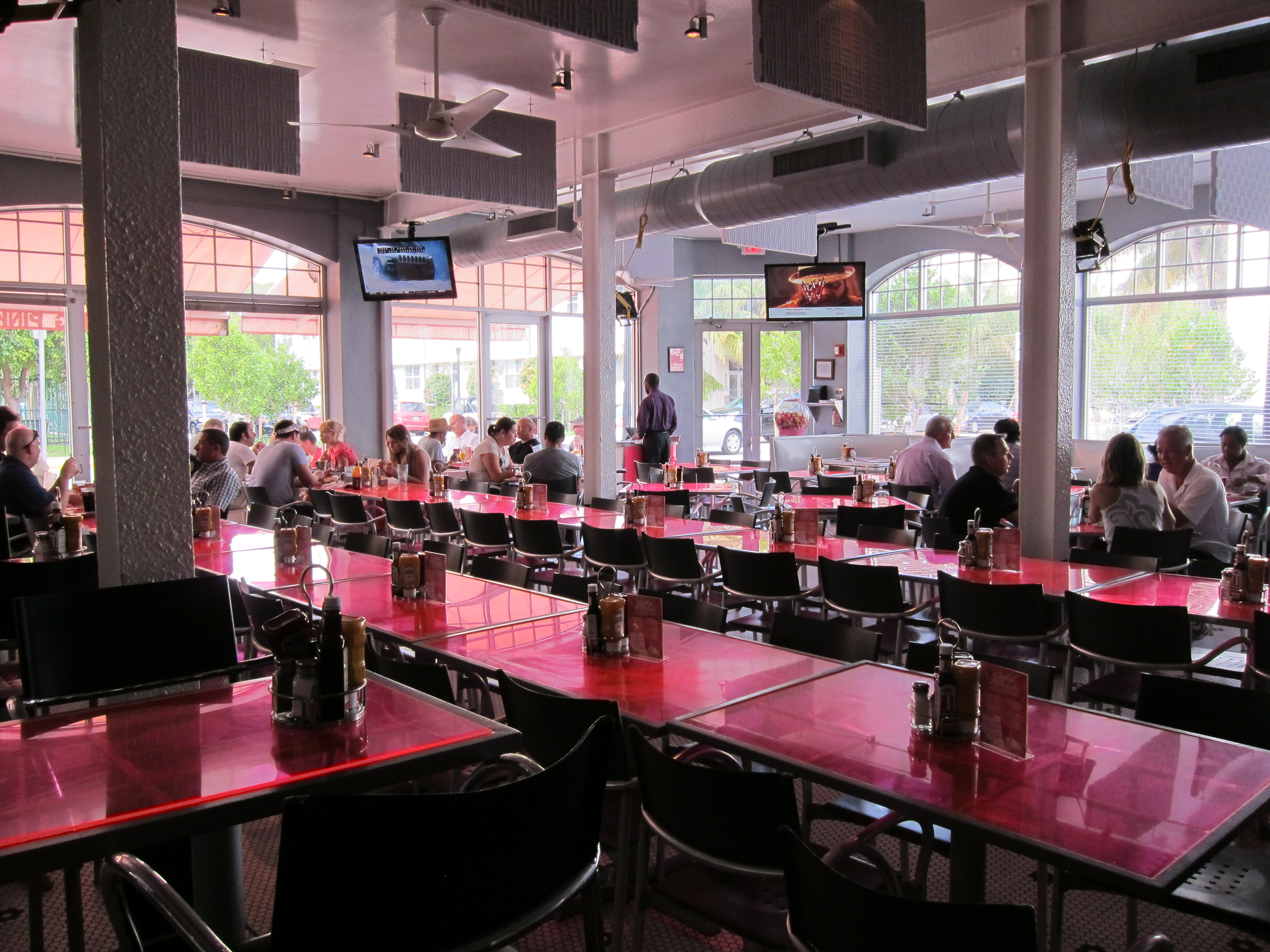 Breakfast: Big Pink which was been opened for almost 20 years is a mainstay in the South Beach neighborhood. Serving breakfast to late night dinner – soaking up the alcohol, this diner is the place where people stroll or roll in (on skates). Big Pink is spotted by the pink VW "bugs" parked outside. Delivery is a popular way for tourists to order late night snacks if wobbling out your hotel is out of the question. The restaurant menu is not inventive as much as comforting and tasty. That's okay because it's guaranteed that serving up big burgers, hand-cut fries, waffles, breakfast burritos and of course, matzo brei, will satiate that American appetite. Swimming in the clear waters of South Beach will help burn those excess calories.
My suggestion: Big Pink's Pancakes served with fresh strawberries.
Price: $12.50
Hours: Monday – Wednesday, 8am – 12am. Thursday – Saturday, 8am – 5:30am (Why even bother closing?). Sunday 8am – 2am.
Address: 157 Collins, Miami Beach, FLA. 33139
Phone Number: (305) 531 -0888
Website: www.bigpinkstakeout.com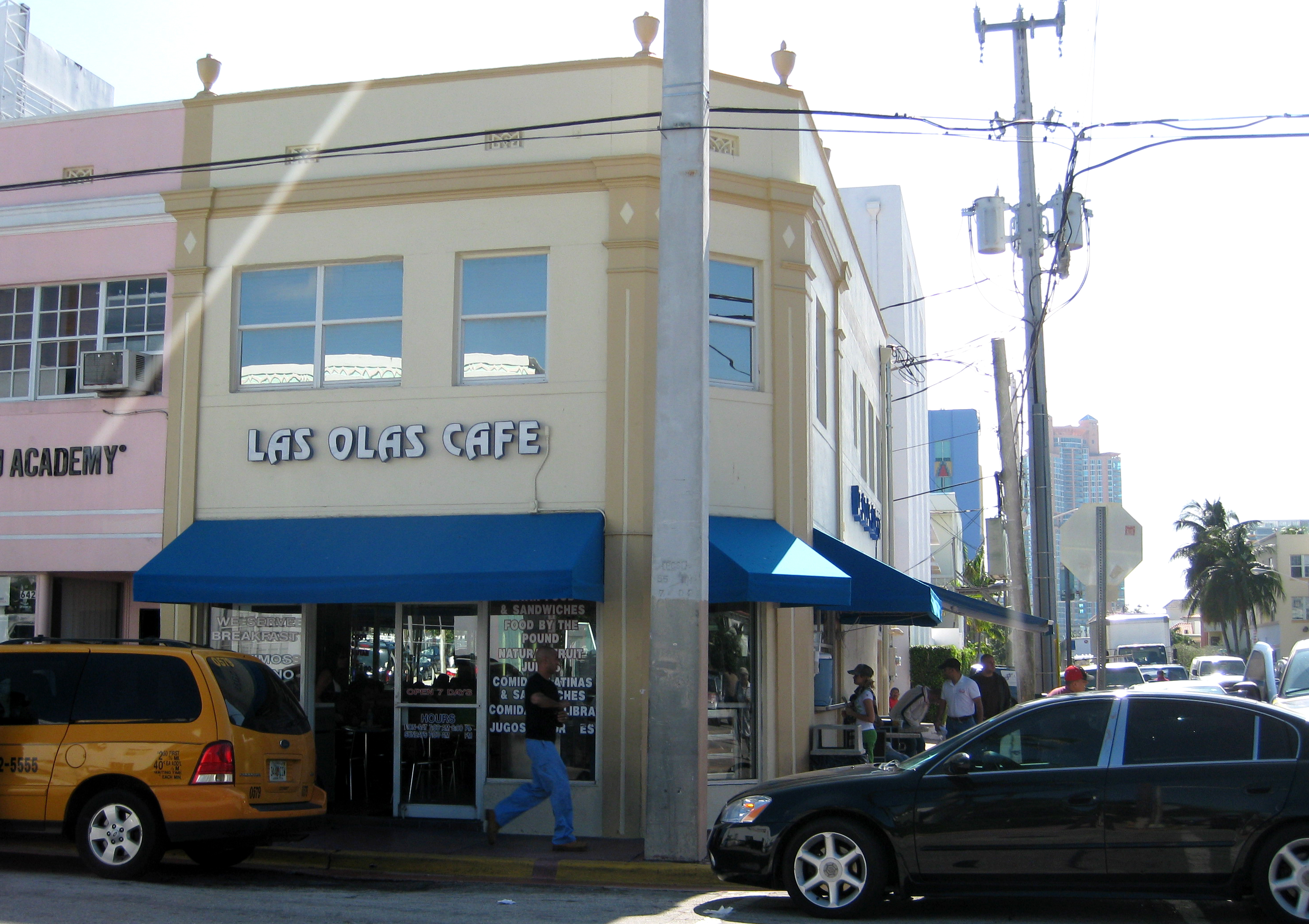 Lunch:  Las Olas Café has been featured in "Travel + Leisure", Miami "New Times" and by Anthony Bourdain, who seems to have become a barometer for all things culinary. Take away all the fluffiness, and what you have is a Cuban-American family owned and operated neighborhood loncheria (luncheonette) serving up the best of Cuba. The best part about it, it's good. Sometimes, the hype strips a business of its authenticity but that's not the case for Las Olas.  Nothing is over $10 and it's a cash only affair which makes me feel I'm getting old world treatment and not something that's been branded waiting for an IPO.
My suggestion: The Cuban. The bread, the roasted pork-loin, the ham, the cheese, the
pickle and the pressing make mighty fine eating. Supposedly, the real test of a great Cubano is the bread which is made with lard – making it richer – and the "la Plancha", the grill or the sandwich press. The combination essentially steams the inside without the use of extra moisture such as mustard or mayonnaise. One of the top ten dishes in the world…right up there with cassoulet and Filipino adobe. Only in Miami or Cuba. Luckily the borders are opening.
Price: $8. You will come back the next day.
Hours: Open seven day a week, 6am – 8pm.
Address: 644 6th Street, Miami Beach, Fla., 33139.
Phone Number: (305) 534 – 9333
Website: None. Refreshing, huh?
Snack Time: Okay, I know – Sushi Samba is a chain. Albeit, an interesting chain that started in New York City and now has five outposts including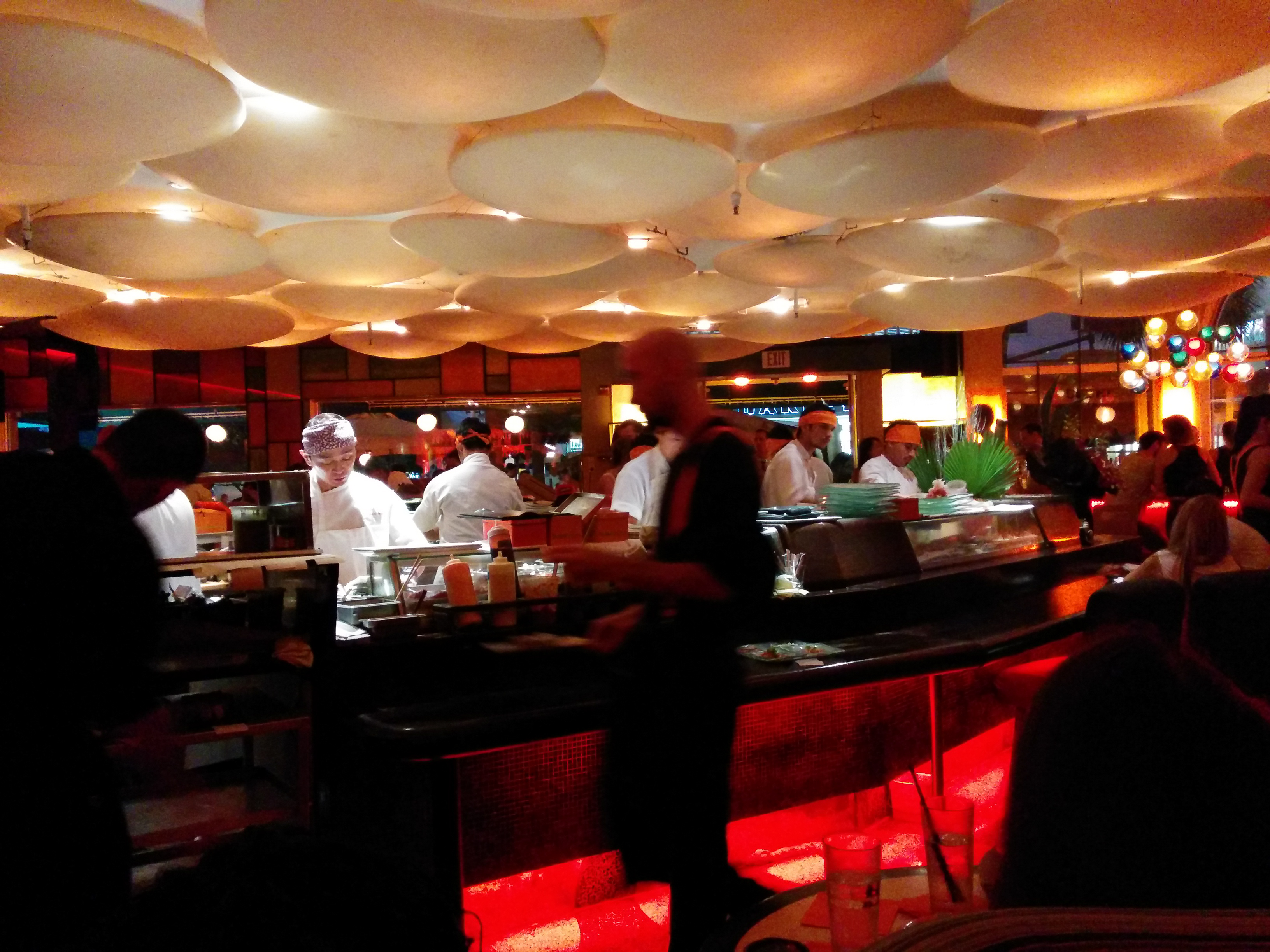 London. Sushi Samba celebrates South American culture that we don't see very often, which is a triumvirate of Japanese, Peruvian and Brazilian cuisine. The United States doesn't have a hold on the patent of melting pots. At one time, I was in Seattle on a food-related marketing event and my colleague from Miami kept talking about Sushi Samba and their happy hour. Nick does the same. It sort of cements it in this South Beach listing.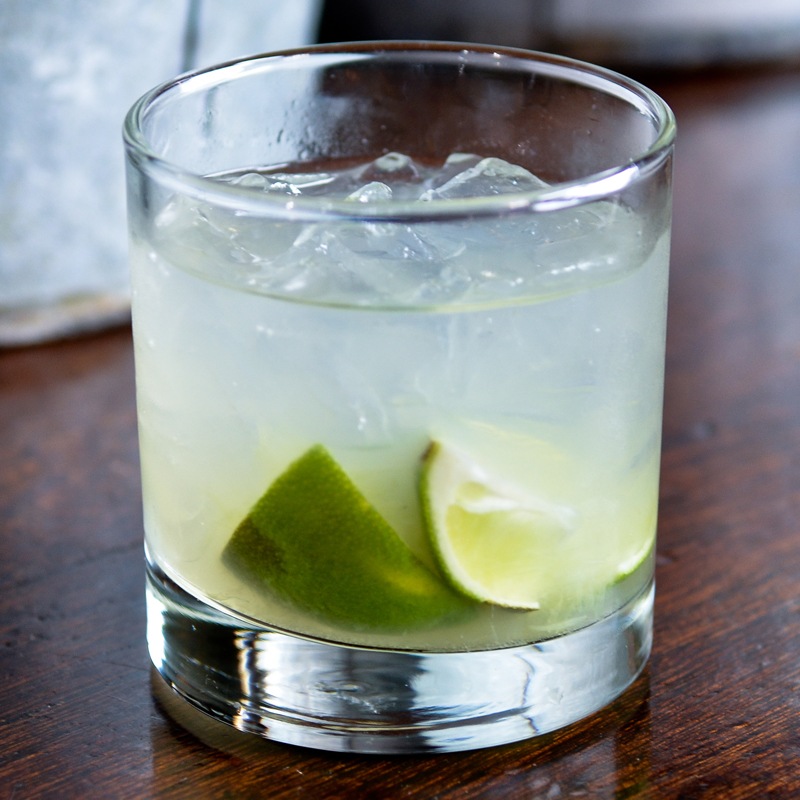 My suggestion: Caipirinha. Sushi Samba has a happy called "Samba Hour". Cute. It offers up some excellent sushi and food along with Brazil's greatest export besides Gisele.
Price: $5.00 for the Caipirinha. Everything else is extra.
Hours: Monday, Noon – Midnight; Tuesday – Thursday, Noon – 1am; Saturday, 11:30am – 2:00pm and Sunday 11:30 am – Midnight.
Address: 600 Lincoln Road, Miami Beach, Fla, 33139
Phone Number: (305) 673 – 5337
Website: www.sushisamba.com
Dinner: You would think a steakhouse is a just a steakhouse but it really doesn't work that way. Steakhouses are a reflection of the city where they were created such as Brooklyn's Peter Luger's (working man's dinner with big cuts of beef), Wolfgang Puck's Cut in Beverly Hills (star sighting and pristine, untouchable vibe) and George & Georgetti in Chicago with big, oversized martinis. In South Beach, it's Meat Market, a sexy, sleek eatery with a blush-centric atmosphere. Most diners are dressed like its a fashion runway strutting between tables in Hérve Leger and Tom Ford. (I'm not really sure where that rich food is going.) An excursion to Meat Market – which sounds like retro gay men's leather bar in Manhattan – will set someone back easily $150 to $200 per person but it's excellent and you won't find this everywhere – only in Miami. (They are also in San Juan and Coral Cables — so it doesn't count.)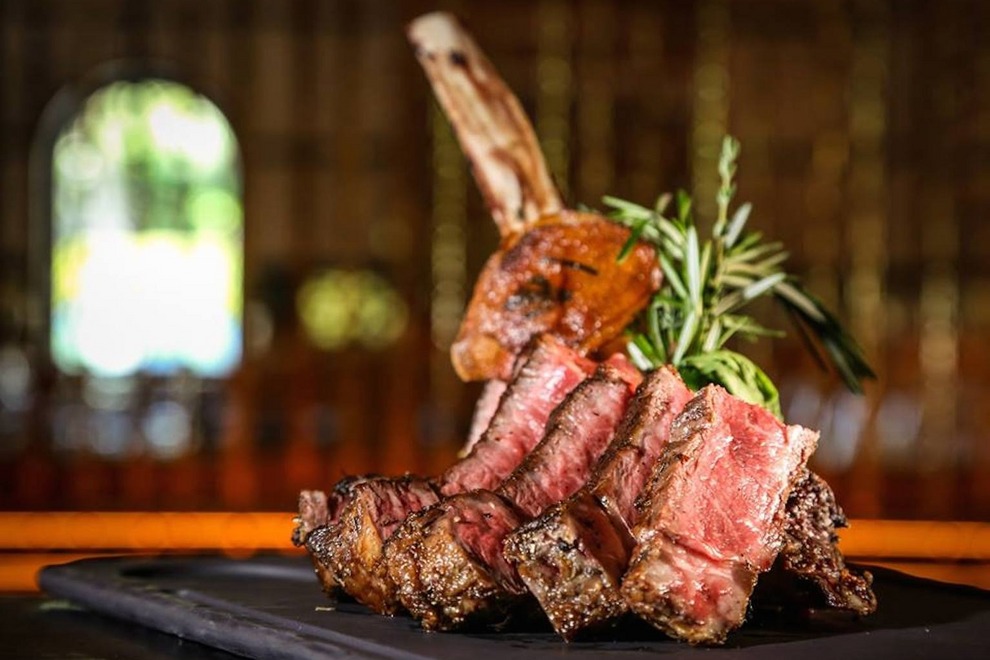 My suggestion: Mixed Grill. This is a trio of two cuts of meat and seafood. It rotates daily and is never the same each day. It's a good way to try different items. Call ahead.
Price: $55 – $65, depending upon the chef selections.
Hours: Sunday – Thursday, Noon to Midnight; Friday – Saturday, Noon to 1:00am. Kitchen is closed 4pm – 6pm daily. (That's okay. You're at Sushi Samba. See above.)
Address:  915 Lincoln Road, Miami, FLA 33139
Phone: (305) 532 -0088
Website: www.meatmarket.net
Pin for later: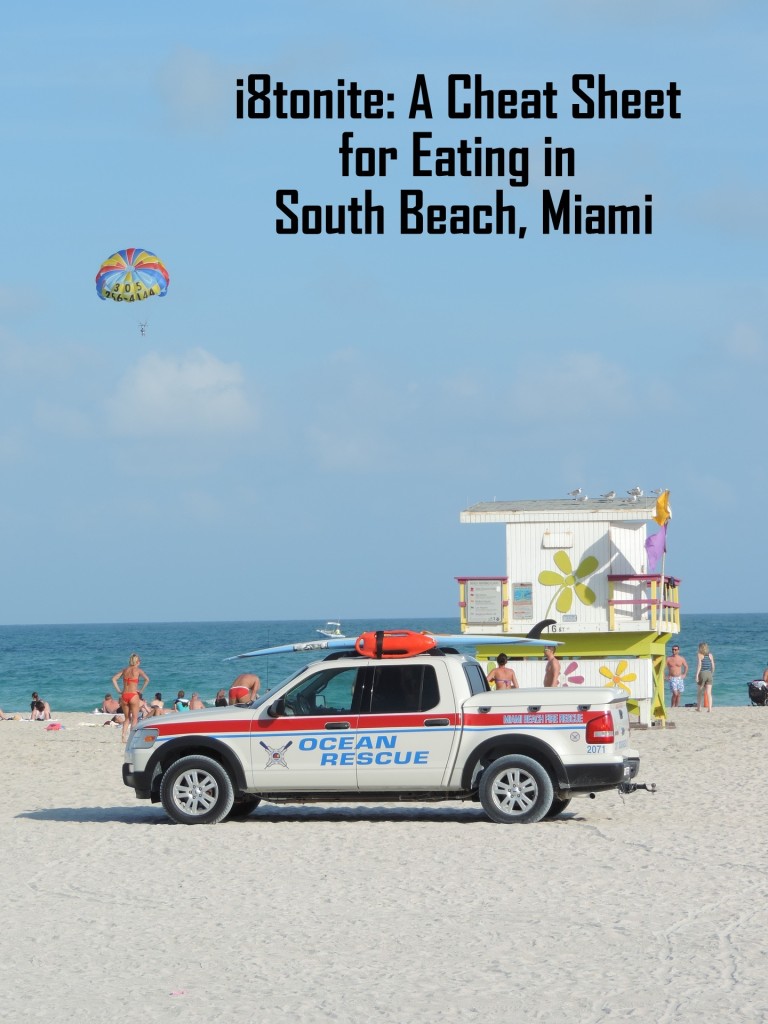 The End. Go Eat.