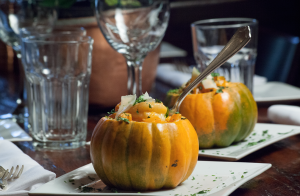 One of the great things about the United States are our individual food stories. It's inspirational to share epicurean traditions from one's native country showcasing edible discoveries. Like many chefs, Ilson Gonçalves of Samba Montclair, was inspired by his Brazilian mother and her restaurant. Gonçalves makes annual pilgrimages to his birthplace, Blumenau, a small city located in Southern Brazil, to discover and re-imagine traditional and non-traditional recipes alike for his guests.
Samba, the bring-your-own-bottle, 32-seat venue has been reviewed by many regional dining critics as well as the venerable The New York Times. The latter citing in an enthusiastic review, "The kitchen is small and the food that comes out of it is guileless: straightforward, hearty, built for comfort". The dining writer ended his eating observations stating, "Diners…may be pleasantly surprised by Samba's homey pleasures and mellow atmosphere. This Brazilian place proudly bops to a different beat."
All year round Samba offers stellar dining, but fall is really special when guests can avail themselves of Chef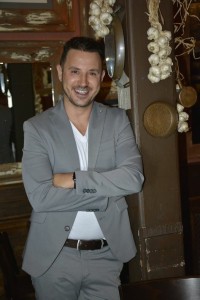 Gonçalves childhood Brazilian memories with signature dishes such as Mandioca frita com linguica calabresa e cebola (fried yucca with Brazilian pork sausage and caramelized onions), Bobó de camarão (yucca purée with coconut milk, tomatoes and onion served with whole shrimp and white rice) or Bifo a cavalo (thin pan fried steak topped with two fried eggs served with sautéed collard greens, white rice and breaded fried banana). New Jersey Monthly notes that Gonçalves "serves up an excellent version" of the traditional feijoada, Brazil's national dish, a gently braised stew of black-bean, pork, dried beef, and linguiça.
Samba's success clearly lies with Gonçalves culinary skills, affection for his mother and Brazilian cooking techniques. It is a delicious and loving homage to Brazilian home-cooking and mothers who cook, inspiring generations to do the same.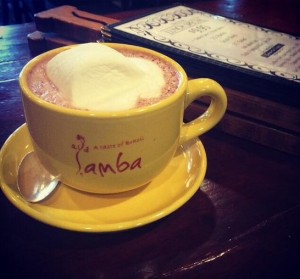 Chef Questionnaire from Chef Ilson Gonçalves:
How long have you been cooking? I learned to cook when I was 11 years old in my mom's restaurant in Brazil.
What is your favorite food to cook? Chicken soup.
What do you always have in your fridge at home? Pomegranates. When I watch a movie, pomegranate for me is like popcorn.
What do you cook at home? I don't really cook much at home because I live by myself.
What marked characteristic do you love in a customer? People who are open-minded about trying different foods.
What marked characteristic do you find unappealing in a customer? The (individuals) who eat the whole plate then complain about the food.
Tupperware, Rubbermaid, or Pyrex? Pyrex. I hate Tupperware. My mother used to have so much Tupperware that when I opened her cabinet it would fall on my head.
Beer, wine or cocktail? Wine. But it depends, if I go to a bar with friends, I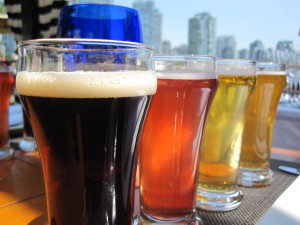 like beer.
Your favorite cookbook author? I don't follow cookbooks.
Your favorite kitchen tool? You can do anything with a knife.
Your favorite ingredient? Yucca. I think it's very universal, like flour.
Your least favorite ingredient? Cucumber. It makes me nauseous just to think about it.
Least favorite thing to do in a kitchen? Wash burnt pans.
Favorite types of cuisine to cook? Brazilian, but I'm biased.
Beef, chicken, pork or tofu? Everything depends on what I'm in the mood for. I can't eat tofu, though, because I'm allergic.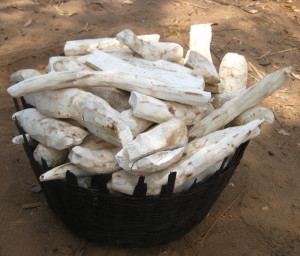 Favorite vegetable? Yucca.
Chef you most admire? Alex Atala of D.O.M. in Sao Paulo, Brazil
Food you like the most to eat? Rice and fried eggs.
Food you dislike the most? Anything that has cucumber.
How many tattoos? And if so, how many are of food? None. I think they look good on others, but I can't see myself with tattoos.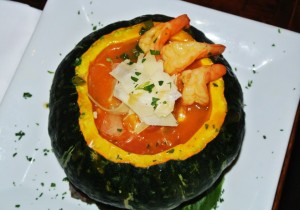 Recipe: Acorn Moranga
2 medium acorn squash
1 medium butternut squash, diced
1/4 cup extra virgin olive oil
2 medium white onions, diced
4 gloves of garlic, minced
1 pint heavy cream
1 13.5 oz. can coconut milk
1 lb. u12 shrimp
Parsley and cilantro for garnish
1/4 cup shaved Parmesan cheese
Cut acorn squash in half and remove seeds, creating a bowl. Cover squash with aluminum foil and cook in a 350 degree oven until tender,  60-75 minutes.
Heat extra virgin olive oil in a large skillet. Over medium heat, cook the onion with garlic and caramelize the butternut squash.  When squash is tender, add the heavy cream and coconut milk and simmer. Add the shrimp and cook another 4 minutes.
Pour the cooked butternut squash and shrimp mixture into the acorn squash. Garnish with parsley and cilantro and top with shaved Parmesan. Makes 4 servings.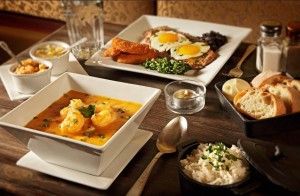 The End. Go Eat.