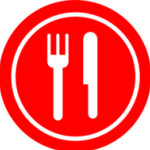 Last week was busy at i8tonite, my newly deemed on-line lifestyle publication about food. I set up a Facebook page and then started a bi-weekly newsletter focusing on what lies ahead. I was very hesitant to create the Facebook page. The creation made the website seem realer. And that my career in public relations is morphing into an online publication. After years of promoting people to create content, I'm now creating content promoting people and food. I've now thrown out the middle man.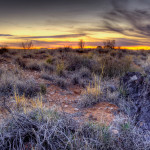 As I'm ensconced in mid-life, an age of more realized living — meaning how I want to live instead of just living —  I'm now exploring the United States.  With our move to Phoenix, Nick and I will travel throughout the Southwest, home to  breathtaking saguaros, the Sonoran desert, and red mountains. We are planning trips to Sedona, Tucson, Santa Fé, and Tombstone. (I have always wanted to go to Tombstone, Arizona just to say I've been.) Laramie, Cheyenne, Aspen, Denver, the Grand Canyon and Flagstaff are also on the ticket.
At some point, we will travel to Mukwonago, Wisconsin, where Nick was born and raised. It's a small mid-Western town. You won't find Kate Moss standing on the corner or a camera crew blocking the sidewalk. I don't have to worry about the paparazzi or a traffic jam being created by yet another entertainment award show. It's a significant destination for us because that's where Nick's family still resides. As a boy, with his siblings, Nick went ice fishing in the mid-western winters and swam in the lake during the summers.  I've never been ice-fishing. The closest I got to ice- fishing was in 1989. It was a New York City wet winter where I "fished" for my Marlboros in the pocket of my Moschino jacket before a Stephen Sprouse fashion show.  I don't smoke anymore; the late Stephen Sprouse is now considered retro and I don't know what happened to that Moschino jacket.
With possibly most of my global escapades behind me, I now travel outside the States without ever leaving my kitchen, gratefully letting international flavors take me away. I decided to use Kim Sunee's "Mouthful of Stars," an exquisite cookbook hybrid with personal essays throughout. Published in 2014, it's a beautiful publication containing mouth-watering images with Ms. Sunee's sublime prose.  The former food editor for the defunct Cottage Living offers her anecdotes about travels to Mexico, Sweden, Paris and her New Orléans home. As much as I would like to go to Sweden, it's not going to happen before I get to Ecuador, Peru, Mexico or Paris again. I thought I would cook her Swedish Beet and Apple Salad…. just to do a little kitchen traveling before the beginning of my homeland discoveries. (In 2009, Kim also wrote one of my favorite food memoirs Trail of Crumbs: Hunger, Love and the Search for Home.)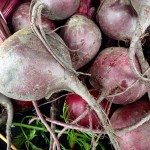 The salad is tart and savory with some horseradish heat. I loved the combination with the herbal dill, the crème fraiche richness, the red onion's bite and sweetness of the beets and apples. Easy to make and very colorful for the holidays.
Swedish Beet and Apple Salad (adapted from Mouthful of Stars, serves 2 – 3 people):
You will need:
Two medium-sized beets, cooked (You can find cooked beets in the produce section if you don't want to make your own.)
1 Granny Smith Apple, coarsely grated.
One small red onion, thinly sliced with a mandolin.
Tablespoon of chopped and rinsed capers (or more to taste).
1 to 2 tablespoons of fresh horseradish.
Tablespoon of chopped dill (or more to taste).
Several grinds of white pepper (Black pepper if you don't have any is fine too).
4 ounces of sour cream or crème fraiche. (Use the crème fraiche if you can find it. Most stores carry it in the fine cheese section. It makes a richer dressing.)
2 to 3 tablespoons of apple cider vinegar.
Let's make this puppy:
Chopped the cooked beets into ¼ sticks and place in a bowl. Put in the thinly-sliced onions and apple.
In a small bowl and the remaining ingredients: crème, pepper, dill, capers, dill and horseradish. Stir. Add the apple cider to thin out the mixture. Stir until the desired consistency. (If you want a thinner dressing add a drop more vinegar.) Pour over the vegetables and apple, well-coating everything. Chill until ready to serve. Top with dill.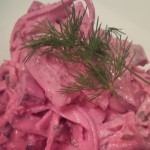 The End. Go Eat.