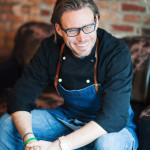 Chef Fed made a culinary name for himself in New York City. Teaching and pairing wines under the pop-up moniker of Sex On the Table, a showcase of edible aphrodisiacs,  he established a considerable following among the discerning palates of the nation's Big Apple. He's even garnered a lot of media attention appearing on Chopped, The Today Show, E! News and profiled in Cosmopolitan, New York Daily News and Maxim to name a select few.
Now, the city  of Los Angeles will have the opportunity to dine on Chef Fed's noted cuisine. Every Friday and Saturday evening, over the next two months, Chef Fed – whose real name is Juerg Federer – is cooking at his pop-up, Fedish, in the former Scratch|Bar Space on Beverly Hills Restaurant Row. It will be an opportunity for Angelenos to dine on the food of who may be the next rising star on the world's gastronomic stage.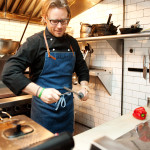 Chef Fed's background and cooking credentials are so appetizingly delicious that without tasting his food but viewing the planned menu, there should be no hesitation in paying for your dinner in advance. Born in Switzerland, Chef Fed attended European culinary school. He then went to work with two Michelin-starred chefs (see below), one who helmed the kitchen at the greatest restaurant in the world – heads to New York City to ply his trade; then, needs change. Warmer weather and close proximity to California's famed agriculture brought the trained European cook to California. Of course, the story also conjures other notable immigrant chefs who traveled to the West Coast such as Christophe Eme, Wolfgang Puck, Joachim Splichal, Piero Selvaggio, and Ludo Lefebvre. There is no question the five-course tasting menu will be worth the $75 price of admission (an extra $49 for wine pairings) . Where else are you going to have a New York dining experience cooked by a famed European chef in the balmy weather of Los Angeles?
Angelenos will have the opportunity to partake of his cooking class, Sex on The Table. It's a new year so do something new, fun and exciting. Besides, Chef Fed is very smart, funny, talented and resembles a cooking Gabriel Aubry when in the kitchen.  What more do you want?
Chef Questionnaire with Chef Fed: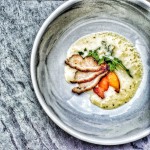 How long have you been cooking? By the time that I was tall enough to overlook my mom's kitchen counter, she wasn't safe anymore. I graduated from culinary school 15 years later. And that was exactly 20 years ago.
What is your favorite food to cook? It changes with the seasons. But I certainly have a thing for dishes that develop over a long cooking time. What never changes is my childish excitement for super fresh, sustainable and organic ingredients.
What do you always have in your fridge at home? Besides a light bulb and a box of baking soda, there are always some fresh limes, ginger and unsalted butter (the real one).
What do you cook at home? For my next cookbook, I'm actually developing all the recipes at my house because I want to create the recipes in the same environment as my readers will cook them. When I cook for myself, I focus on greens, grains, and beans. And the occasional Swiss Cheese Fondue with my girlfriend…
What marked characteristic do you love in a customer? I love it when they're adventurous eaters. The most exciting customer for me is the person that knocks on my kitchen door and says: "Hey Fed, me and my friends are hungry. We eat everything. Here's my credit card, we've got to be somewhere in 2 hours…"
What marked characteristic do you find unappealing in a customer?It can be tough when the customer thinks in boxes. When you're basing your expectations on your experiences, you stop creating. That's true for chefs and customers alike.
Tupperware, Rubbermaid, or Pyrex? You've got to love it when a brand a becomes so dominant that even their competitor's  product takes on their name: Tupperware.  My company's called Sex on the Table, so a rubber has different uses in my vocabulary. And Pyrex, I mean I love German engineering, but that applies more to my car than to my kitchen utensils. I'm going with Tupperware on this one. It reminds me of home.
Beer, wine or cocktail? Yes please, exactly in that order.
Your favorite cookbook author? My mother is pretty cool. Her last cookbook was on vegan cuisine, though. That's a tough sell with me. But she autographed it for me.
Your favorite kitchen tool? My Bob Kramer knife. Don't even think I would ever let you touch it.
Your favorite ingredient? Agave Nectar, Fresh Lime Juice, and homemade chicken stock share the win for this one.
Your least favorite ingredient?  Everything genetically modified, especially canola oil.
Least favorite thing to do in a kitchen? Cleaning the freezer tops my most hated list.
Favorite types of cuisine to cook? I was born and raised in Zurich, which comes with a weird mix of Mediterranean style and Bohemian precision. I believe that, even though I traveled far and I explored a lot, when you get to the bottom of it you will always find that little boy in me that was surrounded by French and Italian chefs growing up.
Beef, chicken, pork or tofu? What the hell is tofu? It makes your manhood go away, did you know that? It's a testosterone killer. A Rib Eye from Flaca Vaca farm in upstate New York would be my last meal on earth.
Favorite vegetable? My favorite vegetable is a flower: The artichoke, where the heart's the best.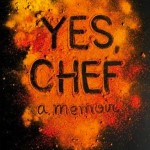 Chef you most admire? My first executive chef has no fame, and he's still cooking the same menu from 20 years ago. His name is Meinolf Zarnitz, and he had a huge impact on me. But you probably want to hear some celebrity names. I have a lot of respect for Marcus Samuelsson. His book "Yes Chef" made me cry twice.
Food you like the most to eat? I'm on a lifelong quest for the perfect burger. They're so relaxing to me that I never put them on any of my menus.
Food you dislike the most? Ever been to McDonalds?
How many tattoos? And if so, how many are of food? I don't know, can you eat a lion?
Recipe from Chef Fed: Brie Fondue with Grilled Apricots & Smoked Duck (Serves 2). 
Grilled Apricots
1 apricot (can be frozen and may be substituted with Peaches or Red Pears)
1 tsp champagne Vinegar (or any other white acidity that you may have handy)
1/8 tsp chili Flakes
1/2 tsp honey
Nutmeg
Cut the fruits in wedges, marinate in the seasoning, then dry roast them in a skillet or on the grill. Set aside.
Brie Fondue
1/2 Cup dry white wine
1/4 lbs. Brie
3 oz. Mascarpone
Black Pepper, coarsely ground
Nutmeg
1 sprig of mint cut to Chiffonade
1/2 Breast of smoked Duck (hey, if you have leftover chicken breast or a little bit of chorizo, feel free to substitute the duck. What you're looking for is smokiness… Did I mention thick cut bacon?)
Bring the wine and the spices to a boil. Melt the brie and mascarpone without boiling them. Keep warm. Before serving, slice the duck breast and pour the fondue in a soup bowl. Plate the fruits. Arrange the duck in a fan shape on top. Garnish with mint chiffonade.
The End. Go Eat.