Michelin-starred chef and cookbook author Greg Malouf has inspired a generation of cooks, transforming the global restaurant scene with his love for the flavors of the Middle East and North Africa.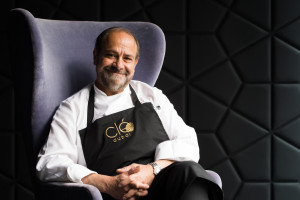 He was born in Melbourne, Australia of Lebanese parents. After serving his formal training in several of Australia's finest restaurants, he went on to work in France, Italy, Austria, and Hong Kong. Drawing on his cultural heritage and European training, Greg has forged a unique style of cooking that combines Middle Eastern tradition with contemporary flair. Greg is in constant international demand for chef master classes, media interviews and guest-chef appearances in leading hotels of the world.
He is the co-author, with Lucy Malouf, his former wife, of the multi-award-winning cookbooks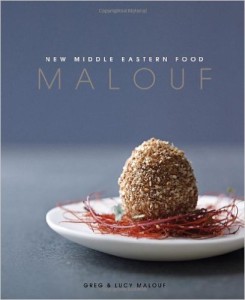 Arabesque, Moorish, Saha, Turquoise, Saraban – and his latest book Malouf – New Middle Eastern Food. In 2014, Greg and his co-author, released their new vegetarian Middle Eastern cookbook, New Feast.
Greg currently resides in Dubai and has opened his signature kitchen, Clé Dubai.
'But it's not just brave, it's clever…. Dishes like hummus, moutabel, muhammara, fattoush and tabbouleh are recipes we eat constantly in the region, and those which many of us will gauge a restaurant's capabilities by. They set a benchmark, and by giving us his versions, Malouf has painted his own standard.' – Sarah Walton, The Hedonista
From the United Kingdom Michelin Guide: While  Malouf  has  rolled  out  such  touches  slowly  at  Petersham,  they   have  not  gone  without  notice.  The  editor  of  the  2013  Michelin  Guide   to  Great  Britain  &  Ireland,  Rebecca  Burr,  says  Michelin's   reviewers  had  been  impressed  with  Malouf's  originality.  "The  star  was   retained  solely  on  the  food  and  it  was  an  easy  decision  to  make,"  Burr   says.  "Greg  Malouf  has  stamped  his  own  mark  on  Petersham  Nurseries   and  we  are  delighted  to  highlight  his  original  cuisine  to  our  readers."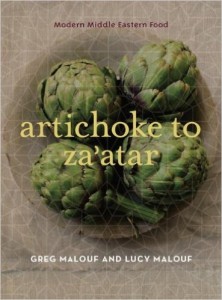 How long have you been cooking? It frightens me to think this but I started cooking at the age of 17 (1978). 37 years!
What is your favorite food to cook? My favorite cuisine is Lebanese and I love to cook with all its exotic ingredients.
What do you always have in your fridge at home?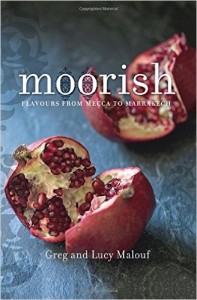 Yogurt, olives, and eggs.
What do you cook at home?
I spend most of my time in my kitchen at work. However, when at home cooking, it's usually for friends. Lentil tabbouleh, salmon kibbeh nayee and chicken in saj (mountain) bread are a staple for a dinner party.
What marked characteristic do you love in a customer? The willingness to leave a part of their mother's food at home and understand what a restaurant experience offers.
What marked characteristic do you find unappealing in a customer? Customers who aren't open to any interpretation in a restaurant.
Tupperware, Rubbermaid, or Pyrex?
Glassware = Pyrex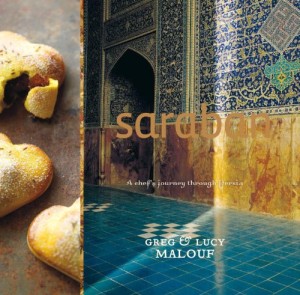 Beer, wine, or cocktail?
Wine and champagne
Your favorite cookbook author?
Claudia Roden – her inspiration book called The New Book of Middle Eastern Food
Your favorite kitchen tool? Mortar and pestle. Smashing garlic with sea salt and blending it with spices and olive oil.
Your favorite ingredient?
Murray River Crystal sea salt.
Your least favorite ingredient?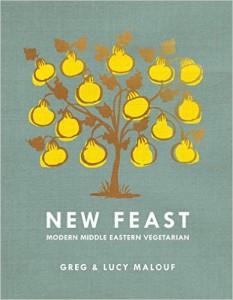 Brussels sprouts.
Least favorite thing to do in a kitchen? Kill and skin live eels.
Favorite types of cuisine to cook? Lebanese, Italian. and Cantonese.
Beef, chicken, pork or tofu?
Grass fed beef from Scotland, Bresse chicken from France and UK old breed pork ….. I don't eat tofu!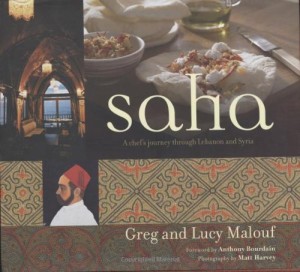 Favorite vegetable?
Eggplant (aubergine).
Chef you most admire?
Raymond Capaldi. He is an unmarked bottle of poison. He's such an explosive character and you never know what you'll get from him and on his plates.
Food you like the most to eat?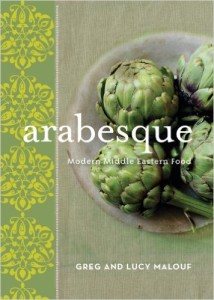 Late night Lebanese mezza
Food you dislike the most?
Capsicum. (Bell peppers.)
How many tattoos? And if so, how many are of food?
One tattoo – a scar that produced two heart transplants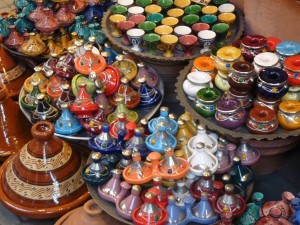 Recipe: Pigeon tagine with Dates and Ginger (Or Cornish Game Hens)
4 squab pigeons, breasts and marylands removed (Or Cornish Game hens)
6 tablespoons butter
1/4 cup of sherry
2 medium onions, finely chopped
2 cloves garlic, finely chopped
1 tablespoon fresh black pepper
1/4 teaspoon saffron (1/2)
2 teaspoons cinnamon
1 teaspoon ginger
2 cups dates, chopped
3 tablespoons olive oil
1/2 cup parsley
6 cups water or chicken stock
1/2 teaspoon salt
Prepare the pigeons or hens by cutting them into quarters.  If you don't feel confident about doing this yourself, ask your butcher to prepare them for you.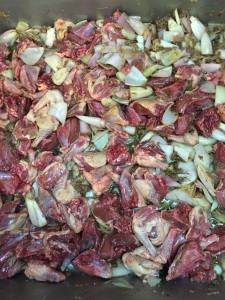 Briefly sauté the carcasses to add colour, then add the vegetables and sauté a few more minutes. Add sherry and scrape any bits from the bottom of the pan. Pour on the water and bring to the boil. Skim off any surface fat, then lower heat and simmer for an hour, skimming off any fat from time to time.
Melt the butter and oil and fry the onions and garlic over a medium heat until softened. Add the pepper, saffron, cinnamon and ginger and stir well. Season pigeon pieces with salt and sauté in the spicy mixture for about 2 minutes, until well coated. Add the stock and bring to the boil. Lower the heat, cover and simmer for 15 minutes. Then add the chopped dates and stir in well. Cover again, and simmer for a further 20-30 minutes – check to see when pigeon pieces are nice and tender. Taste and adjust seasoning if necessary. Serve with plain buttered couscous or a simple rice pilaff.
The End. Go Eat.