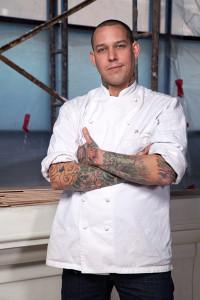 Jamie Lynch is a New York native and graduated from New England Culinary Institute in Burlington, Vermont. He has worked at New York Time's 4 star Le Cirque 2000 Restaurant in The Palace Hotel, Aureole under Charlie Palmer and Daniel Boulud's Café Boulud, and Touquevillle Restaurant in Union Square. Reflecting on his years cooking in NYC, Jamie notes, "At that time we had an all or nothing approach to cooking, we ate, drank and slept food. It was ether the very best we could do or it was garbage." Chef Jamie has anchored some of Charlotte's most notable restaurants such as Blue with Chef Gene Briggs and Barrington's as Bruce Moffet's Chef De Cuisine, and garnered many accolades such as being Voted BEST CHEF in 2013, 2014 and 2015 in Charlotte Magazine's BOB (Best of the Best) Awards.
Chef Jamie recently moved to Charleston in 2015 to serve as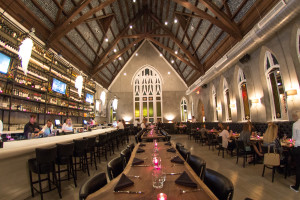 Executive Chef of 5Church Charleston. 5Church Charleston is a new restaurant in a historic old church (Church of the Redeemer and Harriott Pinckney House) in downtown's bustling Market Street district. The restaurant's elaborate, modern décor features awe-inspiring stained glass windows, a white concrete bar, black leather banquettes, eye-catching chandeliers, large-scale pop-art, and hand-painted written verbiage of Sun Tzu's "The Art of War" on the church ceiling. The restaurant's award-winning food, top-rate service and nationally-acclaimed design will mimic its sister property in Charlotte, N.C., which opened in 2012. Be sure to visit for the Sunday Brunch – swoon!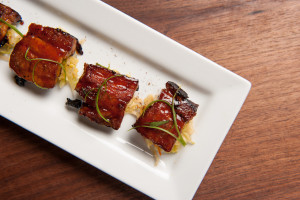 Chef Questionnaire from Chef Jamie Lynch:
How long have you been cooking?
I started cooking at the age of 16 at a small bar and grill. I have been at this for 24 years.
What is your favorite food to cook?
I really enjoy cooking fresh pasta. Pasta when cooked perfectly is the perfect vehicle to deliver a wide range of flavors to the palate in a most satisfying way!
What do you always have in your fridge at home?
Hot Sauce… all makes and models. It is my favorite condiment by far!
What do you cook at home?
Frozen pizza, if anything at all. I do all of my cooking at the restaurants and there is rarely time for a proper meal at home.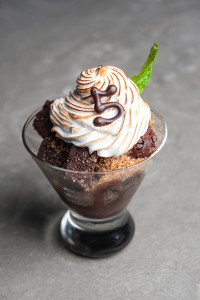 What marked characteristic do you love in a customer?
It's a toss-up between open mindfulness and patience. The open minded guest can appreciate the fun and interesting things we do with food while the patient guest will understand to cook at an excellent level takes time.
What marked characteristic do you find unappealing in a customer?
Rude or unpleasant. I do not like guests that are rude to their servers or bartenders. Dining out is supposed to be a fun and enjoyable experience.
Tupperware, Rubbermaid, or Pyrex?
Rubbermaid
Beer, wine, or cocktail?
Wine and beer usually – I'm a purist when it comes to booze, so I like my liquor to taste like liquor.
Your favorite cookbook author?
Andrew Carmellini. He taught me everything I know over the years, so I'm biased.
Your favorite kitchen tool?
A heavy, deep welled spoon that holds about an ounce is the most versatile tool.
Your favorite ingredient?
I am very fond of Ramps!
Your least favorite ingredient?
Salmon
Least favorite thing to do in a kitchen?
Leave! I find myself lingering around well after my "shift," either talking with my staff about food or restaurant experiences they have. Those are the interactions that inspire what I do!
Favorite types of cuisine to cook?
My own style of cooking is rooted in traditional French and Italian technique, but "New -American" is the label that best suites my cuisine.
Beef, chicken, pork, or tofu?
Pork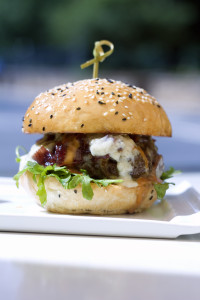 Favorite vegetable?
I was the Entrmettier at Le cirque 2000 and Cafe Boulud, I have a deep affection for fresh vegetables. I couldn't pick one.
Chef you most admire?
Andrew Carmellini
Food you like the most to eat?
Anything traditionally ethnic. In Charlotte, N.C. we have really good Vietnamese, and one particularly good Korean joint.
Food you dislike the most?
Salmon Roe. It is the seed of salmon, which i can't stand, so the egg has to be worse.
How many tattoos? And if so, how many are of food?
Too many to count. They have sort of melded into one giant one. None of them are of food items specifically but more tell the story of my life in kitchens through imagery.
Broiled Oysters with Polenta and Quail Egg
Yields: 2 servings
Ingredients:
6 oysters, shucked on the half shell
1 cup cooked creamy polenta, preferably Anson Mills
6 quail eggs
6 dashes black truffle oil
1 small black truffle
Bull's Bay Red Mash Sea Salt
Directions:
1. Preheat broiler in oven.
2. Cut aluminum foil into 8-inch pieces, and twist ends to create rope. Form into circle-shaped holder to hold the oysters in place, and put into oven-proof dish. Set oysters in dish.
3. Spoon ½ -ounce of polenta onto lip of each oyster to create a little dam, then crack quail egg on other half of oyster to completely cover.
4. Place oysters under broiler with 6-8 inches of clearance from heat. Bake until quail eggs are just set, approximately 4 minutes or until the quail eggs.
5. Remove oysters from oven and put a drop of truffle oil. Shave truffles with microplane, and place shavings on each oyster. Sprinkle with Red Mash Salt and serve.
The End. Go Eat.