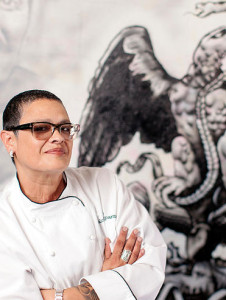 There is no doubting Chef Silvana Salcido Esparza's immense impact in the Phoenix restaurant world. Ask any chef currently with a restaurant in the Valley of the Sun about Esparza, and they will respond, "Oh, she's the best. She's tough, but she is one of the best."
A second generation Mexican American, Esparza was born as a hija de las panaderias (baker's daughter) in Merced County, California, America's Salad Bowl. In her early teens, she already started using her entrepreneurial skill set and cooking acumen to fashion her first carnecaria, serving up grilled meats next to her parent's bakery. She worked a variety of well-paying jobs as a broker, Aramark and executive chef at a variety of Arizona hotels before opening Barrio Café.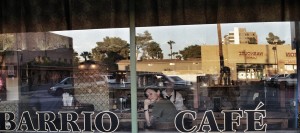 Currently, she has four restaurants and another one on the way, Barrio Café Gran Reserve, opening in downtown Phoenix, on Grand Avenue, a hipster spot. Esparza came to Valley of the Sun prominence in 2002 with Barrio Café, serving central Mexican food with European influences, tableside guacamole, and real south of the border sauces. Her dishes include 12 Hour Roasted Pork and Posole Verde. In The Yard, a large complex housing four restaurants, Esparza created Barrio Urbano, a hipper, millennial friendly experience, which also serves breakfast, and two in the Sky Harbor International Airport. Esparza is undeterred in her quest for making the best Mexican that she can make, as she says, "I will not resort to using yellow cheese."
Ezparza is an outspoken, leading advocate on immigration and LGBTQ causes. To showcase the creativity the Mexican American population has brought to Arizona, she, along with other community leaders generated a non-profit organization called Calle 16, dedicated to showcasing various arts, food, and other Mexican exports to the Valley of The Sun.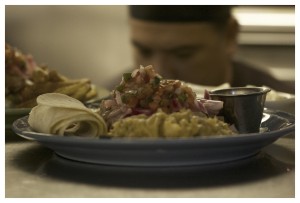 Chef's Questionnaire (with a nod to Proust):
How long have you been cooking? Since I was six years old.
What is your favorite food to cook? Italian
What do you always have in your fridge at home? Condiments, demi-glaze, anchovies
What do you cook at home? Barbeque.
What marked characteristic do you love in a customer? I love when they are enthusiastic.
What marked characteristic do you find unappealing in a customer? When they lack enthusiasm. I don't want them to be dead fish.
Tupperware, Rubbermaid, or Pyrex? Tupperware.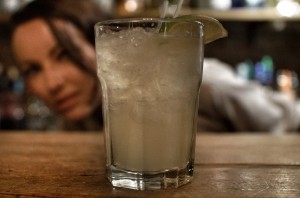 Beer, wine, or cocktail? Cocktail.
Your favorite cookbook author? Patricia Quintana
Your favorite kitchen tool? Molacajete
Your favorite ingredient? Chile
Your least favorite ingredient? Lavender
Least favorite thing to do in a kitchen? If I have to…wash dishes.
Favorite types of cuisine to cook? Italian
Beef, chicken, pork or tofu? Pork
Favorite vegetable? Chayote
Chef you most admire? Patricia Quintana
Food you like the most to eat? Italian, barbeque.
Food you dislike the most? Fried chimichanga. Fake Mexican. Yellow cheese.
How many tattoos? And if so, how many are of food? Too many.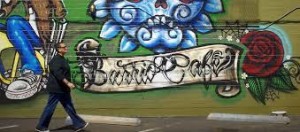 Recipe: Chiles en Nogada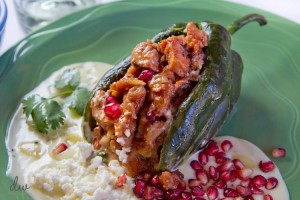 Ingredients
Chiles:
1 tablespoon canola oil
2 boneless skinless chicken breasts, diced small
2 teaspoons diced onion
1 teaspoon diced apple
1 teaspoon diced dried apricot
1 teaspoon diced pear
1 teaspoon raisins
1 clove garlic, minced
2 teaspoons tomato paste
1 cup red wine, preferably Cabernet
Kosher salt and black pepper
4 poblano peppers, roasted and peeled
Nogada Sauce:
1 tablespoon canola oil
1 shallot, minced
1 clove garlic, minced
1 cup white wine, preferably Chardonnay
2 cups heavy cream
Kosher salt and black pepper
1/4 cup almonds, roughly chopped
Fresh cilantro leaves, for serving
Pomegranate seeds, for serving
Directions
For the chiles: Heat a large skillet over high heat. Add the canola oil when hot. Add the chicken and saute until the chicken starts to turn white, 7 to 8 minutes. Add the onions and continue to saute until the onions are translucent, 3 to 4 minutes. Add the apple, apricot, pear, raisins and garlic and saute until they begin to soften, about 1 minute. Add the tomato paste and stir so the paste coats all of the ingredients. Add the red wine and cook until the chicken is tender, about 5 minutes. Season with salt and pepper and let cool slightly. Remove the seeds from the peppers by making one long slice down the sides, stuff them with the chicken-fruit mixture and keep warm until ready to serve.
For the nogada sauce: Heat the oil in a saute pan over medium-high heat, add the shallots and saute until translucent, about 3 minutes. Add the garlic and continue to saute until the garlic has turned a light caramel color, about 1 minute. Add the white wine and reduce until almost gone, 3 to 4 minutes. Add the cream and simmer until reduced by half, 5 to 7 minutes. Season with salt and pepper and finish with the almonds.
For serving: Place each stuffed pepper on a plate and spoon some of the nogada sauce over top. Garnish with the cilantro and pomegranate seeds.
Note: This recipe was originally published by Chef Silvana Salcida Esparza at http://www.foodnetwork.com/recipes/chiles-en-nogada.html
Pin for later: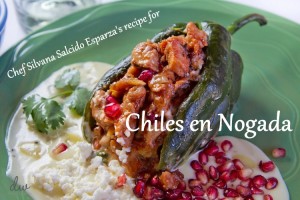 – The End. Go Eat. –