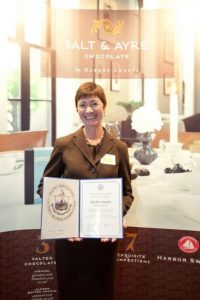 CEO of Harbor Sweets Phyllis LeBlanc starts the conversation saying, "I started working with the company 39 years ago. There were five of us then and we were all candy-dippers." Immediately, the statement brings to mind the hilarious "I Love Lucy" episode when the show's namesake and her best friend Ethel wrap candy on a conveyor belt. That moment became  television history and a classic showcase much the way Harbor Sweets has aligned itself into the specialty chocolate world. Founded nearly 40 years ago under the ownership of Ben Strohecker, the candy factory has become world-renowned for making Sweet Sloops,  toffee dipped sweets with pecans, resembling a sailboat.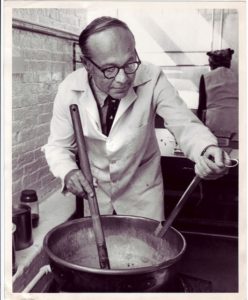 They've gone on to make a variety of unique confections, such as Salt & Ayre  and Dark Horse, cementing the Salem, Massachusetts-made treats as iconic as Tiffany's blue box or Chanel's logo. Ranked as one of the top women-owned business in the United States, under the guidance of Ms. LeBlanc, the staff has grown to nearly 100 people and a thriving food business.
At this year's Fancy Food Show held in New York, Harbor Sweets unveiled their newest line, Gather. Says Ms. Le Blanc, "When I learned more about the plight of the honeybees and how important they are to our crops, our chocolates, and even our local economy, I started out on a mission to do what I could using Harbor Sweets…so we created Gather." Gather is a flight of six unusual chocolates highlighted with the use of local wild honey. Partial sale proceeds will be given to the San Francisco-based non-profit Pollinator Partnership, whose work is carried out in North America via advocacy, education, and conservation of the bees and other pollinators.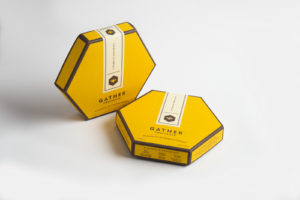 In the Harbor Sweets press release announcement, it quotes an alarming 2015 – 16 USDA Report stating that pesticides and parasites are seen as the foremost cause of a 44% drop in honeybee colonization in one year, making it the second highest annual loss reported in the past 10 years globally. Honeybee pollinators add more than $15 billion to America's agricultural economy and are critical to the entire eco-system throughout the world. Ultimately, the true loss can't be valued, since human beings thrive on our dependence of bees and pollinators like them such as bumblebees, hoverflies, butterflies, moths, and wasps.
"We are always looking for something that people can relate to and it doesn't stay the same," says LeBlanc. "Part of what we are about is gathering friends. As much as we are about chocolate, we gather our local products with love of family and friends. It's what we are about."
Food People Questionnaire (with a nod to Proust):
What is your favorite food to cook at home?
I don't cook, my husband does! He is an excellent chef.
What do you always have in your fridge at home?
Half & half for coffee, ice cream, and wine.
What marked characteristic do you love in a person with whom you are sharing a meal?
They eat slowly and appreciate the food
What marked characteristic do you find unappealing in a person with whom you are sharing a meal?
They are distracted by their cell phone.
Beer, wine, or cocktail?
Wine.
Your favorite cookbook author?
Lora Brody.
Your favorite kitchen tool?
There are tools in the kitchen?!? A spoon for sampling ice cream.
Favorite types of cuisine to cook?
Does dessert count? Chocolate!
Beef, chicken, pork, or tofu?
Chicken
Favorite vegetable?
Squash
Chef you most admire?
Julia Child – she took her food seriously, but not herself.
Food you like the most to eat?
Ice cream/gelato
Food you dislike the most?
Wow, can't think of any food I dislike…
What is your favorite non-food thing to do?
Ride horses
Whom do you most admire in food?
Anyone who is a good cook
Where is your favorite place to eat?
By the water
What is your favorite restaurant?
Seasons 52
Do you have any tattoos? And if so, how many are of food?
No, and none
Harbor Sweets Chocolate Sweet Sloops Cookies Recipe
Somewhere between a cookie and a brownie, this chewy goodness is dotted with crunchy Sweet Sloops pieces and toasted pecans!
Ingredients:
½ cup unbleached all-purpose flour
1 teaspoon baking powder
¼ teaspoon fine sea salt
1 pound bittersweet chocolate, chopped
4 tablespoons (1/2 stick) unsalted butter
1 ½ cup (packed) light brown sugar
4 large eggs
3 teaspoons pure vanilla extract
¼ teaspoon pure almond extract
1 jar Sweet Sloops Ice Cream Topping (1 cup)
1 cup lightly toasted pecans chopped
Directions:
1. Place the flour, baking powder and salt in a small mixing bowl and stir to blend.
2. Place the chocolate and butter in the top of a double boiler set over simmering water and cook, stirring occasionally, until melted and smooth, 6 to 8 minutes. Remove from heat and let cool 15 minutes.
3. Place brown sugar and eggs in a large mixing bowl and, using an electric mixer, beat on medium high speed until thick and light in color, 3 to 4 minutes. Reduce the speed to medium-low and beat in the melted chocolate mixture and vanilla and almond extracts. Stir in the flour mixture, followed by Sweet Sloops topping and nuts. Cover and chill the batter for at least an hour an up to 24 hours to firm up.
4. Preheat oven to 350°F. Line 2 large rimmed baking pans with parchment paper.
5. Drop heaping 2 T mounds of batter on prepared sheets, spacing 2 inches apart. Bake until edges have browned but centers are slightly soft, 13-15 minutes. Let cool slightly and transfer cookies to a wire rack.
Keep cookies in an airtight container, Will stay fresh 3-4 days.
Adapted from NEW ENGLAND OPEN HO– USE COOKBOOK by Sarah Leah Chase
– The End. Go Eat. –