St. Helena is a petite and idyllic winemaking town in the heart of Napa Valley. Out of all the towns in the county of Napa, this is my undoubtedly my favorite. During the spring, the grape vines are incredibly bright green with mustard flowers popping up between rows. In the summer, that bright sun showcases the verdant green of the valley. And then in the fall, watching leaves and trees turn shades of orange is magnificent. The town is essentially one street from Yountville to Calistoga and passes through St. Helena. It has exemplary shopping, a great place to stroll, extraordinary wine drinking and some of the best eating in the world…in a town of only 5,000. What more could you ask for in a shire?
Breakfast: The Grill at Meadowood Napa Valley.  Napa can be an expensive place to eat but you can enjoy some of the tonier aspects of it without breaking the bank. Instead of going to the three Michelin-starred The Restaurant at Meadowood, head to their smaller and extraordinarily good The Grill. At breakfast sit outside overlooking the verdant 8-hole golf course. Excellent place for business breakfasts or quiet repasts.
My suggestion: Corned Beef Hash. Simply a divine morning dish of protein and carbs before you head out for your morning wine tasting. Roughly chopped corn beef with delicious cubed bites of Yukon Gold potatoes and onions cooked together. This is a dish for dinner as well…if only it was served at that time. Eat it with poached eggs letting the runny yolks coat the succulent pieces of beef. One of the most perfect dishes to eat before sweating out the delicious Cabernets from the night before and replenishing with new ones.
Price: $20
Hours: 7:00am – 11:30am
Address: 900 Meadowood Lane, St. Helena, CA 94574
Website: www.meadowood.com
Lunch:  Gott's Roadside. Long before the Shake Shacks, Umami Burgers and The Counter there was this charming roadside stand that served up delicious burgers, fries and other edibles in the heat of the Napa sun plus they served wines by the glass. It was a great place just to grab a bite after walking up and down Highway 29 tasting wines. Of course, Gott's also has craft beers too. That's what made it so fun and inventive at was dining al fresco with a glass of wine and a burger! There are two other joints in the Bay Area – including the San Francisco's Ferry Building — but this is the one that started it all….and my favorite location.
My suggestion: Patty Melt. Yeah, I know. I'm a guy. I like my burger slapped between gooey Swiss cheese, oozing out sautéed onions, a zesty mustard and buttery rye toast. And for my wine choice…Jelly Jar rosé. Or any rosé. Light, fruity and pairs well with burgers and sautéed onions. Hell, anything pairs well with burgers and sautéed onions. Anything pairs well with rosé. It's a winner.
Price: $9.99 without wine. Wine prices vary.
Hours: 10:00am – close
Address: 933 Main Street, St. Helena, CA, 94574
Phone Number: (707) 963 – 3486
Website: www.gotts.com
Snack Time: Woodhouse Chocolates. The quintessential small town candy shop as only Napa Valley can do it. Stunningly handcrafted chocolates in unusual molds. Tracy Anderson, along with her husband, John, collects chocolate molds from around the world. At various times, visitors to the candy shop can view, in their specially refrigerated window, whole chess sets, shoes and Santa's workshop…created in chocolate. It's pretty awesome.
My suggestion: Buy chocolates per piece. You can pick and choose. Lovely varieties of ganache without being cloyingly sweet.  Remember it's a snack…you could buy a whole box but you don't want to ruin your dinner. Or you could ruin your dinner….
Price: $2.50 per piece
Hours: Sunday – Thursday, 11:00am – 6:00pm. Friday and Saturday, 11:00am – 6:30pm
Address: 1367 Main Street, St. Helena, CA. 94574
Phone Number: (800) 966 – 3460
Website: www.woodhousechocolate.com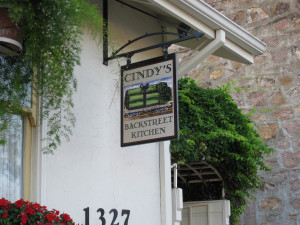 Dinner: Cindy Pawlcyn's Backstreet Kitchen & Bar. One of the reasons I love this place so much — along with Cooks St. Helena (not mentioned), Meadowood, Gotts, Woodhouse — is that it's steeped in the history of Napa Valley winemaking. After all, not one of these establishments would be here if it weren't for the area making great wines. Chef Cindy Pawlcyn was at the forefront of food and wine pairing in American Wine country. Beginning with Mustards Grill (Yountville), Pawlcyn's second restaurant was Backstreet. Like its predecessor, it's about good cooking with large portions and unpretentiousness. St. Helena has a lot of preciousness in its air, most likely because the earth was good to these grape-growers making them wealthy farmers, but the food, at Cindy's Backstreet never became too rarefied – no foie gras or pates — it's hearty deliciousness in a homey atmosphere where you savor your food and sip exquisite wines….while in your jeans.
My suggestion: This is a tough one but I will go with the Wild Mushroom Pie. It's a unique dish using the best of area agriculture. It's not light…but it's pretty stellar.
Price: $22.95
Hours: 11:30am – 9:30pm
Address: 1327 Railroad Avenue, St. Helena, CA 94574
Phone: (707) 963 – 1200
Website: http://cindysbackstreetkitchen.com/
Pin for later:
The End. Go Eat. 
In Memory of Carrol Gettko: You truly were one of my great friends. I know you always wanted to live in Napa and watch the grapes grow even though you didn't drink. I miss you a lot. Here's to having a great spaghetti dinner again one day.