This is part of our on-going series on Food Musings. Today, we share the words and thoughts of Mona Dolgov, co-author of The Perfect Portion Cookbook.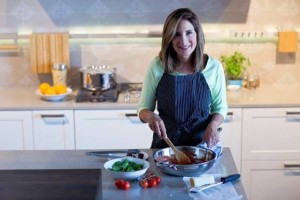 I have always been fascinated with our relationship with food. It fuels our bodies, heals our ailments, gratifies our accomplishments, expresses our culture and identity, and graces our happiest celebrations. It can also be the culprit for risk and disease, even a crutch to combat sadness. Despite this, the pure chemistry and sensory experience in the kitchen, of cooking a meal from sight and aroma, to taste and the "natural" (vs. chemical) reaction satisfies both my creative spirit and my scientific curiosity.
As a nutritionist, business marketer, product and recipe developer for the past 30 years, I've pondered the complexity of the food and how consumers value it.
America's dramatic decline in healthy eating is striking. The increase of dual working households and overscheduling of children, and technology has altered the traditional sit down meal and led to minimal time for "real home cooking". The microwave oven, a welcomed kitchen technology, in addition to the myriad of prepared food items has led to the decline of quality food and the uptick of quick and easy prepared meals. Mealtime has become a function to feed a belly fast to get to the next task, rather than focus on the soul-satisfying home-cooked food.
The result? Weight gain, obesity, and all the bad stuff that comes with it—increased incidence of diabetes, heart disease, and based on medical research, certain forms of cancer. On an emotional level, it has led to diminished self-image, emotional stress, and depression. All of this drives me to provide consumers with knowledge, advice, healthy recipes and kitchen products that encourage a return to the kitchen to eat "real" food. I've chosen to work with product goods companies, home appliance companies, and supermarket chains that similarly embrace these goals.
Some phenomenal thought leaders have recognized these issues: the rise of healthcare costs (due to the increase of obesity, Type II diabetes and heart disease), the recognition of the "paragraph ingredient lines" filled with unpronounceable additives, and the unacceptable better-for-you quality of the food served at schools today for our children. Over the past 5-10 years, there has been resurgence toward eating healthier. Incorporating fresh fruits and vegetables, "perimeter supermarket shopping," and product development in the appliance and food industry that has led to slow cookers, blenders for nutrient juicing, and cleaner and healthier ingredient in products, such as Greek yogurt, snack bars, plus lower sugar and sodium options, in boxed foods, like pasta, cookies, and soups. Consumers are beginning to seek this new lifestyle, and the tables have started to turn.
An issue still remains. The baby boomer generation is reluctant to cook and their lack of participation in the kitchen influences their children. Parents have worked like crazy, had families, and relied on the microwave and other pre-made offerings to get food on the table. Cooking has become a "holiday hobby", or a goal if I had the time (and wasn't using that time for something else I preferred to do).
The weekday home-cooked family dinner is a real challenge. Who doesn't want to serve dinner around the table to family and friends? To overcome, consumers have increased buying delicious prepared foods, take-out, and frozen meals instead of toil over a hot stove and fail. Everyone eats at a different time, and most of the meals are eaten on the go or standing up! Moreover, kids are not taught the basics of cooking. I am one of the rare mothers who taught my children to cook. Their friends are amazed that they can prepare a meal from "scratch".
For the past ten years, it has been my goal to make the entire food experience from purchase to the table, better for consumers by making it less intimidating, engaging and easier. I like making it fun — creating game changing products or sharing healthy tricks that ease the intimidation and open the door to blissful food experiences. Such was my involvement with launching the one-pot slow cookers and cooking systems, easy one-press blenders and food processors to make smoothie making and vegetable chopping a breeze. Plus, I've worked with great teams to create and design cookbooks for countertop appliance manufacturers and retailers, developing entertaining, easy- to-make recipes that provide 5-star cooking results. By having this lofty goal, my other intention is to help reduce obesity in this country. Knowledge is power—if I could, in some way, be an ally to provide actionable advice to better eating habits, then my personal passion has been fulfilled.
The Perfect Portion Cookbook is my personal and most exciting project to date. Co-written with Anson Williams of Happy Days TV fame and Bob Warden, this two-year project combines all of my scientific background, product development, marketing, consumer insights, and nutritional and culinary expertise. Anson's idea to create recipes and snacks that use a 100-calorie system spoke to me. It is a simple way to help consumers eat responsibly and visualize how much to eat (100-calories at a time!) with simple and delicious comfort food favorites. Yes, you CAN have great tasting food that IS better for you! The biggest challenge was improving recipes to make them satisfying, delicious, and the caloric value divisible exactly by 100. We wanted readers to be mindful of their everyday food choices through 100-calorie portions.
My favorite part of the book was sharing nutritional and culinary tricks that are simple and clever. Our 100-calorie French toast, made with "better butter batter" (can you say that 5x fast) uses a little butter and honey in the batter. It replaces the butter cooked in the pan and can save hundreds of calories, without compromising on taste. The creamy mac and cheese recipe serves up a filling portion at 300 calories and has a punch of flavor using extra sharp cheddar and Parmesan cheese. Or how about using simple cupcake pans for making individual 100-calorie cheesecakes? I hope that these cooking tips are passed through the generations to become easy go-to habits for a healthier life.
I dream of many goals: the return to the kitchen as a 'family central', inspiring future cooks, and once again sitting around the table talking about our day. Small steps to create eating patterns through healthier meals and scaling recipes to 100-calorie portions is the future to getting consumers back on track and will help to contribute to slashing diabetes, heart disease and lowering obesity. Yes, we can do it!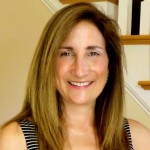 A nutritionist by training from Cornell University, with 25 years of acquired marketing acumen, Mona Dolgov has created her sweet spot. She has led and contributed to over 20 launch campaigns, created over 75 products in her career, and owns 3 product patents (NINJA®, Jarden®, and The First Years®). She has led the development of over 20 cookbooks for Jarden® (Crock-Pot® Slow Cooker), Ahold® (Taste of Giant®), and for Euro-Pro® (NINJA®). She is known for defining innovative trends, creating engaging consumer stories and WOWs, and creating innovative consumer uses and recipes that are on-trend.
Mona has also led and created scripts, recipes, and tips with a variety of celebrity chefs and food bloggers, dietitians, in addition to co-producing the development for You-Tube recipe videos.