This is the first of the on-going series on Food Musings written by award-winning poet and writer, Julie Fisher. She is also  the founder of Litmore, Baltimore's Center for the Literary Arts. 

I live on the East Coast, in Northern Baltimore County to narrow it down. We had three days media notice of the impending snow doom threatening the Mid-Atlantic. I am responsible for hunkering down prep. H8teful Acres is our "farm" a little off the beaten path with a ¼ mile driveway, so it's smart to be prepared. We are fortunate as a family, my time is flexible during school/work hours so I can stroll through a supermarket during non-panic hours and before the shelves are stripped of bread, milk and toilet paper. Maryland started getting notice of the incoming snow on Wednesday. By Friday shelves were basically bare.
On Friday, I realized we were nearly out of milk. So I sauntered down to the local farm where we buy or pastured foods. Their business hours are weekends only, so they were just opening and were plenty stocked with their pastured milk. I even remembered to grab some bacon, eggs and sausage patties too.
I look forward to big snows. Maybe it's the remnant thrill of snow days from school or the anticipation of slowing down, sleeping in, leisurely meals and snacking.
For Snowmageddon 2016, I'll give my attention to turning a baked chicken into chicken soup, a pork butt for pulled pork barbeque, some Italian turkey sausages.  I'm thinking mornings that begin with eggs, hash browns and bacon or sausage and for a pre-shoveling low effort morning meal, you can't go wrong with Irish oatmeal. I'm eager for no bossy schedule defining my time so I'll have the calm to undertake gluten free blue corn muffins, yellow cupcakes with chocolate icing and maybe some chocolate chip cookies.
Since I'm a Pinterest user, I have lots of recipes I've saved. I daydream about uninterrupted time that to try these recipes. Some of the recipes are common dishes customized to be gluten free-I'm fixated on baking actually tasty gluten free breads. Some recipes are gorgeously photographed and I want to recreate the work of art. Of course, a range of flavors or ingredients I'm repeatedly drawn to- figs, aged cheeses, dark chocolate, pears, hazelnuts, quinoa and brassicas.
So this morning, squinting at the dawn glitter on 30 inches of snow, I had lethargic, cozy plans. The snow did not quiet my demanding senior cat Whitney. I still shuffled down to feed her and grind my coffee. It also did not quiet the apparently nocturnal, terrified kitten we adopted two days ago and named Scully. She mewed pathetically, off and on all night. Despite this, in my pre-coffee blur I snapped some camera phone shots of the sunrise-tinted trees before their drapery of snow melted.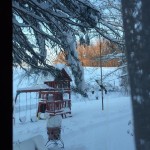 Kidlets and hubby intermittently arrived downstairs. Coffee levels were topped off, bacon was sizzled, eggs were fried in ghee and gluten free blue corn muffins were baked. Soon, my fantasy of cozy, lethargy became suiting up to shovel. First we dug a path to The Dragon (our outdoor wood burning furnace), knock icicles from the gutter over our doors. More shoveling to free my Subaru, even more shoveling to clear a path to the Subaru, and to the front and back door.
It's not until the sun starts to sink behind the tree line that we go inside to shed our snow and ice crusted clothing. Our ache-y muscles whined when our stomachs growled. Dinner, or more accurately foraging in the kitchen, included hot dogs, Trader Joe's Olive Oil popcorn, some slabs of cheddar and crackers and blue corn muffins. The pork butt will keep marinating. The Italian turkey sausages made it into a frying pan. Just the sausages. No onions or peppers or such. We just managed to get some pasta boiling.  Oh, it's whiskey o'clock after dinner.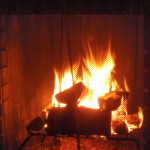 Finally, we reach destination cozy. Feet and fingers are thawed. We sit together in the glow of our laptops and phones while outside is almost daylight bright with full moon on expanse of snow. And I think to myself, what crazy, beautiful luck to live here at H8teful Acres with my family –a total surprise trajectory in the arc of our lives. I think of all the people who lived here before us and built this house and farmed this land and raised critters here.  For roughly 100 years now, this has been someone's home. 100 years ago would be when my great grandparents would have been raising families. How, I wonder, would they have prepared for a blizzard bearing down on them? Would they scramble for bread, milk and toilet paper?
As it turns out, after leaping into internet rabbit holes, the answer depends greatly on where you lived and if you had any money. For one thing, toilet paper was a brand new product in the early 1900's. It was expensive AND it was difficult to market to customers with delicate Victorian sensibilities. Most used the less vulgar Sears Roebuck Catalog or Farmers' Almanac pages. So my great grandparents who lived in Baltimore City would need to run to the newsstand. My great grandparents who lived on a farm in West Virginia probably had to make do with corn husks or cobs. Yikes.
After reading, I'm hoping my great grandparents who lived in Baltimore City had some money. If they were a poor immigrant family, they were basically at the mercy of shop owners. Most likely they lived in a tiny apartment with only a coal or woodstove and maybe running water. No pantry or root cellar and definitely no refrigerator. No critters either to give eggs or milk. The most common groceries were cabbages, potatoes, onions and oats. If you had more money to spend you could get eggs, milk and a poor cut of meat. A green vegetable beyond cabbage was a splurge. Vegetable scraps were a staple for the really poor. Yum.
My West Virginia farming great grandparents were set if Mother Nature cooperated. They would can, ferment and smoke their cellar full. A good harvest would mean full winter stomachs especially if they had livestock to slaughter. But rural West Virginia can be unforgiving-harsh weather and a lot of brutal physical labor. A good year would let them store jerky, bacon and hams alongside pickled veggies and jams. Flour would be on hand for breads and cakes. Lots of root vegetables stocked in the cellar. Often the reality was- not quite enough. Mother Nature can be fickle and cruel. Injuries and sickness took their tolls too. So, even farmers likely ate a lot of cabbage, potatoes and oats through the winter. I don't even want to think about what they did if they went without coffee.
I'm glad I wondered about my great grandparents…. Surfing the internet reminded me again what a cool life I'm living. I am spoiled in so many ways my ancestors couldn't even imagine. I know I'm not going to starve or even really lose any variety in my eating choices through this blizzard. I can reach in the fridge and pull out the marinating pork butt. I'll pop it in the oven to bake on low for a few hours and fill my warm house with a barbeque aroma. I'm going to grind some beans and brew one more pot of coffee before I go out to finish shoveling. Thanks Universe!
Marinade for any pork roast
1/4 cup of olive oil
1/4 cup of soy sauce
3 – 4 cloves of chopped garlic
2 tablespoons of coarse mustard
Salt and Pepper
4 tablespoons of honey.
Whisk together the olive oil, soy sauce, garlic, mustard, salt, and pepper in a bowl. Place thepork loin in a large resealable plastic bag and pour in the marinade. Marinate in the refrigerator at least 1 hour before cooking. Preheat an oven to 350 degrees F (175 degrees C). Fifteen minutes per pound. Cooked covered for the first half, and uncovered for the second. 
The End. Go Eat.