I revel going into local bookstores which sell both new and used cookbook titles. Normally, they're independent sellers like the  historic City Lights in San Francisco, 
Bart's Books in Ojai, which claims to be the largest outdoor bookstore in the world,  downtown LA's The Last Bookstore or New York City's The Strand. I know there are still many – limping along in some cases and others, alive and well. I've purchased some of my favorite cookbooks in them. For example, where else would I locate a copy – probably the last surviving — of Mary Meade's Magic Recipes: A Cookbook for the Electric Blender written by Ruth Ellen Church? (Mary Meade was Church's nom de plume.) The first chapter is "What is a Blender?" Another great find was Isaac Hayes' (yes…the late musician) and his book entitled, "Cooking with Heart & Soul: Making Music in the Kitchen with Family and Friends." That was $4.50 but on the half-price rack. (It came to $2.25.) His chapters include "Jammin' to the Barbeque Beat" and "Over the Fire, Into the Fryer: Chicken for Sunday and Any Day." Hayes accumulated a selection of guest recipes from stars such as Jenna Elfman (remember her?) with her Chocolate Pudding Cake and John Travolta and his scrumptious sounding, Hamburger Royale with Cheese. (Isaac Hayes was a Scientologist after all…I'm only sorry that Tom Cruise didn't contribute his Spaghetti Carbonara.)


I've also unearthed classics from notable chefs such as Monday Night at Narsai's by Narsai David and Doris Muscatine. (When originally purchased – not by me – it came with a free issue of Food & Wine Magazine. It says so on the jacket cover.) Narsai David was a chef-owner of his namesake restaurant in San Francisco. It opened in 1972 and closed in 1985. For thirteen years, it was one of the Bay Area establishments to eat expertly prepared dishes and drink beautiful wines. His cookbook encompasses international menus and cuisines like Creole, Austrian, French, Argentinian, and Polish and so on.  I have cooked from the book here and there, although the recipes are slightly dated. It features a lot of consommés and stuffed loins (beef, veal and pork).
I went to Half Price Books, Phoenix's local cheap bookseller located on Camelback near the Arizona Biltmore – the somewhat ritzy area.  It was there I hit my pot of gold — Amanda Hesser's New York Times Cookbook at $11.95 in pristine condition. I've wanted it for long time but just never purchased it. I now how it! It's from this book which is where I found the recipe for asparagus alla fontina which I adapted to use any vegetable. Amanda Hesser states that she adapted it from former New York Times' food writer Mimi Sheraton so this is an adaptation of an adaption. Sort of like Cinderella which was written by the Brothers Grimm and then adapted into a movie called "Cinderfella" with Jerry Lewis, which then was turned into "Ever After", a movie produced and starring Drew Barrymore.
Vegetables (or whatever) alla Fontina
Ingredients:
1 or 2 zucchini or other summer squash (cut into half-moon shapes). Other options include cooked asparagus, peppers, onions, kale, spinach…you name it.
Butter
Fontina or gruyere (Or whatever cheese you have).
Parmesan, Asiago or other hard cheese.
Prosciutto or cold cut ham (optional, if you want…hell you can use any protein including baked tofu, seitan)
3 Eggs
Freshly grated nutmeg….a few rubs will do.
Let's make this puppy:
Preheat oven to 350 degrees.
Sautee whatever vegetables you are making in a couple of pats of melted unsalted butter to al dente. Don't cook it through.
Using a glass pie plate, layer the following: sautéed vegetables, protein – slivers of prosciutto, salami or seitan — and shaved fontina.
Beat the three eggs and pour over the layers.
Shake the pie plate so the egg is distributed evenly. Coat the top with the parmesan.
Bake for 35 minutes until puffy, golden and melty and stuff.
If you have any leftover…take it with you to the park the next day and eat it with a lovely glass of rosé. Sit in the sun or underneath a shady tree. A bite of crusty bread…scrumptious.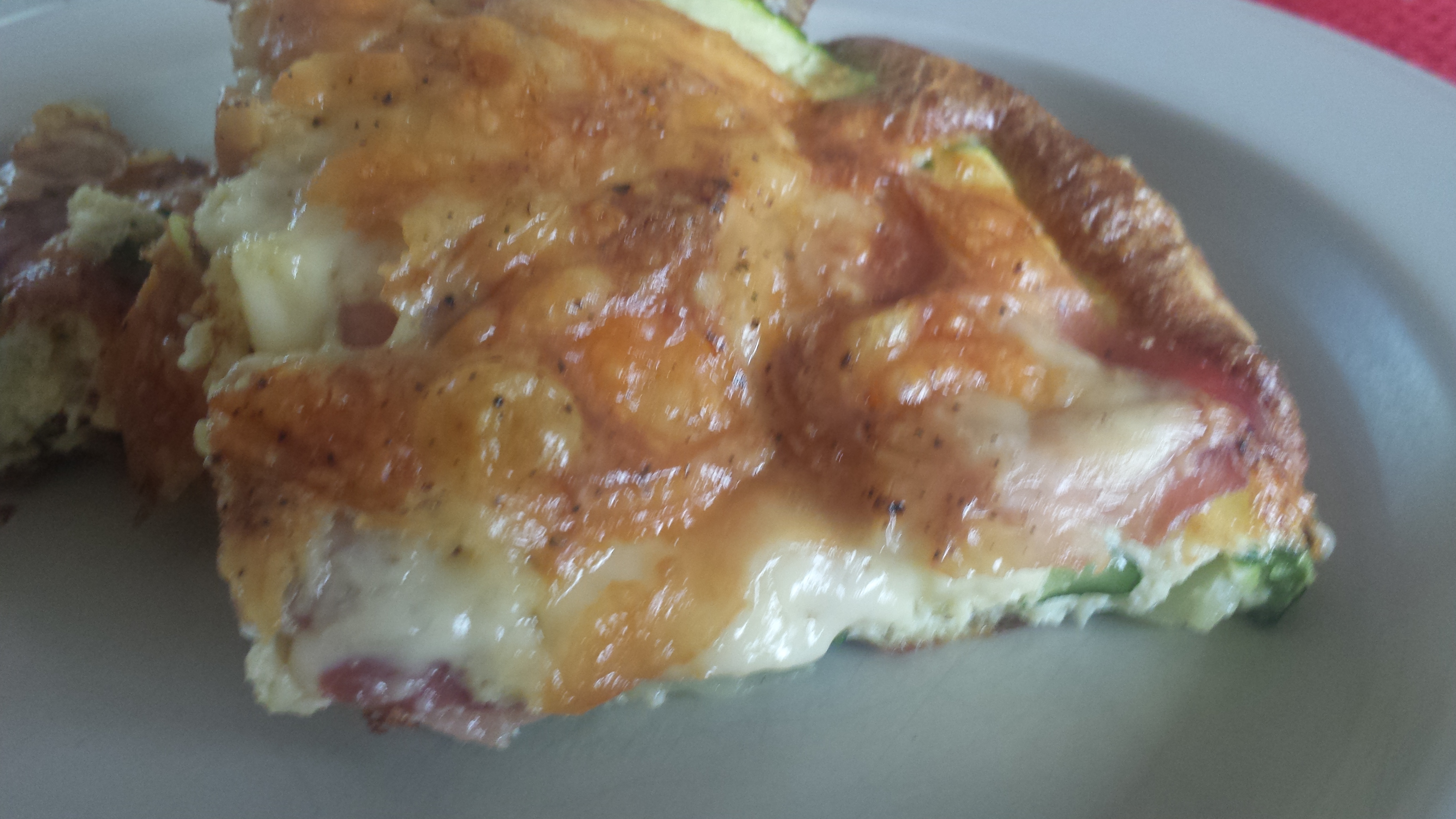 The End. Go Eat.