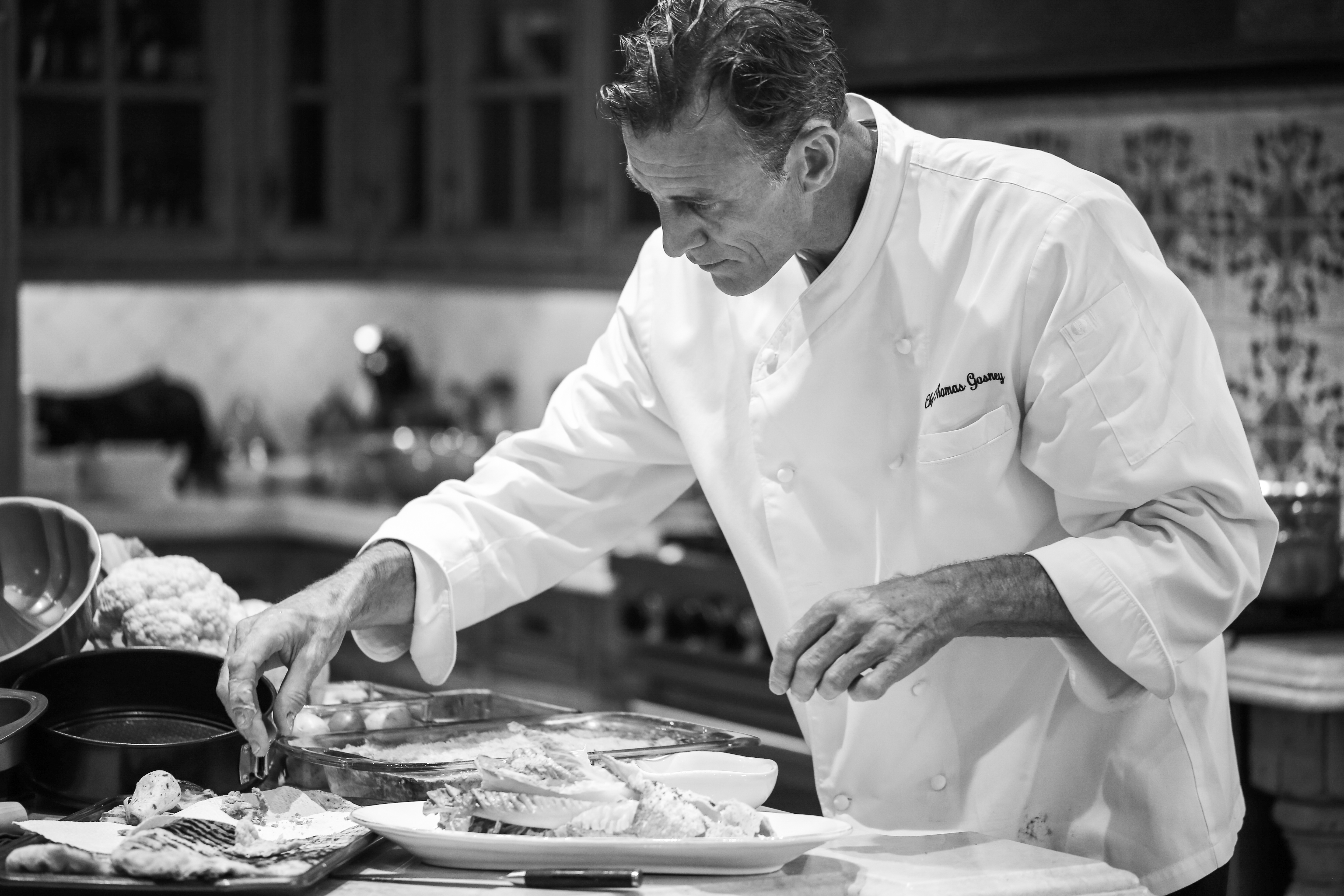 One day in 1994, former Los Angeles Laker Shaquille O'Neal – then with the Orlando Magic — found instant gratification in a hotel club sandwich.  It was Chef Thomas Gosney who made that double-decker and on the spot O'Neal hired him as his personal chef. The first thing Gosney implemented on O'Neal's diet was a change to a diet of athletic performance, high-carb and protein, so the basketball player had the energy and thought processes to stay in the game. Throughout their time which included winning several championships, Gosney was able to keep Shaq away from his fast food fix. While working for the basketballer, Gosney become such a staple to the Lakers and  O'Neal that he was given his own NBA championships rings to prove his time working with the mighty "Shaq".  At one time, they had planned on writing a cookbook together.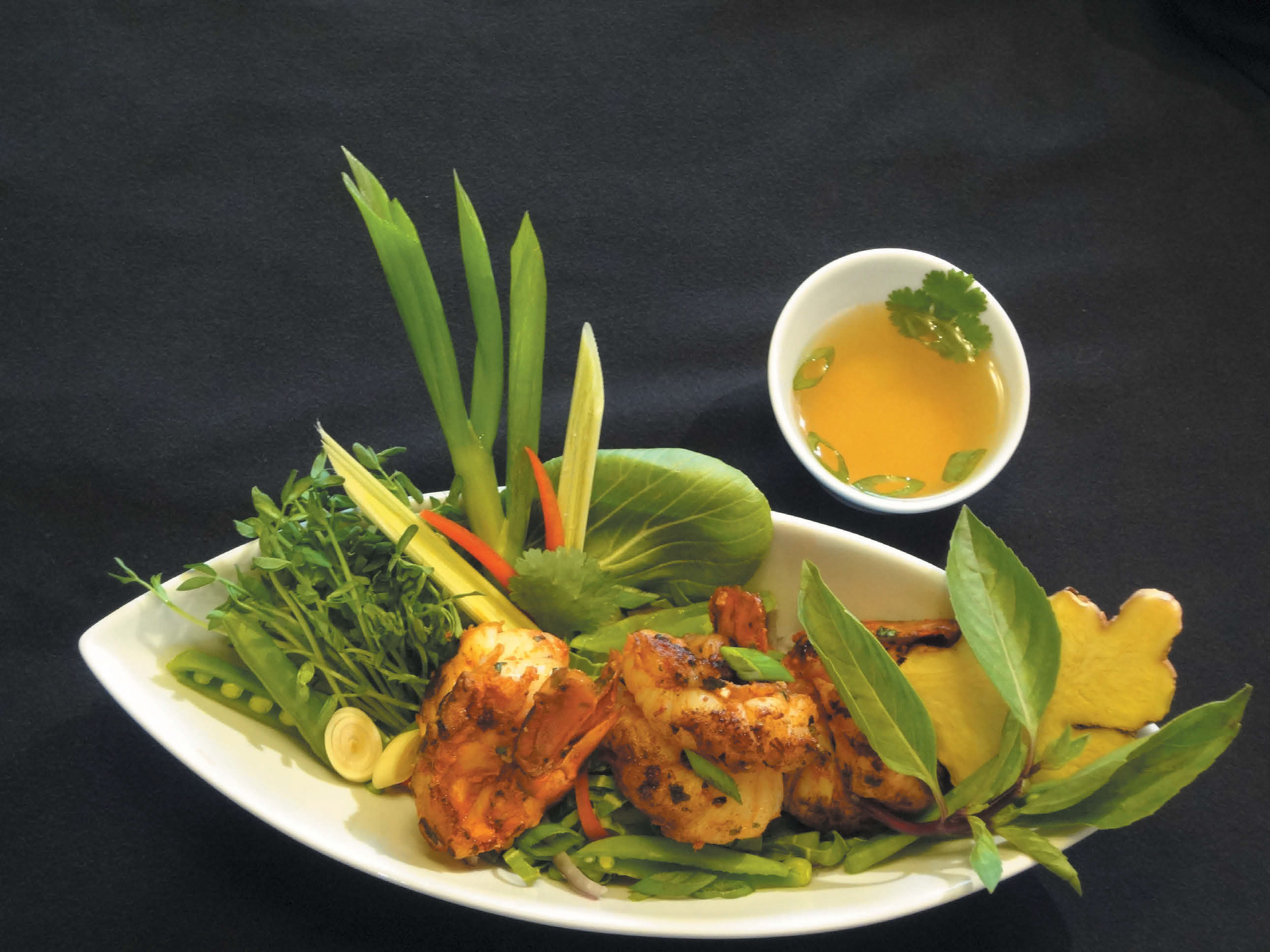 After O'Neal, along with too many flights and hotels – Gosney stayed in Scottsdale to raise a family. His next and second client had 26 different food allergies. "Cooking for him", stated Gosney, "was not a lesson in micro-gastronomy but in foods that would taste good without creating a reaction." Hence, food became science which was incredibly low in processing and high sugar carbs, but prodigious in natural ingredients; essentially, it was Paleo without naming it as such. Gosney liked the term nutritional cutting edge cuisine.  He felt that these words conveyed eating well and deliciously without stigmatizing the specialized menu or making people fear healthy-eating.
With only two clients over 22 years, Gosney wanted to create a thought-provoking cookbook on eating and cooking. He came up with a Method of Procedure, a term about the process of cooking well. These are the recipes he designed with both of his clients in mind.  Smart guy.
How long have you been cooking? Thirty years.
What is your favorite food to cook? Nutritional cutting edge cuisine.
What do you always have in your fridge at home? Kim chi, fresh pickles, coconut cream, a ton of vegetables and flax milk.
What do you cook at home? All kind of ethnic foods, depending on my mood.
What marked characteristic do you love in a customer? Someone who is open to try new things, experienced in cuisine, and shows a passion for what they like.
What marked characteristic do you find unappealing in a customer? Boring, closed minded and just likes boneless chicken breast.
Tupperware, Rubbermaid, or Pyrex? Definitely, Pyrex. No plastic, please!!
Beer, wine or cocktail? A good micro-brew like Telluride Face Down Brown.
Your favorite cookbook author? James Beard, both in theory and practice.
Your favorite kitchen tool? Kitchen Aid with all the attachments. Very versatile.
Your favorite ingredient? Onions. They are needed in almost any savory dish.
Your least favorite ingredient? Caviar. Simple to serve and you really don't need a chef to enjoy eating it.
Least favorite thing to do in a kitchen? Haven't found one yet.
Favorite types of cuisine to cook? Korean, French, Italian. Healthy. No high-sugar carbs.
Beef, chicken, pork or tofu? Beef, definitely, or bison
Favorite vegetable? Fennel.
Chef you most admire? Thomas Keller.
Food you like the most to eat? Comfort food.
Food you dislike the most? Sushi, so easy to make, hate eating it out.  I think it is a rip-off. All you need is fresh fish.
How many tattoos? And if so, how many are of food? None. You got the wrong guy for that or maybe it just wasn't my era.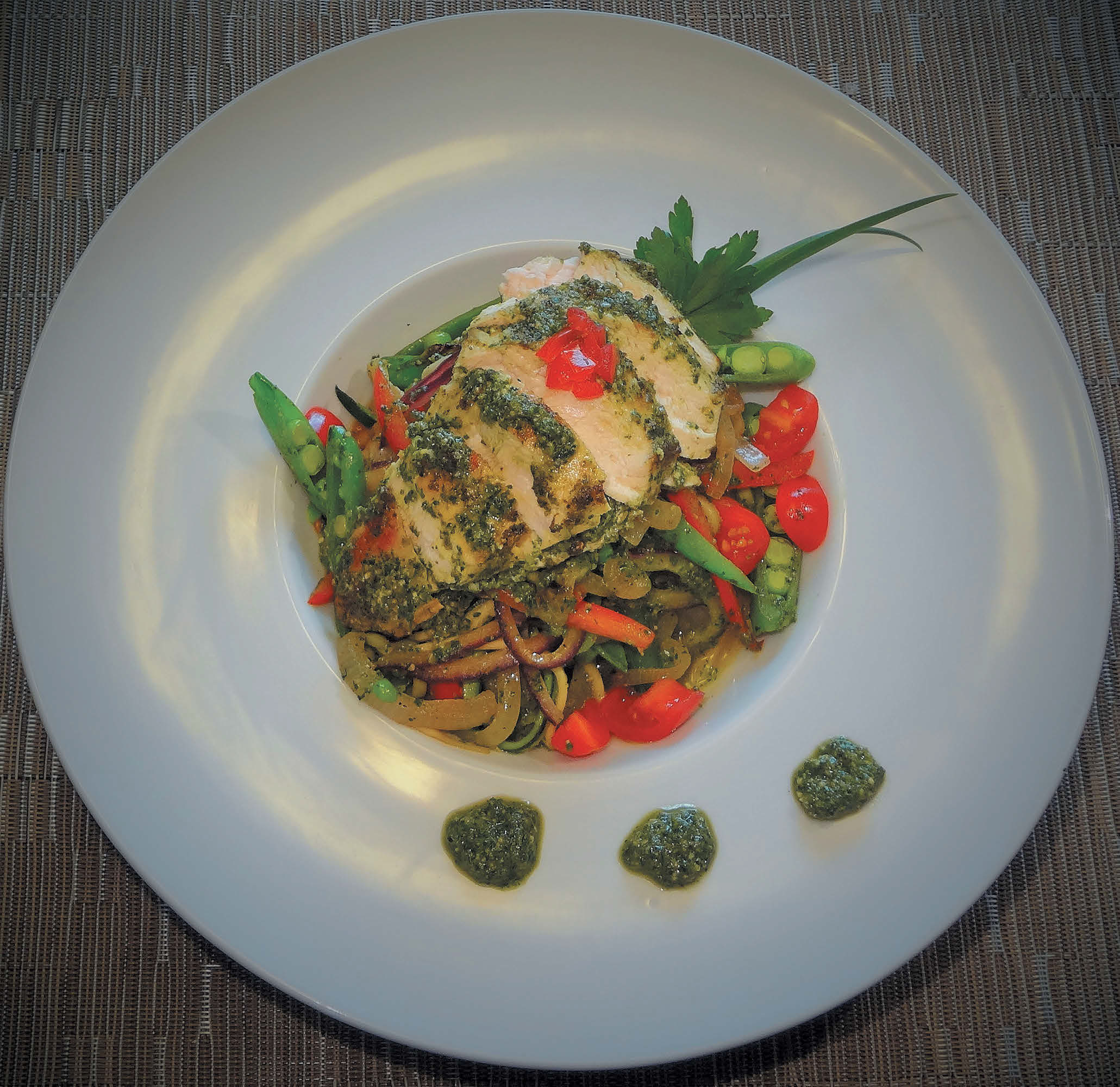 Kale Pesto Chicken w/ Zucchini Pasta (excerpted from Method of Procedure by Thomas Gosney)
"Kale pesto can be used for many different things. If you're not a kale person, I urge you to try this recipe. You might be surprised. This is one way to eat kale without making salad. The spiral cutters (for the pasta) are easily obtainable and are really fun to use. Once you get one you will use it all the time. There is also a vegetable peeler that creates the same result. The zucchini pasta is excellent and you'll never miss the traditional, but you can use the real stuff as well. I love them both."
Ingredients:
4  boneless, skinless chicken breasts, leave whole
1 tbsp. vegetable oil
KALE PESTO
2 cups kale, stems removed
1 cup fresh basil
2 cloves garlic
1 tbsp. pine nuts, can substitute walnuts
¼ cup olive oil
¼ cup water
2 tbsp. grated pecorino romano cheese, can substitute vegan rice parmesan cheese
½ tsp. kosher salt
½ tsp. fresh ground black pepper
VEGGIE PASTA
3med. Zucchini, cut into spiral pasta shape, or julienne cut into long lengthwise slices
1 onion, julienne, cut
1 red bell pepper, julienne cut
10  sugar Snap Peas, stringed and cut in half lengthwise
1 tbsp. olive oil
2 tbsp. fresh chopped garlic
½ tsp. kosher salt or to taste
½ tsp. fresh ground Black Pepper
1 tbsp. fresh chopped chives or green onion
Place kale, basil, garlic, pine nuts, olive oil, water, cheese, salt and pepper in blender. Blend on high until everything is pureed smooth and creamy. You might need to stop blender once or twice to get the basil and kale to incorporate. Take ½ cup of pesto and place into mixing bowl. Add chicken breast and marinate for 1 hour in the refrigerator while you chop the vegetables. Preheat oven to 375 degrees. Heat vegetable oil in sauté pan over medium high heat. Sear chicken breast for 2 minutes and turn over. Place into preheated oven. Bake for 5 minutes depending on the thickness of the chicken. While the breasts are in the oven, heat olive oil in another sauté pan over medium high heat. Sauté onions until browned. Add red bell pepper, sugar snap peas, and zucchini. Sauté for 2 minutes. Add garlic, salt and pepper, Pour remaining kale pesto and toss lightly, place onto serving dish. When chicken is cooked remove from pan and let rest 4-5 minutes. Slice chicken on an angle and place over top zucchini pasta. Sprinkle chives over top. You can grate additional romano cheese for our liking. Serves 4 pp.
 – The End. Go Eat. –
Next week: Chef Joey Companaro, New York City's The Little Owl