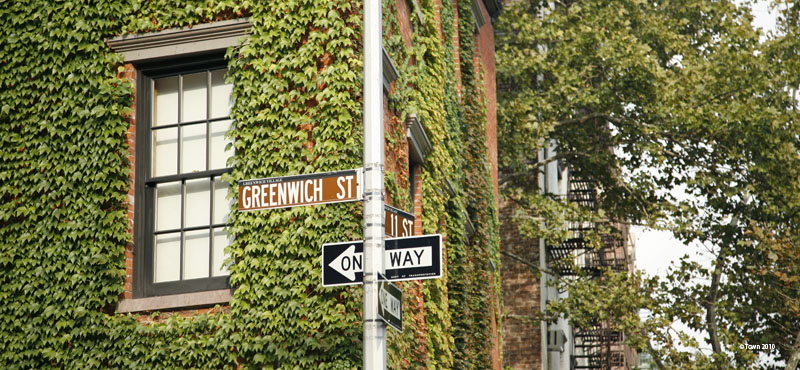 This is a re-post of some of my favorite haunts Manhattan's West Village. I've been traveling again….and it always messes with my postings.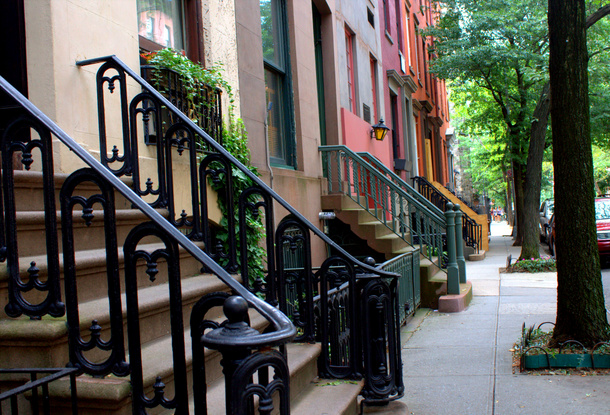 The West Village conjures up Carrie Bradshaw-types and her many boyfriends tripping the light fantastic in the early morning, afternoon and night. It's now a neighborhood peppered with forever young adults feigning an old-school worldliness…. and it was my playground for many years. At one time, I was one of those young adults so I know what I'm talking about.  The West Village is timeless with it's cobbled neighborhood streets and hustle and bustle of it's residents. It's on this colonial streets where I learned how to shop for food, drink gallons of vodka and eat well with my friend, Penny, sometimes Sharon, Annie and Tanya but mostly, Penny. With Penny – whom I claim as my culinary mentor — we would stop at Murray's Cheese Shop to purchase a crunchy French baguette and an excellent stinky fromage. Then, we would traipse half a block to the Korean market, interestingly enough named Bleecker Farm Corp which carries some of the best priced produce. Once we filled our woven Parisian handwoven bags – because shopping without them is so… mundane — we would just jaunt up to Ottomanelli & Sons for a decent, inexpensive cut of something and then cook it. In between our mock-European "marketing", we would stop at a bar for an alcoholic refreshment (or three) …something to give us a jolt before we started being all culinary and stuff in Penny's miniscule "3 x 5" kitchen. God, I love New York.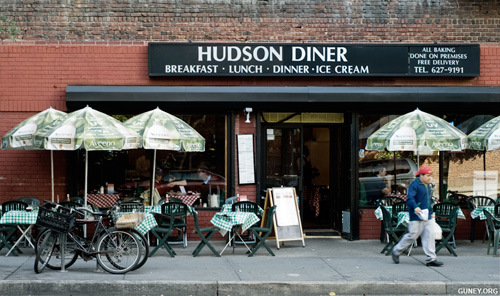 Breakfast: Hudson Diner. There are so many fancy,
schmancy places to get your eggs in the area. Steamed. Boiled. Chopped. Shirred. But there is nothing like a New York diner. Nothing. They always manage to please no matter what you order. It wasn't the best food, meaning that every salad was made with iceberg but it was good food. Plentiful and cheap. Now, it's not so cheap…but cheaper than the others.  You can still find one of the old New York diners and pretend it's 1986.
My suggestion: An omelet with hash browns. It's like a New Yorker, it never goes out of style. Order any kind you want as long as it comes with the hash browns.  There's nothing like a pulpy bite with crisped almost burned edges. Heavily salted. (Potassium for the hangover.) Get rye toast. Or pumpernickel. They never offer you pumpernickel outside of New York City. Go ahead, eat the carbs.
Price: $12.75
Hours: 6:00am – 11:30pm
Address: 468 Hudson Street, NYC, NY
Website: https://www.grubhub.com/nyc/hudson-diner/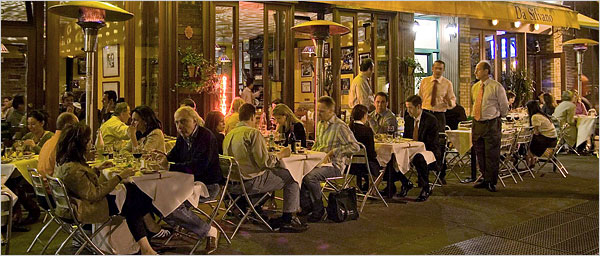 Lunch:  Da Silvano. For about eight or nine months out of the year, New York is the Emerald City. Beautiful fashion, amazing people watching and for the most part — lovely weather. When the weather is perfect in the Big Apple, it's glorious which is why I love having lunch at Da Silvano, eating outside with freshly prepared Tuscan food. I can't believe it still exists in the same place – corner of Bleecker and 6th Avenue — for the past forty years. While deciding on what to eat from the housemade pasta or antipasti, take a sip of a refreshing Negroni or a glass of Gavi di Gavi and gaze at the passersby. There is nothing more entertaining than watching people – in real time — while eating some of the best Italian food in the West Village. Who needs Broadway and the cinema when you have the spectacle of New York?
My suggestion:  Any of the antipasti for lunch are brilliant and fresh. My favorite is the beef carpaccio. This was the first place I ever ate it.
Price: $14.50.  Negronis are a separate price.
Hours: Sun – Thursday: Noon – Midnight; Friday and Saturday: Noon – 1:00am
Address: 260 6th Avenue, NYC, NY,
Phone Number: (212) 982 – 2343
Website: www.dasilvanos.com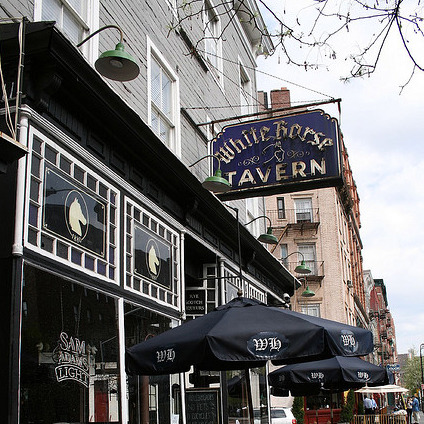 Snack Time: White Horse Tavern. If there was ever a quintessential watering hole of the West Village this would be it. Serving up drinks since the 1880s, it's a tavern with a literary bent – Dylan Thomas, James Baldwin and Jack Kerouac – all bellied-up to the bar. It's probably in every New York City guidebook as it has a sense of history which most bars in the area don't have anymore. This corner establishment with its neon sign beckoned so many famous and non-famous New Yorkers through its doors – for the casual nip or the full-on-let's-drink-until-we-puke – it's a slice of Manhattan history that hasn't been replaced….yet. It's not a dive – just worn around the edges with love and history. (Note: There is a well-known Alcoholics Anonymous building down the street at 50 Perry Street, just in case you have too many of the puke-till-you-drop episodes. Just sayin'.)
My suggestion: Anything you want with a slice of literary.
Price: Cheap. Cash bar…which is why it's cheap.
Hours: Sunday – Thursday, 11:00am – 2:00am. Friday and Saturday, 11:00am – 4:00pm.
Address: 567 Hudson Street (between Perry and 11th Streets), NYC, NY
Phone Number: (212) 989-3856
Website: No website.

Dinner: Cornelia Street Café. In the 80s, the trend was not quiet little restaurants but big oversized – well, everything. Nightclubs, restaurants and, of course, that silly velvet rope. But down in the West Village, on a small little colonial street with a carmine-colored front lies Cornelia Street Café, a picturesque neighborhood establishment that has outlasted all the big guns and has only become better with age. In the beginning, there was a toaster, microwave and a coffee machine now – almost four decades later — it has expanded with two kitchens plus a cabaret. Owned by three artists who are still the proprietors, the café has become a landmark. It has the bistro chairs and tables, brick-walls, redolent of New York past and lovely food prepared by Chef Dan Latham. An absolute must. Small aside – I had my last date with a woman at Cornelia Street Café. She was a dancer with the Joffrey and was absolutely stunning. Olive-skinned. Beautiful body and face with Andie MacDowell hair. I knew I was gay when I only wanted to talk about her hair and clothes.
My suggestion: Black Sesame Crusted Salmon
Price: $22.00. (Seriously, where are you going to get a delicious piece of fish at this price in Manhattan?)
Hours: Sunday – Thursday, 10:00am – 12:00pm. Friday – Saturday, 10:00am – 1:00am.
Address: 29 Cornelia Street, between 4th Street and Bleecker
Phone: (212) 989 – 9319
Website: www.corneliastreetcafe.com
Pin for later: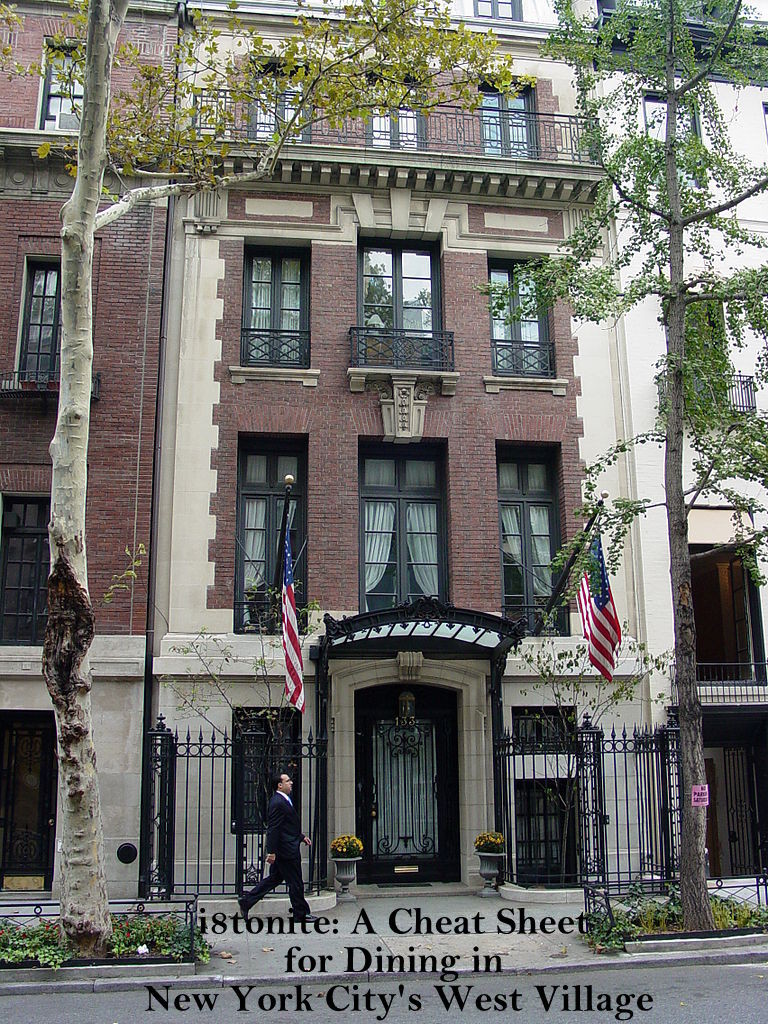 Photo Wikimedia Commons: Adam Jones
The End. Go Eat.