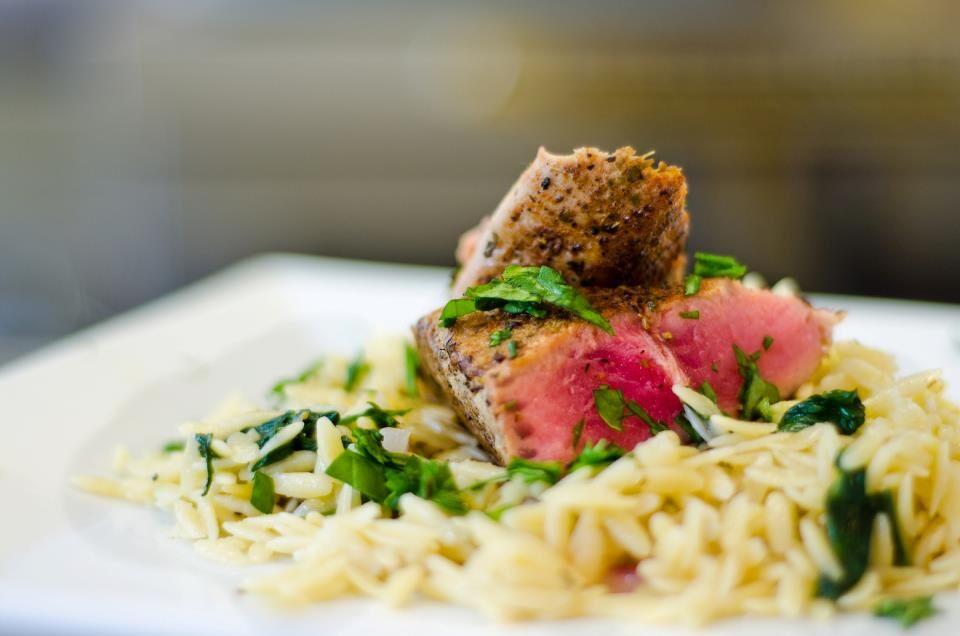 Editor's Note:  Still in the City of Angels where I've had extraordinary dining experiences.  I'm wrapping it up tomorrow and headed home.  Los Angeles was always a good city for me and I ate very well with friends. That's what I will remember the most.
Atlanta born chef Chris Hill  created his name in the  Tidewater area (Norfolk, Virginia Beach and Newport News) of Virginia, which is steeped in military bases and quick casual service restaurants. He created 3 Way Cafe, a popular gourmet sandwich bistro which became a household name with its popular farm-to-table eats and regular television appearances by Hill for his brand "Bachelor Kitchen". Chef Hill's food is steeped in time honored Southern traditions such as hand-carved "Thanksgiving-style" turkey and and roasted pork loins with a fig glaze. Recently, Hill was honored to give a Tedx Talk where he re-defines the meaning of his success.
How long have you been cooking? For as long as I can remember. I am known what I'm doing for about 8 years.
What is your favorite food to cook? I love seafood. Delicate, adaptable, delicious.
What do you always have in your fridge at home? Eggs and Bacon for weekend breakfast – that's it (and some cold beer).
What do you cook at home? I'm almost always at the restaurant – but, I use my home kitchen for cooking out and weekend breakfasts.
What marked characteristic do you find unappealing in a customer? Closed-mindedness. Come on – try it, give it a chance, it's not going to hurt you… I bet you'll actually like it, damnit.
What marked characteristic do you love in a customer? The complete opposite – Chef, I trust you. Make me whatever's on your heart.
Tupperware, Rubbermaid, or Pyrex? Pyrex, seems a little more durable….. I'd take Cambro if that were an option!
Beer, wine or cocktail? Yes, please …. Ha, depends, but typically a good red with dinner and a whiskey cocktail to end the night.
Your favorite cookbook author? Michael Ruhlman. Love his stuff, great guy too.
Your favorite kitchen tool? A rubber spatula – comes in handy quite often.
Your favorite ingredient? Limes, the cool cousin to overrated lemons.
Your least favorite ingredient? Anything processed. Anything natural (that I can think of) is fair game.
Least favorite thing to do in a kitchen? Prep work over a short table.
Favorite types of cuisine to cook? I'm a Southern boy, so some variation of our regional cuisine – typically, with a flair.
Beef, chicken, pork or tofu? I'm not picky….. A medium rare steak sounds pretty good right now though.
Favorite vegetable? Beets. Love them, even out of the can.
Chef you most admire? Thomas Keller, been  a huge inspiration for quite a while – his approach his so humble, yet inspiring.
Food you like the most to eat? Seafood, shellfish, or a nice flaky, rich white fish.
Food you dislike the most? Processed anything, specifically, the frozen vegetarian products – I find them insulting, and I was a vegetarian for about a year myself.
How many tattoos? And if so, how many are of food? I've got zero, ha, I think I got into the game too late……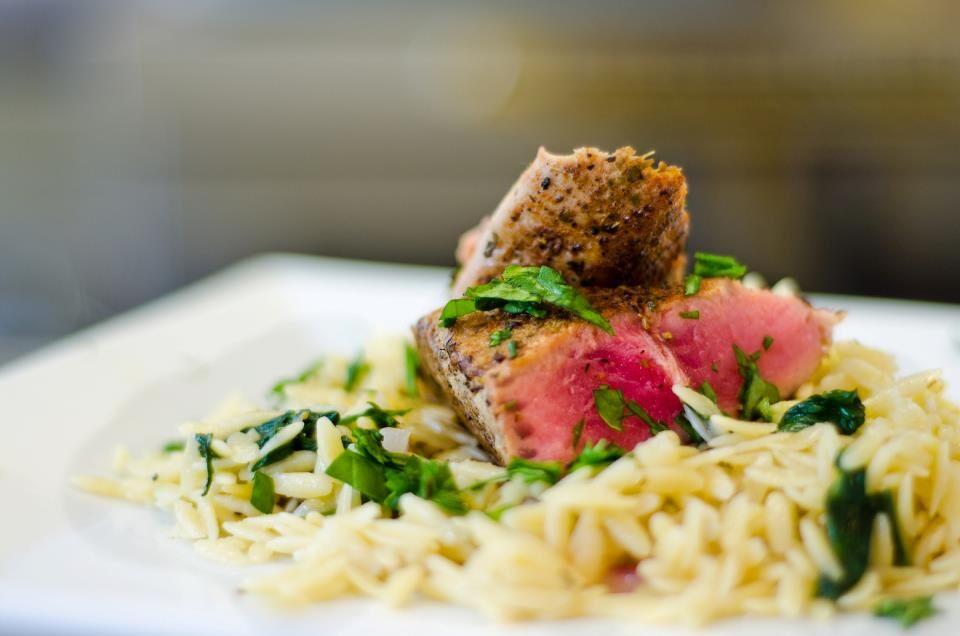 RECIPE: Orange Zest Tuna with Herb Citrus Orzo, Serves Dinner for 4-6
Ingredients
1 pound orzo pasta
2 pounds sushi grade tuna
4 tbsp. extra virgin olive oil
1 zucchini, sliced into quarter moons
½ bunch chives thinly sliced
3 tbsp. fresh tarragon, chopped
3 tbsp. fresh thyme leaves, chopped
5 cloves garlic, finely minced
1 orange, juiced and zested
1 lime, juiced and zested
½ cup chicken stock
1 tsp. each of salt and pepper or to taste
1½ cups parmesan cheese, grated
½ cup Greek yogurt
Preparation for Orzo Pasta
Combine orange and lime zest, chives, tarragon, thyme, garlic, salt and
pepper
Muddle or chop components to fully incorporate and rub with fish – set
aside, and separate into 2 equal piles
Meanwhile, bring 1 gallon of salted water up to a rolling boil and add
orzo pasta – cook for 6-8 minutes or until almost al dente and drain
**You want to time adding pasta with the next step
Slice zucchini in half lengthwise, and then each half in lengthwise again
(you should have 4 "sticks")
Slice into ¼ inch thick pieces and sauté over medium heat in 2 tbsp. of
olive oil
Cook zucchini for 5-6 minutes and add first pile of herb mixture and cook
for 1-2 minutes
Add chicken stock, orange juice and reduce liquid in half
After draining orzo, add to pan and incorporate, finishing cooking process
Remove from heat and add Greek Yogurt and parmesan cheese
Preparation for Tuna
Rub fish with second pile of herb mixture, coating thoroughly and evenly
Heat 2 tbsp. olive oil in medium saucepan on medium-high heat
Add already crusted fish to pan and cook on each side for 2 minutes for
medium-rare
Serve over pasta.
– The End. Go Eat. –