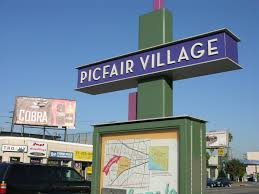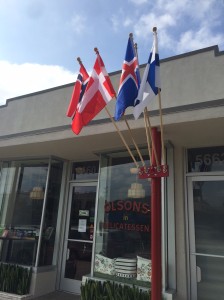 Pic Fair (Pico-Fairfax) Village is a demographically rich neighborhood, one of Los Angeles' true and last assemblies of people with different cultural backgrounds — African-American, Latino, Asian, and Caucasian, middle-class and poor – some very wealthy.  It's not one of the communities that LA decided to christen by its ethnic majority, such as Koreatown, Little Ethiopia, Thai Town, Historic Filipino-town, or Little Armenia. It's a quiet microcosm of the United States and is a showcase of classic Southern California architecture along its wide, tree-lined streets with stunning Spanish duplexes and red-shingled single family homes built in the 1920s. At one time, the area was home to many upper-class African American families.
Extending from Hauser Boulevard on the east, Crescent Heights to the west, Olympic Boulevard on the north,  and to the south, Venice; I lived the longest in this area – meaning that for seven years of my life, I lived in one building, one spot – so I hold this place very dear to my heart.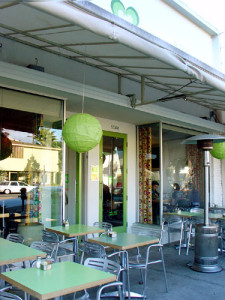 In the early to mid-aughts, the region started to become youth-oriented and a small coffee shop opened — Paper or Plastik — along with a restaurant called Bloom. Both of these places focused on local residents for support. Neither had a public relations campaign or had the local papers tout how good they were, although it did happen eventually. They became a part of the community's multi-cultural quilt by just being there.
Pic Fair is a great neighborhood for an afternoon stroll or a quiet place to get away from the rest of City of Angels.  You won't find the paparazzi hiding behind bushes. This is the real L.A…young families with their strollers, same-sex couples walking their dogs (and strollers), a diverse mix of people in a quiet urban enclave getting along with the rest of the world….peacefully.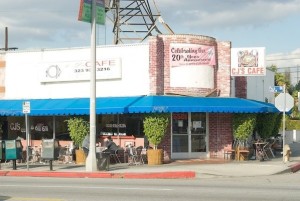 Breakfast: CJ's Café.  This is an institution. I can't be for certain but at one time it was an African-American owned diner, much like its highly-touted neighbor Roscoe's Chicken & Waffles down the street. There are two locations, Pico and Baldwin Park…but this is the rock-star. They make up fresh juice smoothies. Saturday and Sunday the place is packed until after 3pm; during the week it's easier to get a table.
My suggestion: Huevos Rancheros or Chicken Wings (with honey) and Eggs.
Price: Varies. Nothing over $12.95
Hours:  7:00am – 4:00pm
Address:  5501 West Pico Boulevard
Phone Number: (323) 936 – 3216
Website: http://www.cjscafe.net/
Lunch:  Olson's Swedish Restaurant. Opened since 1948, it was recently purchased by Christian Kneedler, the former maître' d of Dan Tana's, a famous Hollywood, checkered table-cloth eatery. A Swede by birth, he took over the place and has transformed it into a Southern California outpost of Swedish tastes. Along one wall is a bulk bin of Swedish

Olson's Deli

candies and the menu offers better than Ikea Swedish meatballs and, of course, house-cured gravlax. They also have a large menu of cheeses and deli meats such as the dense and meaty goteborgskorv, a form of Swedish pate.

My suggestion: Their Swedish pancakes – which are more like a thicker crepe or a thinner pancake – are stunningly delicious. Served warm with preserves such as lingonberry on the side just like in Sweden.
Price: $8.00
Hours: 10:00am – 5:00pm, Monday – Sunday
Address: 5660 West Pico Boulevard
Phone Number: (323) 938 – 0742
Website: www.olsonsdeli.com
Snack Time:  A family-owned neighborhood place, Paper or Plastik is the coffee joint that started it all. Like the song goes, "my milkshake brings all the boys to the yard"…so it is with coffee and hipsters. Each time I go in here, the eatery has small changes – such as the pastries have gotten better, a little flakier and more butter; although they don't make them here. The iced-coffee is heavy and will put hair on your chest…just the way I like it. With great Wi-Fi, it's easy to do research and write your next screenplay, to meet a

Paper or Plastik

friend for a mid-afternoon snack, get a caffeine fix or an afternoon glass of wine. At one time, the menu had been created by Chef Jeremy Fox, a one-time chef of Napa Valley's Ubuntu and winner of Food & Wine's "Best New Chef".

My suggestion: The iced coffee. Although, they now have a beer and wine license.
Price: Expensive, clocking in at around $3.50 for a 12 ounce cup. But really black and really caffeinated. It will make you the Energizer bunny.
Hours: 7:00am – 10:00pm
Address:  5772 Pico Boulevard, LA, CA 90019
Phone Number: (323) 935 – 0268
Website: http://paperorplastikcafe.com/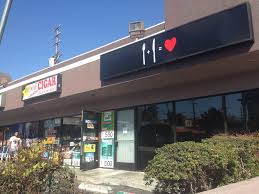 Dinner: My Two Cents. Healthy soul food.
My suggestion:  Soul food normally conjures up images of heavy-battered fried chicken, grits and collards with bacon. Here, Chef Alisa Reynolds removes some of the butter and lard by using a lot of vegetable stock. It's quite good and doesn't have the heavy richness that you expect of a soul food restaurant – but make no mistake, this is soul food. My Two Cents serves up gluten-free fried chicken, small tender shrimp and grits…and my favorite, the grit fries. There is nothing like these grit fries….I know they can't be that healthy…but they are sooo delicious.
Price: $5.00 Grit Fries
Hours: 12pm – 10pm. Closed on Mondays.
Address: 5583 West Pico Boulevard, LA, CA 90019
Phone: (323) 938 – 1012
Website: www.mytwocentsla.com
Pin for later: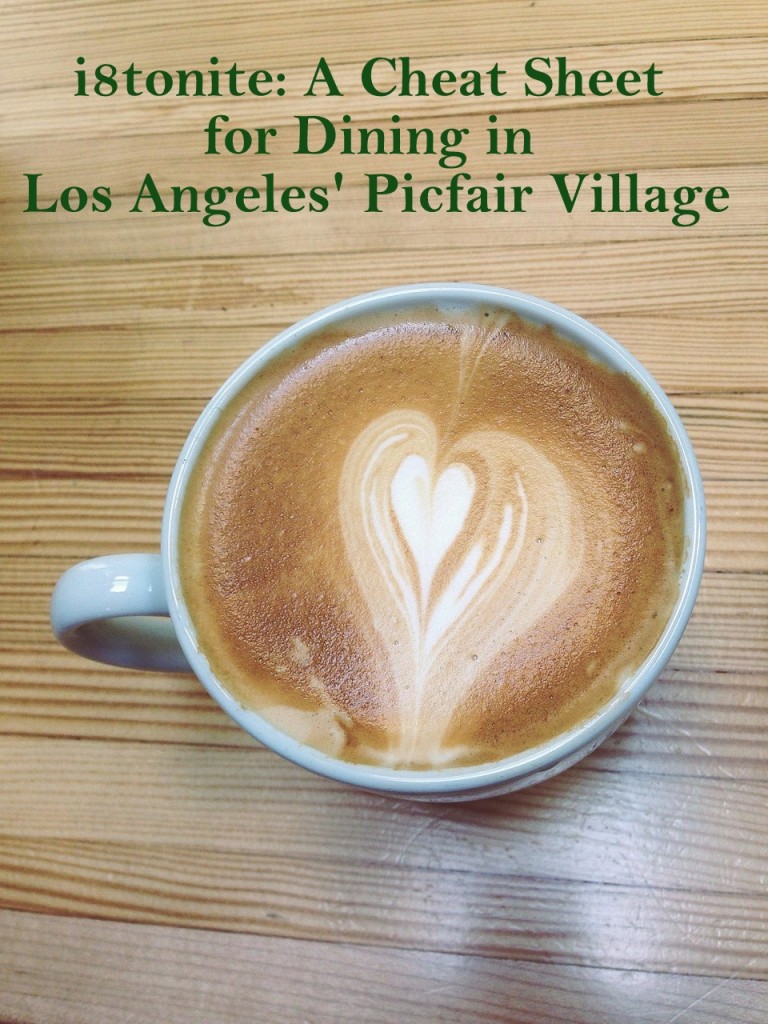 The End. Go Eat.