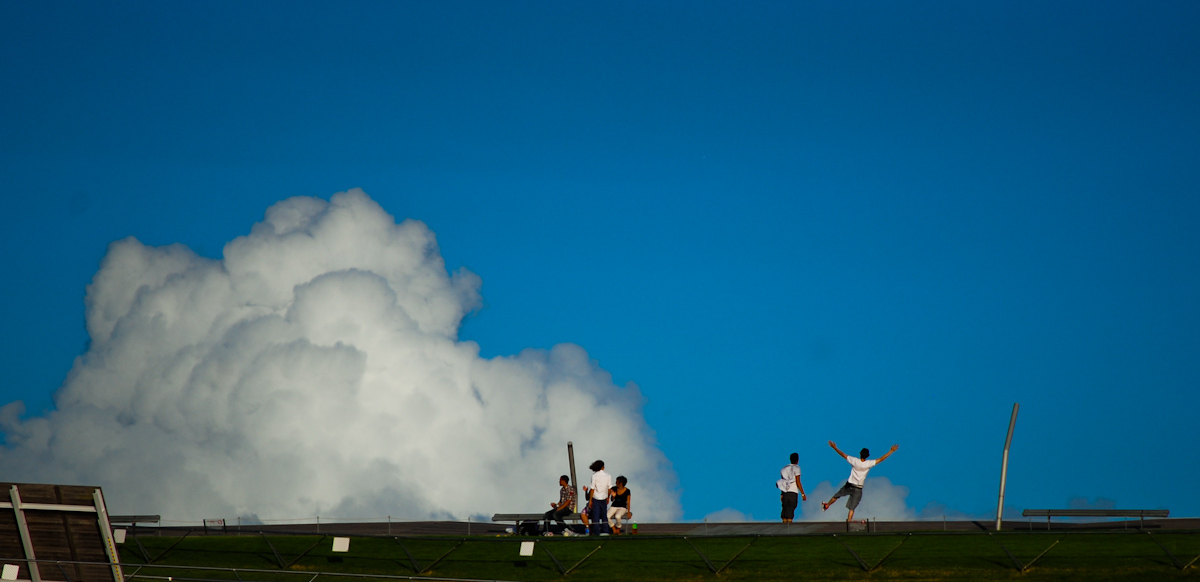 A Facebook "friend" asked that ubiquitous question the other day, "What are you grateful for today?" A lot.
Six years ago, I walked away from a car crash involving three big rigs
and nine other cars on California Interstate 5. It was caused by a dust-storm that felt whipped up by Hades himself, near Bakersfield. Three people died. Whether it's the grace of God or the fates intervening, I removed myself from my car before it exploded. Only seconds before, I sat in the driver's seat…. breathed a sigh of relief I hadn't hit the truck in front of me. In the passing of another second and almost on the second inhalation,  a 1975 Dodge pickup plowed into my SUV's backside turning it into an accordion. To the side, there was a fireball that hurled towards me. Produced by a car driven by a young family man as he rear-ended the truck's trailer, the one I narrowly avoided had jack-knifed across two lanes.  His exploding engine instantly cremated him, destroyed his vehicle and crafted an explosion pointed towards me from the 18-wheeler's reserves tanks. There were milliseconds between the collision of automobiles and my ability to open my car door and get out. Had I not – I wouldn't be in the Sonoran desert, hiking to the top of peaks, eating superb food, receiving kisses from my dogs, and love from Nick. I suffered a minor concussion and two cracked ribs.
After experiencing a trauma of that magnitude, it's not uncommon for an accident victim to discover their life situations not working anymore.  The next six months after the crash, I implemented changes. I left a toxic relationship which should have ended years before.  I moved back to a city where I had support and love. Items that can never be bought.  I even discovered a new relationship I wasn't planning on having but am grateful that I'm alive to experience it.
Not one day passes I don't think about the accident.
This past weekend marks the anniversary of that experience  and the beginning of something new. As someone said to me recently, "You moved to Phoenix because you have risen from the ashes."
—
At the end of 2013, former San Jose Mercury food editor, Carolyn Jung published her first cookbook, San Francisco Chef's Table: Extraordinary Recipes from The City by The Bay (Lyons Press). I've had the pleasure of meeting and working with Carolyn over the years.  As a journalist and via her website FoodGal.com, she's been supportive of my clients and their food endeavors. For me, I always think it's important to recognize the writers who have helped along the way. A journalist's life can be thankless especially from a public relations perspective.
To support the publishing of her book, I attempted to create a cooking and book-signing experience at a former San Francisco client. Unfortunately, the event never happened because the restaurant closed. I'm doing a little shout out about her book — saying thank you, hoping I can help sell even more cookbooks. I adapted this recipe from one of the many delicious dishes she curated in her cookbook from Bay Area chefs. This particular dish, from the owners/ chefs of Ame, I turned into a one dish casserole.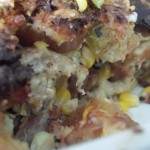 Sweet Corn-Goat Cheese Bread Pudding (adapted from Carolyn Jung's San Francisco Chef's Table: Extraordinary Recipes from The City by the Bay).
1 whole baguette. Cut into approximately one-inch pieces.
2 tablespoons butter
6 slices bacon, chopped
1 stalk celery, chopped
1 leek, chopped
½ tablespoon sage
½ cup of chicken stock
1 egg
1 cup milk
½ cup of sour cream
2 cups grated Parmesan-Reggiano
6 ounces goat cheese
Corn cut from 2 ears.
Let's make this puppy:
Preheat the oven to 350 degrees to toast the croutons. Bake for about 10 minutes until golden brown. Remove from oven but keep the oven on to bake the final product.
In a large skillet, melt the butter and crisp the chopped bacon. Once the bacon has been slightly browned. Add the vegetables and sage. Stir until soft. Stir in the croutons, letting them soak up the fat.
Pour in the chicken stock and allow the bread to become saturated. Season well. Set aside.
In another mixing bowl, combine the milk, egg, sour cream, and cheeses. Mix well. Assemble everything – croutons and wet ingredients including the corn.
Pour everything into a small casserole and place into a larger roasting pan creating a water bath. Pour water until halfway up the side of the casserole dish.  Dot with extra goat cheese and grated cheese.Bake for about 30 minutes until golden. Serve warm.
(Recommendation: If there are leftovers, reheat in the morning and top with poached eggs. Awesome!
The End. Go Eat.