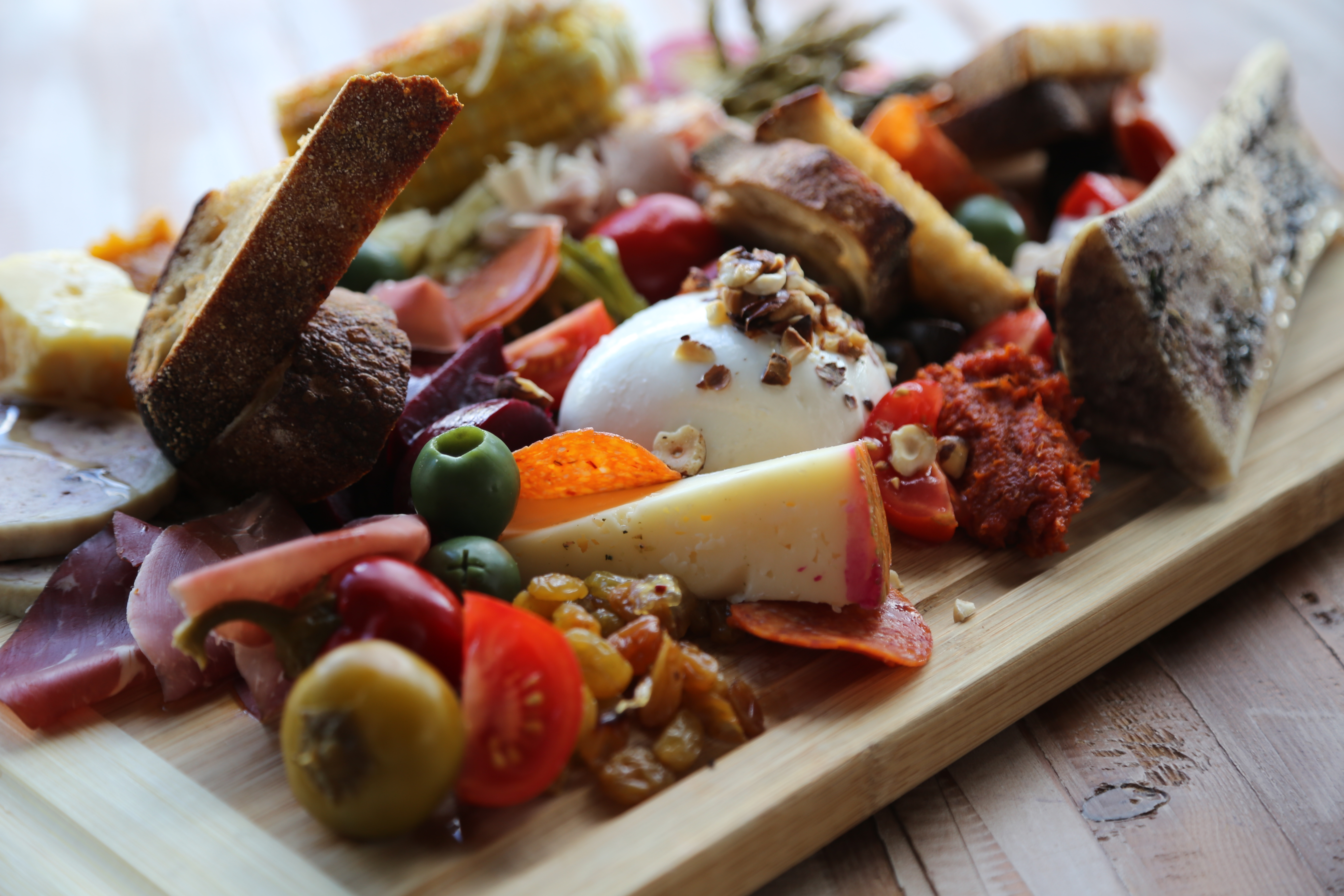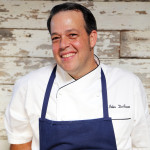 Phoenix-based Chef Peter Deruvo has been called "the crazy cook", partly because he cheffed at a defunct restaurant called "Cuoco Pazzo", meaning crazy cook. Names like that stick to a person. But his food isn't crazy, it's well-crafted, rustic Italian starting with housemade pasta and sauces. This year with the opening of Citrine, a Tempe, Arizona-based restaurant, Deruvo is at the top of his game. In 2015, he's even been named as "Best Chef" by Phoenix New Times, an accolade that's been attributed to three Valley of the Sun nationally recognized names Chris Bianco (Pizzeria Bianco), Nobua Fukuda (Nobua at Teeter House) and Christopher Gross (Christopher Crush), all of whom have been recognized as a James Beard award-winning chef.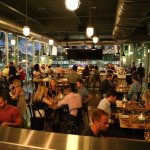 While living in San Francisco, he apprenticed with famed Bay Area Chez Panisse chef Paul Bertolli, San Francisco's Mike Tusk, owner of the Michelin-starred Quince and Paul Canales at Oakland's Oliveto where he refined his cooking, learning much about the restaurant world including a kitchen is not just about the chef but the hard-working support team surrounding him.
The City by the Bay afforded an introduction to award-winning olive oil producer Albert Katz, who sent him to Tuscany to learn everything he could about olives and olive oil. It was in Tuscany where Deruvo spent time tending the olive groves and farm at Montecastelli, a well-known Italian producer of gourmet wines, oils and vinegars. He also learned everything there was about the art of Italian cookery from neighboring trattorias, chefs and nonnas. All of this – including a stint working in Chicago — eventually lead him to Phoenix, with soaring tastes of his epicurean travels.
Over the past three years, Deruvo has opened three restaurants including the much-lauded EVO, one in the past six months and had three kids with his wife, Christine. He's not a crazy cook, just a busy chef with a family.
Chef's Questionnaire
How long have you been cooking? I've always been cooking! From a young age to spending my twenties in Italy to now, I just can't stop.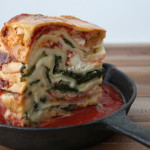 What is your favorite food to cook? Pasta is the game. It's a staple in my life in both kitchens that I run and develop, at Citrine and EVO.
What do you always have in your fridge at home?    Lots of fruits, vegetables and cheeses. With three children, I'm a stickler for balanced meals!
What do you cook at home?  I like to visit fresh farmers markets with my family to get inspiration. Whether it's Asian, Italian or what have you, it's never the same and always guaranteed fun!
What marked characteristic do you love in a customer? I love eaters who grow with the restaurant. As our dishes change, they try, adapt and change too, that's my favorite.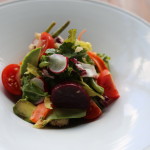 What marked characteristic do you find unappealing in a customer? Eaters who are afraid to challenge their palate. I promise it's worth it!
Tupperware, Rubbermaid, or Pyrex? Pyrex.
Beer, wine or cocktail?  Amaro.
Your favorite cookbook author?  Madeleine Kamman.
Your favorite kitchen tool? Olive oil.
Your favorite ingredient?   Also olive oil.
Your least favorite ingredient?  Hmmm… I'm stumped!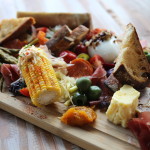 Least favorite thing to do in a kitchen?  Develop new pasta with old techniques.
Favorite types of cuisine to cook?  Asian, Italian, Polish, Spanish.
Beef, chicken, pork or tofu? Pork.
Favorite vegetable?    Any and all types of greens.
Chef you most admire? The chefs who are still behind the stove, developing, mentoring and creating.
Food you like the most to eat?  Pho.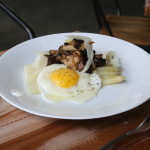 Food you dislike the most?    Liver. It brings back bad childhood memories!
How many tattoos? And if so, how many are of food?  One but none of food, food should be on the plate in front of you!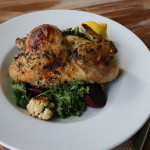 Momma's Pollo Arrosto + fall panzanella salad + natural jus      Yield   Serves 3
Ingredients  
2 lb whole roasted chicken
 ¼ cup of butter
2 lemons quartered
Magic Rub for the Chicken
1 tablespoon of chopped garlic
1 tablespoon of ground chili flake
1 tablespoon of chopped parsley
1 tablespoon chopped rosemary
1 tablespoon chopped thyme
Combine all ingredients and set aside for the chicken rub down
Brine Solution for Chicken
1 gallon of tepid water
¼ salt
¼ cup sugar
1 tablespoon black peppercorns crushed
¼ cup of white vinegar
Procedure:  
Combine all dry ingredients and spices with tepid water and submerge the chicken in liquid keeping it in the solution for over 24 hours.
Remove, dry, and season with salt, pepper. Under the skin of the chicken tuck all the butter.
Combine all chili, garlic and herbs and rub chicken down generously.
Truss chicken and set aside for roasting in an oven at 350 for 55 minutes until it reaches an internal temperature of 165 degrees.
Fall Panzanella Salad ingredients:  
¼ cup roasted butternut squash
1/8 cup of roasted cauliflower
1/8 cup of rinsed and cleaned kale
¼ blanched and sauteed green beans, sauteed in garlic, lemon and olive oil
¼ cup quartered tomatoes
¼ cup of toasted croutons
1 tablespoon of olive oil
1 tablespoon of red wine vinegar
Salt and pepper to taste
Procedure:   Combine all ingredients, toss lightly with olive oil and vinegar and season to taste; After the  chicken is fully cooked and rested, the salad will go underneath roasted chicken and garnish with quartered lemons.
Note: Chicken is also great served cold as a chicken salad.
The End. Go Eat.