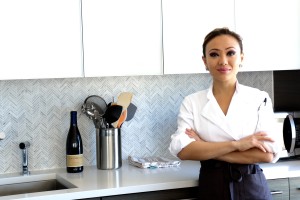 Chef Kathy Fang is the daughter of one of San Francisco's legendary chefs, Peter Fang of the House of Nanking. To the uninitiated, those who have never eaten Chinese food in Shanghai or one of the major Asian-American urban hubs such as Los Angeles, New York, Seattle, and Vancouver have probably eaten the domestic version normally laden with excess soy sauce, oils and fried. Shanghai food mixes a variety of regional Chinese cooking, primarily because the twenty-four million inhabitants  come seeking work in the big city. Street carts characterize the cuisine – eat and run – such as steamed buns, scallion pancakes, and a variety of rice balls. Each morsel can produce bold, complex flavors if placed in the correct hands – such as Chef Fang. Even today, more than twenty-five years later, queues are outside the first Chinatown located restaurant with far-flung travelers, guidebooks in hand, ready to dine on Fang's Shanghainese-type eats.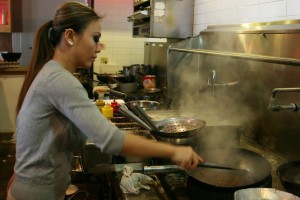 Along comes his daughter, Kathy Fang, who is every bit her father's progeny but personifies the new generation of chefs, realizing that there is more than just the kitchen to cooking. After working in the corporate scene, the younger Fang decided to follow in the family's footsteps, learning about European cooking techniques at a premier local culinary school. Together, in 2008, the father and daughter team opened Fang Restaurant, an elegant establishment focusing on the Chinese regional foods, but with a more refined, gastronomic approach.
"I'm very blessed to be around my dad and parents," states Ms. Fang about working with her parents and father. "My dad can be very stubborn but we work together many hours of the day. Ultimately, we have a very loving relationship inside and outside the kitchen."
Last year, Ms. Fang, was a winner on Food Network's Chopped, the broadcast cooking competition show which places four chefs against each other with the hopes of winning ten thousand dollars. Ms. Fang, a petite and attractive woman, beat three burly Caucasian men. She says of winning, "Now, we get customers, mostly female, who come into Fang. They say, 'I was rooting for you all the way against those guys. It was great to see a woman win.' "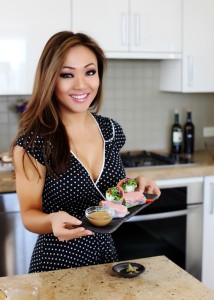 Ms. Fang's future is bright as she continues to cook with her father at their eponymously named gourmet hall. Outside the kitchen, though, she is branding herself as a culinary leader with My Fangalicious, her website and family recipes. Her hopes are to become the next Martha Stewart with a "branded wok" and other gastronomic items like her Caucasian predecessors. As her clientele has attested, it's good to see diversity in the food mix, so all people can be included in the conversation.
Chef Questionnaire (with a nod to Proust)
 How long have you been cooking? Since I was 6 years old
What is your favorite food to cook? Pasta
What do you always have in your fridge at home? Eggs, hot sauce.
What do you cook at home? Asian and Italian food
What marked characteristic do you love in a customer? I'm lucky in that a lot of our customers come in to Fang knowing to trust the chef. I love customers who come in with an open mind to try new things to eat.
What marked characteristic do you find unappealing in a customer? Customers who finish their meal and then tell you afterwards they didn't like it. If you don't like it, mention something right away. I feel like any restaurant would apologize and offer to make something different for you. Just be up front in the beginning, and we would be more than happy to make any changes for you.
Tupperware, Rubbermaid, or Pyrex? Pyrex
Beer, wine, or cocktail? Wine to wind down at home or when having dinner. Cocktails for a night out, a gin martini to be exact.
Your favorite cookbook author? David Chang. I love how he weaves his own story into the growth of all his restaurants. You learn about him, his restaurants, and his recipes all in one book.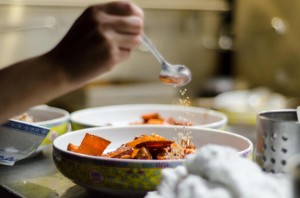 Your favorite kitchen tool? This may seem weird but my electric kettle at home. I'm obsessed with it mostly because it heats up to boil so fast. I boil water for tea, water for boiling pasta, water for blanching. I also heat up soups using the kettle because it's so fast. I just let it go, brush my teeth, work on my computer and then it shuts off after it boils. I also boil eggs in there in the morning.  For the cost and how often I use it and in so many different ways, it's really one of the best little kitchen tools I have.
Your favorite ingredient? Soy sauce (I grew up eating this and I can't imagine my cuisine without it)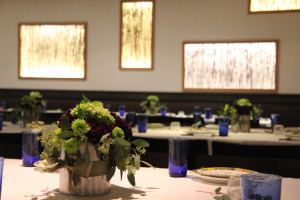 Your least favorite ingredient? Lemon pepper. I always think it has this weird fake element to it. And I never understood why you wouldn't just use fresh lemon or citrus and freshly cracked pepper.
Least favorite thing to do in a kitchen? Dishes
Favorite types of cuisine to cook? Italian, Chinese, and Japanese
Beef, chicken, pork, or tofu? Pork
Favorite vegetable? I know it's an overused vegetable and it seems like it's that overly popular girl at school that everyone seems to talk about, but KALE is truly one of my favorite vegetables. For one, I'm a health nut, so any vegetable that I find healthy, I like. But aside from that, I find kale super versatile. I buy in big amounts because I can go through it all week. I can bake kale until it's crisp like chips, I can sautée with eggs in the morning for breakfast. Kale works well in soups and stews. It also makes great salads if done right.  And finally toss it in smoothies to get extra vitamins and fiber. There are just so many ways to eat kale!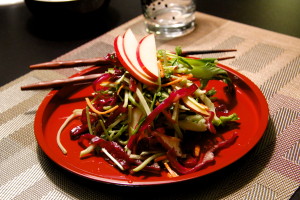 Chef you most admire? Grant Achatz, Dominique Crenn, and Thomas Keller.
Food you like the most to eat? Sushi
Food you dislike the most? Natto
How many tattoos? And if so, how many are of food? None.
Recipe: Pesto Udon Noodle Salad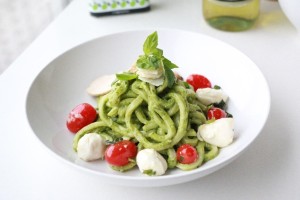 Serves 2.
Make fresh pesto by blending fresh Italian basil, 2 garlic cloves, 3 tablespoon grated parmigiano reggiano, 2 tablespoons pine nuts, 4 tablespoon high quality evoo, and salt. Taste and set aside. Bring a pot of water to boil (or use electric kettle) and pour the hot water over packaged udon noodles. Separate the noodles and let sit for 1 minute and stir.  Remove from water and run under cold water.  Set aside.  Dress the udon with freshly made pesto and plate. Slice some grilled chicken breast or roasted chicken and top the udon with it. Mozzarella balls and cherry/grape tomatoes are a great addition to this dish, as is a generous sprinkle of parmigiano reggiano.