A long, long time ago in a galaxy far, far away…honestly, it was only 30 years ago when New York City's Little Italy seemed like a slice of Naples. The area wasn't so sanitized and mafia guys, like John Gotti, would hang out in the one of the local trattorias. Now, they are all in Brooklyn like the last of the Godfather series. Then, laundry would hang from pulleys rigged between buildings and neighbors screamed at each other from across the street, "Hey Doris! I need some sugah!" That was Little Italy.
As real estate has become the number one money maker in the world, old Big Apple neighborhoods have transformed into shopping and eating meccas with name brand stores holding court. The web of streets below Houston and east of Broadway always had a lot of European charm with independent shops from butchers to bakers and candlestick makers, but it's been joined by bigger outlets. Think of seeing the actor Steve Buscemi, long noted for independent films, next to George Clooney, Hollywood glitz, but it's only because Steve is there that George came to the party. It's a bit of a shock almost like one of these things does not belong. Yet, like all things in New York, they co-exist, peacefully and wind up working in movies together. (See Spy Kids 3-D: Game Over.)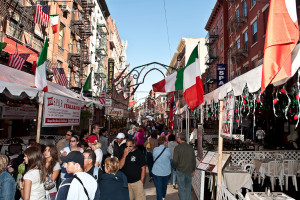 Probably one of the country's most important ethnic festivals, The Feast of San Gennaro, started in the area. Originally, the event was to welcome new Italian immigrants to the area. Now, almost a hundred years later, the one day event has expanded into eleven and six urban blocks of food, raucousness and general good naturedness saying, "This is what New York City was like." In September, it seems like the world, not only those interested in pasta and pizza, converge on Mulberry between Houston and Canal. Instead of paisanos walking the streets, it really is a melting pot of cultures eating sausages with peppers and onions, throwing darts at balloons, tossing ping pongs into fishbowls and carrying on…welcoming everyone to the neighborhood.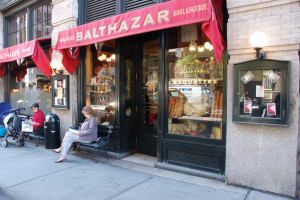 Breakfast: Breakfast at Balthazar should be on the bookshelf with Breakfast at Tiffany's, but there isn't a book with that title. Ever since opening in 1997 Keith McNally's ode to Paris has been a staple of the downtown demi-monde set. At dinner, it's still one of the few places to see and be seen. Breakfast is normally not such a rush. it's a quieter atmosphere with businessmen and female entrepreneurs holding court. Funny, to be recommending a French place while walking around Little Italy, but it's a must.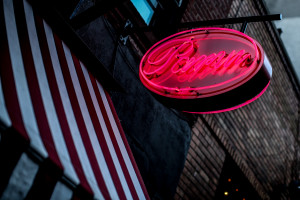 Lunch: Walking in New York is tantamount to running a gauntlet if you're not used to it. Swerving and dipping. Spinning and sprinting. The onslaught of pedestrians is mesmerizing,  overwhelming and hungry-making which is why you need a hearty lunch. Head to Parm. One of those newly designed farm-to-table  sandwich shops but this one started on Mulberry Street and now has sisters in Battery Park City, Yankee Stadium, and the Upper Westside. (Everything has to be a conglomerate.) It's fun and affordable. You can belly up to the bar and have a lunch cocktail ( I would) to wash down a delish  sandwich. It's simple fare and without a lengthy menu.
Cocktails: Spring Lounge. Sitting on the corner of Spring and Mulberry is a citadel to urban drinking. Spring Lounge, for generations, is the place where you're coming for a shot of anything, with a beer or whiskey chaser. Holding up since the 1920's, as the interior wood paneling can attest, it was first a haven for drinkers during Prohibition, meaning you could get your beer on. Now, it's a bar with sister bars but you can still get pretty wasted cheaply. If you are so inclined you could join the Early Morning Drinkers Society which starts at 8:00am and yes, Virginia, people are sipping the toddy in the morning.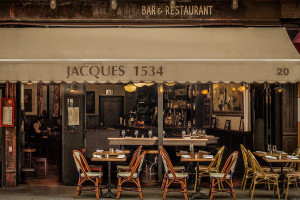 Dinner: Jacques. I know, I know. You are in Little Italy, why the hell am I recommending two French places? Well, it's because there are excellent Italians restaurants in every place but Little Italy. Head uptown to Lidia Bastianich's Felidia or Mario Batali's Babbo. Italians, like the LGBTQ community, aren't in ghettoes anymore, they are everywhere. So…we're going French in Little Italy at Jacques. Part of the charm is the escargot, the excellent steak frites, the French accented waitstaff. It's like being in a real brasserie in Paris without the plane ride. The smoky yellow walls seem to be evidence of a bygone era when patrons and their tobacco habits have left behind the color as a souvenir. Tin signs are extolling French products also decorate the room with wood chairs and benches. It's very New York-centric and symbolic of a changing neighborhood. They also have some excellent specials such as order a full meal for a couple and get a bottle of wine, meaning two entrees and two appetizers.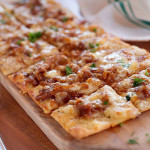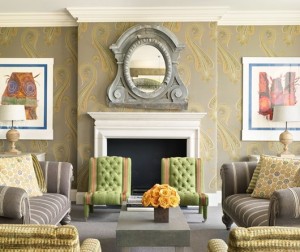 Where to Stay: The Crosby Street Hotel. An 86-room hotel outfitted with fabric covered walls and Easter egg colored chairs sits at the entry to Little Italy. It's a modern looking structure tucked in amongst the last remaining tenements apartment building harkening back to New York's roughed up days.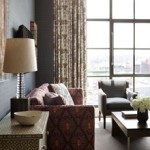 Firmdale, the hotelier, does this weird thing saying it's in Soho but really, it's Little Italy. Soho is the mostly made-up of cast-iron buildings and is located on the west of Broadway. These are tenements. Regardless, it's a beautiful, small hotel located off the beaten path much better than the Soho Grand which is just stuffier and older.
Pin for later: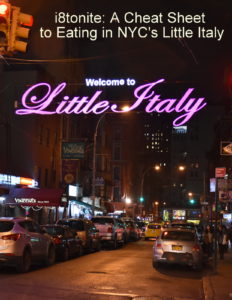 The end. Go eat.