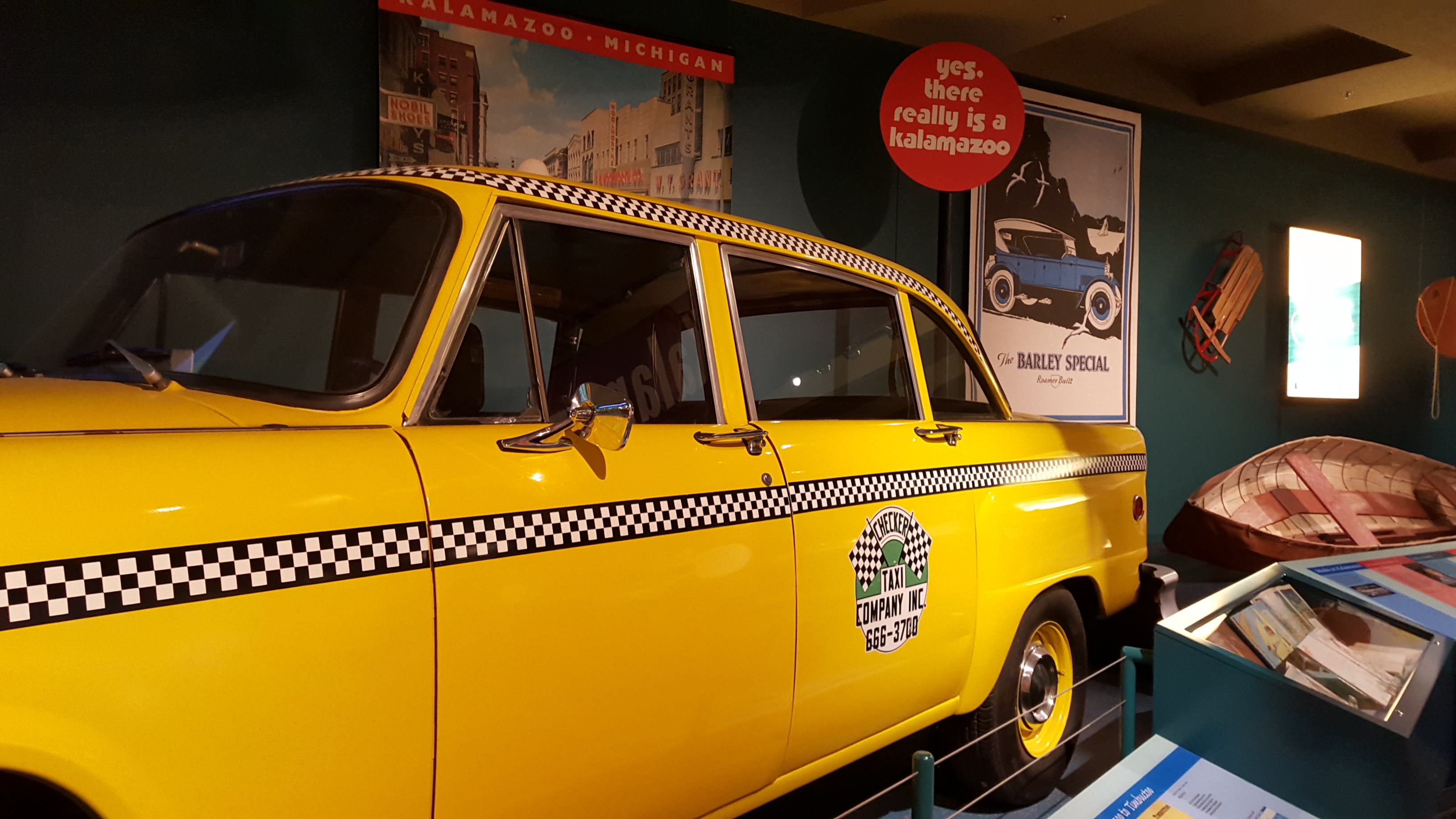 You may have heard of Kalamazoo from one of the many popular songs about the city – from Glenn Miller to Ben Folds Five to my favorite, Walt Kelly's Deck Us All with Boston Charlie – or poems, including one by Carl Sandberg. Kalamazoo has many nicknames, including Windmill City, Celery City, Mall City, and Paper City; it is the home of the Kalamazoo Promise, which offers college tuition to Kalamazoo Public School students. It is a city of entrepreneurship and hard work, including Upjohn Pharmaceuticals, The Peppermint King, Checker Cabs, Gibson Guitars (this is a very musical city), paper mills, and medical innovations, like those of orthopedic surgeon Dr. Stryker, who invented the cast-cutting saw and a turning bed frame.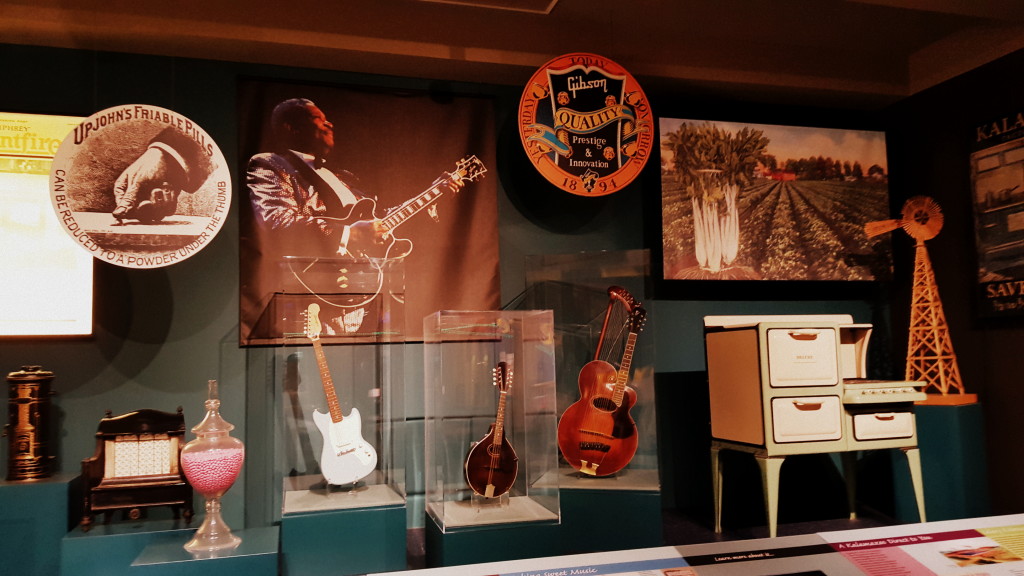 The name Kalamazoo is a Potawatomi Indian expression, meaning boils like a pot (one look at the surface of the Kalamazoo River and you will nod your head in agreement). This is a vibrant small town with more diversity than you'd expect, thanks to the large corporations in town, as well as Western Michigan University and Kalamazoo College. That means good food! There's a fantastic farmer's market, and plenty of great food trucks (both at the farmer's market, and downtown at Bronson Park during lunch and events).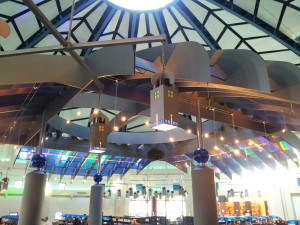 Speaking of Bronson Park, so much surrounds this public space – my favorite library, the Institute of Arts, the Civic Theatre – and it was the center of a deadly tornado, in 1980. Town founder Titus Bronson slept here in 1831, on his first night before settling in and founding the town; President Lincoln spoke here, as did Stephen A. Douglas, William Jennings Bryan, Theodore Roosevelt, and both John and Robert Kennedy. Today, you'll hear bands in the bandshell and see kids splashing in the fountains in summer, and in winter, you can walk among the holiday lights.
Be alert when driving around town – you might catch a glimpse of the famous Banana Car! Kalamazoo is about 140 miles from Detroit and Chicago, and less than 35 miles from South Haven, if you'd like to see Lake Michigan on Michigan's Sunset Coast.
It was extremely difficult to narrow these categories down. Kalamazoo is a food town, I'm lucky to say. I'm sure this won't be the last you'll hear this from me.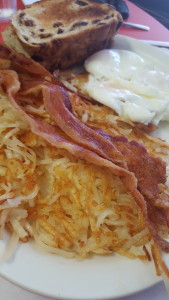 Breakfast: Nina's Café
Since 1998, locals have been flocking to Nina's café for their excellent, home-cooked breakfasts and friendly atmosphere. You'll find people of all kinds here, but there's one thing they have in common: they love a good breakfast. It's a small diner-type restaurant, with under a dozen tables and some stools at the counter. Most of the bread is homemade, so ask when you order. They also serve lunch, but I've never tried that – WHO CAN RESIST a breakfast menu?
My Suggestion: Anything with hash browns. They are crispy, crunchy, and oh, so delicious. Eggs of any form are delicious, and be sure to try the biscuits and sausage gravy if you love them (ahem, me). Or the corned beef hash (ahem, me). And the homemade toast? Yes…
Price $5- $10
Hours 6:30am- 2:30pm every day except Sunday, 8am-2:30pm
Address 1710 W Main St
Phone (269) 373-6462
Website http://www.ninas-cafe.com/
Second Breakfast (Bakery)
There's only one place to send you, and I hope that you've worked off breakfast, because Sarkozy's Bakery is extraordinary. I've eaten their oatmeal bread my entire life, and their pastries are the epitome of deliciousness. On weekends, you'll find live music from local musicians, and definitely pop in during Art Hop. If you're coming to the area, sign up for Judy Sarkozy's email list – it's not only interesting, and a behind-the-scenes look at running a bakery, but you'll also learn about local ingredients and and special offerings (paw paws this fall, paczkis for Fat Tuesday). You can get meals, too – quiche, soups, etc. – but save room for lunch!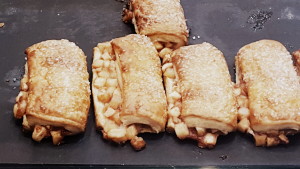 My Suggestion:  I can't decide. So I will give you several. The Chocolate Croissant is luscious. The Almond pastry – divine. The Cookies. The Apple pies, crisp flaky, with a tender Michigan apple filling with just the right amount of cinnamon and crunchy turbinado sugar. Hold on, I'll be right back…
Price pastries are $2-4.
Hours Monday-Friday7:30am –5pm, Saturday7:30am–4pm, Sunday 8am–2 pm
Address 350 E Michigan Ave
Phone (269) 342-1952
Website under construction, try http://www.yelp.com/biz/sarkozy-bakery-kalamazoo-2
Lunch: Saffron
Let's just pause a minute for the joy that is freshly baked naan. Now, pause another minute for this gorgeous salad with pomegranates. Do you want to eat anything else? The answer, at Saffron, is a resounding yes.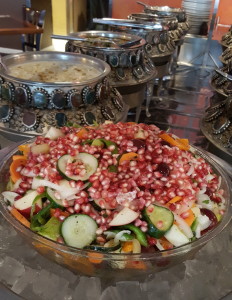 My Suggestion: When you walk into Saffron and view the wonder that is the lunch buffet, you know you won't need a menu. EVERYTHING on the buffet is delicious. Highlights for me are the composed salad that we definitely need a recipe for, tandoori chicken, chicken curry, and many other delicious dishes, but best of all, finishing up with a creamy rice pudding studded with my favorite spice, cardamom.
Price buffet $11, entrees around $15 at lunch
Hours M-Th, 11:30am-2pm, 5-9:15pm; F 11:30am-2pm, 5-10pm; Sat 12-2:30pm, 5-10pm. Closed Sundays
Address 1710 W Main St (yes, just a few doors down from Nina's)
Phone (269) 381-9898
Website http://saffronkzoo.com/
Coffeeshop: Something's Brewing
There are several contenders for this spot (Black Owl,  my favorite coffee in town, but closes at 3pm ; Water Street, crowded at times but open late; Chocolatea, but far down in Portage). The one that rose to the top like foam atop steamed milk is Something's Brewing. Located just across the street from the main library, this is a small coffeeshop with a big heart. Kalamazoo's original coffeeshop (opening in 1994), the shop has new owners in the last few years, and they know how to bake. I tell EVERY SINGLE PERSON about their homemade cinnamon pop-tarts. They have luscious chai latte ice cream smoothies in summer (!), and delicious drinks year round. The barista is so friendly that you feel welcome every time. Plus, she can turn a great espresso.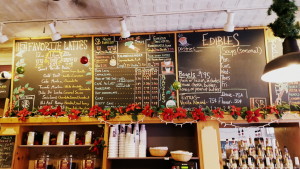 My Suggestion: Frankly? Anything on the menu; I especially love the mochas. Our daughter gets the peanut butter peppermint mocha and swoons. I like their atmosphere (it's small!) and the comfy chairs at the back, or the outside seating in the summer. If you like iced coffee, they use coffee ice cubes – a genius trick for not watered down iced coffee. Check their facebook page (their only web presence) for the baked goodies of the day. If you see the cinnamon pop-tarts, RUN. They sell out fast.
Price under $5
Hours M-F, 6am-5pm, Saturday 8am-1pm, closed Sundays
Address 120 W South St
Phone (269) 349-1295
Website https://www.facebook.com/SBCoffeeKzoo/
Happy Hour
Kalamazoo is the center of Michigan's craft brewing scene, so if you love beer, you can't go wrong in this town, annually named as a top beer town in the US (here's a beer map to all 14 breweries). Perhaps the most recognized craft brewery is Bell's (try their Oberon Ale, in the summer). But with a slew of breweries, where to go?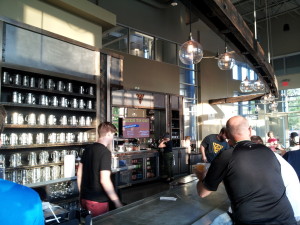 My Suggestion: Head to Arcadia Ales. Located a few blocks east of downtown, and on the Kalamazoo River, Arcadia Ales offers more than a few beers. I took a Yelp Elite tour of the brewery, and came away amazed. Started in 1996, Arcadia Brewing offers year-round, seasonal, specialty, and draft only beers. Here's the thing that will make you happy (besides the outdoor patio) – the smokehouse. HOLY SMOKES, this is good stuff (ha! see what I did there?). While I love the brisket the most, I also enjoy the house made sausage, dry-rubbed spare ribs, and mac and cheese. All meat is locally-sourced. The smokehouse offerings make the beer even easier to drink – it's a complete package. Try a flight of beers if you can't decide!
Price Beer flights $10-15
Hours Tues-Saturday, 11am-11pm, Sunday 11am-9pm, Closed Mondays.
Address 701 E Michigan Ave
Phone (269) 276-0458
Website http://arcadiaales.com/
Dinner: Food Dance
I recommend Food Dance for more than their delicious food. They embody a farm to table ethos that goes a bit further: "We support artisans who practice craft food processes that have been around for generations—growing, raising, preserving, curing, aging, pickling, butchering and more." Not only can you get that at the restaurant, but also at the small shop outside of the restaurant, where you can purchase artisanal meat/bread/etc. The restaurant annually wins awards, and it's easy to see why – elegant atmosphere, attentive waitstaff, and extraordinary food.
My Suggestion: While the entirety of the menu is delicious (or so my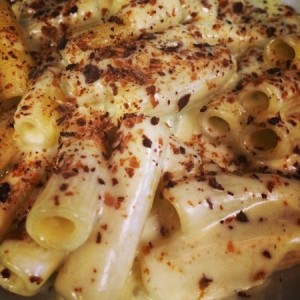 family says), I would drive 24 hours straight to get their ultimate macaroni and cheese. This, too, wins awards for best Macaroni and Cheese in Michigan – take a look at the ingredients: rustichella d'abruzzo rigatoni, grafton aged cheddar, cream, caramelized onions, house made bacon, fresh spinach, toasted bread crumbs, field greens salad. You'll thank me. I get it EVERY SINGLE TIME. Note: try the ginger mint lemonade – it's scrumptious.
Price Ultimate Mac & Cheese, $19. Entrees range from $20-30
Hours Monday-Thursday 7am-10pm, Friday and Saturday 7am-11pm, Sunday 8am-3pm
Address 401 E Michigan Ave #100
Phone (269) 382-1888
Website http://fooddance.net/
Pin for later: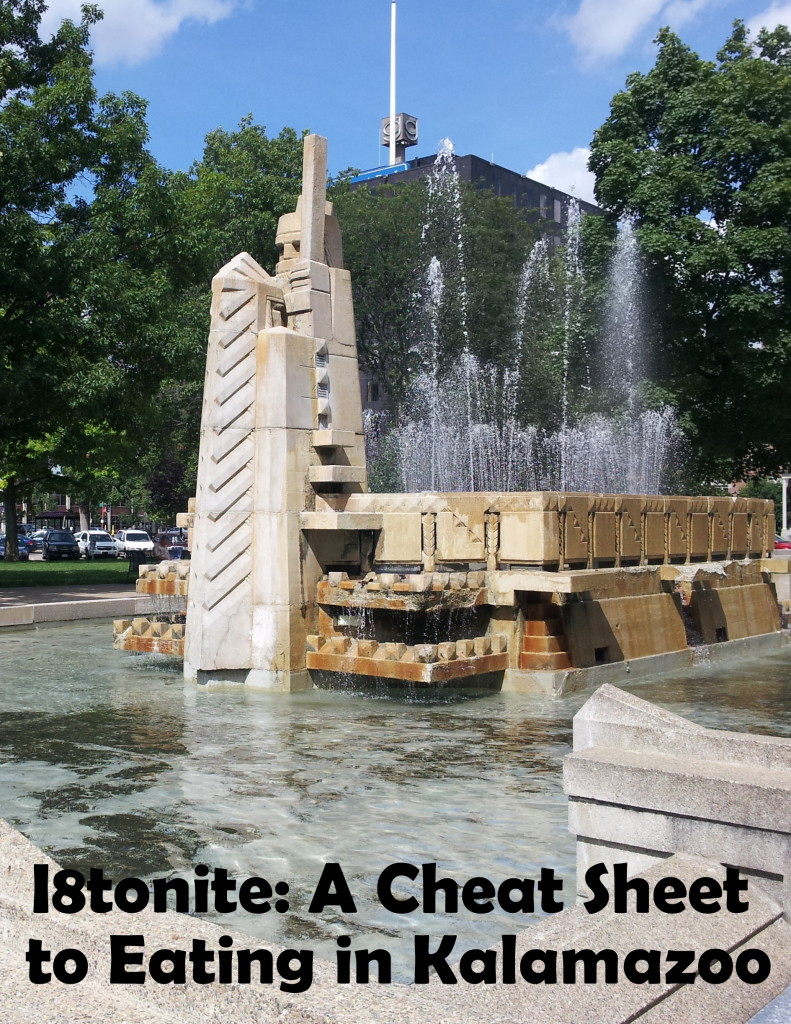 The End. Go Eat.
All photos courtesy and copyright Jessie Voigts, except where noted.