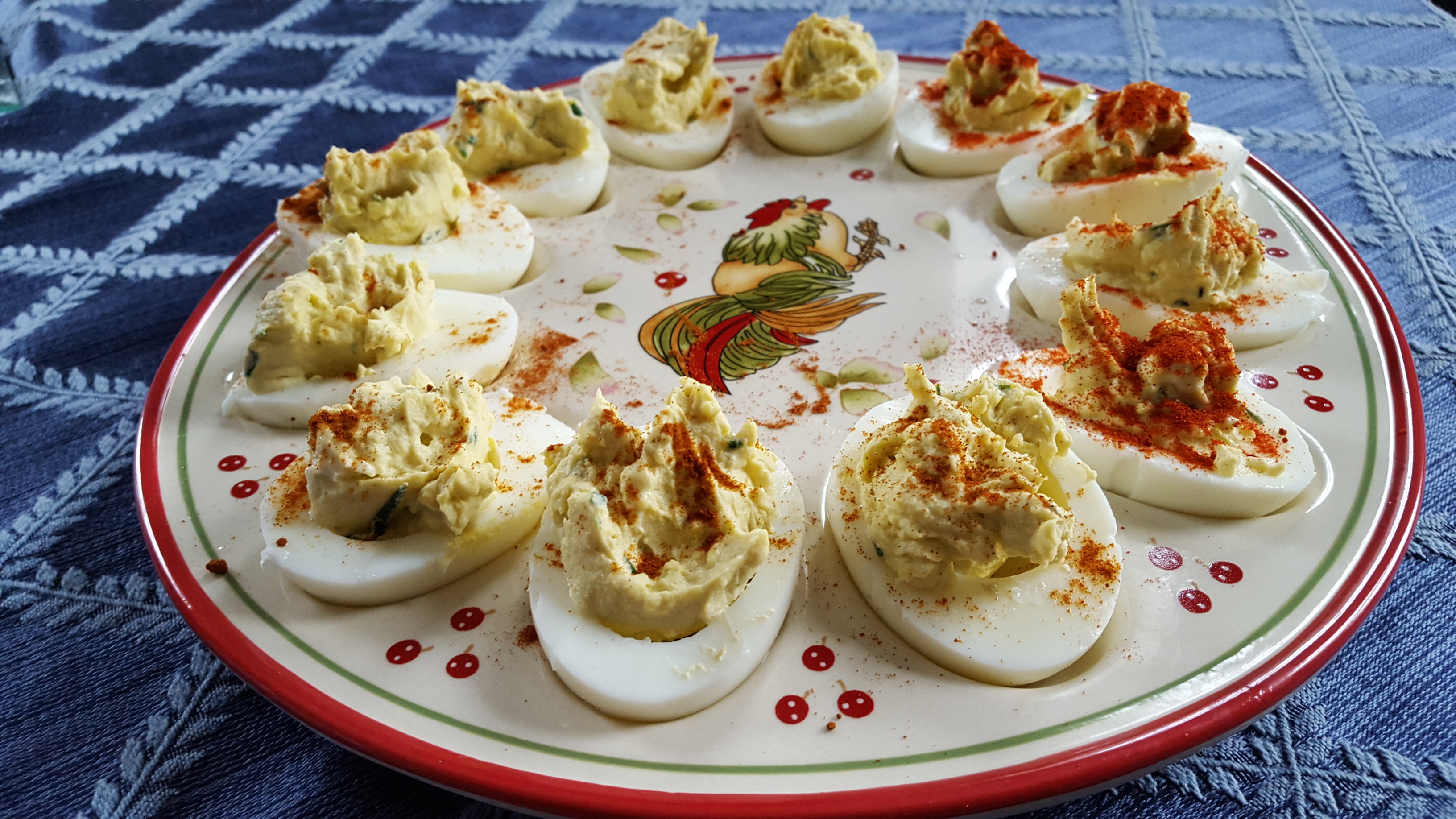 Deviled Eggs – the highlight of any group gathering…one look and people cluster to snag some, long for more, become sad when they are gone too soon.
What is it about deviled eggs that we so love? It could be the variations – from Chef Thomas Keller's classic deviled eggs for the Oscars last night to the blasphemy/brilliance of buzzfeed's deep fried deviled eggs. It could be that they are comfort food, or holiday food, or party food, or deeply nourishing food.
I don't know one person who doesn't love deviled eggs – if I met one, I'd be suspicious (Are they human? Do they have taste buds? Who are these people?).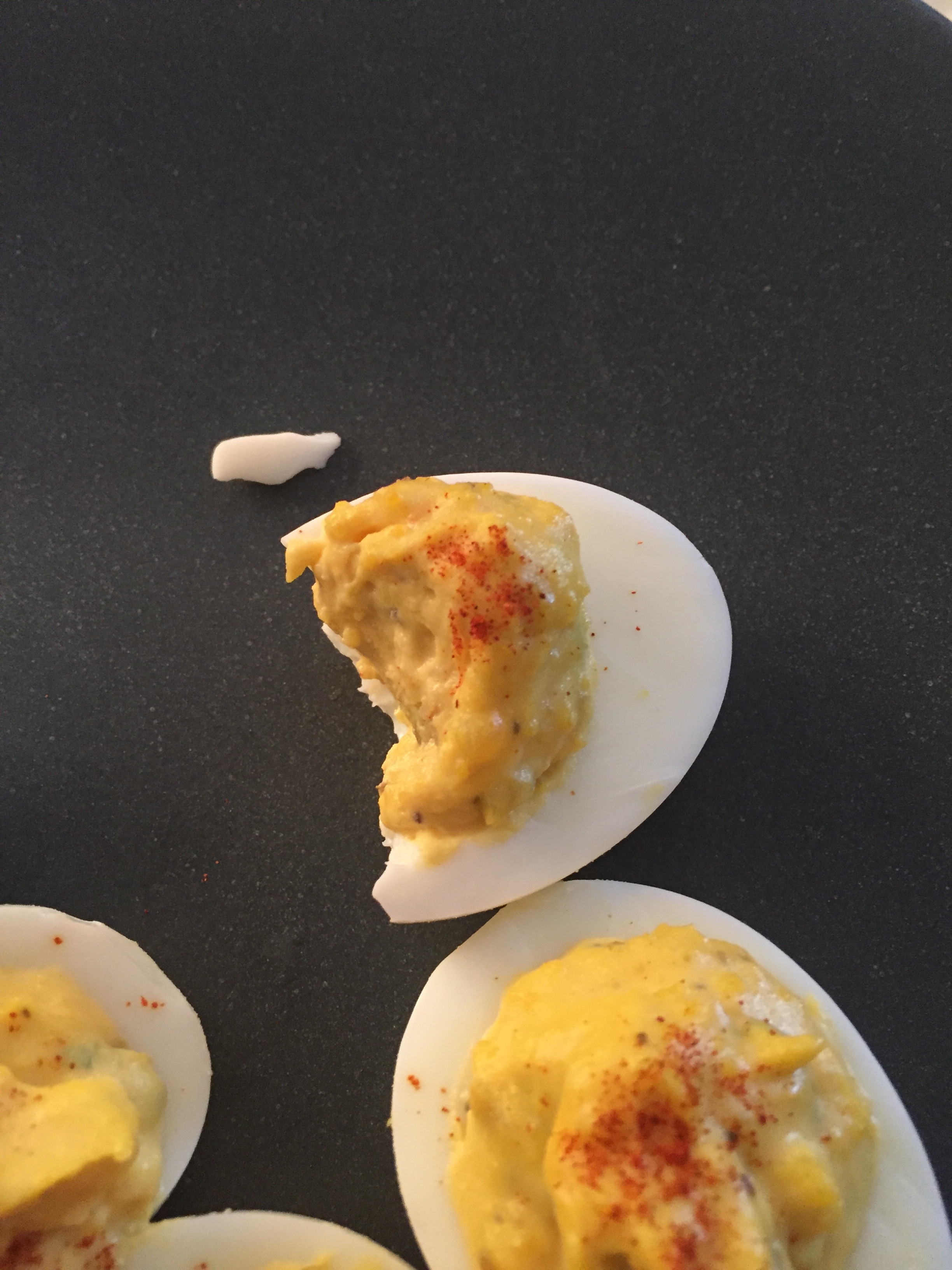 While in Milwaukee last month ("researching" our great food recommendations for our Cheat Sheet to eating in Milwaukee), my friend Amy Sobczak and I started discussing deviled eggs (because Vanguard was OUT of them. Oh, the sadness). The longer Amy and I talked, the more I realized how important deviled eggs are – to our meals, families, and celebrations.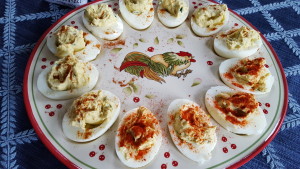 Here are some deviled egg musings from Amy and I – and a few family recipes.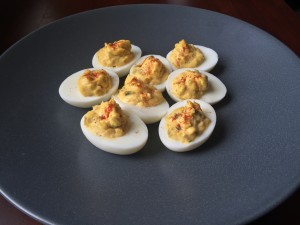 What is your first memory of deviled eggs?
A: Ah, the deviled egg… a cherished treat made for holidays and celebrations. I realized as a young girl that these little delights go fast at family functions, so the hover and snatch move at the serving table was necessary to enjoy as many as possible. Once they're gone, they're gone!
J: I remember peeking over the table when I was small, eyeing that platter of deviled eggs and wondering if "they" would know if I took one out. Of course, I was too short to see that the deviled eggs were placed on special dishes that had egg-shaped indentations on them, thus letting anyone know that there had been a egg-snitcher. Two words: WORTH IT. And, I went back for more.
What family traditions do you have around deviled eggs?
J: Well, deviled eggs are holiday food in my extended family. My aunt brings them at Christmas. Others bring them to summer gatherings. In our house, I make them often because they are good protein, and good snacks, and we can't get enough of them.
A: Deviled eggs are a special occasion treat for us as well, rarely made for just your typical day. A family member or friend would always bring them to showers, birthday parties, and holiday get togethers.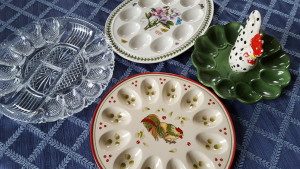 What ingredient can't you stand in deviled eggs?
A: I never met a deviled egg ingredient I didn't like.
J: Pickles. Onions. Anything super strong or crunchy. My granny added olives, and/or topped them with caviar and I'd (gasp) avoid them.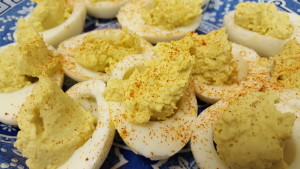 Favorite part of the deviled egg… Yolk or white?
J: YOLK all the way!
A: The yolk… hands down!
What's with the name 'deviled egg?'
A: Hmm… perhaps it's deviled because of the mixing and mashing of several ingredients.
J: I add a titch of horseradish – devil-ish? Or maybe that the Hungarian paprika we sprinkle on top can be spicy?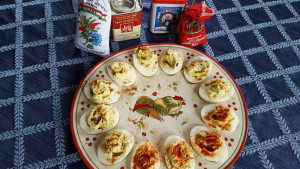 Why do you think deviled eggs are so popular? They are always first to go, at a potluck!
J: Maybe because they can be tedious to make (although easier than many) and people reserve that cooking effort for holidays? I'm not sure, but when I see them anywhere, I grab a few!
A: They go with anything and everything!
We've seen some pretty crazy things (such as deep fried deviled eggs!) – would you eat them? why or why not?
A: Look, I love to try new things but I'm old school when it comes to the deviled egg. There's something about that delicate balance between the firm white against the tangy yolk mixture. It's just so delicious. Can't mess with that.
J: Um, NO. Just no. It's blasphemy. Eggs need to be cold, not warm; soft, not fried. Please stop.
Our favorite ingredients:
A: A good horseradish, pickle relish, and celery seed
J: Mayo, mustard, horseradish, chives, topped with paprika and salt
How to boil eggs
You can't beat the directions from Food 52 and Serious Eats.
Recipe: Amy's Deviled Eggs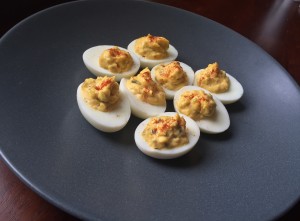 6 eggs, hard boiled, shelled, cut in half
1 tbsp Dijon mustard
2 tbsp mayonnaise
1 tbsp pickle relish (drained)
½ tbsp cream style horseradish
¼ tbsp dried chopped chives
⅛ tbsp dried green onion flakes
⅛ tbsp dried onion powder
¼ tbsp dried celery seed
Hungarian paprika to taste/finish
Remove the yolk from each egg half and place in a small bowl. Put whites aside. Mash yolks with a fork add next eight ingredients and mix well to a fluffy consistency. Add relish juice if mixture is too dry (¼ tsp at a time). Fill egg whites full to heaping and sprinkle with paprika. Store in refrigerator.
Recipe: Jessie's Deviled Eggs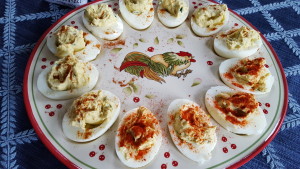 1 dozen eggs (from a local farm is best. Trust me, I grew up reaching under chickens to grab them)
Squirt of yellow mustard
Mayonnaise, to taste
Grated horseradish, to taste
Fresh chives, snipped to small pieces
Salt, to taste
Sweet and Hot paprika, to taste
Boil your eggs. Run them under cold water and crack the shells a tiny bit, to let the cold water in and cool them down. Drain. Peel the eggs and cut in half.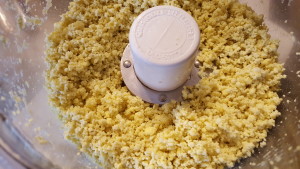 Place the whites onto your special deviled egg plate (or a regular plate, if you don't have one yet). Put the yolks into a food processor and buzz a few times to create crumbles. Scrape into a bowl and add your ingredients.
Be careful with how much mayonnaise you put in – you can always add more, but you can't take it out. Stir carefully until all is blended. Then scrape with a spoon into the hollows of the whites. Sprinkle with paprika, to taste. Keep them chilled until serving.
My husband and dad love the hot paprika. I love the sweet. Everyone loves different amounts, so start with a light hand and keep the paprika next to the plate, for those that like to add more. We usually have several kinds of paprika around – the latest is some very delicious paprika direct from Budapest, brought back by my best friend (thank you!).
What do you add to your deviled eggs? How often do you make them?