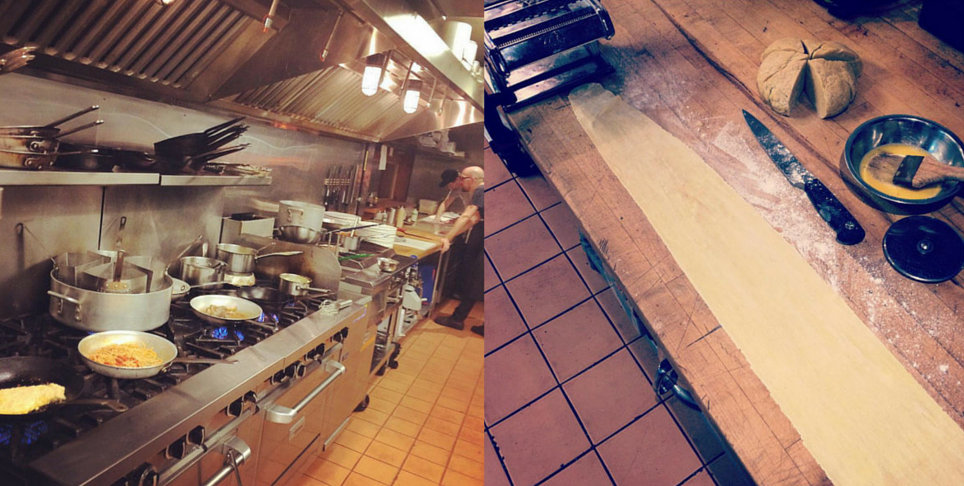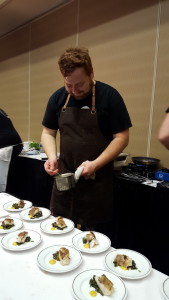 I first met Chef Mark McCrowe at RANL's Food Day Canada event in St. John's, Newfoundland, on my very first day in town. Held in a large ballroom, the event showcased several dozen chefs from around Canada – and some extraordinary local dishes. Newfoundland is in the middle of a culinary renaissance – so much good food, so many excellent and creative chefs, and an eat local ethic that is impressive, given the northern Atlantic locale on an island called The Rock.
I was impressed with his presentation and flavor of his dish – a salt beef and potato crusted cod with mustard pickle puree, collard greens, and a whelk beurre blanc sauce. It was the perfect introduction to Newfoundland.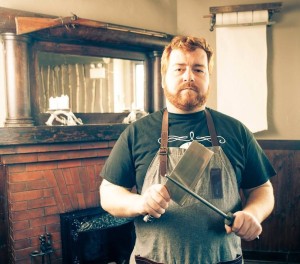 Mark was born and raised in St. John's, NL. Growing up around simple Newfoundland dishes, using fresh seafood and wild game, inspired an appreciation of the local style of food and where it comes from. After studying culinary and baking and pastry arts in British Columbia and working in some of Van city's best kitchens, he returned home to further his own individual style as a chef. Mark opened his first restaurant, Aqua, at the age of 26 and his second more casual gastropub, The Club, at the age of 29. Mark is living his dream: cooking the food he loves to cook and doing it in the place and for the people that mean so much to him…………Happy cooking!!
Find him in St. John's, Newfoundland, at EVOO in the Courtyard.
Chef's Questionnaire (with a nod to Proust):
How long have you been cooking?
Since I was about 13. I would record all the Wok With Yan episodes on VHS and recreate them for my family. Still my favourite show!
What is your favorite food to cook?
I'm obsessed with the wide variety of flavours and ingredients in Asian food, but I like to work my way around the globe though ingredients without ever spending the money to travel :p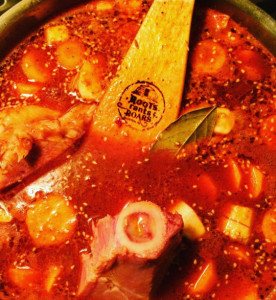 What do you always have in your fridge at home?
I use way too much sambal olek and sriracha.
What do you cook at home?
I'm a one pot wonder kinda guy. I like simple flavourful food and dislike doing the dishes.
What marked characteristic do you love in a customer?
I like when customers are having fun and are just plain into what they are eating. Life is too short to be a stuffy loser.
What marked characteristic do you find unappealing in a customer?
You never know what kind of day someone has had or what they may be going through in their personal life, but there is never an excuse for treating a server like garbage.
Tupperware, Rubbermaid, or Pyrex?
I'm all about the ziplock, baby.
Beer, wine, or cocktail?
All of the above, please.
Your favorite cookbook author?
Jacques Pepin is and always will be.
Your favorite kitchen tool?
My hands
Your favorite ingredient?
Pork and pork related products
Your least favorite ingredient?
Kiwi (I'm allergic)
Least favorite thing to do in a kitchen?
Inventory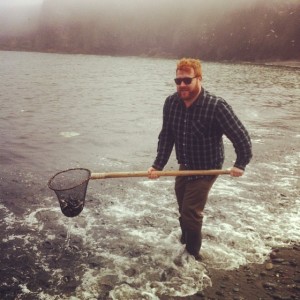 Favorite types of cuisine to cook?
I adore so many types of food. What really interests me is the simple recipes using local Newfoundland ingredients that my grandparents would use. I always like applying them to modern day cooking.
Beef, chicken, pork or tofu?
Pork with tofu, if I could
Favorite vegetable?
Onion
Chef you most admire?
Shaun Hussey of Chinched bistro in St.John's, Newfoundland. He's a good friend and the type of chef that is always pushing himself. The real deal.
Food you like the most to eat?
I like anything you have to get into and eat with your hands…like a platter of Newfoundland seafood with lobster and crab.
Food you dislike the most?
I hate food that looks to pretty to eat and is too smart for its own good. Sometimes a tomato is nicer than a tomato gel.
How many tattoos? And if so, how many are of food?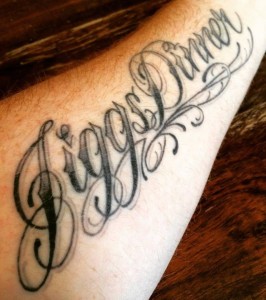 I do have "Jiggs dinner" tattooed on my forearm. It is the quintessential Newfoundland one pot meal that involves salt beef and root vegetables. It's my death row last meal and by far the most popular dish from Newfoundland, but my Nan makes it the best, so everyone else is out of luck!
Recipe: Newfoundland Seafood Chowder with Roasted Fennel, Dill, and Evaporated Milk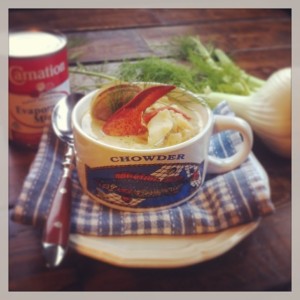 This chowder is a canvas to show off some of the Rock's best seafood. You can use whatever you have available here. The flavors of roasted fennel, dill, and lemon really make it special – and by using evaporated milk, you really get that authentic chowder flavour.
Serves: 10-12 portions
FOR THE CHOWDER
½ cup unsalted butter
½ cup all purpose-flour
1 onion (diced)
2 stalks celery (diced)
2 heads fennel (diced)
2 potatoes (diced)
¼ cup Pernod
1 cup dry white wine
1 litre fish stock
½ litre heavy cream
2 cans evaporated milk
½ cup chopped dill
5 tbsp lemon juice
3 dashes Tabasco
3 dashes Worcestershire
Salt
Cracked black pepper
1 cup cold water shrimp (peeled)
1 lb fresh cod
½ lb mussels
½ lb clams
1 lb cooked lobster meat
½ lb cooked snow crab meat
In a large roasting tray, mix the diced fennel with 4 tbsp of olive oil, salt, pepper and roast in a 400 degree oven until lightly caramelized. In a large heavy bottomed pot, melt the butter and flour together, forming a roux, and cook for 2 minutes.
Add all of the vegetables and cook them for roughly 5 minutes or until translucent. Add the roasted fennel and deglaze the pot with the pernod and white wine while stirring constantly.
Add the remaining liquids, bring to a boil, and reduce to a simmer to cook slowly for roughly 30 minutes or until the vegetables are soft and the soup has slightly thickened. Season with salt, pepper and add all the seafood to cook for just a couple of minutes. In a separate pan, cook the mussels and clams with 2 cups of the chowder base until the shells open, then add back into the main pot. At the last minute before serving, add the fresh dill and adjust the seasoning.
Recipe: Lemon Pepper Smoked Cod and Crispy Britches with Mint, Lemon, and Green Pea Risotto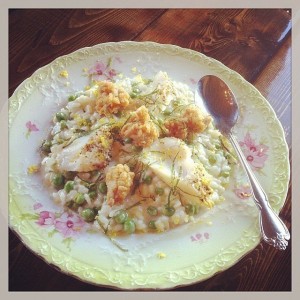 Cod britches are the roe sac of a female cod and are named for their resemblance to a pair of baggy trousers. In this dish, we smoke cod loin with lemon zest and cracked pepper, fry the cod britches till crispy, and serve it on top of a creamy mint and pea risotto. So good!
Serves: 4
FOR THE LEMON PEPPER SMOKED COD
1-8 oz cod loin
1 lemon (zested)
Sea salt
Cracked black pepper
1 cup wood chips (soaked in water)
To smoke the cod loins, put the woodchips in the bottom of a frying pan or wok and put it over a burner on medium heat. Once it starts to smoke take the cod loin and sprinkle it with the lemon zest and cracked pepper. Place on a rack that can fit in the frying pan. By this time there should be quite a bit of smoke, so you want to cover it tightly with tinfoil to capture all that smoke. Let them go for about 10-12 minutes, then take them off the heat. The cod should be flakey and cooked through.
FOR THE CRISPY BRITCHES
2 cod britches (cut into small pieces)
Sea salt
Cracked black pepper
1 cup all-purpose flour
Canola oil for frying
Season the cod britches and dust them in the flour, shaking off any excess. Fry them in a household deep fryer set at 375 degrees until golden brown. Drain on paper towel and season again with sea salt.
FOR THE MINT, LEMON, AND GREEN PEA RISOTTO
5 to 6 cups fish stock
4 Tbsp unsalted butter
1 onion (finely diced)
Sea salt
2 cups arborio rice
1/2 cup dry white wine
2 cups frozen peas
1/3 cup chopped fresh mint
2 Tbsp fresh lemon juice
1 Tbsp finely grated lemon zest
1/4 cup freshly grated Parmigiano Reggiano
Heat the fish stock in a saucepan over medium-high heat until very hot and then reduce the heat to keep the broth hot.
In another heavy saucepan, melt 2 Tbsp of the butter over medium heat. Add the onion and a generous pinch of salt and sautée, stirring occasionally with a wooden spoon, until the onion softens and starts to turn lightly golden, 3 to 5 min. Add the rice and stir until the grains are well coated with butter and the edges become translucent, 1 to 2 min. Pour in the wine and stir until it's absorbed, about 1 min.
Add another generous pinch of salt and ladle enough of the hot broth into the pan to barely cover the rice, about 1 cup. Bring to a boil and then adjust the heat to maintain a lively simmer. Cook, stirring occasionally, until the stock has been mostly absorbed, 2 to 3 min. Continue adding broth in 1/2-cup increments, stirring and simmering, until it has been absorbed each time, at intervals of about 2 to 3 min. After about 16 to 18 minutes, the rice should be creamy but still fairly firm.
At this point, add the peas and another 1/2 cup broth. Continue to simmer and stir until the peas are just cooked and the rice is just tender to the tooth, another 3 to 4 min. Stir in another splash of broth if the risotto is too thick. Remove the pot from the heat and stir in the mint, lemon juice, lemon zest, the remaining 2 Tbsp butter, and the Parmigiano. Season with salt to taste.
Serve the risotto immediately with a sprinkling of chopped mint and grated lemon zest. Top with some crispy britches, flakes of the smoked cod loin and Bob's your uncle.
-The End. Go Eat.-