The largest city in Wisconsin, Milwaukee is perhaps best known for beer and a great Midwestern immigrant tradition (think delicious Polish and German food!). Today, you can celebrate those cultures with food, events (Irish Fest and German Fest, an 11 day music festival, the largest Bastille Day celebration in the US – it's a city of festivals), and entire neighborhoods that represent immigrant communities (hello, South Side!). All of this – plus an extremely beautiful location, right along Lake Michigan, mean that this is a place that is serious about food, culture, and enjoying the best of life with friends and family.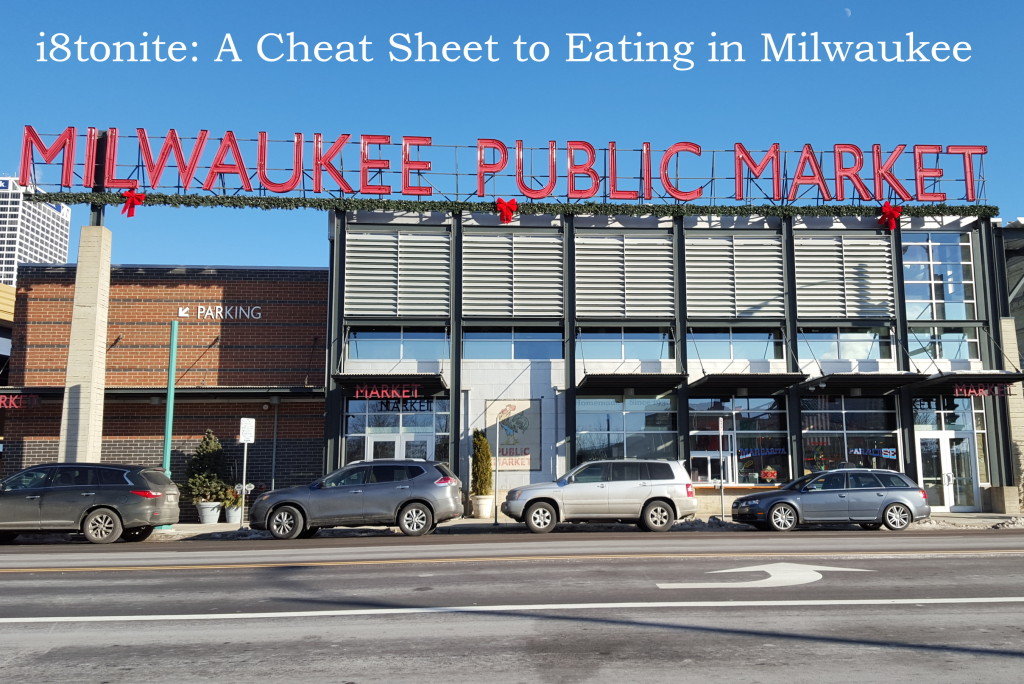 There's so much to do, from visiting the Milwaukee Art Museum and the Discovery World science center to shopping the Milwaukee Public Market to sports galore. But let's be honest – we're all about the food and beverages here.
Did you know that Milwaukee has historically been famous for beer? Yes, that strong German tradition carried over across the pond, and Milwaukee was the #1 beer producing city in the US for many years, with local breweries Schlitz, Pabst, Miller, and Blatz being the largest in the nation. The only large brewery still in town is Miller (you can see their impact all over town, notably with Miller Park, home of the Milwaukee Brewers baseball team). But in keeping with that brewing culture and tradition, as well as a diverse population and close proximity to Chicago, there is SO MUCH to eat, drink, and explore here. It's not just about the beer any more.
What surprises visitors most is the quality and diversity of great eats here. You can find global meals, innovative American cuisine, a fantastic public market, and traditional Friday Fish Fries.
What are you waiting for?
Breakfast: Blue's Egg
A perfect way to start the day is a meal at Blue's Egg, a brunch spot serving traditional items as well favorites with a modern twist, with an emphasis on from-scratch cooking and locally sourced ingredients. If you're looking for something more traditional, choose a dish from the "basics" section of the menu: a stack of fluffy buttermilk pancakes; thick French toast with sausage or thick-cut cherry wood bacon; or two eggs any style with choice of meat, slices of toast with butter or jam, and fresh-cut hash browns (with just the right amount of crisp).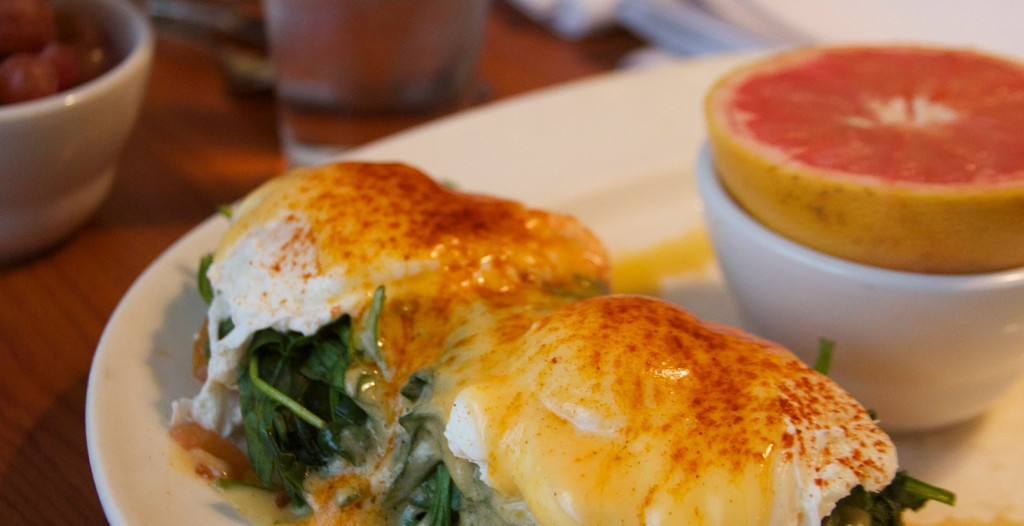 In addition to the classic eggs benedict, Blue's Egg offers the Dubliner (corned beef, leeks, rye toast, paprika aioli) and the Florentine (fresh spinach, beef-steak tomatoes, English muffin, hollandaise sauce). Menu standouts include the hoppel poppel (scrambled eggs, cream, sausage, bacon, caramelized onions, shredded potatoes, spinach, toast, hollandaise sauce); the blue crab cake (mixed greens, poached eggs, pickled peppers, challah toast, remoulade sauce); and corned beef hash made in-house (the best ever). A lunch menu is available Monday to Friday in addition to the brunch items and offers burgers and sandwiches with hand-cut fries, soups, and salads, but once you see the overflowing plates of eggs, bacon, and toast being delivered to other tables, you will want to stick with the brunch menu. Blue's Egg also serves creative cocktails, wine, local beers, fresh squeezed juices, and coffee and café drinks to enjoy with your meal.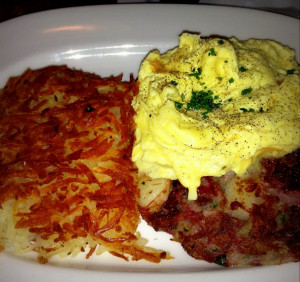 My suggestion: The restaurant is spacious but fills up quickly on weekends, so arrive early or consider having a seat at the counter. Take home some monkey bread, coffee cake, or cookies from the front case (if there is anything left).
Price $6-13
Hours every day 7am-2pm
Address 317 N 76th St, Milwaukee, WI 53213
Phone (414) 299-3180
Website http://bluesegg.com/
Second Breakfast: Clock Shadow Creamery
Wisconsin is home to cheese – so of COURSE I'd suggest you stock up on some cheese snacks over at Clock Shadow Creamery. This is an urban cheese factory that uses local milk (some of their cows are at the ZOO!) and creates fantastic cheeses. I won't be lying when I say that when I walked into their clean, bright storefront, I felt like a mouse in Switzerland. I just wanted to EAT ALL THE CHEESE. But there's a back story – with local founders, an extremely green and clean building, and a strong environmental and community commitment.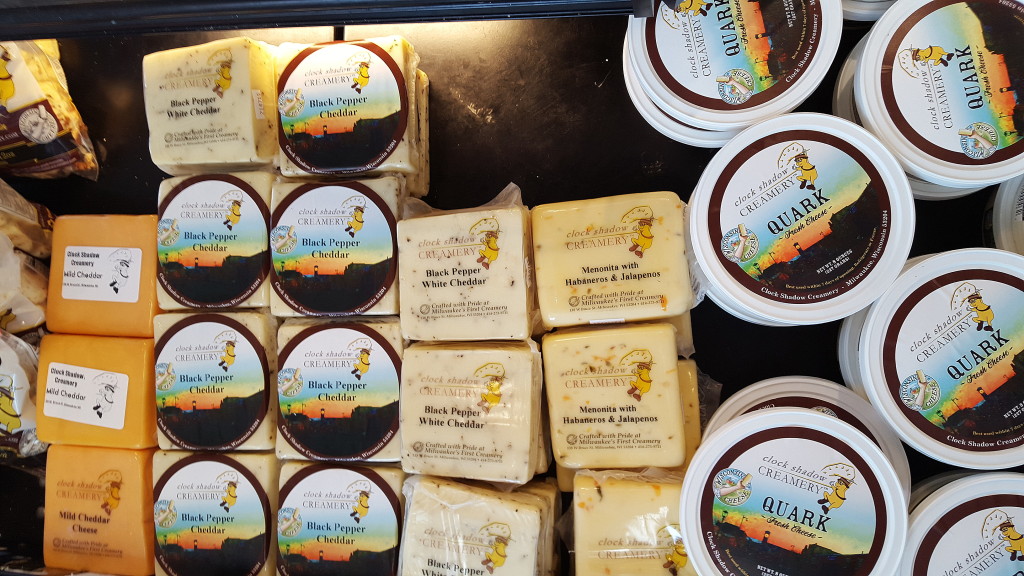 Yelp Haiku by Rachel F
Urban cheese-making/
Flavored cheddars everywhere/
Lemme at that quark!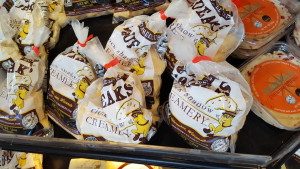 My suggestion: While there are tons of cheeses, made by Clock Shadow and others, I'd get a tub of fresh quark to slather on crackers or bread, and a bag (or five) of fresh cheese curds to snack on all day. If you are in Milwaukee in winter and won't be long, you won't need a cooler (we just use our cars as freezers). In the summer, bring a small cooler so you can enjoy your chilled cheese curds all day long. Squeak squeak!
Price inexpensive. A bag of cheese curds is under $7
Hours Monday-Saturday, 10am-6pm. Closed Sundays
Address 138 W Bruce St, Milwaukee, WI 53204
Phone (414) 273-9711
Website http://www.clockshadowcreamery.com/
Lunch: Vanguard
Finding great sausages in Milwaukee is easy. However, Vanguard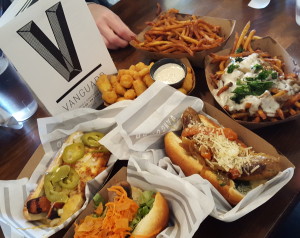 takes it a step further – these are, hands down, some of the best sausages I've ever eaten. The flavors are both traditional (brats, dogs, cheddarwursts, super fun toppings) and creative – look at the KHING KHAN (Lamb, Pork, Galangal, Chilis & Lemongrass Sausage, topped with Red Curry, Carrots, Cilantro, and Jalapeños)! Whether you go hot or mild, traditional or creative, you're bound to be happy. They also serve local and global beer, spirits, and have delicious sides (fries, a variety of poutines, baked potato balls, corn, deviled eggs if you get there before they run out). Be prepared to spend a bit of time talking while you wait – the chefs take their time grilling and assembling the sausages with love.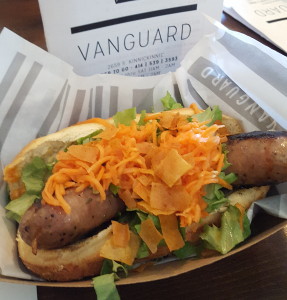 My suggestion: I absolutely loved the Thai Breaker – pork sausage, lemongrass, ginger, cilantro, topped with peanut sauce, carrot, lettuce, and some fun crunchy bits. Get a side of cheese curds, no matter what else you order.
Price $5-9
Hours every day 11am-2am
Address 2659 S Kinnickinnic Ave, Milwaukee, WI 53207
Phone (414) 539-3593
Website http://www.vanguardbar.com/
Coffee: Anodyne
If you've followed my instagram, you know I can't get enough good coffee. And frankly, Anodyne is the best. Let's start with the Walker's Point location (one of three) – an historic industrial building, turned warm and inviting inside with enormous round mirrors over the coffee bar, a stage, and plenty of honey-colored wood. Splashes of red for accents highlight the red A in the labels and Anodyne logo.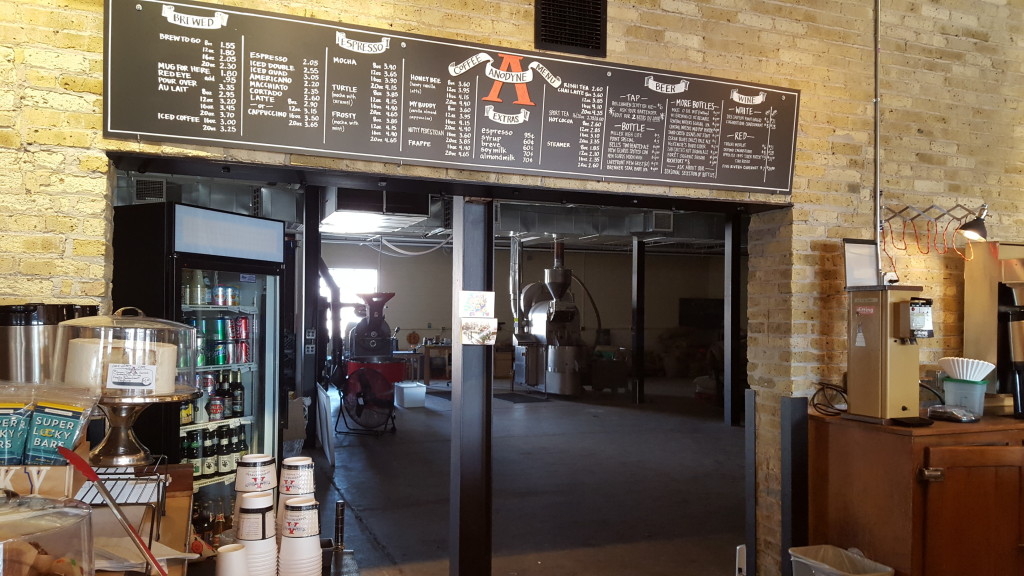 This place? It freshly roasts their coffee in the back – you can view the roasters from the counter, and if you don't see the kind you want to purchase in bags, they'll head back to see if there is some freshly roasted and not bagged up yet.
The friendly baristas, relaxed environment, and delicious coffee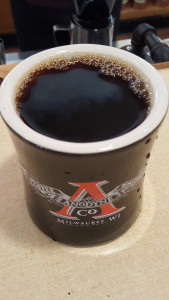 make this my favorite in town. The menu features brewed to go, lattes and cappuccinos, a honey bee (honey latte with milk), a my buddy (almond and vanilla cappuccino), mochas (including additions of frosty and turtle – mint and caramel, respectively), espresso, Americano, red eyes, and seasonal apple cider.
My suggestion: A pour over. I love Ethiopian, but the Sumatran was also excellent. Get a slice of layer cake from the Cake Lady to accompany your delicious brew.
Price 12 oz pour over $2.75, 20 oz mocha $4
Hours Monday-Friday, 6:30am-9pm; Saturday 7am-9pm; Sunday 7:30am-9pm
Address 224 W Bruce St, Milwaukee, WI 53204
Phone (414) 763-1143
Website https://anodynecoffee.com/
Happy hour: Lakefront Brewery
Come for the microbrews and riverfront seating, stay for the polka. Yes, this true Milwaukee brewery features a polka band on Friday nights for the fish fry. With a rich family history in beer, Lakefront started in 1987, and has won over 200 awards over the years. You can take an informative, hilarious tour ($9-10) of the Brewery with samples (!)– check the website for details.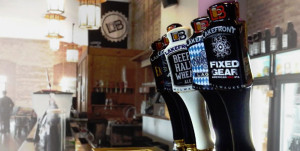 My suggestion: try the beer flights to ascertain which you love best.
Price pint $5, flight $8
Hours Monday-Thursday, 11am-8pm; Friday 11am-9pm; Saturday 9am-9pm; Sunday 10am-5pm
Address 1872 N Commerce St, Milwaukee, WI 53212
Phone (414) 372-8800
Website http://www.lakefrontbrewery.com/
Dinner: Fortune Chinese Restaurant
At Fortune, you'll have the option to peruse two different menus.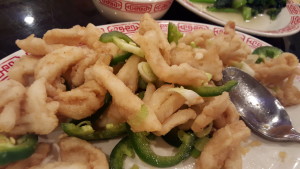 Get the red menu – it offers more authentic dishes. Try to go with as many people as you can round up, so you can order more dishes (they are served family style). You'll see large families sitting around large, circular tables. This is to take advantage of the lazy susan in the middle of the table, to scoot the food around so everyone can reach it. The food is delivered as it is made, so it's hot and fresh. Milwaukee's Chinese community likes to get together there for family gatherings and special events.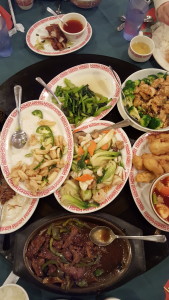 My recommendation: dumplings, of course – with a thick wrapping and flavorful meat, they are scrumptious. The crabmeat rangoons are hot, crispy, and delicious. My favorite entrée is the Salt Chicken – crispy, salty skin, tender, juicy inside. Love at first bite. We also get the salt and pepper squid (served with jalapenos) and the fried pork intestines (a dish my husband loves) and the tender, gently sautéed pea shoot leaves with garlic.
Price $11-30
Hours Sunday-Thursday, 11am-10pm; Friday and Saturday, 11am-10:30pm
Address 2945 S 108th St, Milwaukee, WI 53227
Phone (414) 328-9890
Website http://www.fortunerestaurant.net/
Late night dessert: Kopp's Custard
A visit to Milwaukee is not complete without indulging in frozen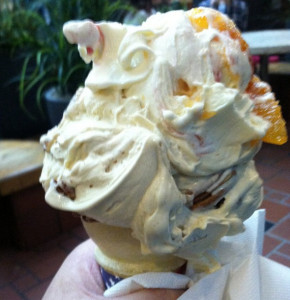 custard, and Kopp's Frozen Custard serves some of the best. A Milwaukee institution since 1950, Kopp's scoops up vanilla and chocolate custard daily, but the real standouts are the specialty flavors. Each month, Kopp's posts a Flavor Forecast so customers will know when to stop in for their favorite custard (there are two specialty flavors each day). The flavors are irresistible and include tiramisu (espresso flavored custard with fudge swirl and pieces of ladyfinger cake), peach melba (chunks of peaches and raspberry swirl), macadamia nut (loaded with whole nuts), Sprecher root beer float (highlighting soda from a local brewery), and cherry amaretto cheesecake (cherries and chunks of New York cheesecake). Specialty sundaes, floats, malts, and shakes are also available.
Haven't tried frozen custard yet? It's rich, smooth, and has a creamy texture – I like it more than ice cream! Kopp's doesn't freeze their custard, so it's not hard packed when served, like ice cream – it's served up straight out of the frozen custard machine. If you're looking for lunch or dinner or a heartier late night snack, Kopp's serves delicious burgers and chicken, fish, and grilled cheese sandwiches – just remember, there's always room for dessert.
My suggestion: Try the flavor of the day!
Price 2 scoop cone/dish: $3.45 (they price it up to 6 scoops!!!)
Hours every day 10:30am-11pm
Address 7631 W Layton Ave, Greenfield, WI 53220 (two other locations in the metro area – check the website for addresses and phone numbers)
Phone (414) 282-4312
Website https://www.kopps.com/
We couldn't narrow it down. Here are 12 more of our favorites!
The End. Go Eat.
All photos courtesy and copyright Jessie Voigts, except where noted
Photos