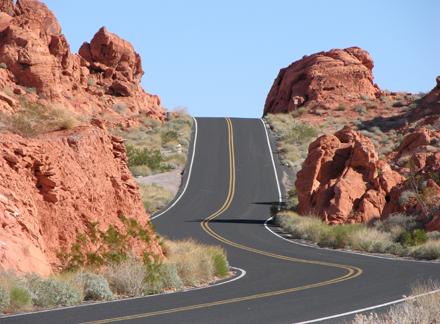 As I do every year, I picked my mother up for Thanksgiving from her San Bernardino home. She will stay with us for a couple of days but instead of Los Angeles, the drive is from Phoenix, a round-trip excursion through the Sonoran desert. We will laugh, and I will tease her about her hearing as she's asked me the same question three times, which I've answered three times.
I will finally state:  "I think we need to get batteries for your hearing aids."
She'll roll her eyes in amusement and swat at me, laughing in annoyance, "Brian! You know I don't wear hearing aids."
I respond, "Exactly."
She's aging and frankly, so am I; these car journeys won't be happening forever. My mother gave me a love of road trips. We took them often from Duarte, California, where I was born to wherever she wanted to go. Disneyland. Pasadena. San Diego. Santa Monica. The best voyage was when my parents divorced. She wanted her maternal family closer – they lived in South Carolina — and her best friend lived in Baltimore. The ink was barely dry on the papers, and she packed up the red Pontiac Firebird with the vinyl top.  It was game on, a car trip through the southern half of the United States – East Coast bound.
She drove that car – a single woman and a kid — through Arizona, New Mexico, and Texas (two days), all the way to South Carolina in the early seventies. The AM radio was blaring Helen Reddy, Tony Orlando and Dawn, Vicki Lawrence, and The Carpenters. Wolfman Jack's raspy baritone kept the truckers company and single family station wagons happy on long stretches of nothing. I recall a preacher man who drove his van around the dusty highways, solely to assist stranded drivers with broken cars. After fixing our ruined timing belt, his payment was joining him in prayer. My mother's not a religious woman, but she believes in God. She was incredibly grateful for his help, so we held hands on the side of the two-lane desert highway and prayed.
This time, as we crossed the Colorado River, the border between California and Arizona, I was driving. She was the passenger, and the music was coming from an iTouch playing singalong Cher, Dusty Springfield, America and maybe Florence and The Machine. I threw in Elvis for my mom. The road has expanded from one car in each direction to a six-lane thoroughfare, at times almost eight – half going east, the others going west.  I've rented a car, so I don't have to worry about breaking down. I will call the rental company and be on the road in no-time.
Yes, it will be a good holiday.
Baked Sweet Potatoes (No recipe) ("It's not Thanksgiving without them," my mother's declares)
Find the largest sweet potatoes you can grab. Wash and then dry thoroughly. Determine where the top of the tuber is and poke a line along the length of the skin. Then do the same with the center width (You should have a cross.) Rub with vegetable oil, wrapping in aluminum foil. Bake for about an hour or until done. Serve with crème fraiche (my favorite) or butter (my mother's favorite). Throw some chives and serve.
Happy Thanksgiving.
The End. Go Eat.