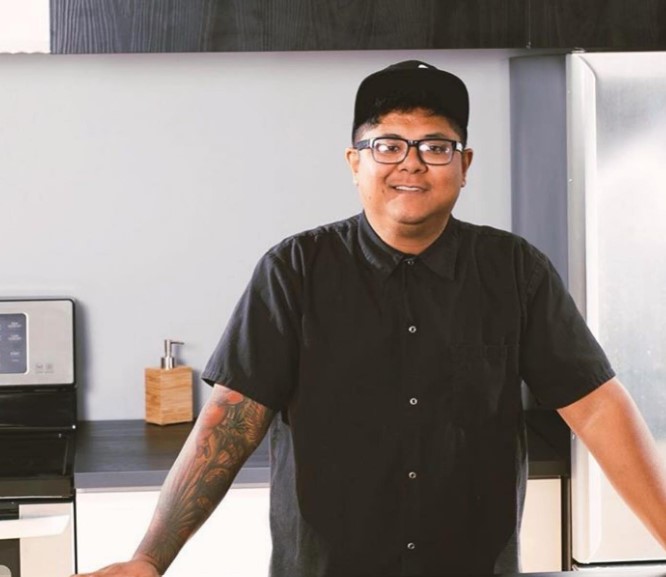 INDY'S STAR CHEF CARLOS SALAZAR CONTINUES TO
COOK OUTSIDE THE MIDWEST COMFORT ZONE
When Chef Carlos Salazar opened in 2016 his Fletcher Place restaurant, Rook, he quickly emerged as one of Indianapolis's cooking icons, changing the dining scene locally and regionally. He captivated area eaters with his Asian and Latin fusion approach to food, displaying a creative passion using ingredients from local farms while pushing the boundaries of flavor to Midwest palates. Items such as bulgogi lamb meatloaf bao bun with kimchee cucumbers, sweet and sour fried ribs with napa cabbage slaw or "kimcheese" jalapeno poppers regularly graced his menu. In a brilliant brunch dish, he took the stalwart favorite of biscuits and gravy using koji cream and pickled onions, creating a world where a Japanese farm existed in the gentile South. Even though the eatery became a pandemic casualty like many, Salazar continues to profoundly impact the city and the regional dining scene today.
Born in the Philippines but raised in Indianapolis by his father, Salazar's journey in the kitchen began when he started cooking for his neighbors as a kid. He said, "I would whip up oven-roasted salmon and pesto for my friends and me to eat." After a brief and unhappy tenure in accounting, his then-best friend and now wife encouraged him to try something different. He enrolled in an Indy-based culinary school, the Chef's Academy, under the tutelage of Tony Hanslit, one of the region's premier and award-winning cooks.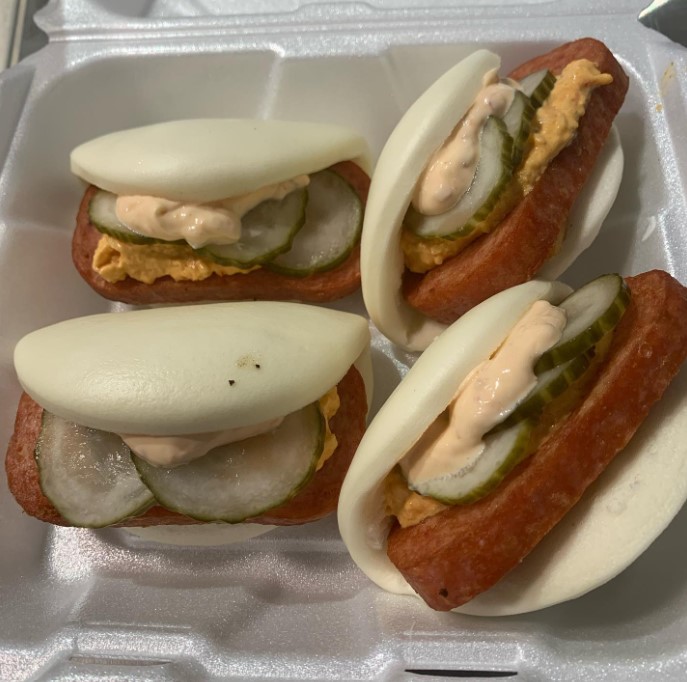 After graduation, Salazar plied his trade at Oakley's Bistro, the much-lauded American bistro, before opening his debut restaurant, Rook. It quickly became a celebrated spot with Salazar's love of combining flavors. As previously noted, his first experience has become much celebrated ghost, but luckily for us, Salazar did not. He continues to produce tasty experiences in the heartland, such as his Lil Dumplings at the Garage, consulting with West Fork Distillery, and his recently launched Lil Rook food truck.
In a city known more for sports food and venues serving hot dogs and tater-tots than far-flung Asian and Latin ingredients such as huitlacoche, bao buns, or epazote, Salazar, became known as a tastemaker of worldly treats in a landscape of fast-casual chains. The state's ethnic demographics are changing, notably, under the influence of growing industries such as technology, medicine, and education, Salazar's international tastes bring a bit of home away from home for the new global residents of Indy.
What do you like about living in the Midwest? My favorite thing about the Midwest is the simplicity and the quietness. I love cities like Chicago. It's the best city in the country, but I can't see myself living in a place that's so crowded. Indianapolis is just perfect. It's chill.
If you want to go crazy, you can do that in Indy or drive three hours and live that lifestyle.
What are your favorite foods to eat? I moved (to Indy) from the Philippines when I was eight. We were eating Spam, Vienna sausages, cheeseburgers and pizza. My dad worked 24/7. He worked the morning, afternoon, night, and graveyard shifts. We were either getting fast food or making our own. But, if I had to pick a meal that resembles a great Midwest dinner, it would be meatloaf. I love a good old meatloaf with ketchup on top.  
Where's your favorite place in Indianapolis to go grocery shopping? It'sn't our favorite, but the most convenient is Kroger. It's five minutes from my house, and they have everything we need. If I'm going for my Asian ingredients, I go to Viet Hua Food Market in Castleton.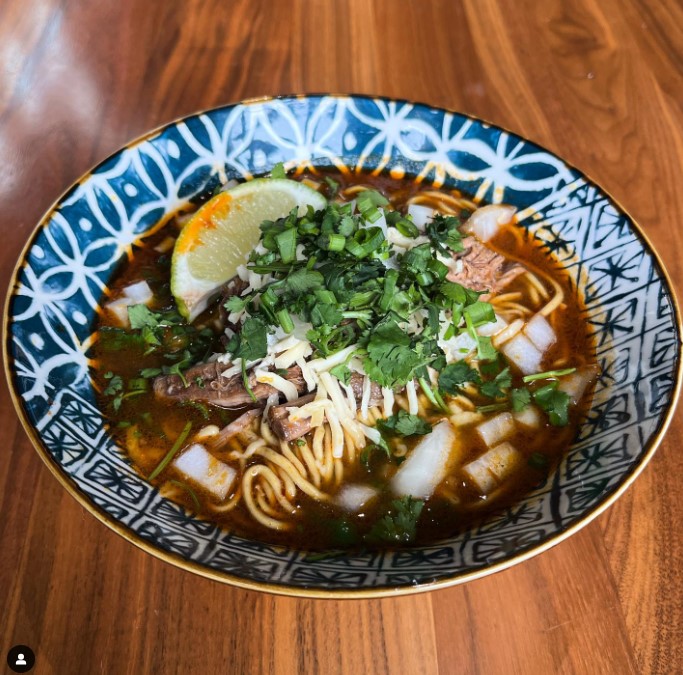 A little Latin. A Little Asian. Ramen and birria.
What would you like me to ask you? What have you never been asked? No one has ever asked me that. (Laughs.) If it has to do with cooking, I would ask, "Why did I create Rook with the cuisine that it had?" That is the question. I felt that I perfected French cuisine when cooking for Oakley's Bistro, probably about six years ago. I wanted to be challenged. I wanted to do something that I had never done. I didn't know **** about the Philippines or the food. I knew about being around my family in Fishers. 
When I got the opportunity to open Rook, I wanted to do Asian cuisine, heavy on the Filipino. I wanted one month to serve Chinese and the next Japanese, and then Vietnamese the next. I wanted to cook something different and to challenge myself. All I knew was French and cooking is learning. You need to learn every day. You have to be better than you were the day before. I didn't want to just create a menu and make it.
I wanted to research and test something a couple of times. Fail. Figure out what I need to do to make it better.
What did you want to serve at Rook that you didn't serve? People eat that food in Asia–China, Japan, and the Philippines – repeatedly. I wanted to introduce that experience to Indiana, that cuisine and culture. At Rook, we made our own soy sauce and fermented vegetables. We tried to do everything from scratch. I think that was the biggest thing. We wanted to learn. 
I told my guys I hired I want you to be better tomorrow than you are today. If you could make 50 dumplings today, I want you to come back tomorrow and make 51.
What brought you here to the United States? My Dad. He left the Philippines when I was just born. His life could have been better there. He was always getting into trouble. His oldest brother, who was caring for us in the Philippines, was very wealthy. He told my dad, "Hey, you have kids. You need to make a life for them." My dad left and moved to the U.S. in the mid-eighties. When I turned eight, my dad did all the paperwork to bring my sisters and me to the U.S. for a better life. When my dad first moved to Indiana, he worked various jobs, including the graveyard shift, making prosthetic legs. At Steak & Shake in Carmel. Currently, he works at a nursing home.
Where is your mom? She followed us five years later, in 1997.
Did you find it difficult to become a chef in the Midwest? No, I don't think so. I guess I got lucky, too. The food (in Indiana) is uncomplicated, so it's easy to stick out if you do something different. About fifteen years ago, there were only franchises and steakhouses. It made it a little easier for me to become a chef with something different.
Tell me about your food truck, Little Rook. I'm missing Rook. I don't know if I am ready to open Rook 2.0, but I keep thinking about steam buns (Laughs). That's what's in my head right now. Those gears are turning, but I wanted to start with a food truck.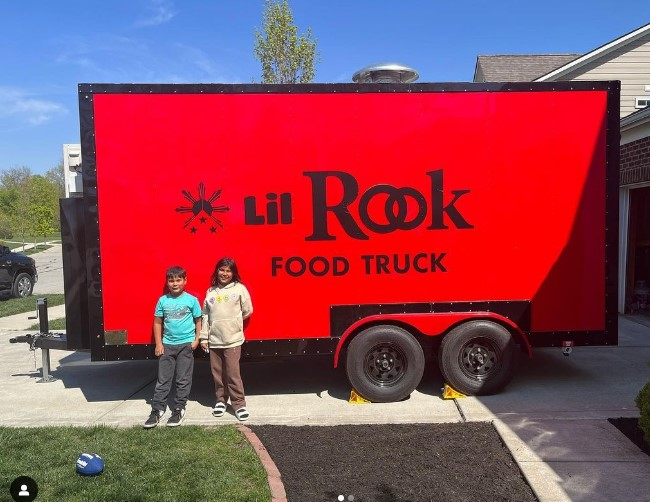 You grew up eating burgers and hot dogs like I did, but who did most of the cooking? My Dad. He was the inspiration without knowing it. My dad cooked at home. I sat there and watched. And then, we would do sleepovers with friends, but we didn't eat doughnuts or pizza. I cooked them food like roasted salmon with asparagus and a little bit of pesto sauce. It was something like that instead of ordering food. It was me cooking. I didn't even think of becoming a chef. Never even thought of it.
You made salmon for your friends? I started cooking for my friends in my freshman high school year. I would make roast salmon with the skin, make a little pesto, you know—things like that. Make pad Thai. I never said I was going to become a chef because I love cooking. I felt like making food was me and this is who I am. I never thought of being a chef until my wife–my best friend ‌at that time – told me to go to culinary school. 
You can stay up to date on Chef Carlos Salazar with his food truck and noodle shop via social media. All photos courtesy of Chef Carlos Salazar and his Instagram accounts.
## i8tonite ##
Chef Carlos Salazar's Assam (Tamarind) Peel & Eat Shrimp
What You Will Need:
One pound large shrimp, preferably with shells and heads on
1/4 cup tamarind paste or pulp (available at Asian markets) 
Two tablespoons brown sugar
Two cloves of garlic, finely chopped
1-inch piece of fresh ginger, grated
1 – 2 jalapenos, thinly sliced (adjust to your spice preference)
Salt to taste
Fresh cilantro leaves for garnish
Lime wedges for serving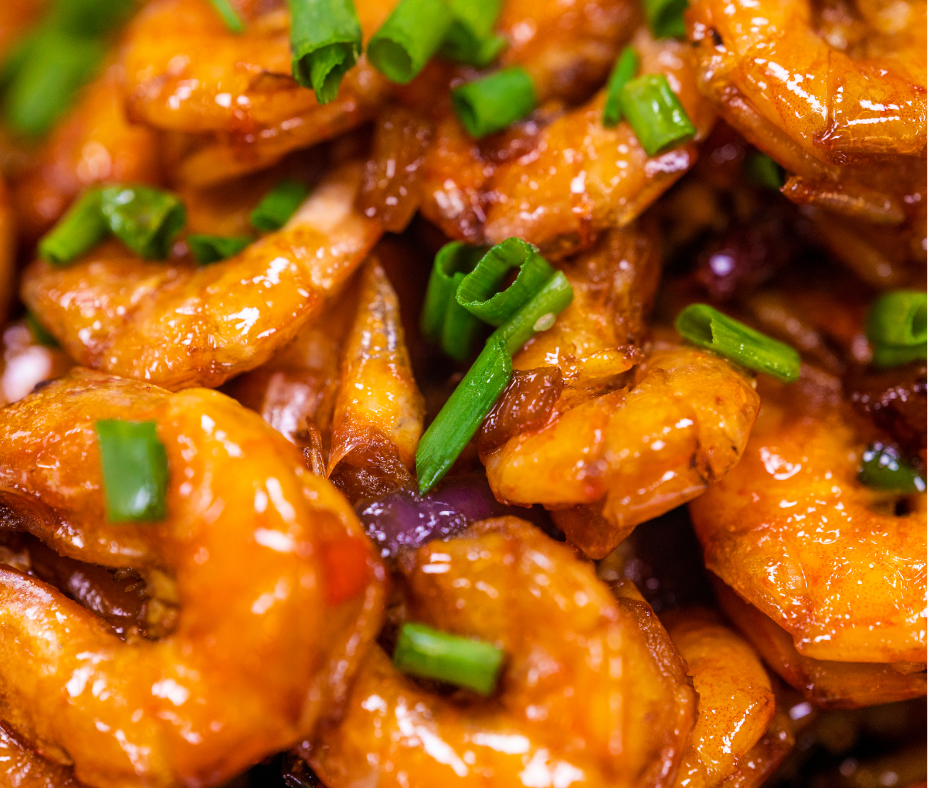 How to Make:
If using frozen shrimp, thaw them completely in the refrigerator. Then, rinse the shrimp under cold water and pat them dry with paper towels.
To make the Assam Sauce:
Combine the tamarind paste or pulp with brown sugar in a large bowl. If using tamarind pulp, soak it in warm water for a few minutes to soften it, then strain out the seeds and fibers before mixing with sugar. Add minced garlic, grated ginger, and sliced jalapenos to the tamarind mixture. Always adjust the chilies to your desired level of heat. Stir well to combine, and taste to adjust sweetness and spiciness. Add a pinch of salt if needed.
Marinate the Shrimp:
Into the large bowl, place the cleaned and dried shrimp. Toss to coat them evenly. Allow the shrimp to marinate for 15-30 minutes at room temperature.
Cook the Shrimp:
Heat a skillet or pan over medium-high heat. Add the marinated shrimp along with the tamarind sauce to the hot pan. Sauté the shrimp on each side for 2-3 minutes until they turn pink and opaque. The sauce will thicken and coat the shrimp as they cook. Transfer the Tamarind Peel and Eat shrimp to a serving platter, pouring any remaining sauce over them. Garnish with fresh coriander or parsley – some folks don't like coriander – and serve with lime wedges, adding a bright citrus edge. 
We may make a commission on items sold through our website.