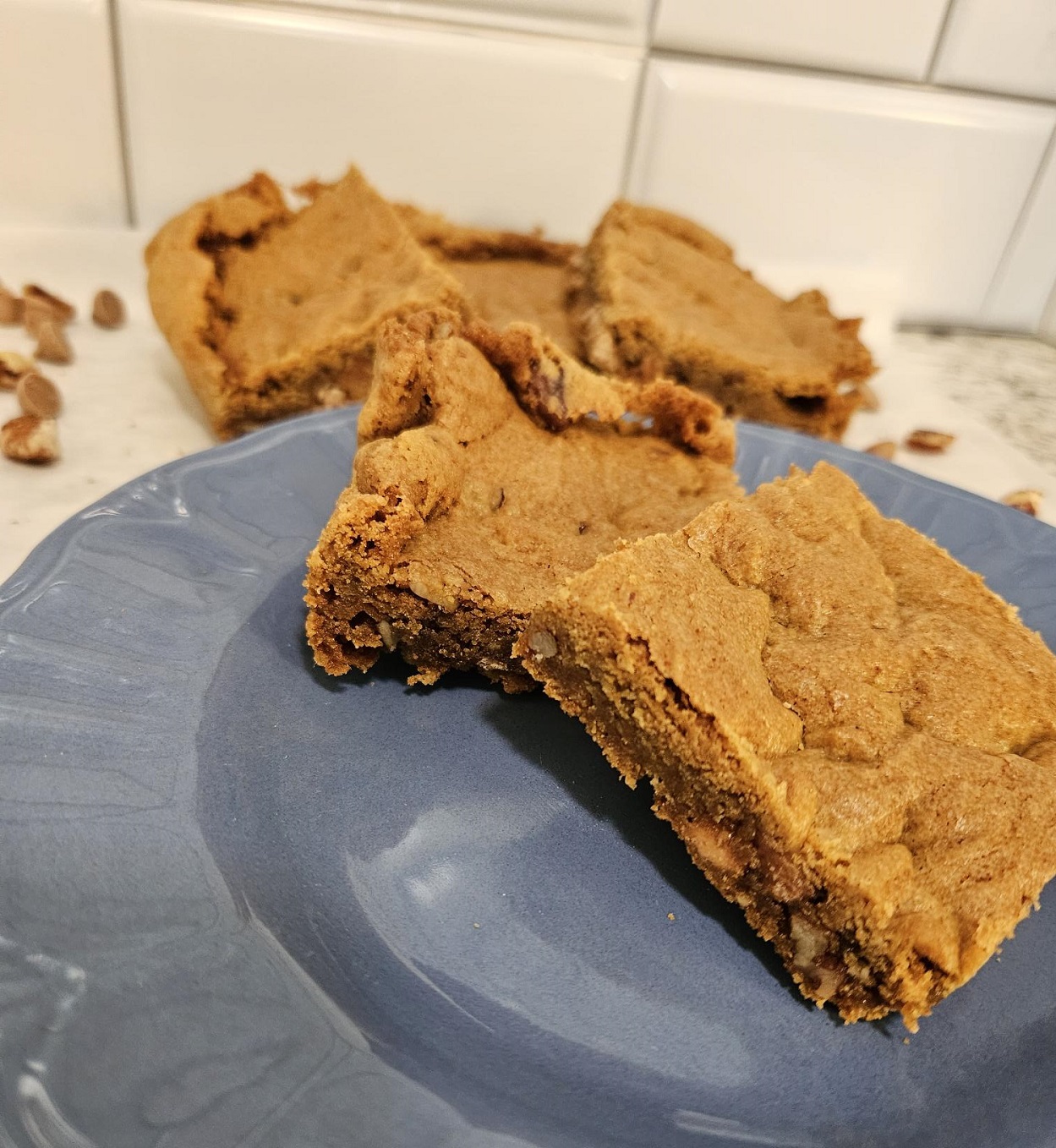 Learning How to Make GF Sea Salt Pecan Bars with Indy's GF Lady, Lydia Bootz Armstrong.
When we moved to Indianapolis from Southern California, we had already been on a gluten-free diet for several years. Before being diagnosed with celiac, doctors couldn't understand my partner's overwhelming gastrointestinal pain. The outcome was celiac, which now seems as common as a cold. But it's actually not.
According to Beyond Celiac, a non-profit dedicated to eradicating the autoimmune disease, they estimate that one in 133 Americans has celiac. However, 83% of individuals with celiac may not even know they have it or are misdiagnosed with another ailment. Another six percent of the general population may have non-celiac gluten sensitivity (NCGS), says the World Journal of Gastroenterology, with symptoms ranging from acute abdominal pain, bloating, constipation and diarrhea. Still, all of this can be managed, states the Celiac Disease Foundation, with a lifelong adherence to a strict gluten-free diet, avoiding anything that contains wheat, rye and barley. While the cause of celiac disease is unknown, it is a genetic issue, handed down along a family line.
I can manage diet adjustments. Besides, a cake is a cake regardless of the flour used; it's only a different ingredient. There might be some stretch or elasticity missing from the dough. If you toss in chocolate chips, some walnuts and buttercream, it can be as tasty as wheat-based – almond flour, anyone?- and sometimes even better. Pizza crusts made from rice flour offer a lovely chew and crispness, holding toppings even better instead of flopping. Of course, French macaron and marzipan quell a sweet tooth and happen to be made from almond meal, making them gluten-free.
I was prepared to bake most of our cookies, cakes and breads when we set up a heartland home. However, it turned out to be easier to find wheat-free bakers in the Midwest than on the coasts. While most sell goods at local farmers' markets, many brick-and-mortars provide tasty alternatives using proprietary blends crafted with tapioca, potato and rice. Baking, indeed, is a science.
This is how I came across Gluten Free Creations and Lydia Bootz Armstrong, a wheat-alternative baker but still uses true-blue butter, sugar and all the other tasty goodies found in confectionaries. While healthy is a good thing, we still wanted the experience of granulated sugar, not substitute sweeteners, no matter how good they might be. I've eaten her goods for the better part of the four years we have lived in Indiana.
Why did you start making gluten-free baked desserts? I began when several of my Purdue University Extension colleagues I worked with were celiac or had gluten sensitivities. I enjoy baking, creating things so everyone can eat at special events. The caterers (at work) couldn't figure out different flours or alternatives for gluten-free, so I started working on transforming recipes from regular wheat flour to gluten-free.
I realized I also needed to be gluten-free, which I discovered. It made it even more urgent for me to dig in and expand, making things gluten-free for me and my family.
When did you start baking? I've been cooking since I was young, a little kid. I always enjoyed doing that and making desserts for my family.
When did you start it as a business? I started Gluten-Free Creations nine years ago this past April. It grew out of my desire to have gluten-free baked goods for people who needed something gluten-free that tasted better than in the commercial grocery stores. There were only so many options for local bakeries.
Have you found that gluten-free baked goods have grown? There's definitely been growth, but only some things have improved with time. There are still plenty of dried, baked goods out there.
What would you like me to ask that I still need to include in your gluten-free story? I'm not the only gluten-free baker in town. I have colleagues, whether they are brick and mortar or from their homes; we all work together. If one of us doesn't make a particular product, we call upon each other and give the referral. We're in this work and business together and want everybody to succeed. We try to remember our humble beginnings to serve people who desire something delicious that they can eat without getting sick. It's great knowing we can support our customers by providing products they enjoy knowing.
I'm glad to be a part of these options available, so that people can have regular everyday lives and enjoy the things they love.
Follow her on Instagram and Facebook.
Gluten Free Sea Salt Pecan Bar
Lydia Armstrong, President and owner of Gluten Free Creations, Inc. Carmel, IN, Makes 8×8 pan. 9 Servings
1 ⅛ c GF Flour Blend (I use our house blend.)
¾ t baking soda
½ t xanthan gum
½ c Unsalted butter, softened
½ c Brown sugar, firmly packed
¼ c Granulated sugar
1 Egg
¾ t Vanilla extract
1/3 c Sea Salt Caramel Morsels
1/3 c chopped pecans
Directions:
Preheat oven to 350ᵒ degrees. Line 8×8 pan completely with parchment paper and set aside. Whisk together GF Flour, baking soda and xanthan gum and set aside.
Combine unsalted butter and both sugars in a mixing bowl; beat on medium speed with mixer until light and fluffy. Add in egg and vanilla extract. Incorporate everything into the mixture. With mixer going, add in flour mix a little at a time until incorporated. Stir in morsels and pecans with spatula.
Pour batter into prepared pan and spread evenly with spatula. Place in preheated oven and bake for 25-30 min. Batter will rise during baking, but will "collapse" when finished. Remove pan from oven and place on cooling rack. Once cooled, remove bars by pulling them out by the parchment paper and place on counter/table to cut. Pull parchment away from the sides and cut into 3rds yielding 9 bars. Store in airtight container for up to a week.