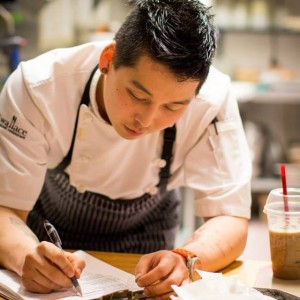 Inspired by his father, who was a chef before he became an ice carver, Hiro Takeda began his career at Newlands Golf and Country Club, completing his three year apprenticeship before the age of 20. Working at the Fairmont Hotel Vancouver and Diva at the Met gave him valuable experience in Vancouver, and a job at Squeah Camp and Retreat Centre brought him out to Hope.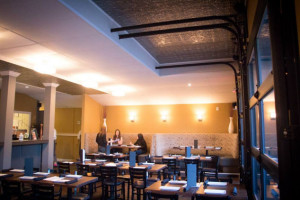 Opening 293 Wallace Street Restaurant in May of 2013, Hiro has since completed a 3 month internship at restaurant noma in Copenhagen, Denmark. Using local suppliers and foraged ingredients, Hiro focuses on providing his guests with a mixture of comfort food as well as creative tasting menus, while sharing his philosophy and providing mentorship to his young team.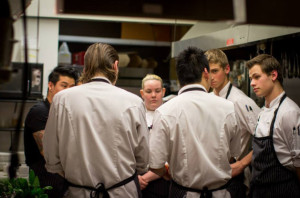 I first met Hiro a few years ago, through a mutual friend, the Maplemusketeer. I will tell you that anyone that is a friend of Jordan's is a friend of mine – and so here we are today, years later, chatting about food and sharing a delicious, easy recipe.  I'm impressed with Hiro's work with local foraging and ingredient sourcing, as well as his creativity and sense of humor. I think you will be, too.
You can find him online at:
www.293wallace.com
Instagram: chefhirotakeda
Facebook: 293 Wallace Street Restaurant
Twitter: 293wallace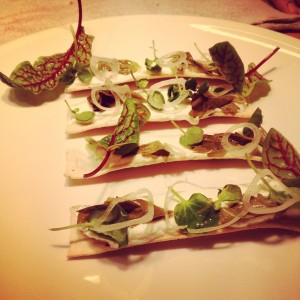 Chef's Questionnaire (with a nod to Proust):
How long have you been cooking?
About 12 years
What is your favorite food to cook?
I have a soft spot for seafood, fish, but have lately been enjoying cooking with foraged greens.
What do you always have in your fridge at home?
Sriracha, Japanese mayo
What do you cook at home?
Instant noodles…mi goreng is the bomb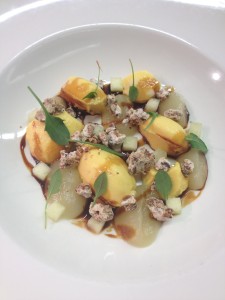 What marked characteristic do you love in a customer?
Someone who just gets it, understands the work that goes into the food, is willing to get out of their comfort zone to try things they've never tried before.
What marked characteristic do you find unappealing in a customer?
Those who are rude to our staff. We don't tolerate that.
Tupperware, Rubbermaid, or Pyrex?
Tupperware
Beer, wine, or cocktail?
All of the above. Gin and Grapefruit is king right now.
Your favorite cookbook author?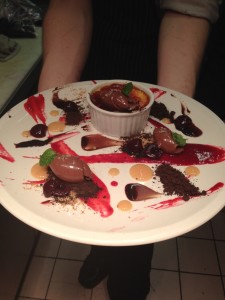 Too many to count! Off the top of my head, Rene Redzepi or Ferran Adria.
Your favorite kitchen tool?
Chopsticks or utility knife
Your favorite ingredient?
Scallops, or pine mushrooms
Your least favorite ingredient?
Chicken breast
Least favorite thing to do in a kitchen?
Repeat what I've already said.
Favorite types of cuisine to cook?
Indian, and, well, anything that requires foraging and using wild foods.
Beef, chicken, pork or tofu?
Beef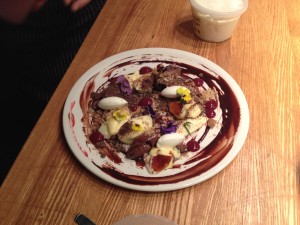 Favorite vegetable?
Sunchokes
Chef you most admire?
Lars Williams, head of Research and Development at noma.
Food you like the most to eat?
Ramen or Japadogs
Food you dislike the most?
Uninspired food…or roasted/baked potatoes
How many tattoos? And if so, how many are of food?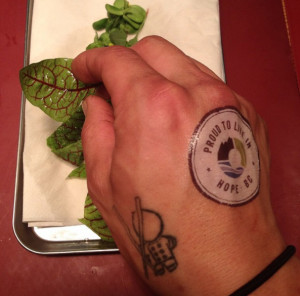 Seven, and just one…a little chef on my hand…. Well and I have koi on my leg…I guess that counts, if you cook it.
Recipe: Cacio e pepe with a couple extras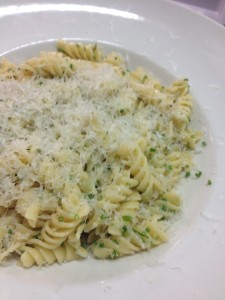 Cacio e pepe is a really simple recipe, with black pepper and pecorino. Pasta is easy for home cooking, filling and easy to pair with other things.
Take pasta, whatever shape you like, and cook in boiling water with olive oil and salt until al dente.
At the same time, in a fry pan, start with a touch of canola oil and add minced onions and garlic. Sweat until onions are translucent. Deglaze with white wine, add lots of freshly cracked black pepper. When pasta is done, toss into the fry pan, along with a touch of pasta water. Grate pecorino into pasta; add some whole butter, chopped chives, and a touch of lemon juice to finish. Season with kosher salt. Put it into a bowl, then grate pecorino on top.
The End. Go Eat.