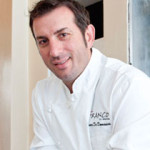 Along a strip of Melrose Avenue, just past La Brea is Franco on Melrose. It's location is in the City of Angel's culinary corridor featuring a few of the most lauded epicurean stops in the city including Providence, Mozza, Mud Hen Tavern and Trois Mec. To the south, one can wander to Republique or Odys + Penelope.  It's a hidden gem of an Italian eatery although a favorite among the celebrity set. However, the trattoria has been under the radar since its inception over four years ago. Why? Partially, says chef and owner Franco de Dominicis, "I didn't have a beer and wine license. It was BYOB but now I do and things have changed."
Originally born in Venezuela to Italian parents, de Dominicis was then raised in Paestum, Italy about a hundred miles south of Naples, renowned for its Greek and Roman archeological sites. The 2600-year-old settlement has also been known as the second largest agricultural center in Italy, the first being in Umbria. De Dominicis had an excellent childhood and gained a love of cookery via his family. He had formal culinary training at a Naples based school which supplied him with European apprenticeships. Now, in the States, the food he makes is indicative of his European and Italian roots, staying true to his youth.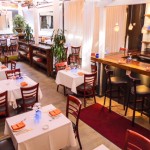 Proudly, de Dominicis makes all of his own pasta, ravioli, and lasagna. Many of the recipes are adapted recipes from his mother and childhood. He also sources as much as he can from the farmers markets throughout Los Angeles. It's a true Los Angeles-based trattoria serving up Neapolitan fare without having to travel to Italy.
Franco on Melrose is a lovely place with a sidewalk awning extending out to the valet. Its roof is canopied and during the summer is open to the stars. The best thing about the new Italian-centric wine menu which was personally selected by de Dominicis it's priced so reasonably you can imbibe with that second bottle while looking at the stars.
Chef Questionnaire: 
How long have you been cooking? Since I was 13.
What is your favorite food to cook? Meat and fish and pasta.
What do you always have in your fridge at home? Milk, juices, herbs, prosciutto, burrata, eggs.
What do you cook at home? Sometimes I get together with friends and I love to do brunch with roasted beef tenderloin and rack of lamb.
What marked characteristic do you love in a customer? An open mind to try different things.
What marked characteristic do you find unappealing in a customer? Unwilling to expand their palate.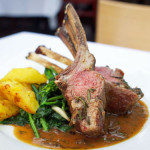 Tupperware, Rubbermaid, or Pyrex? Rubbermaid.
Beer, wine or cocktail? Definitely wine. A full body red and champagne.
Your favorite cookbook author? Julia Child.
Your favorite kitchen tool? Hand mixer
Your favorite ingredient? Extra virgin olive oil.
Your least favorite ingredient? Okra.
Least favorite thing to do in a kitchen? Stirring for hours.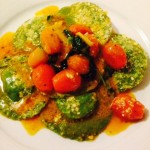 Favorite types of cuisine to cook? Italian, French, Caribbean,
Beef, chicken, pork or tofu? Beef.
Favorite vegetable? Haricot vert and brussels sprouts.
Chef you most admire? Gordon Ramsey.
Food you like the most to eat? Breakfast items.
Food you dislike the most? Russian.
How many tattoos? And if so, how many are of food? None.
Franco on Melrose's Roasted Chicken and Pears
3-4 lbs. chicken, whole roasting
3 Anjou pears (Peeled and cut into quarters)
3 shallots (Cut into quarters)
2 carrots
2 celery stalk
2 cups white wine
1 tablespoon of fresh thyme
½ a tablespoon of freshly cut sage. Or thereabouts.
Salt and pepper
To Make: Pre heat oven a 400 degree. Take the chicken and stuff it with the whole pears, some thyme, some sage, and 1 shallots cut into quarters. Tie the legs back with twine. Place the chicken in a roasting pan, with all the carrots and celery, cut into  pieces, add the rest of the shallots cut in ¼ as well, disperse the herbs around, poor the wine and salt and pepper to taste. Cover the chicken with aluminum foil and place in the oven for about 45 minutes. Uncover the chicken and let it finish cooking, for another 15 to 20 minutes, until a nice golden brown and juices run clear.
The End. Go Eat.