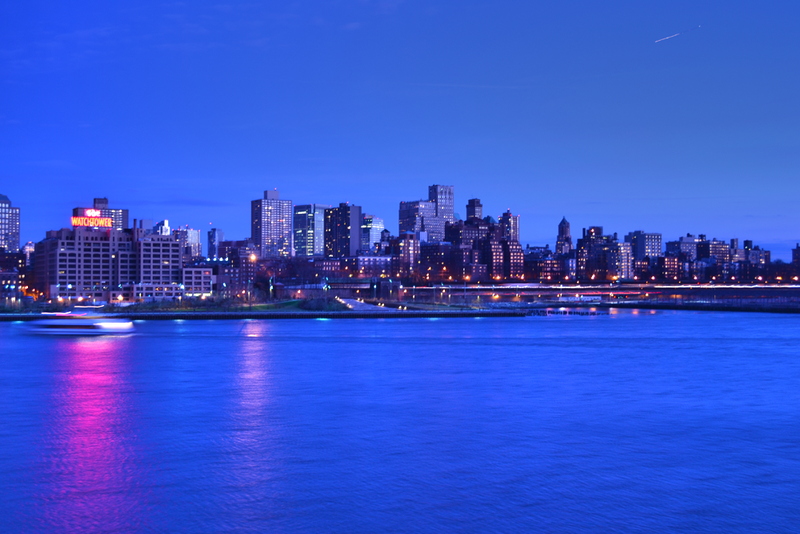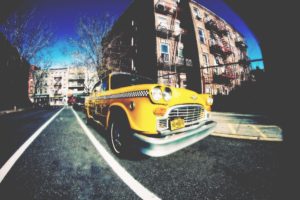 Brooklyn is no longer a side trip to take when you've run out of things to do across the river in Manhattan. It's now the reason many people visit New York and a place most tourists plan to spend some time. There are several neighborhoods to explore for a mind-boggling range of ethnic foods, and to sample "hipster" Brooklyn. But I focused my picks in and around "Brownstone Brooklyn" because they're near the sites tourists come to see – the Waterfront Park, BAM for dance and theater, Barclay's Center for basketball, hockey and concerts, and the Brooklyn Museum and Botanic Garden. The museum, the city's third largest, has a renowned Egypt collection (many items are from expeditions it funded in the early 1900s) and serves up modern art that's interesting and sometimes controversial. Its Target-sponsored First Saturday evenings combine art, theater, music, and food and draw an eclectic mix of people, including families on the early side.
Breakfast: Teresa's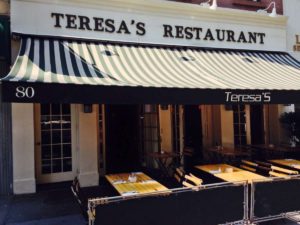 Teresa's, a Brooklyn Heights staple for decades, is a few blocks from the Heights Promenade with its often-filmed skyline views. They capably cook up all the usual breakfast foods including buttermilk pancakes (a favorite for neighborhood kids) and egg dishes. But you really go for the Polish food: blintzes, potato pancakes, apple fritters, four kinds of pierogi, and grilled kielbasa.
My suggestion: The blintzes with sweet cheese and plum butter have the right balance of sweet, creamy, and tart and go well with a cup of coffee. If I'm craving something savory I go for the potato pancakes, maybe with a side of kielbasa. It's a good place to order a few different plates to share. If you prefer eggs but want them with a Polish accent, go for the kielbasa omelet.
Price: breakfast dishes are in the $6-$10 range.
Hours: Daily: 7am-11pm
Address: 80 Montague St, near Hicks St.; Brooklyn Heights
Phone Number: 718-797-3996
Website: Ha! The place is way to old school for such nonsense.
Photo: Zomato 
Second Breakfast (Bakery): Almondine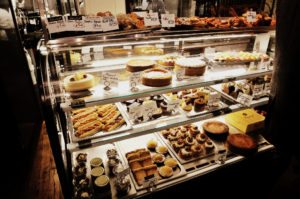 If you head to DUMBO to explore our ever-changing Brooklyn Bridge waterfront park you'll be blissfully near Almondine. It's thoroughly French and everything is good. Expect lines late on weekend mornings.
My suggestion: I love the plump Jelly donuts (beignets) even if they do leave me covered in powdered sugar. I like their almond croissants as well. My daughter goes for the brightly colored macarons or the eclairs, depending on how hungry she is.
Price: upscale NYC bakery prices so $3 to $8 for pastries.
Hours: Mon-Sat: 7am-7pm; Sun: 10am-6pm
Address: 85 Water St, near Main St.; DUMBO
Phone Number: 718-797-5026
Website: http://www.almondinebakery.com
Photo flickr cc
Lunch: Brooklyn Crab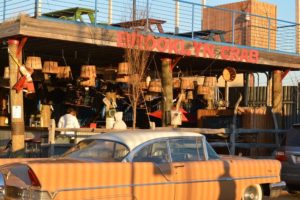 Brooklyn Crab is a little out of the way, but worth a cab ride (you can also take the NYC Water Taxi to the Red Hook Dock). The two upper floors have a bar, outdoor picnic tables and a covered dining area with huge windows that open in summer. The top floor has views of the harbor and the Statue of Liberty. People flock in summer for platters of steamed crab or lobster, fried clams and and a decent kids' menu. On the ground floor you'll find a large backyard with a bar, picnic tables, a small mini-golf course, beanbag toss, and shuffleboard tables. The menu is smaller than upstairs, but it's a great place to while away an afternoon. It's popular with groups and families and, inexplicably, with local French expats.
My Suggestion: We like the crab roll and the steamer clams when they're in season. If we aren't with a group we eat upstairs then head to the backyard for ice cream, a second beer, and some games.
Price: beer $5-6/pint; wine $8-10/glass; appetizers $8-12; sandwiches $15-24; $17-50
Hours: Open year-round. Sunday – Thursday: 11:30am – 10:00 pm; Friday – Saturday: 11:30am – midnight
Address: 24 Reed St, Red Hook, and Brooklyn 11231
Phone Number: 718-643-2722
Website: http://www.brooklyncrab.com
Coffee shop: Tom's Restaurant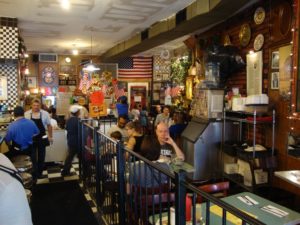 Tom's Restaurant is a step into classic Brooklyn just a few blocks from the Museum and Botanical Garden. The old soda fountain and counter tell you what to order. Lime rickey's, egg creams, ice cream sodas, and floats come in tall, thick fountain glasses. Order a shake and they'll bring you the extra that didn't fit in the glass on the side.
My suggestion: They're known for the lemon-ricotta pancakes, but my daughter likes the chocolate chip ones. I like their huevos rancheros, unless I go for a classic grilled cheese with tomato on rye. We often share a cherry lemonade.
Price: fountain drinks $3-6; breakfast $3-14; lunch items $5-15
Hours: Monday – Saturday: 7:00 AM – 4:00 PM; Sunday: 8:00 AM – 4:00 PM
Address: 782 Washington Avenue, Prospect Heights, Brooklyn 11238
Phone Number: 718-636-9738
Website: http://www.tomsbrooklyn.com/about.html
Happy Hour 1: Strong Place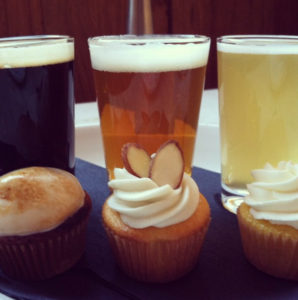 Brooklyn is hive of innovative brewing, fermenting, distilling, shaking, and stirring these days. So picking one bar is not only unfair but also nearly impossible. If you're a beer drinker I'd head to Strong Place for its good tap selection and innovative bar food. A weeknight happy hour offers 2-for-1 local beers and very good $1 oysters.
My suggestion: Ask what's in season and on the happy hour list.
Price: Tap beer $6-12;
Hours: happy hour is 4:00 pm-7:00 pm weekdays.
Address: 270 Court Street, Cobble Hill, Brooklyn 11231
Phone Number: 718-855-2105
Website: http://www.strong-place.com
Happy Hour 2: The Clover Club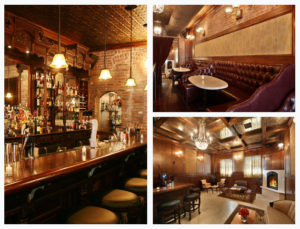 The Clover Club is considered the pioneer and standard-bearer for mixologist-centered cocktail bars in the borough. A weekday happy hour here serves up a selection of drinks and snacks for about half-price.
My suggestion: The cocktails rotate so go with the season, your mood and your favorite booze. Order a round of deviled eggs to go with whatever you're drinking.
Price: Select cocktails $7; wine $6; beer $4; snacks $5-7.
Hours: happy hour is 4:00 pm -7:00 pm weekdays.
Address: 210 Smith Street, Cobble Hill, Brooklyn 11201
Phone Number: 718-855-7939
Website: https://cloverclubny.com
Dinner: Alma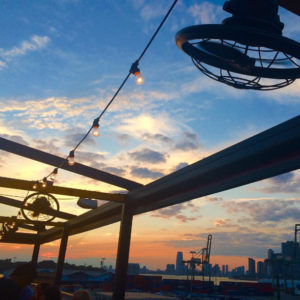 Bypass the gritty ground-floor bar at Alma and head upstairs to the restaurant with its huge picture windows and top-floor roof deck. The views of the Brooklyn waterfront and harbor are reason enough to visit. And the Mexican food is first rate.
My suggestion: The Chilaquiles, ceviches, chile relleno, and enchiladas are all authentic, interesting, and tasty.
Price: beer $7; wine $8-12; margaritas about $12; appetizers $6-16; entrees $16-$30
Hours: Monday- Thursday: 5:30 pm – 10:00 pm; Friday: 5:30 pm – 11:00 pm; Saturday – Sunday: 11:00 a.m. – 11:00 p.m.
Address: 187 Columbia Street; Brooklyn 11231
Phone Number: 718.643.5400
Website: http://almarestaurant.com
Hotel: The Nu Hotel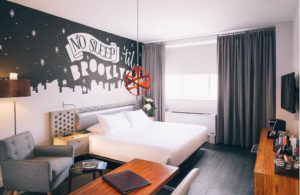 The Nu Hotel is a modern boutique hotel that's central to Brooklyn's major cultural institutions and a few blocks from Barclay's Center. It's an easy subway hop to Manhattan or the Brooklyn waterfront. The neighborhoods around it offer ample eating, drinking, and shopping. It offers complimentary breakfast, bicycles to borrow, and a family suite with bunk beds. It's pet friendly.
Pin for later: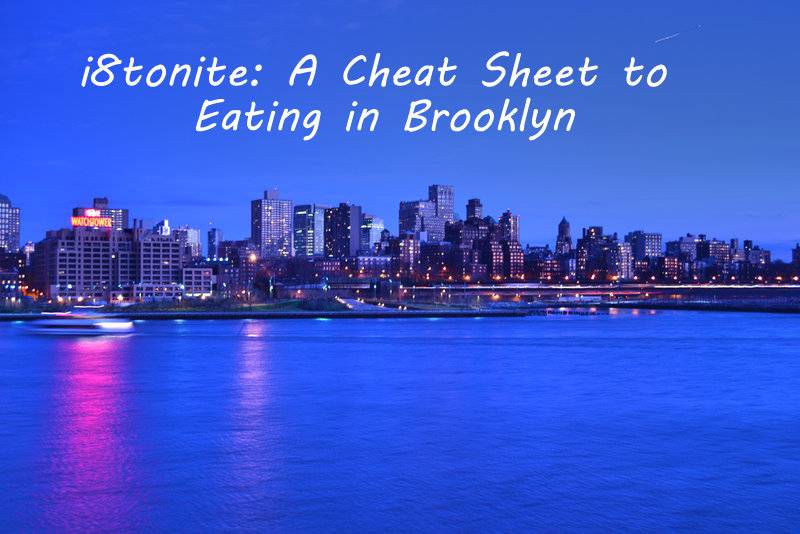 Photo Wikimedia Commons: Theeditor93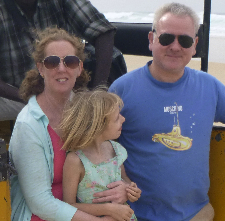 Eileen Gunn is the founder of FamiliesGo! and at least the 4th generation of her family to settle in Brooklyn. When she's not eating her way through New York City, you can find her on Pinterest, Facebook, Instagram, and Twitter.
– The End. Go Eat. –