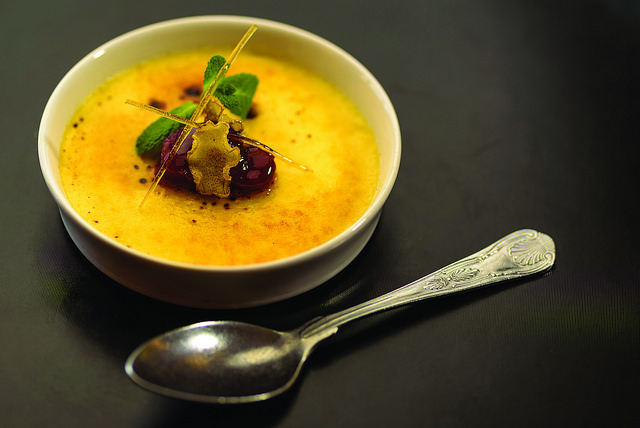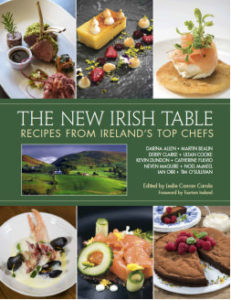 When we visited Ireland, I fell in love with the food. Not only that famous brown bread, and the smooth, creamy butter, but the seafood chowder that we ordered at almost every meal, and the hearty breakfasts, and the Guinness stew, and the seafood, and…well, you get the picture. But most of all, what I admired and happily ate was the creativity and local ingredients that went into each meal.
Imagine my joy at finding a cookbook, The New Irish Table: Recipes from Ireland's Top Chefs , that celebrates new Irish food, by chefs that are leading the charge for creativity in Ireland's artisanal food movement. They come from all four of Ireland's provinces (including Northern Ireland), and each shares a menu of recipes.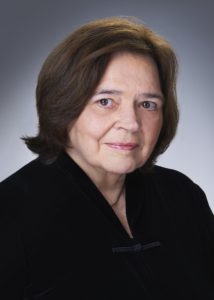 I learned more about Ireland, and its food, than I imagined gleaning from a book – and am inspired to not only cook these delicious recipes, but to head to Ireland and visit their restaurants.
Luckily for us, I was able to chat with editor Leslie Conron Carola, who is the owner and director of Arena Books Associates, LLC, has produced many illustrated books, including Ireland: A Luminous Beauty; Spectacular Ireland, and Ireland's Treasure's with Peter Harbison. The New Irish Table: Recipes from Ireland's Top Chefs is published by Charlesbridge.
Food People Questions (with a nod to Proust):
What is your favorite food to cook at home?
Hmm-that depends on the season for particulars, but it's always fresh, fresh, fresh and as-local-as-possible. Lots of fresh vegetables and fruit and again as-local-as-possible meat and fish (with exceptions, of course. I love Chilean sea bass, and salmon, and shrimp!).
Quickly sautéed and/or roasted fish or chicken with lightly steamed or grilled fresh vegetables, and/or a lightly-dressed salad. Fresh herbs and lemon and a bit of butter doesn't hurt!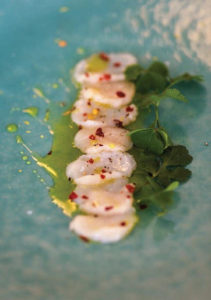 What do you always have in your fridge at home?
Chicken broth–homemade when possible; fresh vegetables and cheese, yogurt. A piece of chocolate.
What marked characteristic do you love in a person with whom you are sharing a meal?
Conversation- sharing ideas and the pleasure of eating a well-prepared meal, a meal engaging our senses. It doesn't have to be a complex meal.
What marked characteristic do you find unappealing in a person with whom you are sharing a meal?
No conversation and very quick eating without much enjoyment.
Beer, wine, or cocktail?
Wine
Your favorite cookbook author?
Alice Waters
Your favorite kitchen tool?
Vitamix and sharp knives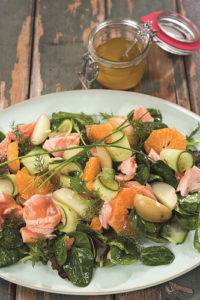 Favorite types of cuisine to cook?
Natural, seasonal, fresh. And Italian and French, and, of course, what the Irish chefs are preparing!
Beef, chicken, pork, or tofu?
Chicken and pork.
Favorite vegetable?
Oof, this is difficult, I love many: spinach, broccoli, butternut squash, brussels sprouts, fresh tomatoes and salad vegetables.
Chef you most admire?
Alice Waters. And all these Irish chefs: Darina Allen, Derry Clarke, Kevin Dundon, Martin Bealin, Ian Orr, Ultan Cooke, Noel McMeel, etc.
Food you like the most to eat?
Again, that depends on the season, but hearty soups, stews, and wonderful Italian food are lovely complements to wintry days. And lighter weather suggests lightly prepared fresh vegetables and meat or fish. With fresh berries or other fruit to top it off.
Food you dislike the most?
Heavy meat organs.
What is your favorite non-food thing to do?
Concerts, operas, museums and galleries, and reading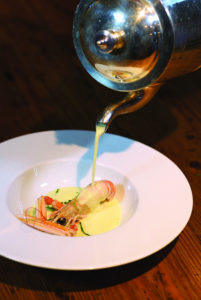 Who do you most admire in food?
In the U.S.: Alice Waters and the late MFK Fisher. In Ireland: Darina Allen, Derry Clarke, Kevin Dundon, Ian Orr, and all the Irish chefs in The New Irish Table.
Where is your favorite place to eat?
A comfortable home dining room or terrace, or a quiet restaurant.
What is your favorite restaurant?
U.S.: Chez Panisse in Berkeley, CA; Gramercy Tavern, Le Bernardin, Balthazar (for needed steak frites), and Eataly is a lot of fun in NYC. Lots of choices.
Do you have any tattoos? And if so, how many are of food?
Not a one!
Recipe: Cod, Octopus, Purple Broccoli, Broccoli Puree, and Horseradish Mayonnaise
Recipe by Chef Derry Clarke of l'Ecrivain, Co. Dublin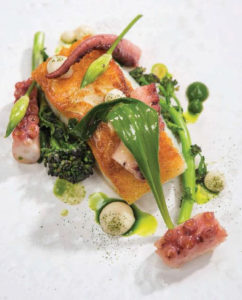 FOR THE OCTOPUS
2 qts/2 L court bouillon
1 octopus (2 lb/1 kg)
FOR THE BROCCOLI PUREE
2 medium size heads of broccoli, shaved and cleaned
FOR THE HORSERADISH MAYONNAISE
1 egg yolk
1 tsp mustard
1 lemon
2/3 cup/150 ml vegetable oil plus more to sauté the cod
2 tbsp/40 g horseradish, grated
FOR THE COD
4 cod fillets
FOR THE PURPLE BROCCOLI
¼ lb/100 g purple sprouting broccoli
In a deep pot, add the court bouillon and the octopus and simmer for 1 ½ hours until tender. Remove and chill. Portion octopus into 1 ½ in /4 cm pieces.
Place the egg yolk into a small bowl and add the mustard and a squeeze of lemon juice. Slowly whisk in the vegetable oil until thick. Season with salt and pepper to taste, and add the grated horseradish.
Bring a pot of water to boil and add a little salt. Cut and blanch the 2 heads of broccoli in the salted water for 2 minutes. Remove and squeeze out the excess water with a kitchen cloth or towel. Discard the water. Place the broccoli in a food processor and blend until smooth. Season and chill to keep a bright green color.
Season the fish fillets with salt and pepper.
Heat a pan with a little oil on a high heat, and place the cod skin side down and turn heat to low. Cook for about 4 minutes until the skin is crispy and golden. Turn the fish over, add butter and lemon juice, and cook for 1 minute.
Bring a pot of water to boil and cook the purple broccoli for 1 ½ minutes until tender. Season.
Heat broccoli puree in a pot until warm.
Heat a little butter in a pan and toss the octopus pieces in the butter until warm. Season with salt and pepper, and add a teaspoon of chopped parsley or dill.
To serve, place a few spoons of broccoli puree and some purple broccoli on a plate and arrange a cod fillet on top. Garnish with the octopus and horseradish mayonnaise.
Serves 4
– The End. Go Eat. –