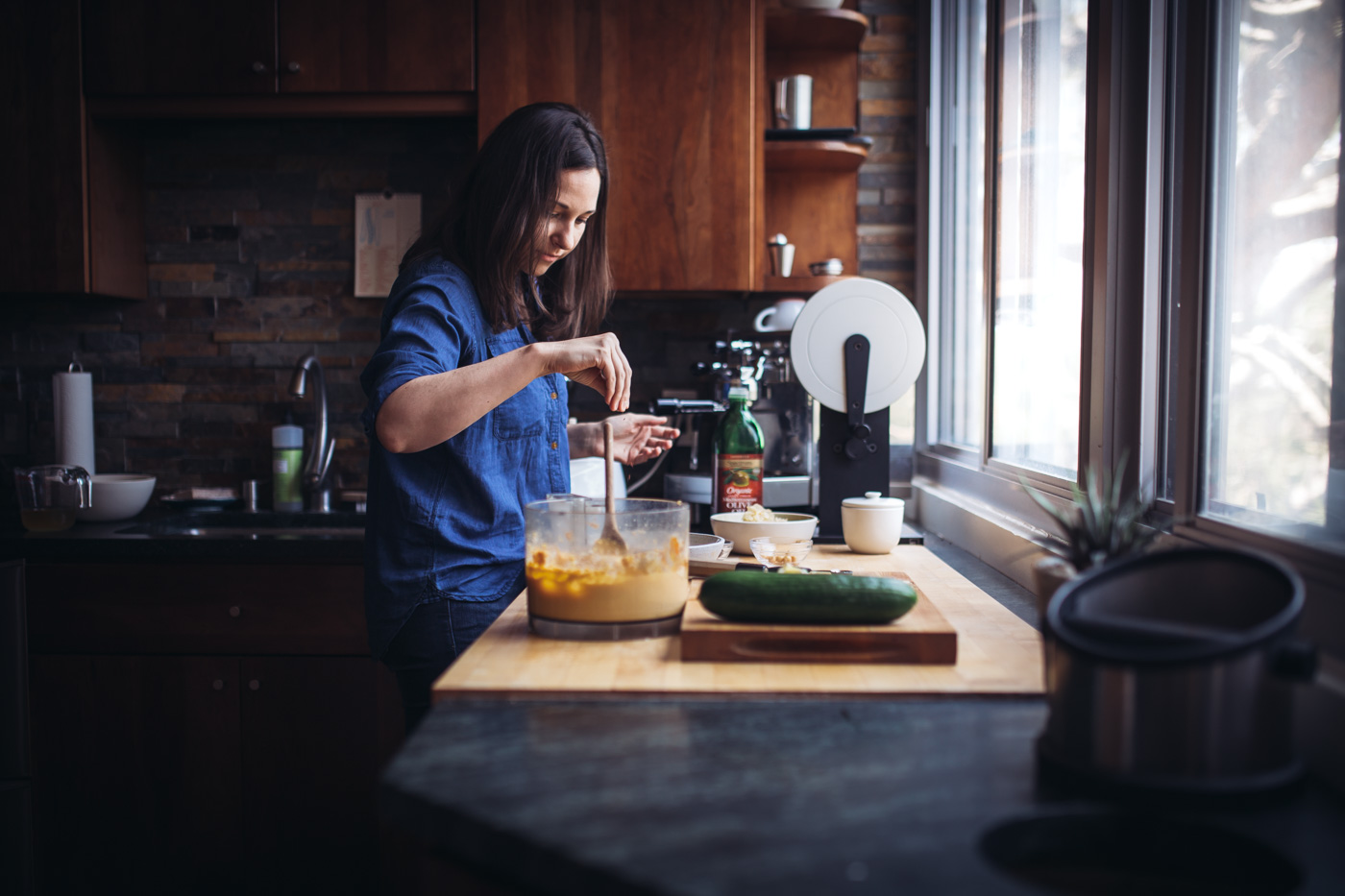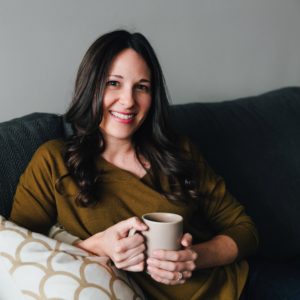 Nicole Gulotta is a writer, editor, and tea enthusiast. She's the author of Eat This Poem: A Literary Feast of Recipes Inspired by Poetry (Roost Books, 2017), and pens a blog by the same name. I first discovered Nicole's website years ago, when looking for travel guides that encompassed both bookstores and great food. What gems Eat This Poem's literary city guides are – written by those in the know, so it's a local's guide to goodness, when you travel. Nicole's website is fill of musings on cooking – and life, and is one that I turn to again and again.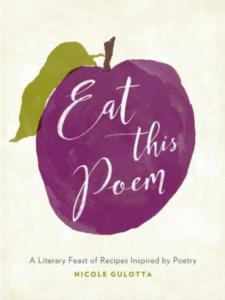 Imagine my elation when I saw Nicole's new book being created, published, and released (next week!). I caught up with Nicole in sunny California, while snowbound in Michigan, and asked her about writing a combination of food and poetry. She noted that while she had been writing the blog for several years, and had felt rooted in the combination of food and poetry, she was approached by an editor about starting the book – and it felt like the right project at the right time. And while the gestation process for Eat This Poem: A Literary Feast of Recipes Inspired by Poetry was long, she had been writing of these topics for years, had found her footing with it, and was excited to do something more substantial with it – for which I am grateful.
When I delved into her history, I learned that while poetry arrived early in her life, food came much later – and so it wasn't a natural fit to pair the two. But Nicole noted that when you can step away from your life experiences and look at them, it enables those insightful moments to happen.
The Eat This Poem cookbook features more than 75 new recipes paired alongside verse from 25 of America's most beloved poets. Forage mushrooms with Mary Oliver, then wander into your kitchen to stir creamy truffle risotto. Study the skin of a pear with Billy Collins while you bake a warm vanilla-pear crumble. And honor the devoted work of farmers with Wendell Berry while snacking on popcorn dusted with rosemary and drizzled with brown butter.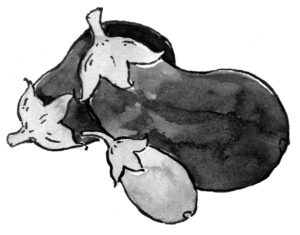 You know me – when I asked what she hoped readers take away from the book, Nicole said, "The idea of being still in a kitchen, and having food and poetry be an opportunity to do something that takes care of yourself and the people around you as well. Our lives are so rushed and busy and we have all these things to do…and I want people to feel like they can indulge in poetry and food and ENJOY that, even if only for a brief moment."
And, when I asked about poetry, Nicole (a life-long poetry lover) remarked, "Poetry is so great because it really keeps you rooted in the moment/present, and if you read a poem it might take a short time (or longer), but it is a special, be-present time. You can do this and inspire your day!"
Indeed – food and poetry are the perfect combination for stillness, thoughtfulness, and a good life.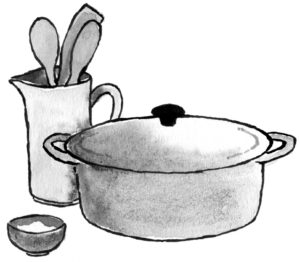 Food People Questionnaire (with a nod to Proust):
What is your favorite food to cook?
Something Italian, like bolognese that simmers for hours
What do you always have in your fridge at home?
Homemade almond milk, Dijon mustard, a wedge of Parmesan, and eggs from the farmers' market
What do you cook at home?
I keep things simple, especially Monday through Friday, like quick bean tacos, lentil curry, and pasta with whatever fresh vegetables are in season.
What marked characteristic do you love in a person with whom you are sharing a meal?
A good appetite
What marked characteristic do you find unappealing in a person with whom you are sharing a meal?
Chewing with your mouth open
Tupperware, Rubbermaid, or Pyrex?
Pyrex
Beer, wine, or cocktail?
Wine
Your favorite cookbook author?
Nigel Slater's writing is so welcoming and poetic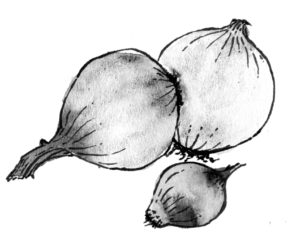 Your favorite kitchen tool?
My Japanese chef's knife
Your favorite ingredient?
Garlic. It's the beginning of everything.
Your least favorite ingredient?
Dried fennel
Least favorite thing to do in a kitchen?
Empty the dishwasher
Favorite types of cuisine to cook?
Italian, Indian, and Mexican. But these days, anything I can get on the table in under 30 minutes.
Beef, chicken, pork, or tofu?
Beef, medium rare, with a touch of flaky salt on top
Favorite vegetable?
I know they're technically a fruit, but tomatoes have my heart every summer. I also love roasted cauliflower.
Chef you most admire?
Suzanne Goin
Food you like the most to eat?
Always pasta, preferably spaghetti with a slice of garlic bread alongside
Food you dislike the most?
A poorly dressed salad
What is your favorite non-food thing to do?
Spend time with my son
Who do you most admire in food?
Anyone who helps support local farmers, treats animals and the environment with respect, and values seasonal cooking
Where is your favorite place to eat?
My kitchen table, or Bestia, in downtown Los Angeles
How many tattoos? And if so, how many are of food?
Zero.
Recipe: Energizing Orange Smoothie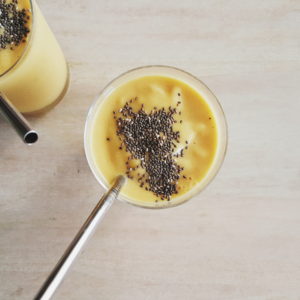 In a high speed blender, add 2 cups freshly squeezed orange juice, 1 chopped carrot, 1 banana, 1 cup frozen mango, 1 small piece of peeled ginger (1-inch), ½ teaspoon ground turmeric, and 1 cup ice.
Process until smooth, and garnish with chia seeds, if desired.
Find Nicole on social media:
Twitter: twitter.com/nicolegulotta
Instagram: instagram.com/nicolegulotta
Facebook: facebook.com/eatthispoem
Pinterest: https://www.pinterest.com/ngulotta/
  – The End. Go Eat. –