I discovered Charred Broccoli with Lemon and Asiago absolutely tasty. Tasty enough that there aren't leftovers the next day.  I now believe roasting is the best thing for anything even broccoli which I like but isn't necessarily my go to. So, when in doubt — roast. (My new motto.)
I discovered the recipe in "Family Table: Favorite Staff Meals, From Our Restaurants to Your Home", compiled by Union Square Hospitality Group's Culinary Director, Michael Romano and written by Karen Stabiner, with a forward by Danny Meyer, chef and owner
of the just mentioned company. (Yes, Danny Meyer of Shake Shack fame.) I briefly worked for him as a waiter at Union Square Café back in the late eighties. Written in 2013, the cookbook's recipes are staff meals from his restaurants that are part of the said conglomeration. These establishments include some of the Big Apple's gastronomically acclaimed: Gramercy Tavern, Eleven Madison Park, The Modern and others. (Sadly, Union Square Café will be moving from its current space of 30 years to another area of Manhattan due to high rents.) Traditionally, staff meals are served at the beginning of the dinner shift and end of lunch.
Truth be told,  taking all the romance out of the cookbook, along with the "familial" sappiness  — the  staff meals that we were given before or after our shifts came from leftovers that didn't sell – too much chicken, Bibb lettuce getting ready to turn, fresh pasta that needed to be boiled so it didn't go to waste.  Working at the now defunct Soho Kitchen & Bar (SKB), we were served pizzas and salad pretty much every staff meal.  The kitchen quickly needed to use up any dough from the day before and replenish with freshly made.  The salad was at least a couple of days old but it was still had a good crunch going on. At El Teddy's, torn down in 2004 — we were allowed to eat any of the appetizers such as chicken achiote, machaca or steak arrachera burritos, any of the salads or the quesadillas which included huitlacoche (corn fungus), nopales and a puerco.  We could order as much as we wanted as the back of the house had already made the dishes with fresh ingredients for that day's clientele. (We were eating yesterday's.) At the Cajun/Mexican fusion of How's Bayou – it was mostly leftover fried chicken, jambalaya, gumbo, day old enchiladas, reconstituted black beans, red rice and sometimes something green. (Not complaining about any of this. It was free food and truly delicious. The pizza at SKB was some of the best I had. I learned a lot about life, cooking, drinking and made some of the best friends ever while working in restaurants. I loved it.)
This brings me back to this recipe and cookbook…yeah, I don't think any of the staff at my restaurants would have eaten this as "family meal". It would have would have been sitting under the heat lamps drying out…but now that I'm older and definitely stockier — it's pretty stellar stuff.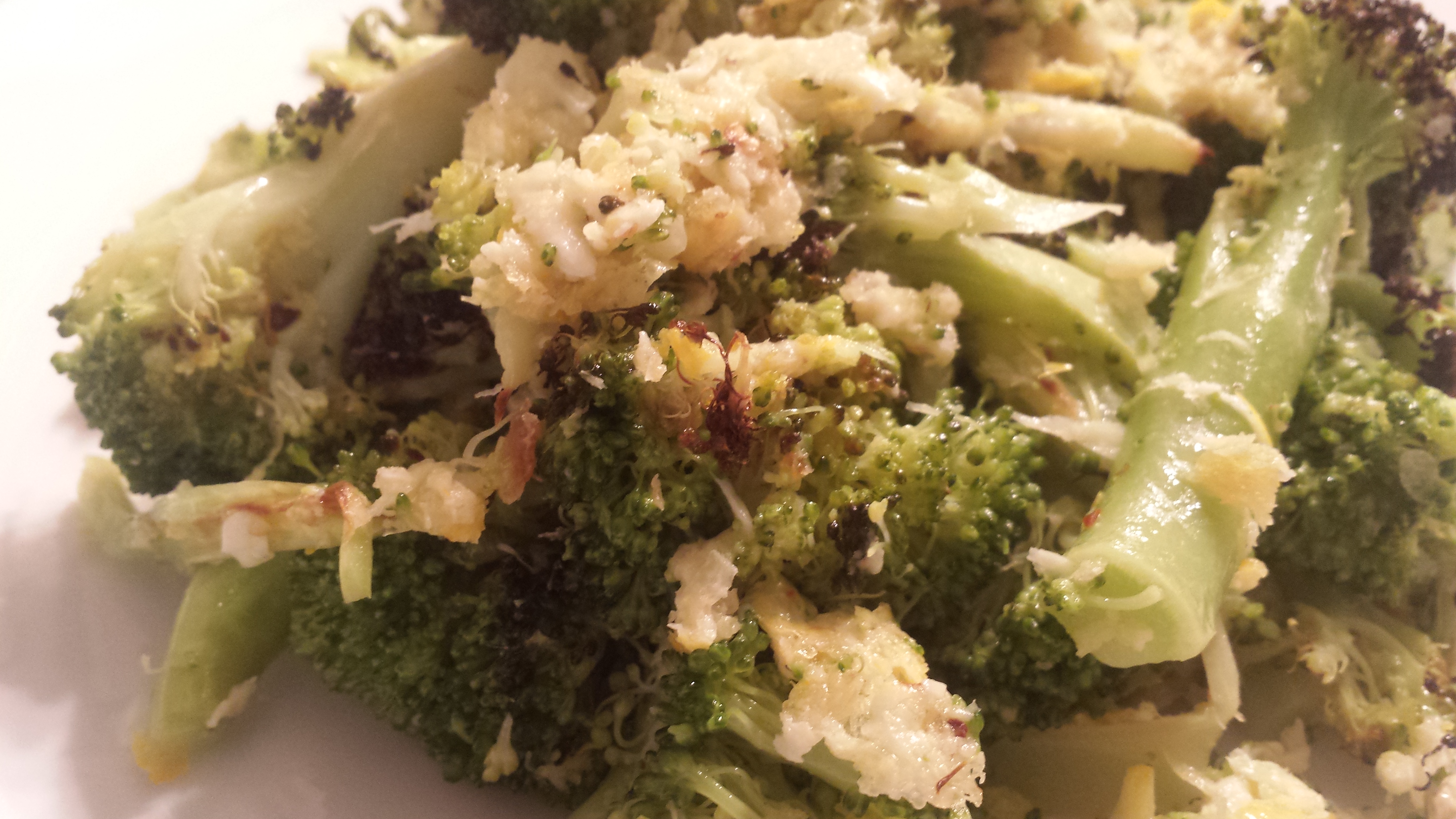 Ingredients:
2 bunches of broccoli cut into trees with stems. Trim off about two inches from the bottom.
¼ olive oil.
2 lemons.
Several dashes of red pepper flakes.
Italian hard cheese such as asiago, pecorino or parmesan. Two to three cups grated.
Maldon salt, fresh cracked pepper. (Okay, you can use kosher….but I love the Maldon stuff.)
½ cup of Panko bread crumbs.
Let's make this puppy:
Preheat the oven to 450 – 475 degrees. Toss the broccoli, olive oil and breadcrumbs into a large bowl coating the broccoli really well. Spread into a single layer onto a baking sheet and roast for 10 to 15 minutes, charring the ends of the broccoli but not burning them.
While the broccoli is cooking, zest the two lemons into a large bowl and add the grated cheese stirring well until mixed.
Once the broccoli is cooked, toss the broccoli in the bowl mix with juice of a ½ a lemon. Serve.
The End. Go Eat.