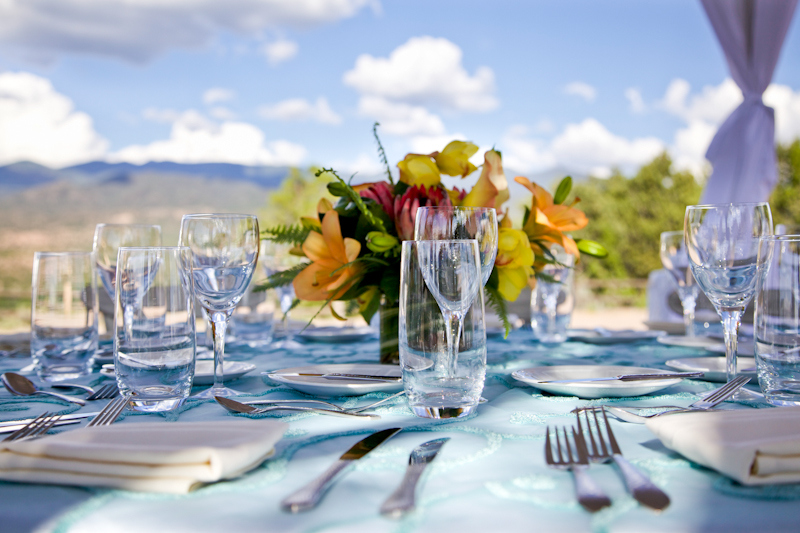 This is a memorable guest post from Penny Sadler, blogger at Adventures of a Carry-On.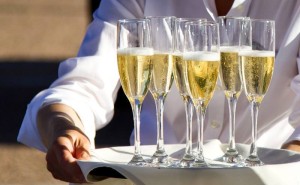 I grew up in a big family, but as a teenager there was a period of time when it was just my dad and I living together. Neither one of us was a whiz in the kitchen, so we often ate dinner out. Those early dining experiences ingrained in me a love for delicious food and conversation. They shaped who I am today – a good listener and a good conversationalist, with a penchant for excellent food (preferably cooked by someone else), with a healthy dose of listening and sharing by all parties at the table.
Writing about my top five most memorable meals of 2015 was easy…except that I had so many memorable meals. When I really thought about the meals that stood out for me, I noted that I was always traveling. From San Francisco to Piedmont, Italy, 2015 was a year of new food experiences and wine pairings. Another reason these meals were memorable…all of my favorite meals this year included reconnecting with old friends and acquaintances or dining with new friends. And of course, great conversation.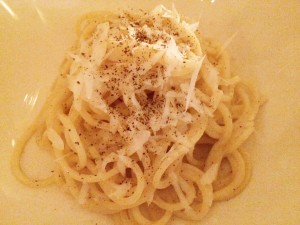 California: Locanda – The Mission: Let's begin in San Francisco, voted the best food city in the USA by Bon Appetit Magazine.  I can't disagree. I had several memorable meals in San Francisco. but the one that really stands out for me was dinner at Locanda  in the Mission District. Owners Craig and Annie Stoll have turned to Rome for the inspiration behind Locanda – and for this reason, I was eager to try it.
Aside from being some of the best Italian food I've eaten in the US or Italy (there's an Italian who is going to argue with me about this I know), what made this meal special was my dinner companion. I met Jody on New Year's Day in Cambria, California, under not the best of circumstances. I fell on the beach and couldn't get up. Jody rescued me. Jody lives in Mill Valley, I live in Dallas. We met up in San Francisco almost a year later, and had an amazing dinner and wine pairing at Locanda.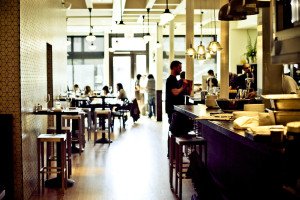 I decided to try the Cacio e Pepe for a primi. It's about as basic as you can get – pasta, cheese, and pepper with some olive oil. And yes, it did remind me of Rome. For an entrée, I had the Pancetta-wrapped Mary's Chicken with Anson Mills polenta and grilled turnips.  I rarely ever order chicken, but Mary's Chicken is a family-owned business that has been raising free-range, organic chickens for three generations.  The dish had the perfect blend of flavors – slightly salty, savory, and the perfect portion size. The sommelier paired it with a Francesco Rinaldi Barbaresco. The dark red fruit and licorice flavors of the wine were a perfect balance with the savory notes of the pancetta and chicken. Jody had the Berkshire Pork Saltimboca paired with a lovely Beaujolais. She left with a doggie bag. For dessert, we had a Barolo Chinato. It's a dessert wine with aromas of stewed fruit, but not too sweet. Lovely.
No matter what you order at Locanda, you can't go wrong. We loved everything.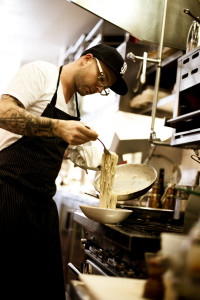 Since I'm a recent WSET (Wine Spirits Education Trust) graduate, I did take note of the excellent wine list at Locanda. Many Italian wines from Piedmont were included, and I was pleased to see I'd visited several of the wineries on the list. One of them is part of this article, as I also had an amazing meal there. Read on.
Locanda, 557 Valencia (San Francisco)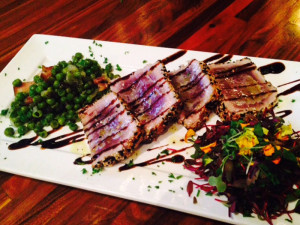 Aquolina – North Beach: I spent Thanksgiving Day in San Francisco mostly walking around the North Beach neighborhood.  There was a place right on the corner facing Washington Square with lots of windows and sidewalk seating that looked inviting. I grabbed a seat at the bar, ordered a spritzer, and watched the crowd for a while. I was scouting for a place for myself and a friend to have Thanksgiving dinner, but we didn't want to spend a fortune on a pre-fixe menu.
Aquolina was serving their regular menu, casual Tuscan-style Italian,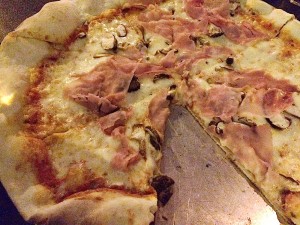 in addition to holiday specials. I saw a few pizzas being served and decided that was where we'd have dinner later. We ate a wonderful thin-crust Roman-style pizza, with mozzarella and prosciutto. Delicious! It was the perfect antidote to a traditional Thanksgiving meal…and I got to dine outside on a crisp San Francisco night with a friend who happened to be in town that week.
Aquolina, 1600 Stockton St. (San Francisco)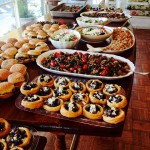 Harmony – San Luis Obispo County: South of San Francisco, just off of Highway 101, is the tiny town of Harmony,  population: 18. I was starving, so stopped to see what I might find in such a small place.
The moment I stepped foot inside the Harmony café, I felt like I was in Italy. And guess what? Chef Giovanni is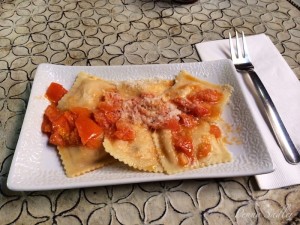 indeed Italian. He made me a butternut squash pasta with a light marinara sauce, which paired well with a glass of pinot grigio. While I waited, I chatted with other customers who told me they were regulars there – they return every year on vacation from New York. That's how good Chef Giovanni's food is. For dessert, I had the house-made tiramisu.  Pasta and tiramisu in one meal is an indulgence I don't often allow myself. But tiramisu made by an Italian is the next best thing to going to Treviso, the home of the original tiramisu.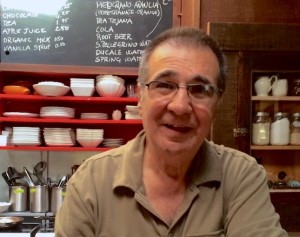 Note: Harmony Cafe has relocated to Cambria, and is now called The Harmony Cafe at the Pewter Plough. Chef Giovanni is still cooking in the kitchen.
Harmony Cafe, 824 Main St. (Cambria)
Piedmont, Italy: Barolo
In September, I toured the wine country of Piedmont, Italy. I completed my Wine Spirits Education Trust certification in August (you can read about it here), and the time seemed right for this trip. Many of the wineries in the area also have dining rooms and tasting menus serving regional dishes paired with the local wines. I recommend La Foresteria at Cantina Marchesi di Barolo, in Barolo,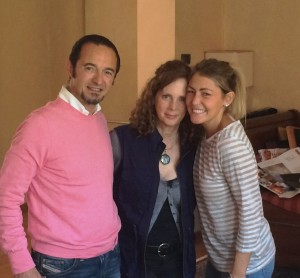 Italy. Here I met up with an Italian friend who had hosted me at his home in Italy over two years ago. A reunion over food and wine in Barolo doesn't sound too shabby, does it?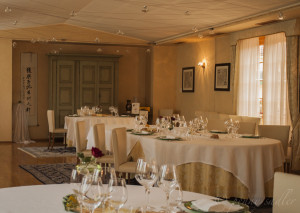 There are three menu options, and depending on how hungry you are, you can chose three to five courses. Whatever you do, you must try the veal with tuna sauce (veal con tonnato). I thought it sounded disgusting until I tried it. Buonissimo! It was paired with the Gavi di Gavi, a wine I enjoy drinking on its own – it was perfect with this dish. The desserts were to die for, as well.
The Moscato jelly with fresh fruit served with Moscato d' Asti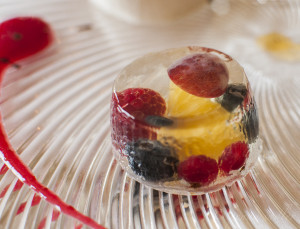 Zagara tasted crisp and fresh. I could have eaten a gallon of it. The ambiance was very elegant, with white tablecloths, delicate stemware, and enough silverware to make me feel like I was in a scene from Pretty Woman.
Marquesi di Barolo, Via Roma 1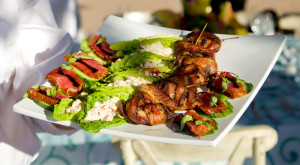 Santa Fe, New Mexico: Now, believe it or not, I do have one amazing dining experience to tell you about that was not Italian, nor in Italy or California. This memorable meal was in Santa Fe, New Mexico, another well-known foodie city. It was, and remains, the most unique dining experience of my life so far. Yes, I think I can honestly say that.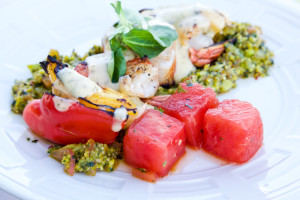 Prepared in the parking lot at the Santa Fe Opera, the locals call this dining a tailgate party. We had our table set up under a beautiful white tent.  Executive Chef Todd Hall, from La Posada de Santa Fe, prepared a four-course meal for us while black tie waiters served us grilled bacon wrapped peaches, lobster in little gem lettuce, and ahi tuna, paired with a crisp Sauvignon Blanc. Those were the appetizers.
The second course was a salad of Sicilian burrata, asparagus, boiled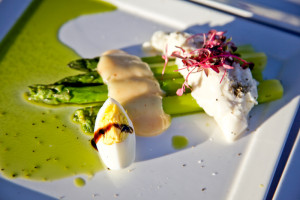 egg, and lemon curd aioli. To die for. One of the best things I've ever eaten. Ever. I could have made the main course out of that.
Next up was Prawn and Diver Scallop Brochette on a salad of chilled
lemon mint tabbouleh, icicle cucumbers, heirloom tomatoes, and yellow watermelon, paired with a buttery chardonnay from Walt vineyards. Wait, did I say the second course was the best thing I've ever eaten? Honestly, the entire meal was a work of art. The combination of flavors and textures was sublime. I will never forget this meal.
And then there was dessert: a dark cherry tartlet with Kahlua salted caramel ice cream. Swoon! The sad news is, we barely had time to inhale this heavenly creation because we were being swept off to see the opera.
My suggestion: go to the newly remodeled Julia,  at La Posada de Santa Fe. Todd Hall is a James Beard-recognized chef and Julia is a beautiful, warm environment. The experience may not be the same as a tailgate party at the opera, but the food is sure to be five-star, and the warm and inviting atmosphere at Julia is pretty swanky, too.
La Posada de Santa Fe, 300 East Palace Ave. (Santa Fe, New Mexico)
The End. Go Eat. Happy 2016.