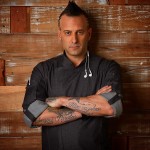 Chef Barret Beyer epitomizes new beginnings and change, inspiring millions with his cooking and actions. While working in New York City's financial industry and boom era during the aughts, Beyer was arrested ten times for drug charges, even overdosing in 2006. For ten years, from 1998 until 2008, he was in and out of jails. However coinciding with the birth his daughter in 2008, the reality TV star finally got sober.
Beyer said, "I couldn't do it anymore. I wanted to be a father she could look up to." He did.
Leaving the world of finance and clanging cells bars behind, the love of cooking become the inspiration for his life's next course. Always a home cook, Beyer attended culinary school in his native Long Island. Before even graduating the ambitious New Yorker already had a job as a sous chef.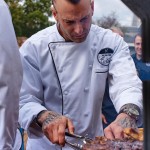 Beyer then made it to "Hell's Kitchen" with the legendary kitchen screamer Gordon Ramsey. His favorite television experience. Although, he didn't win the show, Beyer realized that working in the kitchen is the work he loves.
It's that drive to succeed and healthy ambition which drove him to participate in "Cutthroat Kitchen", another on-camera cooking competition. "I was the first one cut. It was for not putting the chicken on a Chicken Caesar Salad," the chef says while chuckling at his folly.
From his experience on reality TV, the cheffing professional has become a consultant opening a multitude of East Coast restaurants, receiving many accolades along the way. Food & Beverage Magazine and Chef Works have both named him "Chef of The Month", in 2013 and 2014, respectively. With his new found celebrity status, Beyer volunteers or works non-profits events around the country including the Long Island Hospitality Ball, spokesperson for "Bullyin' We're Kickin it", a Rocky Marciano Jr. organization and the annual fundraiser for Michelle's Place Breast Cancer Resource Center in Temecula, California.
With eight years of sobriety and five years of cooking, it's clear Chef Beyer has changed his life.
 Chef's Questionnaire: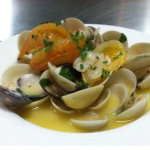 How long have you been cooking? I just came up on my 5th year anniversary. I started culinary school this past December, five years ago.
What is your favorite food to cook? I love cooking comfort food but elevating it to the next level.
What do you always have in your fridge at home? Gatorade, water, bacon, butter and French vanilla creamer
What do you cook at home? For myself, anything that can be done in 3-5 minutes, but when I'm trying to come up with recipes, it's no holds barred.
What marked characteristic do you love in a customer? People who aren't afraid to try new things
What marked characteristic do you find unappealing in a customer? The opposite of the above answer. LOL.
Tupperware, Rubbermaid, or Pyrex? Tupperware at home. Rubbermaid for my equipment and Pyrex in any kitchen.
Beer, wine or cocktail? To drink, I would say none of them; however to cook?  (I use) all of them.
Your favorite cookbook author? I honestly never had a favorite cookbook author because I rarely use them.
Your favorite kitchen tool? My knives. Isn't that every chefs' favorite?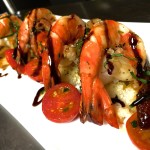 Your favorite ingredient? Hmmmmm. I have a few. Grape seed oil because of its high smoke point, Himalayan pink salt because of its mineral value, and garlic.
Your least favorite ingredient? Curry. I had neighbors that abused it.
Least favorite thing to do in a kitchen? Standing still. I love cooking.
Favorite types of cuisine to cook? American classics with maybe a fusion of Latin or French
Beef, chicken, pork or tofu?  Pork. I believe in low and slow to achieve flavoris maximus. (Ok, I made that word up.)
Favorite vegetable? Corn and Cauliflower
Chef you most admire? Marco Pierre White, Gordon Ramsay and Anthony Bourdain
Food you like the most to eat? Pizza, pulled pork and ramen… and sometimes all at the same time
Food you dislike the most? Anything with curry
How many tattoos? And if so, how many are of food? 14 total. None of food yet I am not a fan of colors. I do have a tattoo on my forearm that says mise en place – everything in its place.
Chef Barret Beyer's Scallops with Wasabi Cream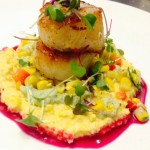 Ingredients
U10 Scallops (largest available)
1/4 head cauliflower
Heavy cream
Wasabi powder
One corn on the cob
One red pepper
Peppadew
Grenadine
1/4 cup Sugar
1/4 cup Vinegar
One small can pineapple juice 6 oz
One tbs chili flake
Two tsp honey
Micro-greens
Cooking Instructions
For the gastrique:  Place vinegar, pineapple juice, about 1/3 cup grenadine, sugar, red chili flake, honey, 3 tbsp. water and about 5 Peppadew peppers in pot. Let it reduce for about 20 minutes on high heat. Blend with an immersion blender. Should be the consistency of syrup; if it's not, place back on heat and reduce more.
On medium heat put about 1/4 cup of heavy cream in a medium pot and add about 1/4 of a head cauliflower and cover. Let simmer until cauliflower is cooked through and tender; using an immersion blender, puree cauliflower. Add about 1 oz of wasabi powder, 3-4 Peppadew peppers and 2 tbsp. of juice from the jar while mixing.
Cut corn kernels from the cob, tossing with oil, salt, and pepper. Roast for about 8 minutes at 425 degrees. Put in a bowl with small diced red pepper, about 1 tbsp. of grape seed oil salt and pepper. Mix and set aside. In a large sauté pan, put heat on high and let the pan get hot. Add grape seed oil and let the oil heat up.
Put scallops on a paper towel to absorb the moisture, so they are dry, and then dash them with salt and pepper. Place the scallops in the pan and let them get a good sear on one side for about 60 seconds. Flip the scallops and leave them on high heat for about another 30 seconds.  Then turn off heat and remove the pan from stove. Put the scallops on a clean paper towel to absorb oil.
On a plate, place a spoonful of the wasabi cauliflower under each scallop and place corn salsa on top of the puree. Add scallop and top with micro greens.  Drizzle the gastrique about the cauliflower. Serve.
The End. Go Eat.