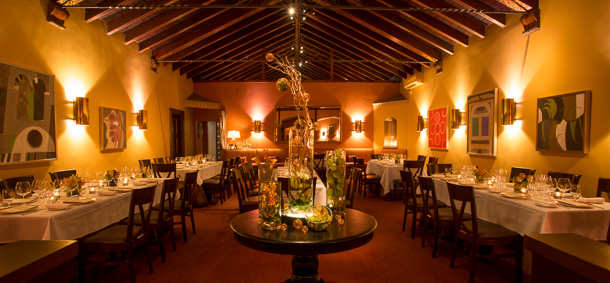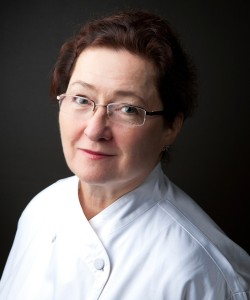 "When opportunity knocks on your door, you have two choices (and) if I had waited until I felt ready, I would've missed what has turned out to be the greatest opportunity of my life," says Chef Suzette Gresham, referring to Acquerello, the almost 27-year old Italian restaurant she co-owns with Giancarlo Paterlini. A friend had tipped off Gresham that there was an opening for an executive chef under the management of Paterlini. At the time, as a young chef, Gresham didn't feel qualified, but decided that failure was nothing more than not meeting someone else's expectations. She applied for the job – and the rest, as they say, is culinary history.
Since the opening of Acquerello in San Francisco's posh Nob Hill neighborhood, the recognition and accolades just keep coming. Acquerello received its first Michelin star in the introductory 2007 Bay Area guide. In 2014, Gresham received the second star, making her the third woman in the United States and the second in San Francisco to receive this prestigious honor.  Chef Gresham is also only one of two women to receive the American Culinary Federation's "Antonin Careme Award" – the other was Julia Child.
Chef Gresham remains true to her belief that you must understand the very basics of cooking before you can become a great chef.  She takes an innovative approach to Italian cuisine at Acquerello, allowing her curiosity, creativity, and passion for all things Italian to manifest in an innovative manner. However, she remains true to the heart of Italian cuisine: clean fresh ingredients, sourced locally, prepared lovingly and with attention.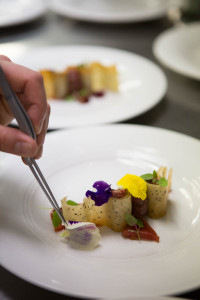 While Gresham believes in flavor above all, she prides herself on the definability of her food. "If you close your eyes and put the fork in your mouth, you should still be able to tell what you're eating," she comments. In the end, there are no tricks to the cuisine at Acquerello, no attempt to dazzle beyond the inherent capability of the plate's ingredients.
Over the course of her thirty-five year career, and beyond the laurels, Chef Gresham's approachable manner has allowed her to mentor over sixty interns and apprentices at Acquerello. It's her belief that she has had more than her share of the "good stuff" in life. In giving back, Gresham shares her knowledge and commitment to turning out the very best in every person who works in her kitchen. In an industry dominated by men, Chef Suzette Gresham has become one of the most influential chefs in the world.
Chef's Questionnaire (with a nod to Proust):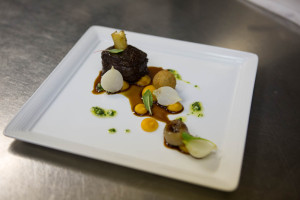 How long have you been cooking? Chronologically: For two-thirds of my life.
What is your favorite food to cook?  At home: Soup. Japanese Chiriashi. Hainan chicken. Duck Larb. Or, whatever my daughters request.
What do you always have in your fridge at home? I am a condiment whore. I can cook in almost any cuisine at a moment's notice based on what I have on hand. I am never without a variety of imported butter, mustards, multicultural pickled items, truffle oil, and oodles of hot sauces.
What do you cook at home? From one end of the spectrum to the other: Seafood sashimi and crudos to long-cooking braised items like pig's feet with cannellini beans.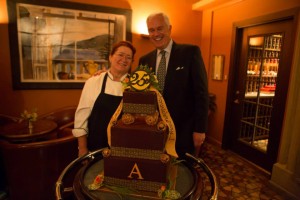 What marked characteristic do you love in a customer? Curiosity.
What marked characteristic do you find unappealing in a customer?  Closed mindedness.
Tupperware, Rubbermaid, or Pyrex? All three: Clear plastic containers with matching lids, Vintage Pyrex, heat resistant Rubbermaid spatulas.
Beer, wine, or cocktail? All three: Chilled, fresh homemade beer, Italian Barolo wine, and a "Mountain Man" cocktail or other crafted drinks created by Christopher Longoria.
Your favorite cookbook author? Seriously? There are cookbooks in every room of my house, including the bathroom.  I want to hear everyone's voice.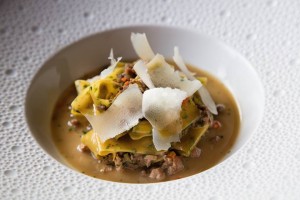 Your favorite kitchen tool? At home: Super sharp, pointed scissors. At work: "tickets" which are micro tongs. (A gift from a past employee carried back from Spain.)
Your favorite ingredient? Monocultivar Olive oil.
Your least favorite ingredient? Lavender. Although I can cook with it.
Least favorite thing to do in a kitchen? Stand around.
Favorite types of cuisine to cook? Global.
Beef, chicken, pork, or tofu?
All three: Wagyu Beef seared, Chicken stock with Matzoh balls, Nonna's skin-on pork roast, Tofu skins stuffed with mushrooms.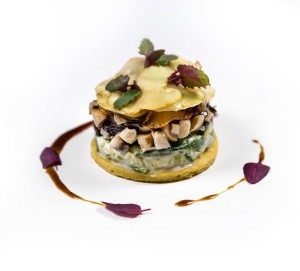 Favorite vegetable?
Leafy greens: Swiss chard, rapini, spinach, and all bitter greens.
Chef you most admire? Massimo Bottura: He has never relented in following his dreams. He is true to himself AND his food.
Food you like the most to eat? Great naked salads of wild greens. Unusual sushi. Properly seared Foie gras. Big pearl Royal Osetra caviar.
Food you dislike the most? Sea slugs.
How many tattoos?  As a Chef and a woman… I always leave something to the imagination.
And if so, how many are of food? Notice above. I listed "chef" first… you can decide.
Recipe: Acquerello's Scallop Crudo with Carrot Vinaigrette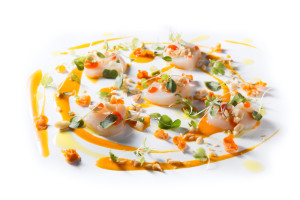 *Chef Suzette Gresham notes: The photo of the scallops is beautiful. It is meant to inspire and not restrict. It seemed to be one of the most do-able of our recipes and is open to interpretation. The Scallops create a clean canvas with which to pair your favorite flavors. The carrots are a surprising and colorful yet underrepresented vegetable in an elegant setting. It just shows that with a little mindfulness, what you can create. You don't need to have exotic ingredients to create something delicious, as long as you are creative.
The recipe can be adapted any way you like and you can use whatever tools you have. For example you can poach, sautee, or steam the scallops if you like. You can use beets instead of carrots. Or any veggie, Drizzle with olive oil. You don't really need xatham gum. Make it your own. This recipe is just meant as a template.
Recipe/Instructions
Scallops:
Size 16/20's scallops
Olive oil
Lemon zest
Salt
Place scallops, olive oil, lemon zest, and salt in vac bag. Vacuum seal. Place vacuum-sealed scallops in a circulated water bath at 54C for 25mins.  After cooked, ice down until 33F. Slice scallops.
Carrot Vinaigrette:
2C fresh carrot juice
1T Apple cider vinegar
.2% xathan gum
Salt to taste
Blend carrot juice in vita-mix with apple cider vin. Add xathan gum. Season to taste.
Red Pepper gel :
6 Large bell peppers juiced
2 tien tsin chilies
Chili Flakes
Gellan gum 1%
Xathan gum .02%
Salt to taste
Bring bell pepper juice and tien tsin chilies to boil in small pot, turn off heat cover and steep for 10 mins. Strain out chilies with fine mesh strainer. Weigh reserved juice in grams. Add 1% gellan gum and bring to boil to activate. Cool until set in metal 3rd pan.
Once set, blend gel in vita-mix with a small pinch of chili flakes. If need, add water to get desired consistency. Add Xanthan gum just to keep gel from weeping. Pass gel through fine mesh strainer to remove chili flake particles. Vac to 100% in Cryo-Vac machine in metal 6pan to remove suspended air and brighten color.
Carrot 'Flowers':
Carrot tips, about 3″ in length.
Fry oil
Slice carrot tips into rounds on mini mandolin, bring fry oil up to 250F add sliced carrots.
Fry until carrots curl up. Drain carrot flowers off onto paper towels and place in dehydrator for 2 hours to crisp up.
Garnish:
Pulsed Marcona Almonds, High quality finishing oil to drizzle, Micro Greens/Herbs
The End. Go Eat