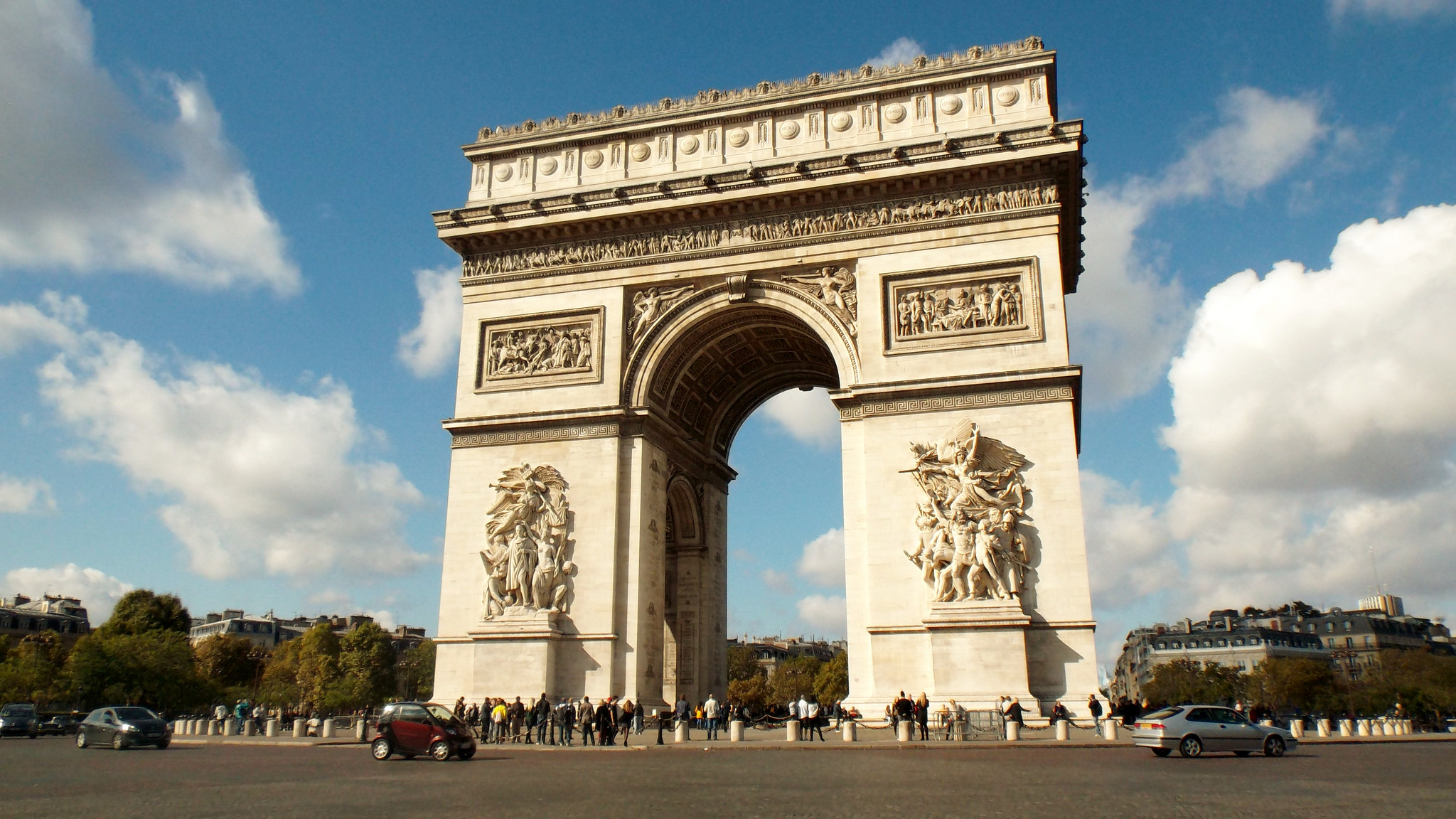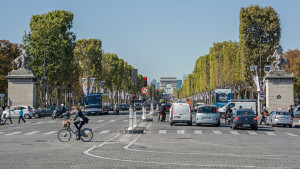 Many words have been written to describe Paris. We aren't going to attempt a vain-glorious description ourselves, but trust us that the city is breathtaking in April. Frank Sinatra, Ella Fitzgerald, Sarah Vaughn, and many others have sung "April in Paris," an ode to the city and its springtime affliction. No other urban setting seems to blossom from relief of winter's gray as does Paris when the March rains have abated and, in their wake, colorful flowers emerge. Yet Paris is also stunning in summer – although crowded, and during the holidays when delicate ornaments and poinsettias decorate many of the facades, buildings, and shops. Paris is beautiful, period, at pretty much anytime of the year.
The 8th Arrondissement, also known as The Golden Triangle, is defined by the boulevards of Champs-Elysees, Avenue Montaigne, and George V, producing one of the world's most desirable neighborhoods. Indeed, many of Paris's legendary hotels are situated in the area, including the grand Plaza Athénée, the incomparable Four Seasons, and the exquisite family-owned boutique Hotel San Regis.
Mostly residential and business-oriented, the area has become more of a shopping district, giving Rue Saint-Honóre a run for its euro as the most haute couture street in Europe. Along tree-lined Avenue Montaigne, visitors can shop a host of LVMH boutiques from Celine, Chanel, Gucci, and Dior to name only a few.
The area is also home to several Michelin-starred dining experiences. If you are a dining aficionado, experiencing one of a Michelin restaurants is an absolute must. The French are masters of fine dining, having pretty much invented it – and personally, I love the pomp and flourishes.
April in Paris (Vernon Duke/ E.Y. Harburg, 1932)
I never knew the charm of spring
I never met it face to face
I never knew my heart could sing
I never missed a warm embrace
Till April in Paris, chestnuts in blossom
Holiday tables under the trees
April in Paris, this is a feeling
That no one can ever reprise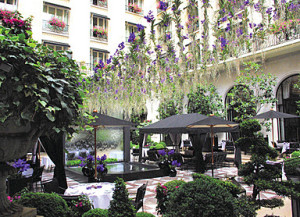 Breakfast: Paris's Eighth arrondissement is one of the world's most luxurious neighborhoods, known for the couture houses and the historic Four Seasons, George V sits regally amongst them. With its stratospheric ceilings, tapestry covered walls, and elegant cornicing decorating the rooms, this is French dining at its finest. Why have breakfast in the three-Michelin starred room when dinner is an epicurean delight? Mon Cherie, if it's warm, the terraced doors are open wide and the glorious springtime sun dances through the clear glass vases of Jeff Leatham, the hotel's artistic director and his legendary floral arrangements. (The Four Seasons, George V's  hotel budget for flowers, at one time, was close to a half million dollars.)  Rainbow prisms dance through the vessels of water and into the 19th century hotel's courtyard. You know you are in Paris. Sublime.
Our Suggestion: You think you've had scrambled eggs? From personal experience, I will tell you haven't had deux oeufs until you them at Le Cinq at the Four Seasons, George V. At 18€  for a pair of eggs, whipped into clarified butter, there is really nothing more decadent or surreally edible than the pale, Easter yellow–colored curds. They are served with crust-less toast points, housemade crème fraiche butter, and a selection of jams and preserves. The large tapestried chairs and tables, as well as each place setting, were designed specifically for George V.
Price: 18€.  At the time of this writing, it equates to about $9 an egg but it does come with the toast. Coffee is separate. (Ahem.)
Hours: 7:00am – 10:00am
Address: 31 Avenue George V, 75008, Paris, France
Phone: 33 1 49 52 71 54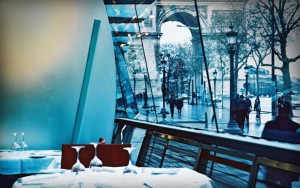 Lunch:  Publicis Drugstore. A drugstore for your allergy medicine, a bookstore for reading, three restaurants including Chef Joel Robuchon, a perfumery, a bar, and a movie theatre. Take your medicine, followed by coffee at the bookstore – you read a little of Hemingway because you're in Paris and that's what l'americains do – then head to the cinema. (In Paris, people see films or cinema – never a movie or a screener.) Repeat. No need to go anywhere else. It's an upscale, chic version of a strip mall. Nothing quite like it.
Our Suggestion: La Brasserie. Have a burger. Just eat it. It's delicious and as you're eating it you say to yourself, "Why aren't American burgers this good? All. The. Time." Have some wine to wash it down. If you get a window table, you can finagle your camera so the Arc de Triomphe, your food, and strolling Parisians are in one shot.
Price: 15€
Hours: 8:00 am – 1:00am
Website: http://www.publicisdrugstore.com/
Address: 133 Ave de Champs-Elysees 75008, Paris, France
Phone: 33 1 44 43 79 00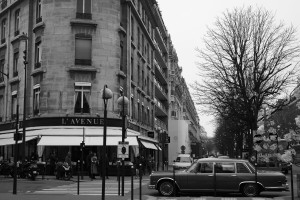 Cocktail: L'Avenue. You've worn out your credit cards shopping up and down Avenue Montaigne only to come to the legendary L'Avenue. European celebrities, Hollywood stars, and the fashion elite hang out just to mingle like it's a Vanity Fair party.  And the paparazzi hang out, waiting for their shot. It's a must for any well-dressed, cosmopolitan tourist-  but it is very difficult to get into even after being open for over a decade. If you arrive early enough and settle in with one of your shopping bags from Chanel, Dior, or Celine, they will seat you for an afternoon aperitif. (This is a sister establishment to the famed Hotel Costes, and the Costes Brothers team, who created the omnipresent electronic-based bar music almost twenty years ago. You've heard it from Singapore to Buenos Aires to Greenland.)
Our suggestion: Order a glass of French wine or a martini.  Europeans never put enough ice in the cocktails.
Price: Varies
Hours: 8:00am – 2:00am
Website: http://www.avenue-restaurant.com/
Address: 41 Avenue Montaigne, 75008, Paris, France
Phone: 33 1 40 70 14 91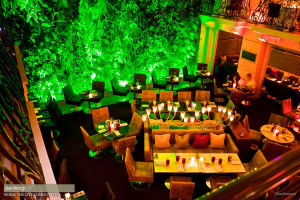 Dinner: Pershing Hall.  The hotel and restaurant is glorified by the fashion industry's elite and is contained in a 19th century building leased by the United States. The hall was dedicated to the John J. Pershing, the only general to receive the highest rank of General of the Armies, during his lifetime. Designed by the late, fabled Parisian decorator Andree Putnam, who planned the interiors for Ian Schrager's New York-based boutique property, Morgan's Hotel. Heavy glass bead curtains partition separate dining areas. A vertical garden rises up six stories on one side of the inner courtyard, making the inhabitants feel as if they were part of Tarzan's jungle without leaving the safety of Paris. This is a revered piece of design work which has now been copied the world over – and the best part, you get to eat there.
Our suggestion: Beef or tuna tartare. Tartare is very much a French gastronomic invention. Made with impeccable grades of meat, a "steak" is finely chopped with capers and herbs and topped with a raw egg. Delicious.
Price: Order the land (beef), 18€, and sea version (tuna), 18€, along with a side dish of Russian caviar served on a hard-boiled egg, 130€. To drink, a super cold martini or a flute of champagne.  That's the way to roll.
Hours: Sunday – Monday, 7:00am – 1:00am, Tuesday – Saturday, 7am – 2:00am.
Website: www.pershinghall.com
Address: 49 Rue Pierre Charron 75008, Paris, France
Phone: 33 1 58 36 58 00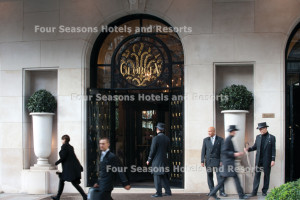 Stay: Four Seasons, George V
I know, I know. You're thinking who is this guy who is going to recommend the Four Seasons, Paris? First, the French are the best at service. It's not born from fawning obsequiousness, but a genuine pleasure in making sure guests receive the best. If you are happy, they are happy. Staying at any of the French hotels is definitely an experience, but if you're in the 8th, and  have a few Benjamins to burn, this would be my suggestion. There is an indoor pool, one of the few hotels in the City of Lights to have one (except the re-modeled Ritz will be having one soon, too).  www.fourseasons.com/paris
The End. Go Eat.