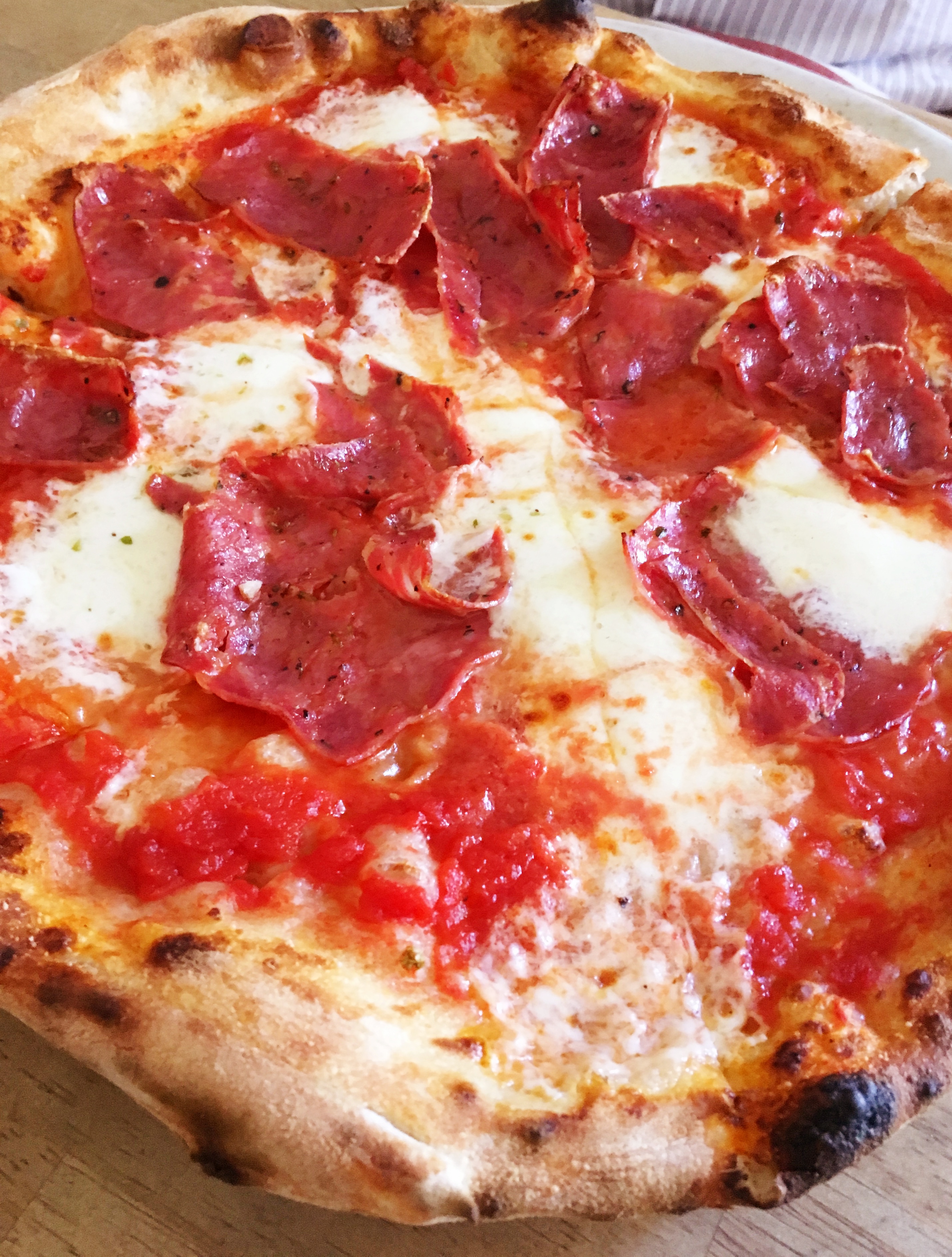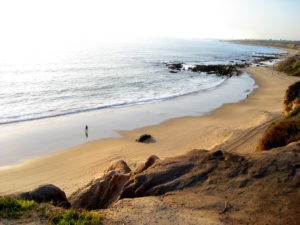 As 2016 began, it was planned that Nick, me and the kids — Holly, the 11-year-old pitbull and our 7-year-old Frenchie, JJ — were moving to Denver from Phoenix. Our intention after twelve months in the Sonoran Desert was to relocate to the Mile High City for his work. Our last stop was the Rocky Mountains. However, after all that, we have found ourselves back in Southern California, where we had originally started. Not in Los Angeles – coming full circle — but in Newport Beach, behind the Orange Curtain. Still for Nick's work, but with a fluffier job description.
It's a good location for us. Far from the histrionics of the world's entertainment capital. Yet, we discuss missing Camelback Mountain rising out of the valley, the vast blue skies and, of course, the food. Phoenix taught me that good eating can be found anywhere if you are looking for it. It doesn't have to be in one of the anointed culinary islands such as New York, Chicago, San Francisco or Los Angeles.
While living in Phoenix, I discovered deep blended roots of Mexican and Native American food. Indeed, it's common for local hunters born of Mexican descent to shoot game such as moose or elk during the holiday season. The braised meat is then turned into Christmas tamales and frozen to eat throughout the year. It's a practice that goes well beyond the area's 114 years as a state. Originally, Mexican settlers joined with the natives crafting unique food and then in turn, became Americans when the 48th state entered the Union.
I bring this up because I read a well-known restaurant writer's suggestions of "best food trends". In her lengthy piece, she proffered gastronomic extravagances in Copenhagen, Paris, and of course, the Big Apple which is where she is based. I can always choose what is great elsewhere, from Singapore to Argentina, France to Greece. However, I think it's our duty to describe what is "great" in America. Our culinary prowess is the myriad of cultures creating our nation – borrowing from here and there, making our own indigenous taste profiles such as fried chicken, pot roast or apple pie. Derived from other places, but made here crafting American comfort. We need to recognize that we are great, looking only to our dinner tables.
Unlike the writer, who travels often, I didn't get on a plane this year except a roundtrip to Vegas and Phoenix. After almost two dozen countries and nearly 250 cities, I'm not big about getting on planes anymore; plus, I love the dining scene in smaller cities such as Phoenix, Portland and even in Orange County, California. They aren't massive but what's cooking is robust and lively.
As go into the new year, as a nation, we have dreamed up all types of unique food – Mexican-Korean tacos, Japanese sushi with Brazilian flavors, Thai with Texas BBQ– turning it into one melting pot of goodness. The ingredients simmering on the American stove is where we have always been welcoming, tasting little bits of this and adding some of that. Authentic American flavor is made from our fusion of cultures right here at home and it's always been great.
Hoja Sante stuffed with Mennonite Cheese, Gran Reserva Barrio Café : Chef Silvana Salcido Esparza (Phoenix, Arizona).
Chef Silvana Salcido Esparza should be a nationally recognized chef and it's a shame she's not. She is a proud Mexican American born in the United States and is un-WASP-like most Food Network stars such as Giada, Rachel or even Paula Deen.  At her five restaurant mini-empire based in Phoenix, her cooking is Mexican but with European techniques. At Gran Reserva Barrio Café, her new restaurant which opened in spring 2016, Esparza's creativity is evidenced in the simplicity of a melty hunk Mexican Mennonite cheese, wrapped burrito-like in a large hoya sante leaf and served with two smoky chili pastes. Simple. Traditional and yet still other worldly.
The indigenous plant is not commonly found north of the border, and when it is, it's usually used in stews and braises. Esparza uses it whole, instead of strips, allowing the anise flavor to compliment the queso's milky texture. The venomous bite of the peppers is nulled by the dairy and leaving only smokiness. Texturally, the crunch of the leaf, emission of creaminess and a nullified heat is eye-opening. As I sat eating the dish, along with interviewing the Phoenix-based chef for Arizona Latinos, she imparted the history of the Mexican Mennonites and how they are still important to the agriculture of the country.
This gooey delicious dish is modest, and that's what makes it brilliant.
Chicken Liver Pasta, Sotto:  Chef Steve Samson (Los Angeles, CA)
On a media tasting invite, I went through a selection of items chosen by Chef Steve Samson at his almost six-year-old restaurant Sotto. The cozy space is inviting with blue walls, wooden tables and chairs as is Mr. Samson, who is one of the kinder cooks in the culinary world.
Going through his menu, which is all yummy the standout, became the housemade Rigatoni tossed with Chicken Livers, Parmigiana Reggiano and Porcini. It's a daring dish for Angelenos to embrace. First, there are the carbohydrates but second the livers aren't normally found on regular menus much less Italian. Having traveled often to Italy, I didn't recall pasta and innards used in this way and asked Samson where it was based. It was his unique twist on the typical Bolognese ragu. Instead of throwing away something tasty, he invented this earthy and rustic dish. I'm not fond of chicken livers – and I don't know many people who are – but this I would eat every day for the rest of my life.
Jardineros (Garden) Tacos, Taco Maria: Chef Carlos Salgado (Costa Mesa, CA)
Taco Maria is a high-end eating experience much like the Rick Bayless' chain Red O or even Phoenix's independent Barrio Café (see above). White tablecloths, waiters with crumbers and sparkling water served in wine glasses, my type of my place, where a diner feels special. Located inside a mall within a mall, it is an indoor-outdoor space which is a good showcase for the unique tastes presented by Chef Carlos Salgado.
Much has been written about Salgado and for good reason, his fusion of California agricultural and Mexican cooking produce, arguably the country's best tacos. Ordering a la carte during lunch, there are a five varieties of the national south of the border food: chicken, beef, pork,  fish and vegetarian. Exceptional eats every single one, wrapped with the housemade delectable blue corn tortillas found only at Taco Maria. (B.S. Taqueria gets their masa from here too.) The standout is clearly the vegetarian (jardineros) made with shitake mushroom chorizo, a crispy potato and queso fundido. Separately, each one would make a great filling but together, they create something truly different. The minced fungi spiced with traditional south of the border flavorings texturally give the chorizo a meat-like consistency. However, it's the flavor which is a standout.
Pasta dishes, Tratto: Chef Chris Bianco (Phoenix, AZ)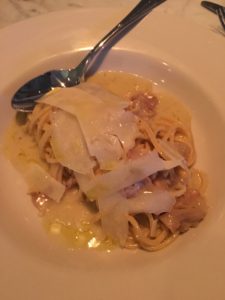 Legendary chef Chris Bianco is  renowned for Pizza Bianco. Matter of fact, his pizzas have been called the best in the world by former "Vogue" food writer Jeffrey Steingarten. Therefore, when someone invites you to Tratto, his new restaurant which opened in early summer 2016 in the same mall as his world-renowned pizzeria, you go – but not for his pizzas. At his new space, he has opened his creativity to showcase other goodness derived from Arizona farmers; mostly notably, the wheat growers.
Bianco does everything else but pizzas. Old-fashioned, Italian food but a real display of southwestern growers. I don't mean peppers, tomatoes and cheese but bold pairings such as beets and gorgonzola roasted in a fig leaf. All ingredients are sourced from the 48th state, crafting Italian food. Don't question it but eat his handmade pastas which are carefully crafted by Bianco. Get off the carb diet and have a bit of heaven.
Beef Tenderloin with Mole Negro, Talavera at Four Seasons Scottsdale: Chef Mel Mecinas (Phoenix, Arizona)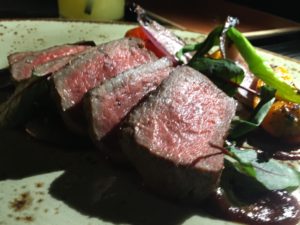 To reiterate, I've listed the dishes I've eaten over the course of the year which I remember fondly. Eating them, at the restaurant, the conversations around them and how good they are. Nothing comes as close to Chef Mel Mecinas and his mole negro and beef tenderloin.
Mole is probably one of the world's most difficult sauces to make. Consisting of more than two dozen ingredients ground and simmered into a liquid, resulting in something edible which is complex, luscious and fortifying. Fish is too delicate for the earthiness but lean cuts of meat provide a great experience to taste the Mexico pottage which is what diners get at Talavera under the capable hands of Chef Mecinas.
Unfortunately, he no longer works at the restaurant where he was the Executive Chef for more than a decade. Greener pastures beckoned. However, one day I hope the world gets to eat his extraordinary mole.