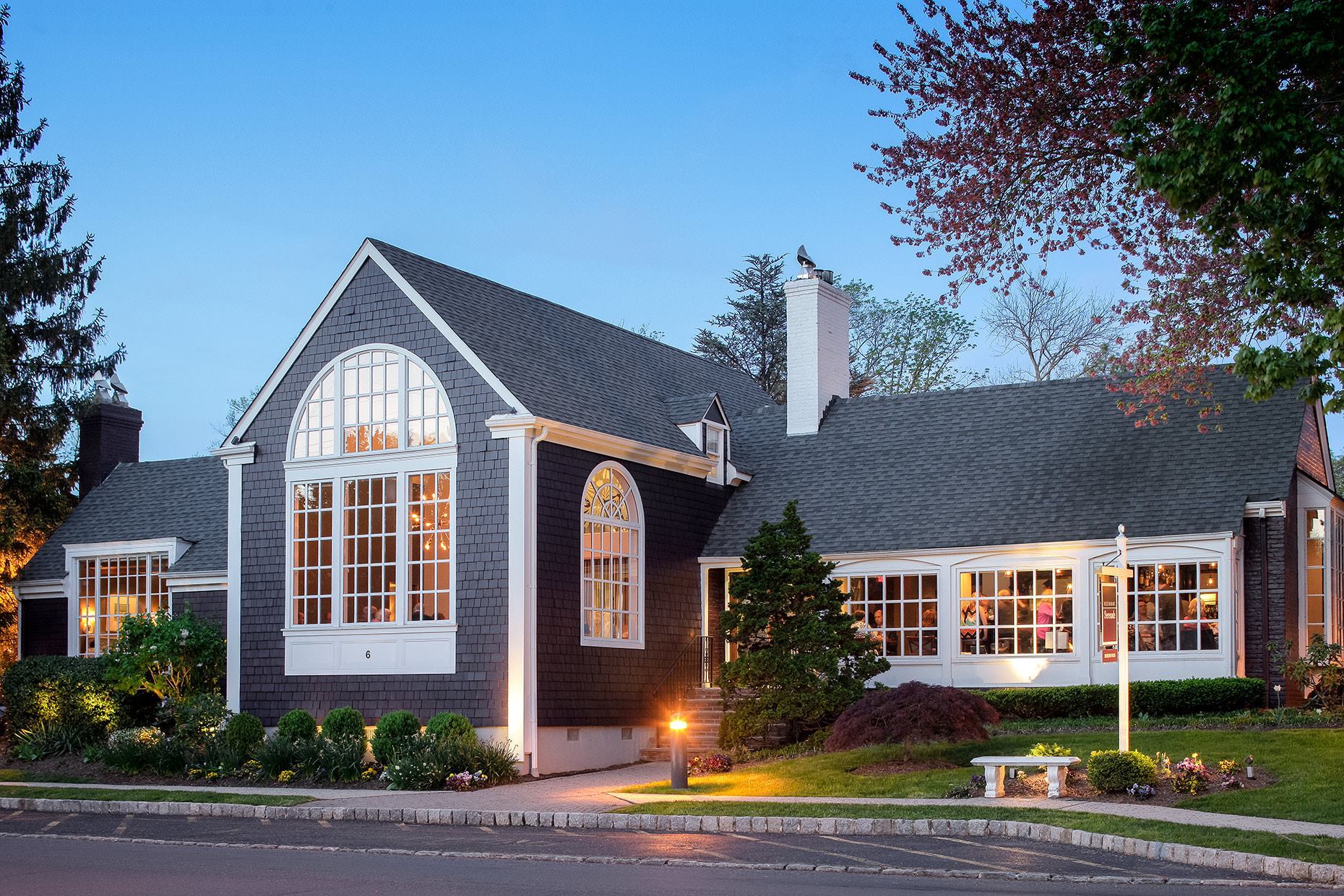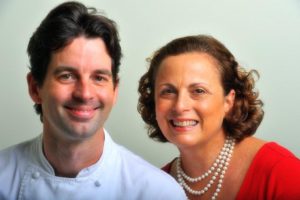 One of the great attractions of New Jersey are the small towns with picturesque streets, seemingly family values and charm. It's no surprise than one of the area's excellent restaurants, Serenade, in Chatham, New Jersey resides there. Great East Coast restaurants are starting to close as times change and rents become out of reach for independents. Yet under the guiding hand of chef/ owner James Laird and his wife, Nancy Sheridan Laird, their restaurant is celebrating two decades of delicious service.
Over the years, Laird has received accolades from The New York Times, calling him "one of the best classically trained chefs in New Jersey." The glossy New Jersey Monthly has consistently rated his restaurant among "the best of the best," and Crain's NY Business stated, "Serenade is among the Garden State's most rewarding dining destinations." High praise for an autonomous cafe on the other side of the river.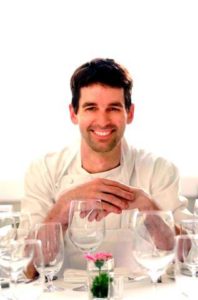 However, it's not surprising that his eating venture has lasted into a milestone old-age for a restaurant, as Laird has an enviable epicurean pedigree. Graduating from the renowned Culinary Institute of America, he traveled to Europe, gaining skills under a variety of noted chefs and increasing his knowledge of cooking. Upon returning to the States, he worked at three of New York City's noted fine-dining establishments in the 90s – Lespinasse, The River Café, and Aureole – before becoming the sous chef at the culinary landmark Ryland Inn and eventually owning his own place.
Interestingly, Chef Laird says that rolling with the changing times has kept Serenade in the forefront of diners' minds. "We used to serve foie gras when we first opened," he says. "Now, we have a burger on the menu. We have a small (food listing) to keep the diners happy if they don't want a full on dining experience. We also bought our building and it saves immensely on our overhead. We can create great dishes without passing on the high cost."
As the dining scene changes around the world with quick service becoming the norm, it's refreshing to see a chef feel comfortable in his surroundings and in his skin. One of the key reasons Chef Laird says he has a restaurant? "I love to cook."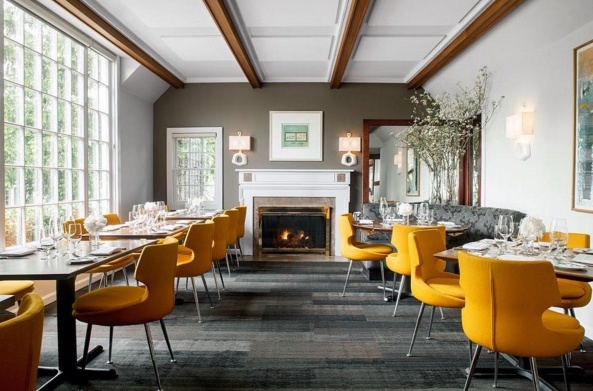 Chef Questionnaire (with a nod to Proust)
How long have you been cooking?
35 years
What is your favorite food to cook?
Fish
What do you always have in your fridge at home?
Butter, Limes, Coconut Creamer
What do you cook at home?
As little as possible, toast is great!
What marked characteristic do you love in a customer?
A customer who notices all of the details
What marked characteristic do you find unappealing in a customer?
Closed-minded customers
Tupperware, Rubbermaid, or Pyrex?
Rubbermaid
Beer, wine, or cocktail?
Wine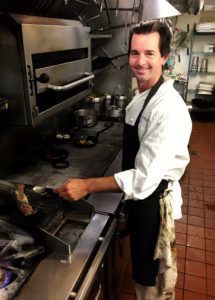 Your favorite cookbook author?
Joël Robuchon
Your favorite kitchen tool?
Butcher's Steel
Your favorite ingredient?
Thyme
Your least favorite ingredient?
Rosemary
Least favorite thing to do in a kitchen?
Scrubbing the grill
Favorite types of cuisine to cook?
Italian, Asian, French
Beef, chicken, pork, or tofu?
Beef
Favorite vegetable?
Broccoli
Chef you most admire?
Joël Robuchon
Food you like the most to eat?
Anything my wife cooks
Food you dislike the most?
Very Spicy foods
How many tattoos? And if so, how many are of food?
No Tats
Recipe: Veal Ragout with Dill and Crispy Mushrooms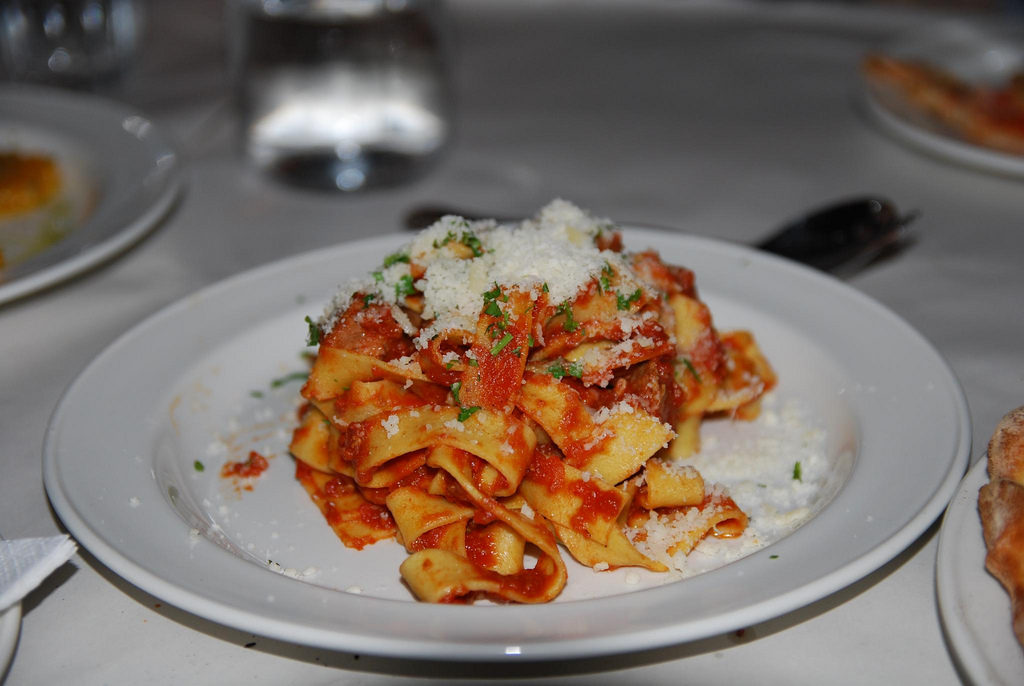 Serves 4
Ingredients
2 lbs. veal, cubed
1 quart chicken or veal stock
1 cup white wine
2 medium onions, diced
2 TBS. flour
4 oz. sweet butter
3 TBS. fresh dill, chopped (about one bunch)
4 plum tomatoes, peeled, seeded, and chopped
10 oz button mushrooms, sliced
Directions
1. Dry and season veal with salt and pepper. Brown meat in batches in heavy pan, suitable for the oven.
2. Preheat oven to 325 degrees.
3. Sauté onions in same pan in 2 oz. butter until translucent and soft. Add flour. Mix well and cook for two to three minutes.
4. Add white wine. Simmer until slightly thickened. Add stock and bring to a boil. Taste and season lightly with salt and pepper.
5. Add veal and accumulated juices to pot. Bring back to boil. Lower to simmer. Place in oven, uncovered.
6. Heat remaining butter in sauté pan. Sauté mushrooms until very brown and crispy. Reserve.
7. Simmer in oven until fork tender. Remove from oven and stir in chopped tomatoes. Season.
8. Immediately prior to serving, stir in dill. Sprinkle mushrooms on top of veal.
9. Serve over buttered noodles or rice.
The End. Go Eat.
Recipe photo flickr cc: https://www.flickr.com/photos/avlxyz/5032563727
All other photos courtesy and copyright Chef James Laird