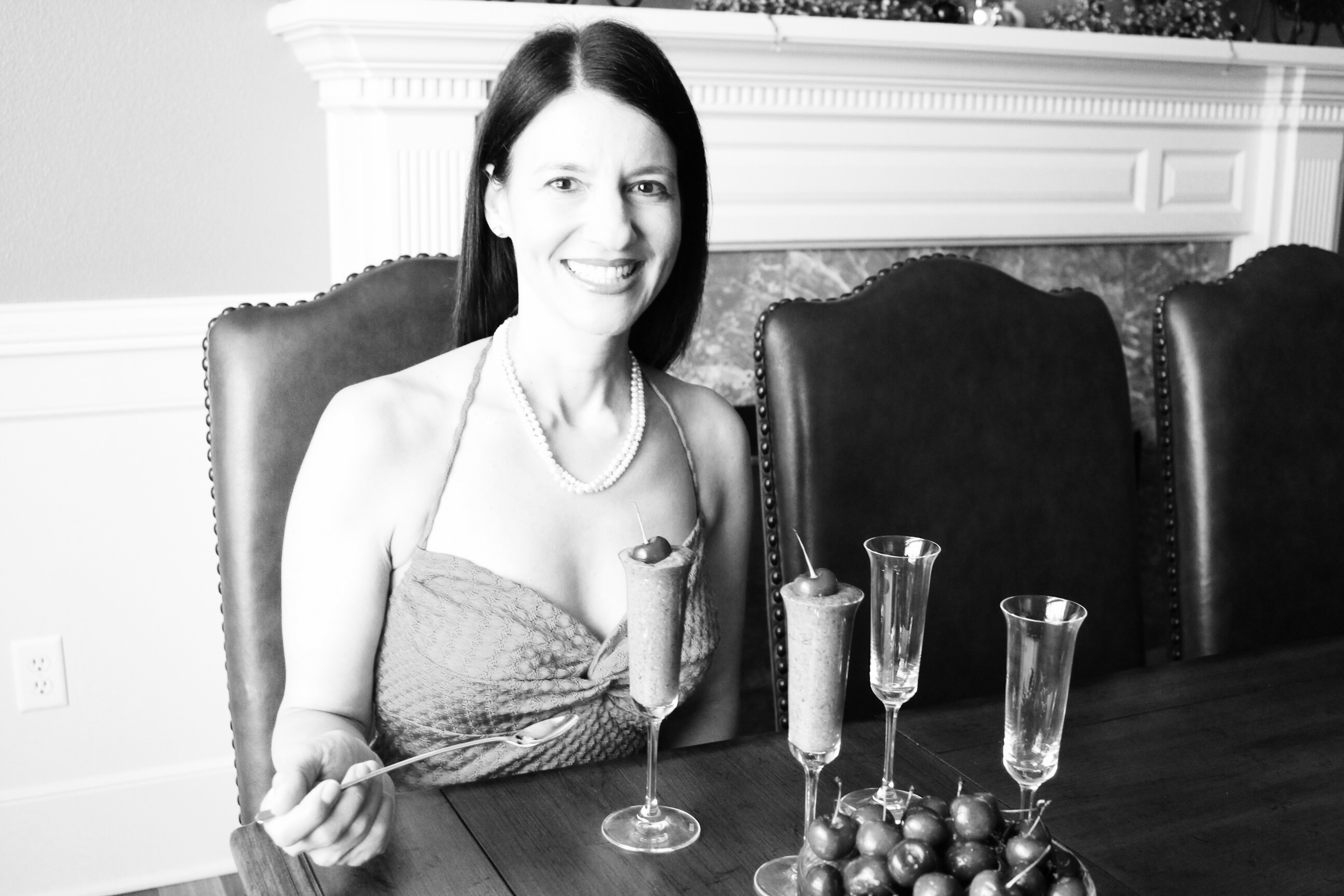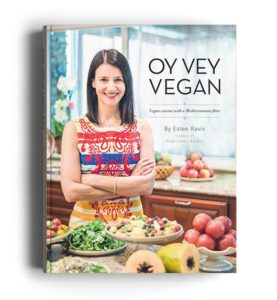 The first thing I noticed, when talking with Oy Vey Vegan Cookbook author Estee Raviv, was her passion for her work. Now in food, you will find passionate people (we all love to eat). Raviv is an artist. Cooking is an outlet for her creativity – and that anyone can relax – and cook – in the kitchen. Cooking is Art!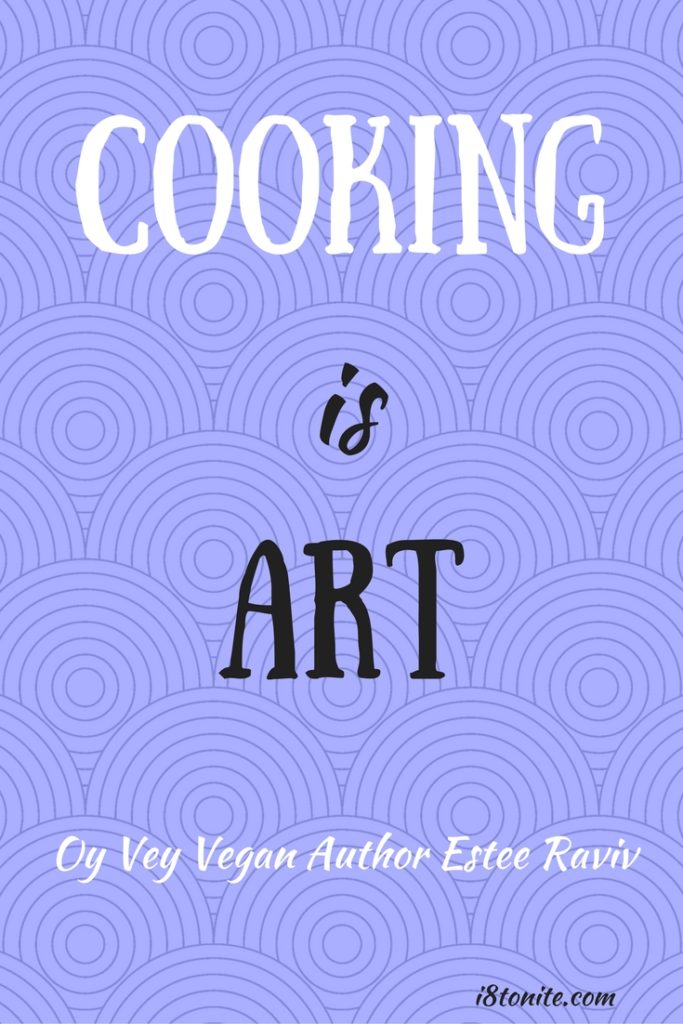 Raviv's foray into Vegan cooking and eating came about because of her digestive issues. After being raised in Israel, where cheese and dairy are plentiful and delicious, she experimented with elimination diets – and found that eating vegan changed her life. That change is why she started writing her blog, as well as her new cookbook, Oy Vey Vegan. She was so happy that she felt so good, and wanted to share this with the world.
Raviv noted that, like all of us when faced with changing our way of eating, she found it difficult to change her state of mind, and said, "What am I going to do now?" How could she change her routine – and ways of thinking? Well, we can all learn from her – she created her own menu for every day, and found alternatives that are healthy and not trying to be something else. Raviv avoids processed food – she noted that "you can be vegan and eat junk, so coming to veganism as a healthy aspect of a plant-based diet is helpful. Vegan eating is very healthy for us and, of course, it can prevent all types of cancers and other chronic diseases." Her own menus sound delicious, starting with oatmeal for breakfast (which she loves), and then whatever healthy snacks she chooses for the day – lots of fruits, vegetables, legumes, and very creative salads that contain plant-based protein. Eating vegan is a whole new world that is fascinating and creative, and she thrived in it.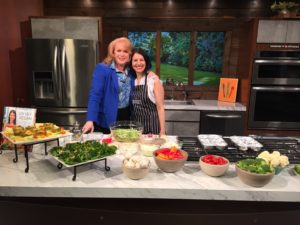 Appearing on a regular basis with a cooking segment on tv in Oregon and Washington, and teaching cooking classes with From Estee's Kitchen, Raviv is happy to share the things that she is cooking for her family every day.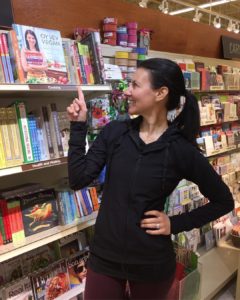 Her cookbook, Oy Vey Vegan, includes recipes that she uses every single day. It's an excellent tool for people that want to eat vegan and don't know how, as it includes simple and accessible global recipes using fresh ingredients. Most recipe ingredients are in the fridge or pantry all the time, and there are also traditional Jewish dishes with a vegan spin. Examples include vegan pate, which is a staple in every Jewish holiday meal, and matzo ball soup, which she recreated into a vegan version (without eggs) and says, "it tastes better than the traditional dish."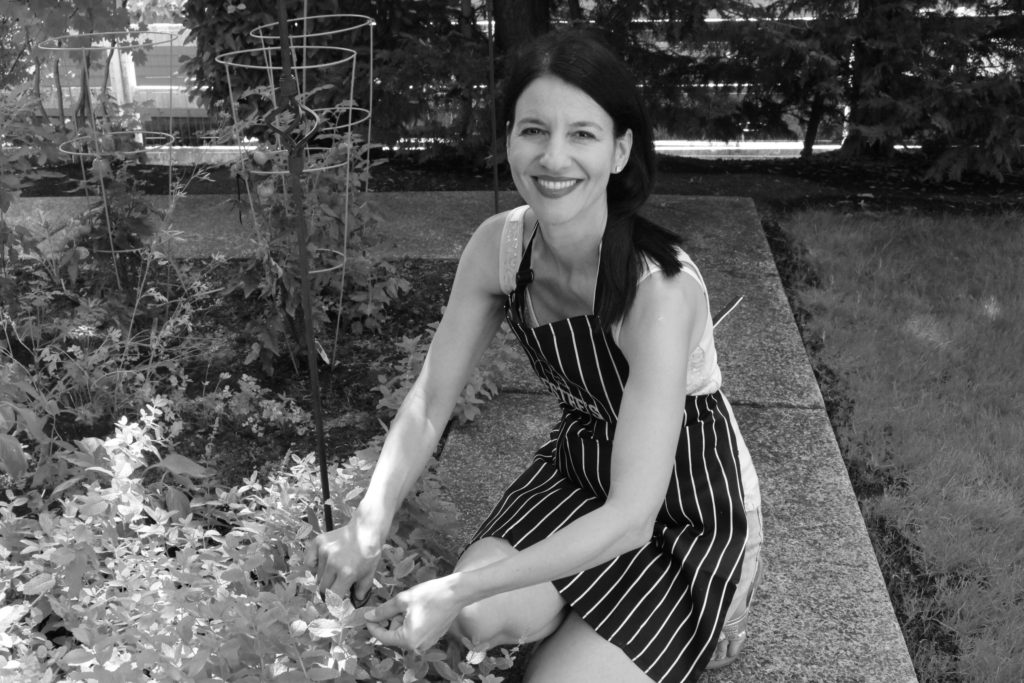 Raviv was most passionate about the joy of eating, remarking that "most if not all of the recipes in Oy Vey Vegan are guilt-free – you can eat and feel good about yourself, and don't worry about quantities. If you put good things in your body, food is medicine, food is good – as long as you eat the right things, you can eat without guilt."
As a takeaway from her cookbook, tv segments, cooking classes, and blog (i.e., her life's work!), Raviv hopes that she can help people with health issues, by teaching about using food as preventive medicine. If you eat right, you can prevent so many diseases. Raviv said, "Act now – don't wait to be sick, but start now – and change your opinion or stigma about veganism…there's so much more to eat than seeds and lettuce. If you eat a balanced vegan meal that contains protein, you won't be hungry, and will be super-satisfied. And if I can change other people's lives, I'll be very very happy."
She loves to eat, is passionate about food, and can eat as much as she wants. Delicious food as preventive medicine? Sounds good to me.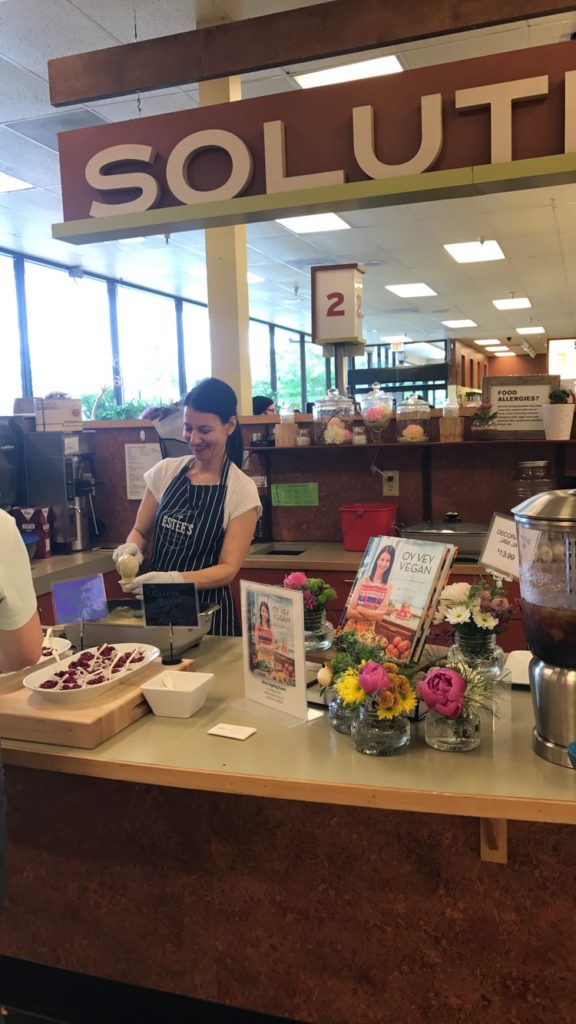 Food People Questionnaire (with a nod to Proust):
What is your favorite food to cook?
Eggplant, salads, tempeh, quiches. I love to cook mostly everything! I love to cook, period:)
What do you always have in your fridge at home?
Fruits, vegetables, tempeh and Almond milk.
What do you cook at home?
Everything vegan, mainly recipes from my book and new recipes that I develop. Today, for example, I made a sprouted lentil salad with orange slices and sunflower seeds, homemade hummus and stuffed eggplants.
What marked characteristic do you love in a person with whom you are sharing a meal?
First, I love people that love to eat. People that appreciate good healthy food, and people that are passionate about food in general.
What marked characteristic do you find unappealing in a person with whom you are sharing a meal? People that are not open to try new food. People that think that vegan food is not satisfying food or not good food.
Tupperware, Rubbermaid, or Pyrex?
Pyrex for sure.
Beer, wine, or cocktail?
Wine
Your favorite cookbook author?
Crossroads cookbook author Tal Ronnen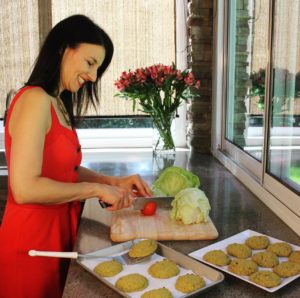 Your favorite kitchen tool?
Food processor
Your favorite ingredient?
Love avocado, every day! Year round!
Your least favorite ingredient?
Margarine – does not exist in my kitchen
Least favorite thing to do in a kitchen?
Clean up
Favorite types of cuisine to cook?
Hard to choose because I love so many but Probably Mediterranean
Beef, chicken, pork, or tofu?
Tofu
Favorite vegetable?
Eggplant
Chef you most admire?
Giada de Laurentis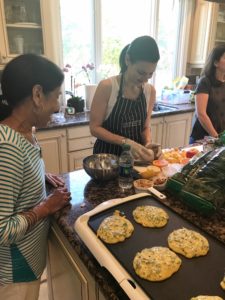 Food you like the most to eat?
Kale salad with crunchy tempeh on top…and avocado, of course
Food you dislike the most?
Bok choy
What is your favorite non-food thing to do?
Travel with my family / barre class / hikes with my husband /
Who do you most admire in food?
My mom – she is an amazing and creative cook
Where is your favorite place to eat?
If to be honest, at home but I do like to eat out in an Ethiopian cuisine, or at Jory restaurant at the Allison inn and spa (Oregon wine country)
How many tattoos? And if so, how many are of food?
None, not my thing
Recipe: Vegan Stuffed Peppers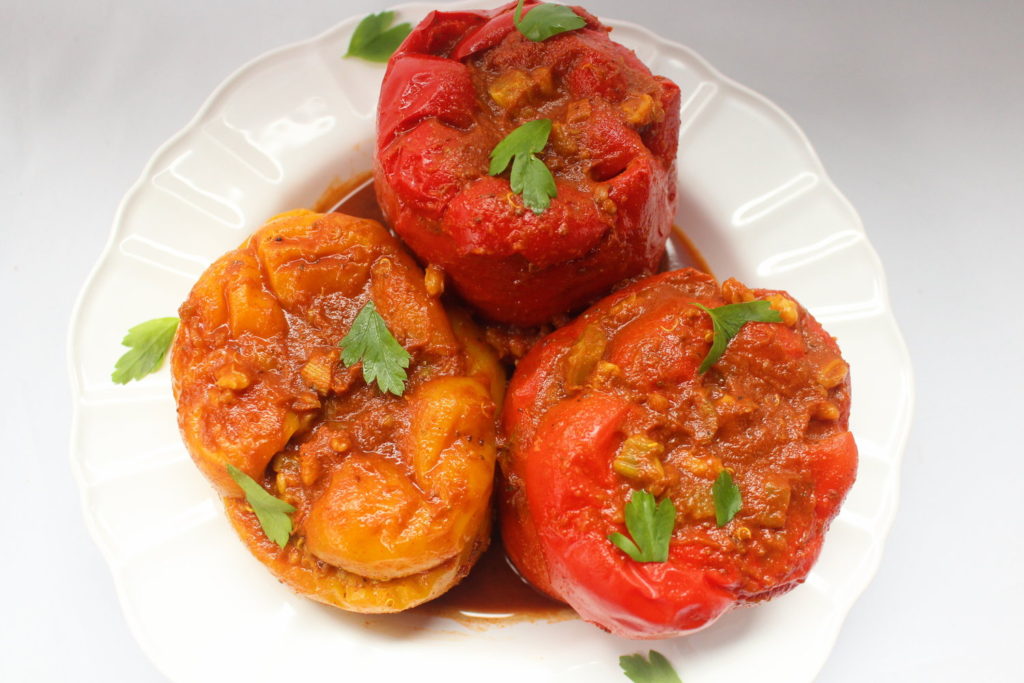 Growing up, my mom used to make stuffed peppers all the time. And I loved it! Of course, she used meat and rice in her recipe. I recreated it vegan-style and it turned out so flavorful! No meat is necessary to create an amazing stuffed peppers dish.
Ingredients:
6 colorful bell peppers
Filling:
1 teaspoon olive oil
4 cup celery stalks, chopped
4 green onions – chopped
1/2 teaspoon turmeric
1/2 teaspoon sweet paprika
1/2 teaspoon onion powder
1/2 cup pearl barley or brown rice
1/4 cup quinoa
1 1/2 cups boiling water
1 tablespoon fresh cilantro or parsley, chopped
salt
pepper
Sauce:
1 1/2 cup boiling water
1 tablespoon tomato paste
1 teaspoon no chicken base
1 teaspoon sweet paprika
1 teaspoon agave
Salt
Pepper
Directions:
For the filling:
In a sauce pan on medium heat add olive oil, celery, green onions, salt and pepper. Saute for a couple of minutes.
Add the spices: turmeric, paprika and onion powder, Saute for a couple more minutes, then add the pearl barley, quinoa, boiling water. Lower the heat and let simmer until all the water have evaporated. Add parsley or cilantro, mix and Set aside.
For the sauce:
Add all the ingredients in a sauce pan and bring to a boil.
For the peppers:
Cut the top part of the peppers and keep it to cover the peppers after you fill them. (You can remove the green core.)
Scoop out the seeds.
Place the peppers in a wide pan; try to fit the peppers tightly.
Fill the peppers with the filling mixture and cover them with the top part of the pepper.
Pour the sauce over the peppers and let simmer for an hour, or until the peppers are soft.
Every 10-15 minutes, take a spoon and pour some sauce on the peppers, to keep them moist and flavorful.
Be creative and you can always use the filling in any other veggie you like. This specific filling is super light because it has a large content of the celery, and a lesser amount of carbs.
– The End. Go Eat. –