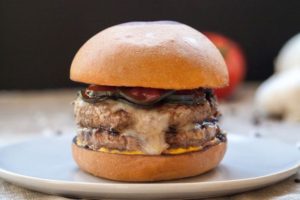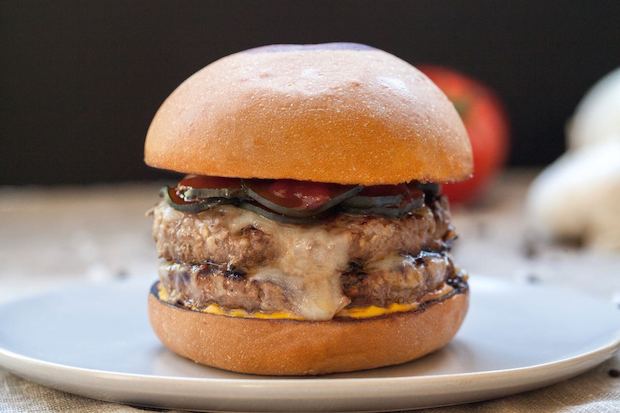 According to food history, the earliest known burger recipe is mentioned in a Wikipedia citation alluding to a 1798 recipe from The Art of Cookery made Plain and Easy written by Nigella Lawson's forerunner, well-known English cookery writer Hannah Glasse. In it, she refers to a "Hamburgh sausage" which is roasted and served on top of bread as her serving suggestion.
However, California took the idea and ran with it. While some 20th century chains began in Minnesota and other far-flung places such as Connecticut or Ohio, the burger became part of the surf and sand culture. Perhaps it was because of the portable ease of the sandwich, but chains such as Bob's Big Boy, In-n-Out, and the grand-daddy of them all, McDonald's, were conceived in the Los Angeles metro area. This truncated past of ground chuck meets roll leads us to Adam Fleischman, who in 2007 essentially revitalized the patty culture for today's standards.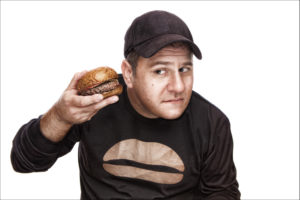 It's a familiar script; an East Coaster comes to Los Angeles like so many starving artists before him. However, Fleischman is different. His medium isn't film, and he isn't an actor. He's an entrepreneur, and his business is the stove. Like many food inventors before him, he had minor success with dabblings in wine and other dining experiences around the city.
In an October 2016 Inc. Magazine article, he states, "I was trying to start a business around umami, a savory flavor that's found in every country's cuisine. Basically, I Googled the foods highest in umami and took out my cast-iron pan and improvised a recipe with some ground beef. The concept of the restaurant was also quick. I just wanted to make Umami Burger gourmet, an adult place that had waiters and served alcohol." And the Umami Burger was born. With progeny gaining ground in Dubai and Tokyo, the more than two dozen locations have made Fleischman a million many times over.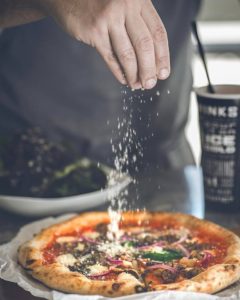 Now he is a "passive" owner stealthily building new concepts and food ideas, such as 800 Degrees Pizza (which he sold), and most recently, the Culver City-based Ramen Roll, which closed after four months.
Regarding the original Los Angeles location of Umami Burger, Fleischman commented, "We opened on La Brea because it had a lot of potential. It was languishing. It was risky, but this area seemed like a good bet."
On the future of food, Fleischman said, "I think food is changing. I think the internet has made everything sort of cross-cultural. It used to be that people would only make the food in their town. Now, people have more information and access to recipes."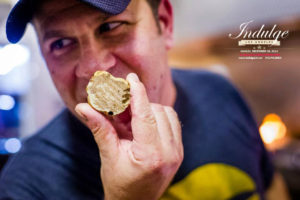 Fleischman talked to i8tonite while in his Los Angeles office, located behind his Hancock Park home, mentioning that he had a couple of new food ideas in the future…and a cookbook, too.
Food Questions (with a nod to Proust):
What is your favorite food to cook at home?
I like to cook Italian food at home. I make everything.
What do you always have in your fridge at home?
I always have club soda for cocktail making. And, lemons and limes.
What marked characteristic do you love in a person with whom you are sharing a meal?
I only share meals with people who don't have dietary restrictions. They have to be drinkers. They can't be sober.
What marked characteristic do you find unappealing in a person with whom you are sharing a meal?
I won't invite anyone I don't like. I'm picky about who I eat with.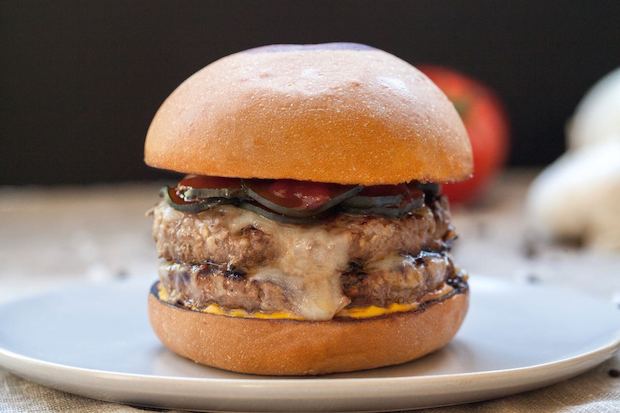 Beer, wine, or cocktail?
I'm a mixologist and a sommelier, so wine and cocktail.
Your favorite cookbook author?
Paul Bertolli. He has a great cookbook.
Your favorite kitchen or bar tool?
My cast-iron pan. You can cook anything in it. It retains heat well.
Favorite types of cuisine to cook?
French, Italian, American, and Spanish.
Beef, chicken, pork, seafood, or tofu?
Seafood.
Favorite vegetable?
Artichokes.
Chef or culinary person you most admire?
Heston Blumenthal. He is such a technical brilliant chef.
Food you like the most to eat?
Moroccan and Indian.
Food you dislike the most?
I like everything if it's cooked well.
What is your favorite non-food thing to do?
Driving.
Whom do you most admire in food?
Everyone, really.

Where is your favorite place to eat/drink?
Copenhagen.
What is your favorite restaurant?
I like Castagna in Portland.
Do you have any tattoos? And if so, how many are of food?
Zero tattoos.
Recipe: Shredded Beef Tacos with Chipotle Sauce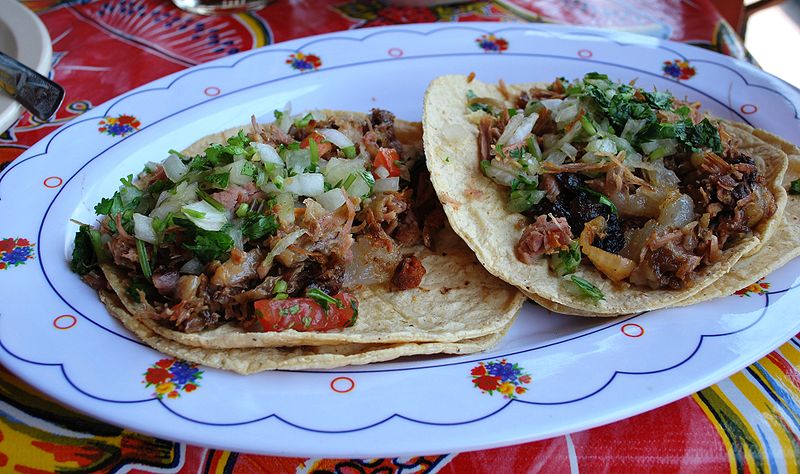 Chipotle Sauce:
Take two large, ripe tomatoes (heirloom), half an onion and three small cloves of garlic and broil until dark. Blend with two dried chipotles, reconstituted in ¼ cup water and some sherry vinegar and s/p. Strain and blend with meat juices from shredded beef.
Shredded Beef: 
1/4 cup vegetable oil
1 (2 1/2 to 3 pound) beef brisket flat, chuck or any well marbled beef.
1 ancho or New Mexico dried chile, stemmed and seeded
I small diced onion onion
1 bay leaf
1/2 teaspoon Mexican oregano
Preheat oven to 300 degrees F.
Heat a Dutch oven over medium-high heat.
Add oil and brown the beef on all sides. Pour off as much oil as possible.
Just barely cover the meat with water. Bring to a boil.
Skim off any scum that rises to the surface.
Add remaining ingredients.
Cover the pot and place it in the oven until the meat is tender about 2 to 2 1/2 hours.
Remove the meat, reserving broth.
When the meat is cool enough to handle, shred it. Hold a fork in each hand, and shred the beef with the forks.
Serve in griddled tortillas and top with grated cotija cheese.
– The End. Go Eat. –  
Recipe photo courtesy and copyright Wikimedia Commons: helmadatter