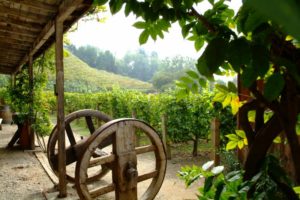 A cursory internet search on Los Angeles wineries pulls up lists such as 10 Best Places to Go Within 50 Miles or 18 Spots to Go Wine Tasting. Although we are sure the wines are good, they don't have the star power of, say, Napa's Opus One or Santa Barbara's Au Bon Climat. But, as they say, times are a changin', and last year Australian media mogul Rupert Murdoch purchased Moraga Vineyards in the tony neighborhood of Bel-Air.  Celebrities who have resided in the area include actress Meg Ryan and rocker Avril Lavigne; Star Wars creator George Lucas recently purchased his only Los Angeles home in the wealthy community, according to Variety, at nearly $34 million. Other residents over the years have included Elizabeth Taylor, Michael Jackson, and Candy and Aaron Spelling. Therefore, Mr. Murdoch's winery, once owned by Tom Jones, CEO at Northrup, and the former home of Gone With The Wind and Wizard of Oz director Victor Fleming, is probably one of the most expensive pieces of land in the United States…and possibly wine world.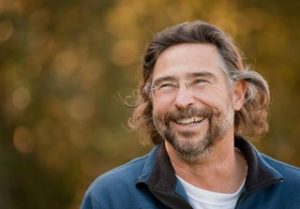 Embedded in the Santa Monica Mountains, winemaker Scott Rich, who started the making the wines under the Jones ownership, spoke to us from his home in Sonoma, where he lives part-time, tending to his vineyards and grapes at Talisman Vineyards. He travels down to the City of Angels once a week, staying three to four nights, crafting Moraga Wines under the new owner. He says, "It's a unique grape growing area. It's like a refrigerator at times, as we get cold Pacific Ocean air, which is only 9 miles away. We consider it hot if it reaches more than 85 degrees."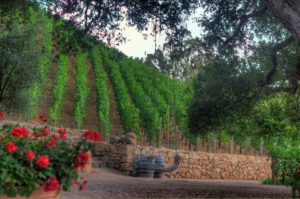 He continues, "Because of that, our wines are soft and elegant, not big and overpowering, as most associate with California."
Rich also says that the wines they produce are from soils much like that of Bordeaux. However, true to California form, the vines sit on a fault line. "We are bisected by the Benedict Canyon fault. On one side, we have ground that was churned up two plates millions of years ago. On the south side, we have primarily uplifted sea bed. At one time, this was the Santa Monica Bay."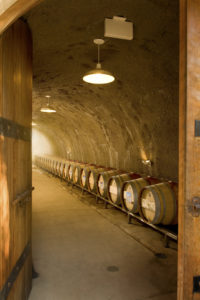 But at the end of the day, it's not about the growing region so much as how they taste on the palate. Rich says, "We don't do lots and lots of things to the fruit. We have perfect grapes, and we try not to mess them up while we craft our delicious wines."
At the winery, the winemaking team only makes an Estate Red and an Estate Sauvignon Blanc. The white's aromas are of peaches and nectarines, while the red is soft with currants and tobacco, which is indicative of the limestone soil. Only 10,000 bottles are produced annually, and are generally over a $100 per bottle. Not inexpensive, but it's definitely more economical to taste the terroir in the bottle than it is to plant your mansion in the multi-million-dollar neighborhood.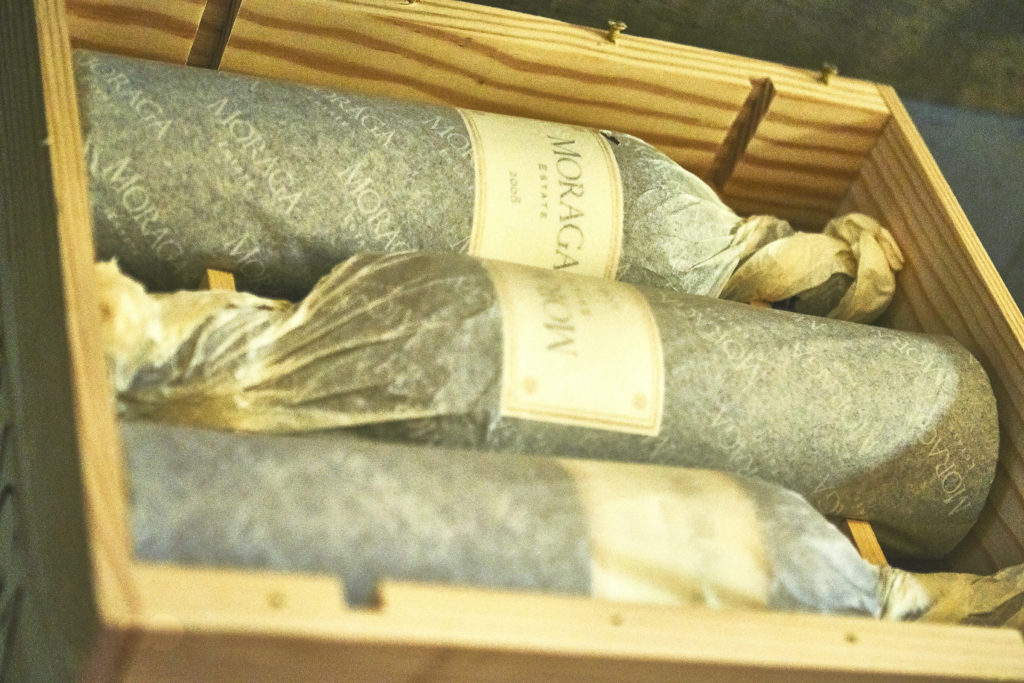 Food Questions with Winemaker Scott Rich (with a nod to Proust):
What is your favorite food to cook at home?
Meyer Lemon and Ricotta Puffed Pancake with Macerated Strawberries. It's this beautiful lemony doughy-bottomed, airy-topped steroidal (pan)cake with slightly sweet clouds of ricotta, topped with strawberries from the garden that have been soaked in Meyer lemon and Grand Marnier
What do you always have in your fridge at home?
Tortillas. Coffee. Milk (plain and chocolate). Veggies. Fruit. Leftovers.
What marked characteristic do you love in a person with whom you are sharing a meal?
A love of food and flavors. The sharing part is important. Curiosity.
What marked characteristic do you find unappealing in a person with whom you are sharing a meal?
Lack of the above.
Beer, wine, or cocktail?
Do you have to make a choice? There's a lot of territory to explore in everything.
Your favorite cookbook author?
Christopher Kimball and the whole gang at Cook's Illustrated. They do a remarkably rigorous job of testing and tweaking recipes to arrive at the best result.
Your favorite kitchen or bar tool?
A sharp knife and a corkscrew.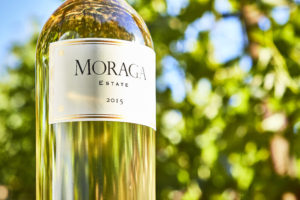 Favorite types of cuisine to cook?
Italian and California/Mediterranean. It's all about the best, freshest ingredients, rather than the process. I have a pretty decent garden and lots of fresh produce most of the year. My go-to dish during tomato season is caprese – simple preparation, rather than cooking.
Beef, chicken, pork, seafood, or tofu?
Yes.
Favorite vegetable?
Bok choy.
Chef or culinary person you most admire?
Daniel Patterson of Coi (and a few other ventures). Daniel is curious, creative, discerning, demanding, humble, and very thoughtful in his pursuits. His interests run the gamut from creating the finest, fussiest, artistic food in San Francisco to providing delicious, wholesome, inexpensive fare in one of L.A.'s poorest communities. Then there are his projects in the East Bay.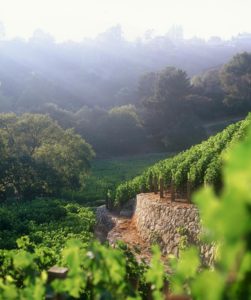 Food you like the most to eat?
I'm a sucker for really good French fries. Crunchy outside, soft pillowy innards.
Food you dislike the most?
Mayonnaise.
What is your favorite non-food thing to do?
Play.
Whom do you most admire in food?
See the question four above this one.
Where is your favorite place to eat/drink?
At home with a bunch of friends.
What is your favorite restaurant?
Coi in San Francisco for something mind-blowingly fancy and beautiful.
Pizza Azzurro in Napa for their margarita pizza and an Anchor Steam beer.
Any number of taco trucks in Sonoma.
Do you have any tattoos? And if so, how many are of food/wine?
No.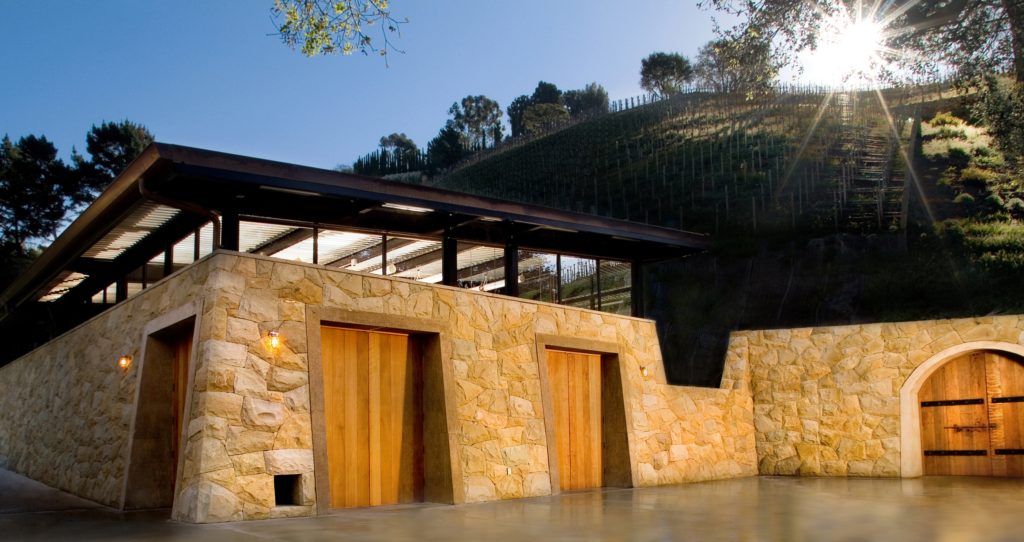 No-Recipe Tuna Wasabi Canapes
• Pound of Ahi Tuna
• Package of won ton wrappers (found in the Asian section of your grocery store, by the tofu)
• ¼ cup of grated fresh wasabi (Japanese markets)
• Vegetable Oil
• Wok or deep skillet
• Alfalfa sprouts
• Freshly made aioli or grated garlic, mayo, and a dash of lemon juice to thin.
• Salt and Pepper
In the center of each wonton wrapper, smear some grated wasabi and alfalfa sprouts. Fold the wontons like a miniature taco and quickly fry them in about a quarter inch of oil. Drain on a paper towel. Salt and pepper the tuna and then sear in a hot pan about two minutes on each side. Cut the tuna into bite size pieces and place on a wonton. Add a dash or two of mayo for a little fat and the perfect appetizer to accompany our Moraga wines.
– The End. Go Eat. –