Drunken Dragon Chef Xavier Torres cooked for both for his mother and brother while growing up in Puerto Rico.  It's what he loved to do. With his family's support, the well-traveled chef sought out new flavors and cooking opportunities —  but every step of the way his family had his back.
In 2014, the Johnson & Wales culinary graduate Torres was given the reins to create whatever cuisine he wanted by Homecookin' Hospitality Group, owners of Miami's Foxhole. The area is typically known for repetitive, albeit delicious international flavors consisting of sushi and sashmi bars, neighborhood bodegas with out delectable Latin food and American steakhouses. It was a welcome surprise when Torres settled on a speakeasy dining experience of Korean barbeque, the first South Beach restaurant devoted to this Asian cuisine.
Interestingly, Torres is classically trained in European cookery starting his career under Chef Paul McDonald at Ireland's Adare's Manor Hotel & Golf Resort. This led him to Lasarte, Spain where direction emanated from famed, three Michelin-starred Basque Chef Martin Berasategui at his eponymously named restaurant.
Upon returning stateside, Torres took a variety of chef positions at some of South Beach's illustrious restaurants such as Andrew Carmellini's The Dutch, Sushi Samba and Nobu. Torres says, "I worked at Sushi Samba, (the now defunct) Wish and Nobu. I wanted to stay with Asian flavors but allow the city to try something which we didn't have in South Beach." (Korean barbeque is incredibly popular in Los Angeles where the team sourced Los Angeles-based Studio Collective to design Drunken Dragon's Asian gastro-pub space.)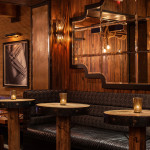 Ironically, his family never cooked Asian food, as they were steeped in the tradition of Puerto Rican cuisines.  When asked how Torres' family perceives his success, he answers, "They are happy with the job I'm doing. If I'm happy – they are happy."
Chef's Proustian Questionnaire: 
How long have you been cooking?  Twelve years.
What is your favorite food to cook? Basque cuisine –  food from Spain.
What do you always have in your fridge at home? Fresh fruit.
What do you cook at home? Depends what I want to eat … sometimes fish.
What marked characteristic do you love in a customer? When a customer calls me over to their dinner table to compliment my dishes and really express their gratitude for what I cook.
What marked characteristic do you find unappealing in a customer? When a customer tries to make their own dish with ingredients they see on the menu.
Tupperware, Rubbermaid, or Pyrex? Tupperware.
Beer, wine or cocktail? Wine.
Your favorite cookbook author? James Oseland.
Your favorite kitchen tool? Knife
Your favorite ingredient? Garlic
Your least favorite ingredient? Radish.
Least favorite thing to do in a kitchen? Receive orders.
Favorite types of cuisine to cook? Basque cuisine, food from Spain.
Beef, chicken, pork or tofu? Beef.
Favorite vegetable? Asparagus.
Chef you most admire? Thomas Buckley.
Food you like the most to eat? Spanish Food. I like to cook food other than my own because I always learn something new.
Food you dislike the most? Caribbean Food.
How many tattoos? And if so, how many are of food?  No tattoos.
 Recipe: Drunken Dragon Popcorn
3 Tbsp coconut, peanut, canola oil or clarified butter
1/3 cup of high quality popcorn kernels
1 3-quart covered saucepan
1 Tbsp or more (to taste) of butter (optional)
Salt to taste
 In a 3-quart saucepan, melt the oil or clarified butter over high heat. Take a couple of kernels and place in the pot. Cover. Once these have popped, the oil is ready for the rest of the popcorn. Add everything in a single layer cover and take off heat. Everything should pop without burning.
In a mixing bowl add a little truffle oil, then toss with truffle salt. Add a little freshly grated pecorino cheese followed with nori powder. (Note: Nori powder is a staple found in most Asian markets or purchase through Amazon.com)
The End. Go Eat.