NOTE:  This is an original post we wrote in October 2015.  We like to pull a Saturday Night Live, and occasionally have rebroadcasts. Heh.
Bruce Weinstein and Mark Scarbrough are America's first culinary couple sort of like Julia Child and Jacques Pepin except, they are married, like Lucy and Desi. As a business partnership, they have written 26 cookbooks and ghost-written six more for star vanity projects. Ham: An Obsession with the Hindquarter (2010) and Vegetarian Dinner Parties (2014) were nominated for the coveted James Beard Award for "Best Cookbook". As a couple, they have been together for 19 years – meeting in an AOL chatroom while living in New York City. Even then, they were ahead of their time.
There isn't a comparative food coupling in the culinary world like
Bruce and Mark.  Certainly, not cooking in a restaurant, on a Food Network or Cooking Channel show. Or for that matter on PBS or Logo. Instead of going through today's star-making channels – YouTube and reality television – the pair did it the old-fashioned way. Hard work.
You might say, "What about so-and-so?" They started on reality television running around the world.
"What about the Food Network's blah?" They stick to one food type.
"What about…?" Nay. She was a well-known actress before she met her husband.
Bruce and Mark are a team, having written and eaten their way to a successful career and a country Connecticut home. They finish each other's sentences in the adoring, long-time love affair way and they laugh at each other's jokes.  If Woody Allen were casting for a movie during his Annie Hall days, Bruce and Mark would embody the  perfect museum-going Manhattan pair. Smart. Literate. Witty.
The type-A personality couple spends almost 24 hours together but maintain separate endeavors to keep the relationship strong. Weinstein, the cook of the couple, knits runway-ready sweaters (of course, he does) and has written a book about it (of course, he has). Scarbrough, the writer and academic, teaches Chaucer (of course, he does) and has just created an iTunes podcast for the couple (of course, he has). Supposedly, they do play a mean game of bridge as partners in their off-time from the stove and computer.
Somewhere – amongst over two dozen cookbooks written –the prolific twosome has time to appear on QVC hawking mass cookbooks about pressure cookers to mid-Western cooking hobbyists. There's also the column contribution to Weight Watcher's online  and they can be viewed on Craftsy.com espousing on – what else? – cooking.
Like fellow comedic pairings before them, such as Gracie Allen and George Burns,  making the audience laugh is much a part of who they are as what they do when whipping up garlicky mash potatoes. It's a blend of entertainment and cooking.
To the outsider looking in,  their relationship seems to embody a lot of laughter….and eating. And drinking…. with lots of laughing. For Bruce and Mark, it all appears to be about having fun and enjoying life. After all is said and done, the inspiring pair is enjoying it all except they would like to have a little bubbly with all that love.
Food People Questionnaire:
What is your favorite food to cook at home?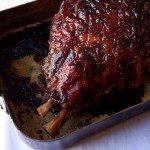 Bruce: Oxtails, beef tongue, or veal cheeks—tough choice.
Mark: As you can see, there's no need for me to cook at home. I write the books. I get fed. It's a great trade-off.
What do you always have in your fridge at home?
Bruce: See the above answer.
Mark: Skim milk—because I think it actually makes the best foam for my morning four-shot latte.
What marked characteristic do you love in a person with whom you are sharing a meal?
Bruce: A nice shirt—I'm going to be looking at it all night.
Mark: Well, maybe not, Bruce! I really like good conversation skills. Give-and-take. Back-and-forth. First time someone says, "Another thing about me is . . ." I'm out of there.
What marked characteristic do you find unappealing in a person with whom you are sharing a meal?
Bruce: Slurping solid food.
Mark: Texting. Please. Stop.
Beer, wine or cocktail?
Bruce: Cocktail to start, wine with, beer after.
Mark: Wine. I hear they're making it in other colors besides red these days. Wouldn't know.
Your favorite cookbook author?
Bruce: Fuchsia Dunlop. My Sichuan master.
Mark: Abby Dodge. It's right every time.
Your favorite kitchen tool?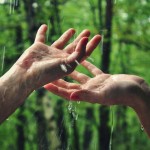 Bruce: My hands.
Mark: His cleaned and dried hands.
Favorite types of cuisine to cook?
Bruce: Anything east of India. Crazy about Sichuan these days. Want to come over for a ten-course tasting dinner?
Mark: Worcestershire sauce. Seriously. I make the best.
Beef, chicken, pork or tofu?
Bruce: If only tofu had bones.
Mark: Well, lately, salmon fillets. Cilantro, mint, sliced fresh jalapeños, olive oil, crunchy salt. Trust me.
Favorite vegetable?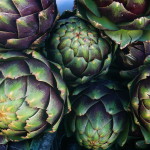 Bruce: Artichokes, preferably trimmed and cleaned by someone else
Mark: Winter squashes as so much. I had a roasted Blue Hubbard the other night that was orgasmic.
Chef you most admire?
Bruce: Tony Wu. Ever see this guy hand-pull noodles? Check out his youtube videos.
Mark: Right now, Daniel Eddy at Rebelle in New York City. Kick. Ass. Food.
Food you like the most to eat?
Bruce: Grilled burger any day of the week.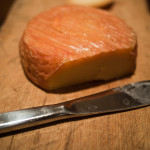 Mark: I have a healthy appetite. Enough said. But my choice indulgence is Époisses de Bourgogne.
Food you dislike the most?
Bruce: Root beer. I have to wipe it off my tongue with a rag.
Mark: Jell-O. Period. Also, panna cotta, its evil twin.
What is your favorite non-food thing to do?
Bruce: Play Chopin preludes.
Mark: Read lyric poetry. I have a podcast on it. Check it out: Lyric Life on iTunes.
Who do you most admire in food?
Bruce: Bill Niman. He changed the way we think about food in this country.
Mark: My agent. Twenty-seven cookbooks sold for us ain't too bad.
Where is your favorite place to eat?
Bruce: Siena. No questions.
Mark: Joucas, France. (There's only one restaurant. See below.)
What is your favorite restaurant?
Bruce: Richard's Fresh Seafood on Covehead Wharf in the national park on Prince Edward Island, Canada
Mark: The restaurant at Le Mas des Herbes Blanches in Joucas, France. Go in the summer when the lavender fields are in bloom against the red cliffs of Roussillon down in the valley.
Do you have any tattoos? And if so, how many are of food?
Bruce: Some things you have to leave to the imagination.
Mark: No. And I still have things you can imagine.
Ricotta/Spinach Dumplings, Parmesan Cream Sauce (6 servings)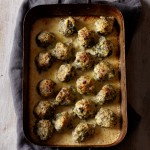 From Bruce and Mark:  Winter weekends are made for dinner parties. As the sun sets early and the darkness creeps over our yard, we banish the cold by lighting the candles and serving hearty, warming fare like this casserole. The tender, spiced, even lemony dumplings are baked in a simple cream sauce that emphasizes their luxurious texture while softening some of their sweetness. It's best minutes out of the oven, so plan your timing carefully.
One 10-ounce box frozen chopped spinach, thawed
8 ounces regular or part-skim ricotta
4 ounces Pecorino Romano, finely grated (about 1 cup)
3 large egg yolks, at room temperature
3/4 cup semolina flour, plus additional for rolling the dumplings
1 tablespoon minced chives
1 tablespoon minced dill fronds
1/2 teaspoon finely grated lemon zest
1 teaspoon freshly ground black pepper, divided
1/2 teaspoon salt
1/4 teaspoon grated nutmeg
1 tablespoon unsalted butter
1 tablespoon all-purpose flour
1 cup whole or 2% milk
2 tablespoons dry white wine, such as a California Chardonnay
2 ounces Parmigiano-Reggiano, finely grated (about 1/4 cup)
Squeeze the thawed spinach by the handful over the sink to remove excess moisture, then crumble it into a large bowl.
Stir in the ricotta, pecorino, egg yolks, semolina, chives, dill, zest, 1/2 teaspoon pepper, the salt, and nutmeg to form a wet but coherent dough. Cover and refrigerate for 2 hours.
Spread more semolina flour on a large plate. Use damp, clean hands to form the dough into 24 balls, each about the size of a golf ball, rolling them one by one in the semolina to coat thoroughly before setting them on a large lipped baking sheet.
Bring a large pot of water to a boil over high heat. Working in batches, add 5 or 6 dumplings and boil for 10 minutes. Use a slotted spoon to scoop them out, drain them, and transfer to a 9 x 13-inch baking dish. Repeat with the remaining dumplings.
Position the rack in the center of the oven and heat the oven to 375°F.
Make the sauce by melting the butter in a large skillet over medium heat. Whisk in the flour until a creamy paste. Slowly whisk in the milk in a steady, fine stream until the paste has dissolved. Whisk in the wine and continue whisking over the heat until thickened and bubbling, 3 to 4 minutes. Whisk in the Parmigiano-Reggiano, then pour this sauce over the dumplings in the baking dish. Sprinkle the remaining 1/2 teaspoon pepper over the casserole.
Bake until lightly browned and bubbling, about 20 minutes. Cool for 5 to 10 minutes before serving.
Ahead: Complete the recipe through step 6 up to 2 hours in advance; store, lightly covered, at room temperature.
Garnish: Although we're not a fan of side dishes at dinner parties, this casserole could use a little contrast. Spoon the baked dumplings and sauce onto plates, accompanied by grilled asparagus spears, drizzled with a flavorful but light vinaigrette.
Note: Make sure the lemon zest is in fine bits. If you don't use a small-bored microplane to grate the zest, mince it on a cutting board to make sure no one ends up with a big thread in a single dumpling.
The End. Go Eat. 
(Correction: Bruce Weinstein and Mark Scarbrough's monthly column was incorrectly attributed to Fine Cooking Magazine. It is Weight Watcher's Online.)