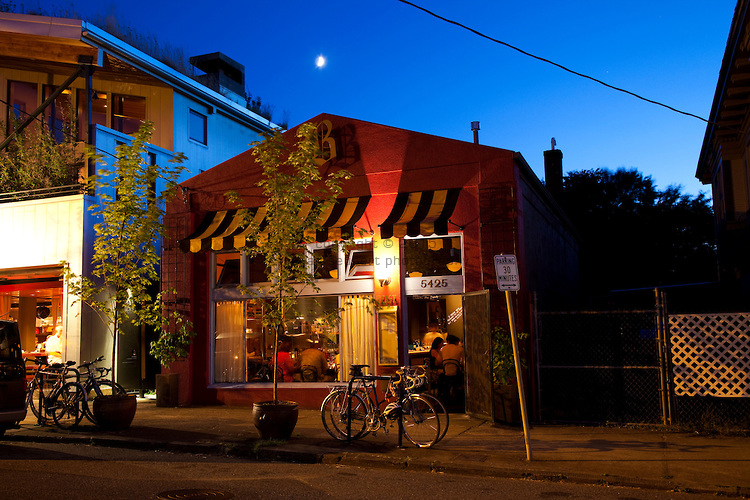 NOTE: This is the first post of 2016. You would think I would write something with a little more auspiciousness or something marking the occasion. However, I loved this story from 2015. I feel Naomi Pomeroy is a great chef making amazing inroads into an industry dominated by men. The recipe — although difficult is amazing. I would love to highlight more entrepreneurial female chefs like her, Kelly Chapman of Macolicious and Monica Glass.
I've been to Portland and had delicious food many times but not to Chef Naomi Pomeroy's restaurant Beast. Portland has become one of the great food cities of our country. It's placement on that list is certainly attributable to Chef Pomeroy.
She has many accolades including stories in Gourmet and Elle Magazine; Bon Appètit named her one of the top six of a new generation of female chefs in September 2008; Food & Wine Magazine recognized her as one of the 10 Best New Chefs in America for 2009. In 2010, Oprah magazine named her one of the Top 10 Women to Watch in the Next Decade, and Marie Claire named her one of the top 16 Women in Business. She has given several lectures on creativity, including a TedX talk given in 2013.
In the local Oregon publications, Portland Monthly voted Naomi Chef of the Year in 2008. Beast was honored as Restaurant of the Year in 2008 by the Oregonian and chosen as best Brunch by the Willamette Weekly. Naomi has been the sole owner of Beast since 2009 when she paid back her investors.
In 2010, 2012, and 2013, she was selected as a finalist for the James Beard Awards in the category Best Chef Pacific Northwest. In 2014, she was selected as the recipient of this prestigious award.
How long have you been cooking? Since I was 5.
What is your favorite food? Corn Dogs.
What do you always have in your fridge? Condiments.
What do you cook at home? Right now I'm working on my cookbook, so whatever recipe I'm testing. Currently, that means a lot of soufflé.
What marked characteristic do you despise in your customer? I hate it when people really examine their food, pick it apart, and look at it too long before the eat it. I'm standing right in front of them!
What marked characteristic do you love in a customer? When people come up after a meal and take the time to say that they loved it.
Tupperware, Rubbermaid, or Pyrex? Pyrex, I don't cook in plastic.
Beer, wine or cocktail? Rosé.
Your favorite cookbook author? Madeline Kammann.
Your favorite kitchen tool?  Ricer.
Your favorite ingredient? Demi-glace.
Least favorite thing to do in a kitchen? Scoop ice cream.
Favorite types of cuisine to cook? Indian.
Chef you most admire? José Andrés.
Food you dislike the most? White pepper.
How many tattoos? And if so, how many are of food? One. Not food.

Lacquered Duck Confit with Cracked Green Olive & Armagnac Prune Relish
Serves 8
For the spice blend:
½ teaspoon whole black peppercorn
6 whole allspice berries
1 teaspoon coriander seed
4 whole cloves
1/2 stick cinnamon
6 juniper berries
¼ teaspoon freshly-grated nutmeg
½ teaspoon pepper
4 bay leaves
For the duck:
10-12 duck legs (preferably 6-8 ounces each, from Muscovy ducks)
1 head garlic, cut into quarters (no need to peel the cloves)
1/2 bunch fresh thyme
1 bunch thyme
3 quarts duck fat (more if the duck legs are closer to 10-12 ounces)
¾ teaspoon salt per leg for duck /8 teaspoons
For the lacquer:
½ cup aged sherry vinegar
½ cup muscovado or dark brown sugar
½  teaspoon salt
For the relish:
1 cup cracked and pitted castelvetrano olives
1 cup Armagnac prunes, quartered
6 tablespoons olive oil, divided
2 tablespoons shallots, finely minced
1 teaspoon garlic, finely minced
1 generous pinch chili flake
½ teaspoon fennel pollen
1 tablespoon sherry vinegar
Make the spice blend: In a medium skillet, lightly toast all spices, with the exception of the bay leaves. You will know the spices are properly toasted when they begin to slightly change color and their aromatic oils begin to release a lovely fragrance.
Add the toasted spices and bay leaves to a spice grinder (or a coffee grinder reserved for this purpose) and finely grind. Shake spices through a mesh strainer to ensure that there are no large, un-blended spices. Re-grind as necessary.
Make the duck legs: Rinse the duck and dry it well on a paper towel. At the end of the long bone opposite the meaty side, use a sharp paring knife or good kitchen shears to score all the way around the circumference of the bone to cut away any tendon, which helps prevent any meat from tearing. This will create a more beautiful presentation.
Combine the salt with the spice mix. Season each leg with about ¾ teaspoon of the salt-spice mix, evenly on both sides, and place in a single layer in a 9 x 13-inch casserole dish or Dutch oven. Place the dish in refrigerator overnight.
The next day, take the duck legs out of the refrigerator and preheat the oven to 325°F. Remove and dry each of the duck legs. Clean out the dish and return the dried duck legs to it. Add the garlic and thyme. In a small saucepan over low heat, gently warm the duck fat. Pour the fat over the duck legs so that they're completely submerge and covered by at least ¼" of fat. (If necessary, some of the legs can be moved into a second dish and covered in fat, so long as they're all still completely submerged, meaning that you may need a little more fat.)
Cut a piece of parchment paper to fit over the top of the dish, then completely cover the top with foil. Place the dish onto a sheet tray to catch any bubbling fat that might spill over into the oven. Place the dish into the oven and set a timer to check on it in one hour. Depending on the size of your legs, they can take anywhere from 1 ½ to 3 hours to cook.
You'll know the duck is finished when you carefully remove one leg from the fat and place it on a plate, then, using your tongs, press down with medium pressure at the place where the meat and the bone join in the crook of the thigh. The meat will begin to release easily from the bone.
When the duck is cooked, remove the foil and parchment and allow the legs to cool for 20 minutes in the duck fat before moving them onto a parchment-lined sheet tray. Reserve the duck fat in a plastic container and place the sheet tray with the legs in the refrigerator overnight.
For the relish, combine the olives and prunes in a medium mixing bowl. In a small saute pan, warm half of the olive oil over medium-low heat. Add shallot, garlic and chili flakes. Lower heat to ensure nothing gets color. Add fennel pollen. As soon as the shallot and garlic are translucent, after about 5 minutes, remove them from heat and add to the prune and olive mix. Add sherry vinegar and additional olive oil and stir. Set aside.
On the day of serving, make the lacquer: Pull the duck legs out of the refrigerator and bring them to room temperature.
In a small saucepan, heat the sherry vinegar over medium-high heat. Add muscovado sugar and salt and bring to a boil until slightly thickened, 3-4 minutes. Set aside.
If this mixture has thickened too much upon cooling, add a splash of sherry vinegar. Its consistency when hot should be slightly thinner than honey (when room temperature it should be thicker, but still brushable). Leave this out at room temperature; it will harden it it gets too cold.
Preheat oven to 400F°. In each of two medium-sized nonstick or cast iron (oven-proof) pans, heat 2 tablespoons of the duck fat used to confit the duck over medium-high heat. Sear the duck legs, skin side down, weighing them down onto the pan with a heavy plate, until golden brown, approximately 1-2 minutes. Check frequently for an even, golden brown, crisp surface. Remove the plate and flip the legs.
Brush the legs with a thin layer of the lacquer. Add about ¼ cup water to the bottom of each pan to prevent the sugars from sticking. Move the pans to oven and cook until the lacquer is bubbling, 5-6 minutes.
Remove the pans from the oven and serve immediately. Serve with cracked green olive & Armagnac prune relish.
 – The End. Go Eat. –