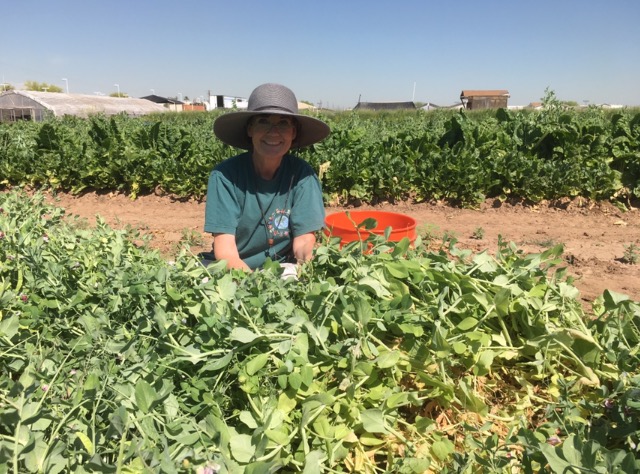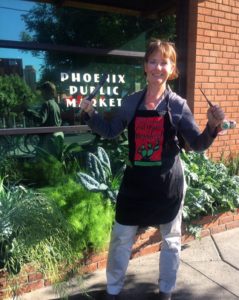 "I want people to realize that when they walk out their front door," says Phoenix-based nutritionist Monika Woolsey, "that they have a whole world to choose from not just the same six foods that we always eat." This statement starts the conversation about how do you define Woolsey, named in 2016 by Phoenix New Times as one of city's 100 Tastemakers. Unsurprisingly, she was the only registered dietitian on the alt-weekly's restaurant heavy industry list. By i8tonite's definition, she is a quintessential food person, making a mark in her community through her work. According to her website, she is the team nutritionist with the Milwaukee Brewers Baseball Organization, maintaining the needs of 150 athletes from a dozen countries, keeping their energy so they can reach home plate;  and the Caesar Chavez Leadership Academy Garden Project focusing on hunger relief and blogging on community gardens.
She can be thought of as keeper of "indigenous plants" and foods to eat maintaining healthy diet for all. Woolsey states, "We eat the same foods, but it's important to eat what you know. Recently, I was working with a young Mexican athlete, who's food consists of corn. We needed to implement that food into her diet, making it easier for her to sustain a balance."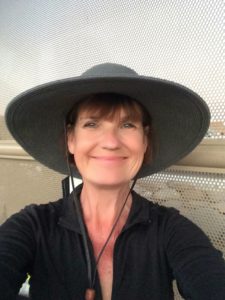 Woolsey has a degree from the University of Boulder, Colorado in kinesiology,but began nutrition when approached by the Chicago Cubs, who needed someone who knew food and was a fluent Spanish speaker to talk to the team. (Woolsey does both and has traveled throughout Latin America.)
Winding down the conversation, Woolsey says, "I'm making mesquite tea."
With surprise, I quip, "I've never known you could drink mesquite as a tea."
"Oh yeah. During the Civil War, Texan soldiers didn't have any coffee so they would drink this (brew). They called it 'apocalypse' coffee."
I know who I'm hanging out with when the last day comes.
Food People Questionnaire (with a nod to Proust):
What is your favorite food to cook at home?
Slow cooker meals that get better as they sit: chili, ropa vieja, minestrone soup, sauerbraten.
What do you always have in your fridge at home?
At least 8 different seasonal vegetables. Ricotta cheese, milk, and eggs. Sofrito, salsa, Dijon mustard, sriracha, and curry sauce.
What marked characteristic do you love in a person with whom you are sharing a meal?
Someone who can simply enjoy the meal, and the meal environment, without taking a picture of it, commenting on its nutritional value, or lack thereof.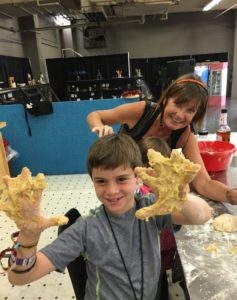 What marked characteristic do you find unappealing in a person with whom you are sharing a meal?
Excessive special requests for the host that remove the love and thoughtfulness that went into its creation.
Beer, wine, or cocktail?
I'm German. It's going to be beer! Nothing better on a hot Phoenix day than a Weissbier with a spritz of lemon!
Your favorite cookbook author?
Gran Cocina Latina by Marcicel Presilla. The author is a chef with a PhD in Mediieval Spanish History, and her book approaches the entire Latin continent from a historical perspective. I read it cover to cover last summer, and plan to do so again this summer. This book completely launched my confidence in creating healthy recipes for the Latin athletes I work with.
Your favorite kitchen tool?
My garlic press! I am constantly pulling it out of the dishes, washing it, and using it for the next project!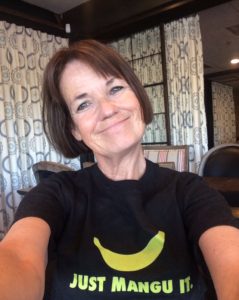 Favorite types of cuisine to cook?
Most of my audience is people new to cooking. I enjoy creating simple renditions of complicated recipes that leave anyone feeling like they can succeed in the kitchen. Recently I've been focusing on Latin American cuisine. Not just Mexican, but Caribbean, Venezuelan, Central American, each one is different and each has introduced me to delicious ingredients I take back to my other recipes.
Beef, chicken, pork, or tofu?
Anything, anything, but tofu!
Favorite vegetable?
With a business named "Hip Veggies," it's hard to play favorites. But I suppose it would be homegrown tomatoes. Mine are ripening right now, and they rarely make it inside to the salad. I love snacking on them as I pick them. But then there's corn. Who doesn't love a fresh roasted elote? Oh my, I had best move on to the next question before you get a dissertation.
Chef you most admire?
Tamara Stanger, of Helio Basin Brewing Company, here in Phoenix. She's blazing her own trail, daring to use native desert ingredients I have not seen other local chefs know how to use. And every time she steps up, she wins awards. Tammy is very quickly raising the bar for the definition of "local food" in Arizona.
Food you like the most to eat?
I like what's grown locally, in season. Food that was pulled out of the ground the day I get it. My CSA box has sharpened my awareness of what tastes best at different times of year. And I have learned that when you eat with the seasons, there's always something coming up, just around the corner, that I haven't had in awhile. It keeps my kitchen interesting.
Food you dislike the most?
Anything with ingredients piled together in some way that suggests they're only there because they are trendy. I love kale, quinoa, sweet potatoes, avocado, blueberries, and salmon. But please, don't pile them together in a Superfood Bowl. Been there, seen it on Instagram a million times.
What is your favorite non-food thing to do?
Anything related to nature. Hiking, photography, biking, visiting a zoo or botanical garden.
Whom do you most admire in food?
The farmers who put it on our table. They work so hard for so little credit. If it were not for their love of the land and willingness to be out there 7 days a week, often in brutal conditions, we wouldn't even be having this discussion. We take them for granted. They deserve better.
Where is your favorite place to eat?
Anywhere that is likely to create a memory. On a log while hiking a beautiful trail, with family on a holiday, any environment that encourages savoring the experience as well as the food.
What is your favorite restaurant?
My family has been eating at Casa Molina in Tucson, Arizona for over 40 years. The menu hasn't changed, the décor is the same. Good things stick around for a reason. Try a carne seca tostada with a margarita on their patio, and you'll understand.
Do you have any tattoos? And if so, how many are of food?
I have never intentionally tattoed myself. However, food has had a way of tattooing me! I have a nice scar on my left forefinger, a souvenir from a bout with a cantankerous bagel. A few marks from splattering grease, touching hot baking sheets I thought were cool. I wear each one with pride.
Recipe: Grilled Butternut Squash with Mexican Pipián Sauce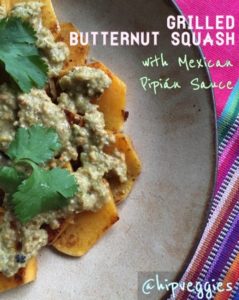 Serves 2
1 butternut squash
1 tablespoon peanut oil
Salt
1/2 cup 505 Southwestern Green Chile, Tomatillo, Cilantro, and Lime Salsa
¼ cup raw, unsalted peanuts
¼ cup pumpkin seeds
Clean the squash
Peel butternut squash and cut into thin slices; set slices in a small mixing bowl. Set aside the seeds you recover while cleaning and preparing the squash.
Make the pipián sauce
Place reserved squash seeds in a ¼ cup measuring cup. If you do not have ¼ cup of seeds, add enough pumpkin seeds to measure as ¼ cup. Add these seeds and the peanuts to the skillet, and toast them over medium heat. Stir frequently.
When the seeds and peanuts start to pop, turn off the heat and let them continue to cook in the heat remaining in the skillet.
Place seed/peanut mixture in a spice grinder, a coffee grinder, or a food processor and grind thoroughly.
Remove mixture from grinder and set aside.
Cook the squash
Add peanut oil to the squash; toss to evenly coat slices with oil.
Salt lightly.
Place squash slices on a grill (or in a cast iron skillet over medium heat) and cook until both sides are nicely browned. It should take just a few minutes on each side. Remove from heat and set aside in dish.
Assemble the dish
Arrange the squash pieces attractively on a serving plate.
Spoon pipián sauce over the squash slices.
Garnish with cilantro.
Enjoy!