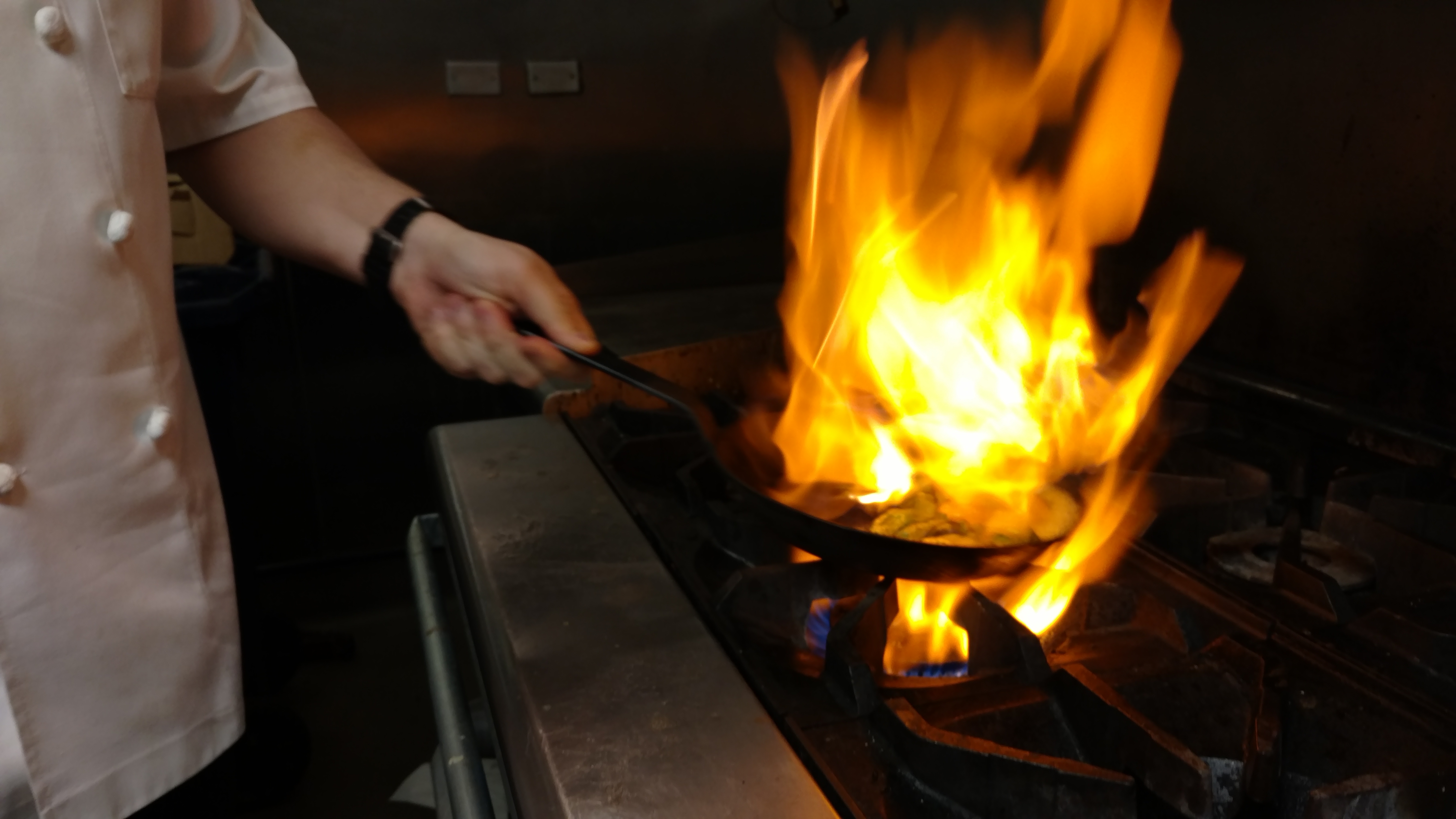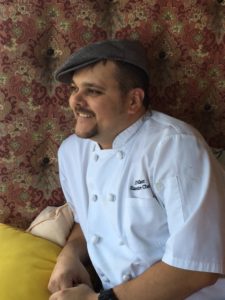 Chef JT Walker remembers meeting his wife at the Santa Ana Zoo, where they both were employed as zookeepers.
"We started on the exact same day," he recalled. "There are very few zookeeper jobs in the United States, so to move up in the field, one of us would have to leave our (hometown). We were married and I was already at a point where I wanted to make a change. I turned to her one day, saying, "Hey, why don't I go back to school and become a chef." She already didn't cook because I did all the cooking. "That sounds like a great idea!" she said. "It would be cool to tell everyone my husband's a chef, instead of a zookeeper." She already held that title and we didn't need two zookeepers in the family."
"Look, I'm very blessed that I was able to have my two dream jobs," the Orange County native continues, "When I was at Oregon State University studying, I was awarded an internship at the Cincinnati Zoo. After I finished it, I was offered a job working there and wound up staying. Knowing how difficult it is to find these (zookeeper) positions, I jumped and took it."
Now a veteran of restaurants, the 36-year-old Walker is excited about his continuing culinary adventures and re-opening Pacific Hideaway in his hometown of Huntington Beach, also known as Surf City. Located inside Kimpton's Shorebreak Hotel, the executive chef is overseeing all the culinary attributes of the beachside eatery.
"This is going to be one hundred percent my menu", Walker states. "We are calling it a modern American coastal tavern focusing on craft beers and cocktails. For me, growing up in So Cal, it was a unique experience. We could find inexpensive Latin and Asian cuisine. We are trying to bring that back. We will feature a crossover including possible vegetarian bim-bim bap, various kimchees, and Filipino lumpia to snack on."
Calling himself a mutt, Walker's background is a quarter Filipino, an eighth Polish, and the rest everything else; he says growing up, his family always made dinner together. "Nothing ever came out of a box." As a child, he said to his father, an entrepreneur who had started a printing business at the age of seventeen, that he would like to cook dinner. Chuckling, the kitchen-helmer remembered his dad saying, "You want to make dinner. Awesome. You make dinner every night now." It wasn't meant to be mean – it was to take something of their plate, basically. Growing up my father cooks, my mom cooks. And, then I cooked. I'm hoping to bring that casual vibe I had growing up."
With the Shorebreak Hotel located over a stretch of white sand in Huntington Beach, the Pacific Hideaway is promising to be more of local hangout. Said Chef Walker about the new restaurant, "We want to part of the destination, not be the destination. We want the locals to consider (us) their hang out spot. If they to plan a celebration, such as a baby shower, we want them to get a private dining room and have us write out a menu."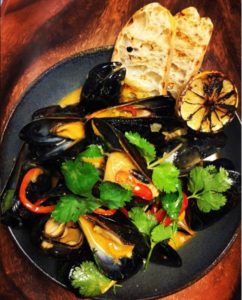 Chef Questionnaire (with a nod to Proust):
How long have you been cooking?
In fifth grade, I told my parents I wanted to be a either zookeeper or a chef. They are self-employed and had me making dinner right away to take that off their daily list of things to do. I came a little late to cooking, as I was a zookeeper for over five years. I have been cooking professionally for over 12 years now.
What is your favorite food to cook?
That's like asking your favorite child (or dogs for my wife and I—we have two Basset Hounds and an English Bulldog). I love working over a grill or on my smoker at home. Asada for tacos, a dry aged ribeye steak over a wood fire, or slow smoking a pork shoulder for pulled pork sandwiches.
What do you always have in your fridge at home?
It is bare right now with me working on PACIFIC HIDEAWAY. My sweet pickle relish, Kilt Lifter Irish Ale, strawberry jam from my mother, assorted pickles I made last year, Filipino Banana Ketchup, eggs, and bacon I cured and smoked.
What do you cook at home?
According to my wife, not enough. I try and make whatever she is in the mood for. She puts up with my long hours and night shifts, so I try and bring hospitality home for her.
What marked characteristic do you love in a customer?
I love regulars. Those that choose to visit us on a semi regular basis. I also love those willing to try new things, step outside of their comfort zone.
What marked characteristic do you find unappealing in a customer?
The guest that doesn't let us take care of them. We are here to guide the guest to the best experience. Ask our team questions. Let us do what we do best.
Tupperware, Rubbermaid, or Pyrex?
Deli containers from Smart and Final
Beer, wine, or cocktail?
Red Ales or an old fashioned
Your favorite cookbook author?
I like the Thug Kitchen crew, fun and tongue in cheek writings and recipes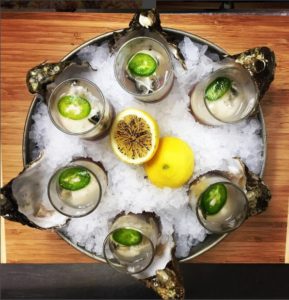 Your favorite kitchen tool?
My tongs and spoons
Your favorite ingredient?
Barrel-aged fish sauce
Your least favorite ingredient?
Lentils
Least favorite thing to do in a kitchen?
Cleaning out clogged drains
Favorite types of cuisine to cook?
Growing up in SoCal, pretty much anything that touches the Pacific Ocean. Specifically, Latin American and South East Asian.
Beef, chicken, pork, or tofu?
Pork all the way
Favorite vegetable?
Zucchini or corn
Chef you most admire?
All the chefs who helped guide me to where I am today
Food you like the most to eat?
Food that has soul
Food you dislike the most?
Food without thought or care
How many tattoos? And if so, how many are of food?
Just one, a panther, from my zookeeper days
Misoyaki Marinated New York Steak
Serves 3-4 people
Ingredients for the Misoyaki Marinade:
1 cup white miso paste
1 cup red ale (JT prefers San Diego's Karl Strauss Red Trolley)
2 cups sugar
3-4 New York steaks
Freshly ground black pepper
4-6 green onions, with only the roots trimmed off
Directions:
To make the marinade: mix the miso, ale and sugar thoroughly.
Reserve ½ cup.
Add the NY steaks to rest of misoyaki mixture and marinate at least 4 hours, preferably overnight.
These steaks taste best when cooked on a grill.
Remove the steaks from the marinade and season with freshly ground black pepper. Place on pre-heated grill.
While the steaks are grilling, bring reserved marinade to a simmer and cook for 10 minutes.
Grill the steaks to desired doneness.
Once the steaks are cooked, grill the green onions until cooked through.
Serve the steaks with the misoyaki sauce and grilled green onions. These steaks pair well with steamed rice and sautéed edamame.
Bonus tip: Drink a hoppy IPA or spicy Malbec to help balance the sweetness of the misoyaki sauce.
– The End. Go Eat. –