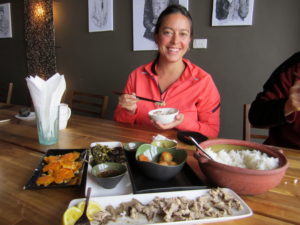 After Stormy Sweitzer developed a plethora of food sensitivites several years ago, she turned to her travel experience for recipe inspiration. Many international cuisines do not typically use the wheat and dairy products she needed to cut out of her diet, so she started shopping at the ethnic food markets in town.
There is a tremendous international community in Salt Lake City. (In part, due to the fact that SLC is a designated refugee-receiving area, has a large research university, and many foreign-born members of the LDS community immigrate to Utah, as families or new spouses.) As a result, there are a lot of interesting stores, restaurants, and artisan food products from around the globe to explore. And she wanted to introduce interested locals to them. Stormy has offered the tours for about four years now, just a few times each year, through the University of Utah's Lifelong Learning Program, as well as through private tours.
She sees the class as a gateway to exploration. Her goals are to pique people's curiosity, encourage them to play with incorporating foreign flavors into everyday cooking (as opposed to becoming expert at international cuisine), and learn how to navigate the shops and ingredients available in their community with confidence.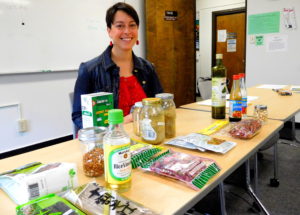 On the tour, Stormy notes, "We eat our way around town, snacking on Indian Samosas and Chinese BBQ pork buns, having lunch at the restaurant inside of the pan-Latino market, and ending with cardamom spiced tea and chocolate-covered date-covered almonds or samples of fresh dates if they are season. The owners of the shops love that each time I hold a tour, I am introducing new customers to their stores and their home cuisines."
"Most of the people that join my tours are recently-retired folks who are bored with their cooking and want to shake things up a bit now that they have time to play in the kitchen, friends who want to spend the day exploring together, and young foodies who love to cook and want a guide for their culinary adventures. Many have driven by the shops we visit a million times, but did not feel comfortable going in because they didn't know what to expect or what to do even if they saw something interesting. "
Stormy notes that she gets a lot of participants by word-of-mouth. They eat something amazing at a dinner party thrown by a past participant and then want to know where their host learned to make ginger and black sesame crusted tuna or cactus fruit syrup over ice cream or where they found the ingredients to pull off a green curry with fresh spring rolls and grilled bok choy. One past participant even wrote to tell her that after the tour, and her subsequent kitchen play, she was planning a trip to Mexico to take a week long cooking workshop.
Best of all, Stormy says, "I do not teach people how to cook. I just invite them to taste, smell, touch, and explore the foods we encounter and to eat together. It is a very sensory, community experience. And, I talk about everyday uses for (e.g., add curry powder to their tuna salad, or a little Thai basil and lime juice to fresh watermelon), storage of, and resources to guide the preparation of the ingredients they decide to try."
Stormy is a professional problem-solver, everyday explorer, and co-author, with her husband/collaborator Will Swanepoel, of the YA environmental spy thriller The Drowning Shark (which I love!). You can learn about the book at SierraRouge.com and more about Stormy's work and recipes at StormySweitzer.com.
Food People Questionnaire (with a nod to Proust):
What is your favorite food to cook at home?
My husband makes a killer biryani. I am happy to play a supporting role.
What do you always have in your fridge at home?
A lebanese garlic, olive oil and lemon juice condiment called toum made by Salt Lake City producer Laziz. We cook with it like nothing else.
What marked characteristic do you love in a person with whom you are sharing a meal?
Curiosity. About anything. It makes for interesting conversation and enjoyment of the meal.
What marked characteristic do you find unappealing in a person with whom you are sharing a meal?
Cell phone use.
Beer, wine, or cocktail?
I love a good cocktail, but what I drink really depends on the season.
Your favorite cookbook author?
Karen A. Page and Andrew Dornenburg, co-authors of my favorite cooking resource: The Flavor Bible.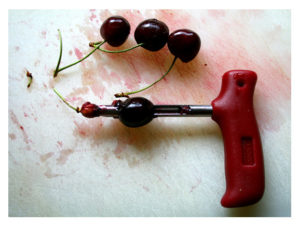 Your favorite kitchen tool?
My lemon squeezer and a coconut knife I found at a local Asian market; I use it to pit cherries in the summer.
Favorite types of cuisine to cook?
Indian and Mexican.
Beef, chicken, pork, or tofu?
Pork, although I've been eating way less animal protein lately than I normally do.
Favorite vegetable?
Kabocha squash. I eat it a few times a week in different ways: smoothie, roasted, soup, etc.
Chef you most admire?
Honestly, I'm a hole-in-the-wall-restaurant kind of eater.
Food you like the most to eat?
My mom's homemade refried beans and rice. It's what I grew up eating.
Food you dislike the most?
Gluten wreaks havoc on my system, but I would rather face the consequences of eating wheat bread occasionally or avoid bread altogether than eat a gluten-free substitute.
What is your favorite non-food thing to do?
Read. Voraciously.
Where is your favorite place to eat?
I travel a lot, so any place recommended by locals that leaves me thankful for having tried it is great in my book.
What is your favorite restaurant?
La Cai Noodle House, our favorite Vietnamese spot.
Do you have any tattoos? And if so, how many are of food?
Yes. None.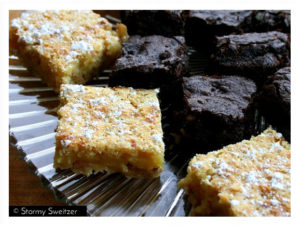 Recipe: Out of the Box Mayan Brownies
This recipe makes the most of traditional Mayan flavors…cocoa, citrus, cinnamon, chile, and vanilla… with the ease of your favorite store-bought fudge brownie mix. If you would like to use your own homemade brownie recipe in place of a mix, simply follow your own recipe's instructions for eggs and oil/butter, and then add the extra cocoa, cinnamon, habañero, vanilla, walnuts and orange zest in the amounts listed below.
Ingredients
1 package fudge brownie mix
1/8 cup cocoa powder
1/4 tsp cinnamon powder
2 eggs
8 Tbsp melted butter or 8 Tbsp walnut oil (adds richness)
1 tsp vanilla
1/4 tsp finely minced habañero chile pepper
1/2 cup chopped walnuts
2 tsp orange zest
Instructions
Preheat oven to 350 degrees F. Lightly grease a 8″x8″ pan.
In a large mixing bowl, whisk together brownie mix, cocoa, and cinnamon. Add eggs, butter/oil, and vanilla and mix well. Fold in habañero, walnuts, and zest.
Pour batter into pan. Bake according to package instructions, or until a toothpick inserted in the center comes out clean. Be careful not to overcook or edges will harden.
Recipe: Key Lime Coconut Bars
These Belize-inspired treats are packed full of flavor and will transport you to the tropics. You can make them gluten-free by using rice flour instead of all-purpose baking flour made from wheat. For a bit of a kick, add the optional habañero to the filling. Makes ~15 bars.
For crust
• 1 cup shredded non-sweetened coconut
• 1 ½ cups flour (all-purpose or rice)
• ½ cup powdered sugar + more for dusting
• 10 Tbsp butter, cut into small pieces (for dairy-free option, use vegan butter alternative)
For filling
• ¼ cup cups flour (all-purpose or rice)
• 2 Tbsp cornstarch
• ½ tsp baking powder
• 5 large eggs
• 2 cups sugar
• 2/3 cup key lime juice (~15 medium key limes)
• 2 teaspoons grated key lime zest
• ¼ tsp finely minced habañero chile pepper
Instructions
• Preheat oven to 350 degrees F.
• Heat sauté pan to medium heat. Pour in 1 cup unsweetened coconut shreds and pan toast it, stirring continuously to prevent it from burning.
• Prepare crust in a large mixing bowl, by first combining the flour, ½ cup of sugar and ½ cup of the toasted coconut. Cut the butter into the flour-coconut mixture until it resembles coarse meal.
• Pour flour-coconut mixture into a lightly-greased 9-by-13-inch pan, and press it into the bottom of the pan (not the sides). Bake for 20 to 25 minutes, or until golden brown. Remove from oven.
• While the crust is cooling, prepare the filling in a separate mixing bowl. Beating the eggs together well. Then, add in lime juice, lime zest, flour, cornstarch, baking powder, and optional habañero. Mix well. Quick tips: wear gloves when handling the habañero; your eyes will thank you later. ¼ tsp habañero is just enough to add a tiny, occasional bite; add more or less to taste. If you squeeze your own lime juice, strain it before adding it to the mix – it will help remove unwanted pulp and seeds.
• Pour filling into cooled crust and sprinkle the remaining toasted coconut on top. Bake for 20 to 25 minutes, or until golden.
• Cool completely and chill until ready to serve. Cut into 2-inch squares. Dust with powdered sugar, if desired, before serving.
The End. Go Eat.