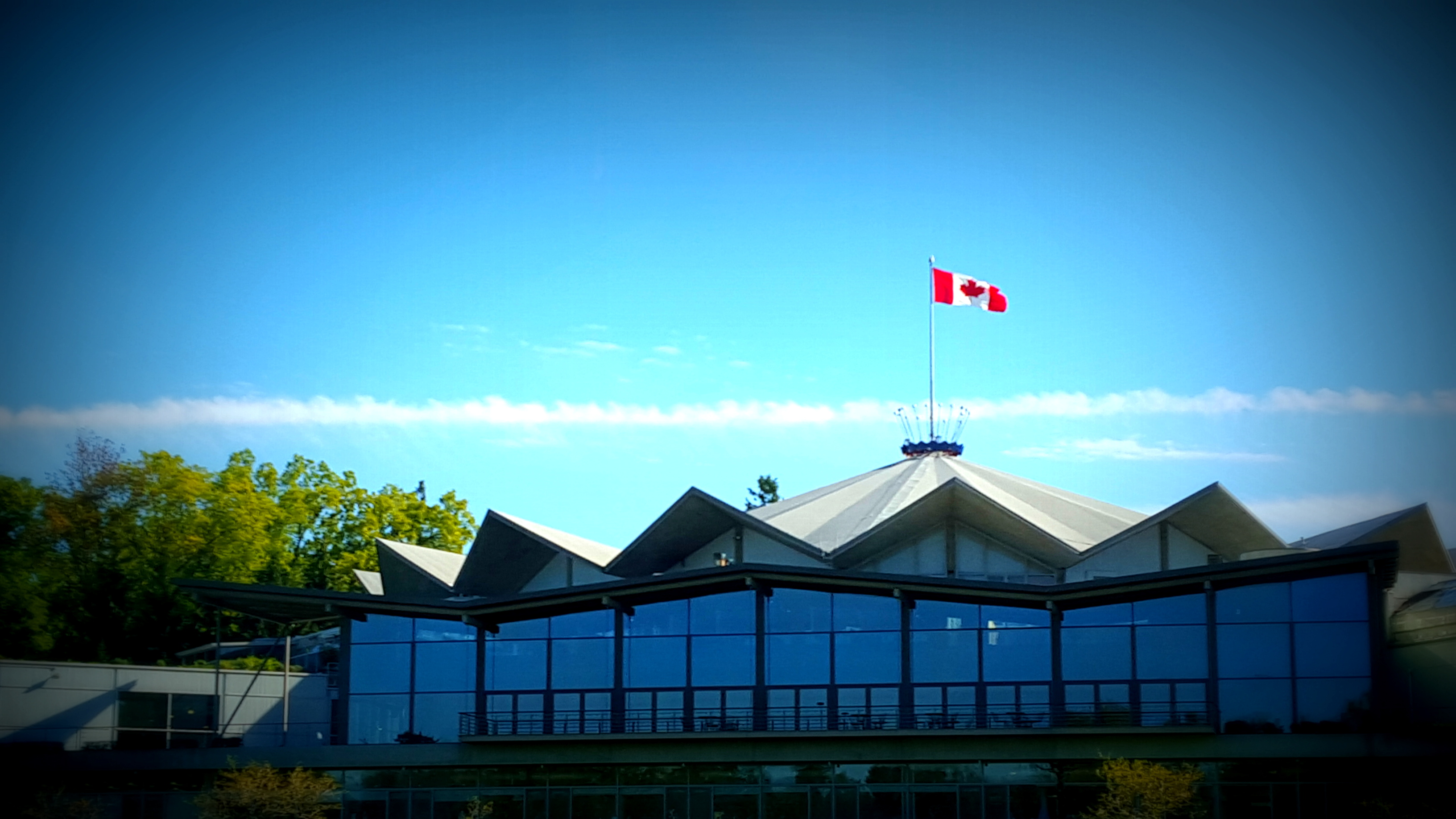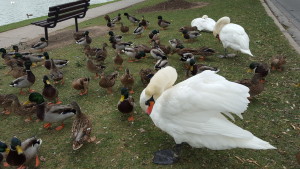 Shakespeare, swans, shopping, and spectacular eats – where are you? You're in Stratford, Ontario!
This small town is one of the most vibrant arts and food towns I've ever visited – and like many who visit, I long to move there. Stratford is known for being a theatre town – it's the home of the Stratford Festival, one of the best theatre festivals in the world (which runs from April through October each year). There are Shakespearean Gardens to meander through; make time to see the swans along the Avon River – the 24 swans are well-cared for and have an annual parade each spring! Be sure to tour the Costume Warehouse and see the tens of thousands of costumes used in the productions, and stop and shop at Bradshaw's, a fantastic kitchen store.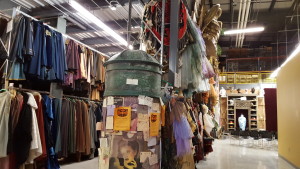 This town is a foodie town. There's the Stratford Chef School and a plethora of extraordinary restaurants. The prevailing theme is locally grown/sourced, organic, fresh foods – you can see this when you talk with chefs, or shop the weekly farmer's market. It's amazing, and progressive, and just lovely.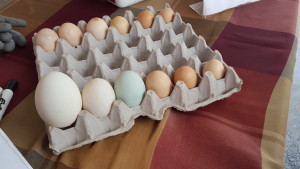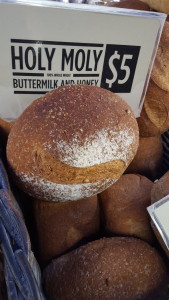 Explore the Savour Stratford food trails – Bacon and Ale, Chocolate, Pumpkin, Maple, and other seasonal trails that offer food and food items at stores all throughout town. Purchase trail passes at the Visit Stratford office downtown – it's a great way to explore local food – and local stores.
I was completely surprised by the quantity of excellent food and great restaurants here – you will be, too. For a small town, Stratford just explodes with art, theatre, museums, and fine dining. The choices overflow – it was hard for me to narrow this down!
Please note all prices are in Canadian dollars.
Breakfast: The Bruce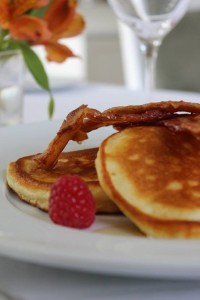 My suggestion: We ate breakfast at our B&B, so I asked my foodie friend Cathy Rehberg, of Visit Stratford, for a suggestion. She made me hungry! Here's what she recommended: "Chef Arron Carley, who will be featured on Food Network TV's Chopped Canada, describes the vision for his new menus: "Looking into our past and understanding our roots as well as looking forward into the undiscovered wilderness of our nation we will forge New
Canadian Cuisine." Now he is offering the Bruce-alicious menu which offers excellent value. Take a look at the fall and winter breakfast menu. Everything I have had there has been so good! And, it comes with a lovely view of the gardens just south of Upper Queen's Park and a 5 minute walk to the Festival Theatre."
Price: Bruce Breakfast Sandwich: Perth pork sausage, Avonlea cheddar, duck egg, tomato, awesome sauce, flaxseed bun, crispy spuds – $15
Hours: Restaurant: Thursday-Saturday plus Sunday Brunch; Lounge open every day.
Address: 89 Parkview Drive
Phone Number: 855-708-7100
Website: www.thebruce.ca
Second Breakfast: Rheo Thompson Candies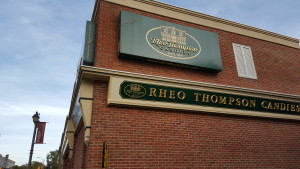 I have a soft spot in my heart for Rheo Thompson – not only for their extraordinary chocolates, but for the fact that we both came into this world in 1969. I adore this chocolate shop – and so does everyone who's been to Stratford. It's a must-visit. If you go on Savour Stratford's Chocolate Trail, Rheo Thompson is one of the options.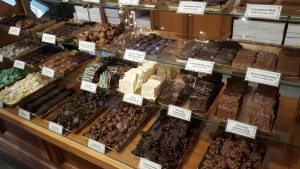 My suggestion: While all of the chocolates I have ever gotten from Rheo Thompson have been delicious, try to snag some Dark Chocolate Covered Marshmallows. They are homemade marshmallow pillows, square, drenched in a thin coating of luscious dark chocolate. Yes, they deserve all of those adjectives.
Price: inexpensive
Hours: Monday-Saturday, 9am-5:30pm, closed Sunday
Address: 55 Albert Street
Phone Number: 519-271-6910
Website: https://www.rheothompson.com/
Lunch: Mercer Hall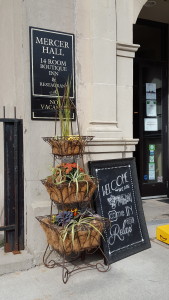 I absolutely LOVE this restaurant. Chef Ryan O'Donnell is the epitome of a chef that cares about locally grown, sustainable food sources, while being a great mentor and boss, AND bringing his creativity to the table.
Mercer Hall also serves hot tea from Canada's first tea sommelier, Karen Hartwick (visit her shop, Tea Leaves, while you are in town), so be sure to order a pot.
My suggestion: House smoked beef dip sandwich, seasonal slaw, fries & jus – I can't resist a great sandwich. This one was incredible.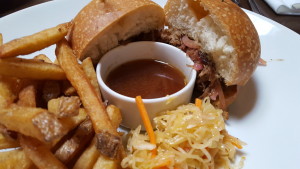 Price: lunch mains $12-$17
Hours: Monday-Thursday, 11am-9pm, Friday and Saturda, 11am-10pm, Sunday 11am-8pm
Address: 104 Ontario St
Phone Number: (888) 816-4011
Website: http://www.mercerhall.ca/
Coffeeshop: Revel Caffe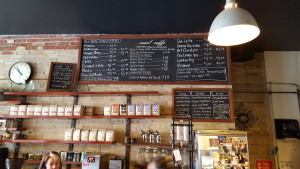 Because there are many great coffeeshops in town, it's hard to recommend just one. But I'll try. Revel's tagline notes: "independent coffee for a revolution home of direct trade coffee, delicious pastries & revelers" – indeed, this is the case. We walked into a bustling cafe – the sounds of the crowd were so happy and joyful – like old friends meeting up. Revel offers delicious baked goods and a variety of coffees and teas.
My suggestion: We went for lattes and a chocolate croissant. Heaven.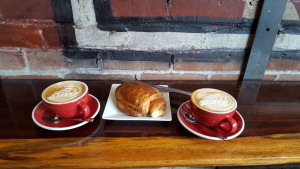 Price: large latte – $4.70
Hours: Monday – Saturday, 8am-6pm, Sunday 9am-5pm
Address: 37 Market Place
Phone Number: 519-305-1600
Website: http://www.revelcaffe.com/
Happy Hour: Revival House
A restaurant and bar in an old church? It works! You walk in to this
gorgeous space, and immediately want to sit down and cozy in. There is sometimes a band at the front of the hall! Revival House uses fresh, local, seasonal ingredients in their menus. While we were there, we saw large families, couples, mother-daughter teams (us!), and more… This is a fun, upscale place that is hopping.
My suggestion: I don't drink, so take your pick from their extensive drinks menu. What I will suggest is the charcuterie board ($27, to share) to tide you over until dinner.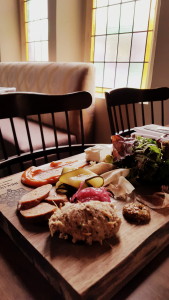 Hours: Wednesday-Sunday, 11am-1am. Closed Monday and Tuesday
Address: 70 Brunswick Street
Phone Number: 519-273-3424
Website: www.revival.house
Dinner: Pazzo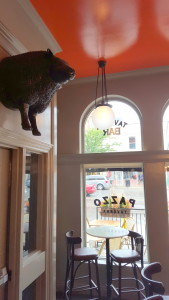 Located on the main corner of Stratford's downtown, this is the perfect place to stop in for dinner. BE SURE to make reservations if it is theatre season. If you're not going to see a play that evening, make it after 7:30pm, so the theatre rush is done and you can relax in the large, comfy dining room. Chef Yva Santini, in her 9th year at Paazzo, received the Ontario Hostelry Institutes Top 30 under 30 award in 2014. She's creative, friendly, and a genius in the kitchen. I love how she comes out into the dining room herself, to deliver the mains and chat with customers.
My suggestion: I could eat just off the appetizer menu, honestly. My favorite is the Burrata with balsamic roasted cherry tomatoes and pesto, $13. But there is much to recommend on the mains menu, including the unlimited hand made pasta special – enjoy as much of Chef Yva's daily pasta as you like, $20, or try the Taverna fondue (!!!).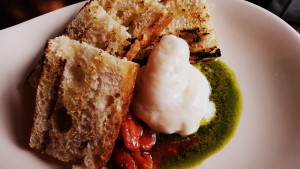 Price: $$
Hours: Sunday, Tuesday-Thursday, 11:30am-10pm, Friday and Saturday 11:30am-12am, closed Monday
Address: 70 Ontario St
Phone: 519-273-6666
Website: www.pazzo.ca
Pazzo Taverna Dinner from One O Six Media on Vimeo.
Pin for later: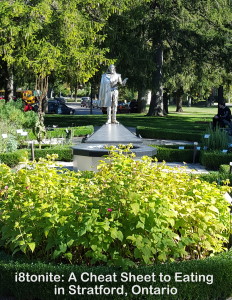 – The End. Go Eat. –
All photos courtesy and copyright Jessie Voigts, except where noted