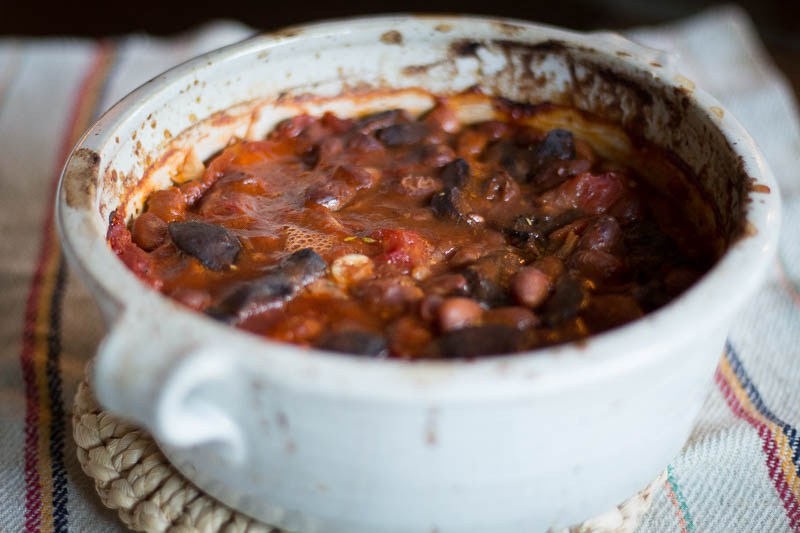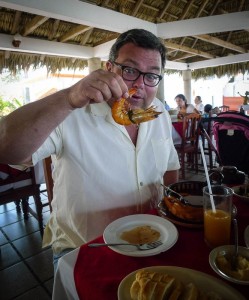 Rancho Gordo's founder Steve Sando is the embodiment of an i8tonite food person. In under two decades, he has revitalized a New World food, something so grubby that it was taken for granted by most Americans – beans. Prior to Rancho Gordo's revival of legume culture, beans were found on the lower level of supermarket shelves, holding back the dust bunnies. Thankfully, dried beans have a long shelf life – but like all things hidden in dark corners, and subjected to fluorescent lighting (besides the horrible music), commodity beans will eventually lose some flavor and become stale.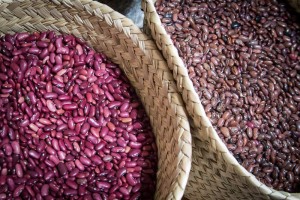 Rancho Gordo's beans are heirloom varieties, meaning that the origin (seed) is largely unmodified by technology or genetic science. In essence, the varieties of beans Rancho Gordo grows are dictated by the adage "let nature takes its course." To the eater, this means more flavor, essence, and character.
Sando was based in Napa Valley, arguably one of the world's best agriculture regions and home to The French Laundry. Subsequently, it was only a matter of time before his products made it onto North America's most illustrious dining menu. "Thomas Keller gave us his blessing," states Sando…and he's been thriving with great beans and products since.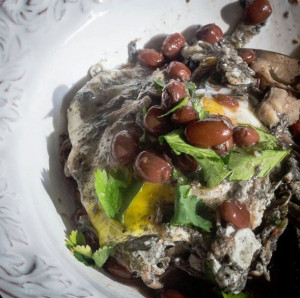 Rancho Gordo produces almost 35 varieties of heirloom beans, using a selection of farmers from California, Oregon, and Washington – and they almost always sell out. His customers are mostly home-cooks, but there are quite a few chefs who use Rancho Gordo but don't understand heirloom varietals. "Chefs are the worst," Sando chuckles. "We sell heirloom beans, which means our farms produce a low yield. We run out of varieties, yet (chefs) expect them to always be available. It takes about six months to develop each crop. So when we are out, we have to reseed, replant, and re-harvest." (Stock up, chefs!)
Recently, Sando named one of his heirloom finds the Marcella, named after the famed Italian cookbook author Marcella Hazan. The story about their friendship and the eponymously named bean made it into the New York Times. "It killed us," he says. "But in a good way." His mail order business is robust, with sixty-five percent of his business coming from on-line but he also has two outlets: Napa, where Rancho Gordo is based, and in San Francisco's legendary food emporium, the Ferry Building.
At the end of the day, Sando, a farmer with all the accolades and outpouring of goodwill about his beans, is a normal food person like the rest of us. And he eats beans, every day.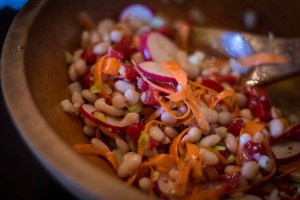 Food People Questions (with a nod to Proust):
What is your favorite food to cook at home?
Obviously, it would be beans. But I poach a chicken every week and use the meat in other meals and the broth becomes soup. Then I tend to improvise with vegetables.
What do you always have in your fridge at home?
Chipotle en vinagre. It's one of the best relishes I know. One day I'd love to make them commerically.
What marked characteristic do you love in a person with whom you are sharing a meal?
I love when they react to the food, the music, the table, the other people. It's so easy to eat alone. I would hope they know how to express the joy of breaking bread with others.
What marked characteristic do you find unappealing in a person with whom you are sharing a meal?
My first reaction would be to say someone who talks with their mouth full, but really, I can forgive that if they're enthusiastic. I think people who drone on and are not aware of the rhythm of the conversation. I sometimes am guilty and stop myself if I'm hearing my own voice too much.
Beer, wine, or cocktail?
I love a single cocktail before dinner. A nice round, ready as your guests come in the door, is welcome. But put it away and switch to wine ASAP. My crowd tends to be wine and beer people and they don't remember how to pace themselves with cocktails. You want your guests loose, not sloppy.
Beer or wine with dinner, depending on what is served.
Your favorite cookbook author?
I can read Diana Kennedy's books like novels. But I have to add Paula Wolfert, Georgeanne Brennan, and Marcella Hazan. All strong women from an era when cookbooks weren't just extended magazine articles.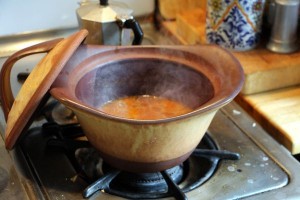 Your favorite kitchen tool?
I have a huge collection of clay pots. I don't think I could single one out.
Favorite types of cuisine to cook?
Mexican is my obsession. The more I go, I realize am strictly a tourist with this cuisine. We haven't even scratched the surface.
Beef, chicken, pork, or tofu?
Pork. Then Chicken.
Favorite vegetable?
Beans would be too obvious, so i'll say nopales. I love harvesting green cactus paddles and eating them as a vegetable. I understand they're healthy, too, but that doesn't interest me much.
Chef you most admire?
I think Frances Mallmann. He seems to understand that you are cooking to enjoy it with friends and good wine, not just cooking to cook or be clever. I'm also loving Sean Brock these days. He's so clearly passionate about ingredients and I think he's presenting southern food in a really appealing way. I've never met either of them but I'd like to.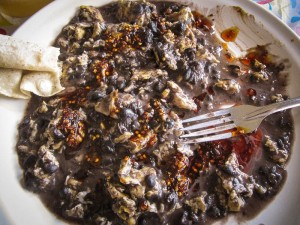 Food you like the most to eat?
I think our local crab. It's a workout and there's a pay off.
Food you dislike the most?
I wish there were one. I love it all, to different degrees. And if I say I hate rutabagas (which is close to true), I'll still keep an open mind and I bet there's a chef who could turn me around.
What is your favorite non-food thing to do?
Road trips in rural Mexico.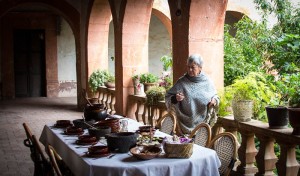 Who do you most admire in food?
I think the indigenous women who I've met in Mexico. They're the real thing. They have no concept of food trends and just make delicious food.
Where is your favorite place to eat?
I think a beach with cold beers and a bucket of perfectly steamed shrimp.
What is your favorite restaurant?
I don't really have one, but if pushed, I'd say Contrmar in Mexico City.
Do you have any tattoos? And if so, how many are of food?
Nope! One aspect of me is still virginal.
Recipe: Posole Verde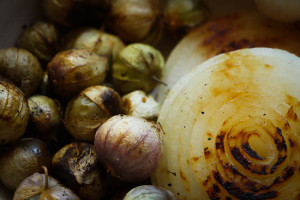 • 1/4 pound Rancho Gordo White Posole (prepared hominy)
• 1 1/2 onions, white or red, peeled and halved
• Salt
• 4 garlic cloves, peeled
• 15 to 20 tomatillos, paper skins removed
• 2 poblano chiles
• 1 serrano chile
• 2 tablespoons extra virgin olive oil
• 1 cup coarsely chopped cilantro
• 2 teaspoons Rancho Gordo Mexican Oregano
• 1 1/2 quarts vegetable or chicken broth
• Freshly ground black pepper
1. Soak posole overnight in water to cover generously. Drain.
2. Place it in a saucepan with fresh water to cover generously.
3. Add 1/2 onion, bring to a simmer, cover partially and cook at a gentle simmer until the corn kernels are tender, 2 to 3 hours; many will split open. Season with salt and cool in the liquid.
4. On a hot, dry griddle or skillet, roast the remaining halved onions, garlic, tomatillos and chiles, turning occasionally, until they are charred and slightly softened, 15 to 20 minutes. Work in batches if necessary.
5. Put the roasted poblano chiles in a paper bag to steam until cool.
6. Transfer the other vegetables to a bowl and let cool, collecting their juices.
7. Skin the poblanos, discarding seeds and stems. Discard the serrano chile stem but don't skin or seed.
8. Put all the roasted vegetables in a blender, in batches if necessary, and puree until smooth.
9. Heat the oil in a large stockpot over moderate heat.
10. Add the vegetable puree and adjust heat to maintain a simmer. Cook, stirring occasionally, for 10 minutes to blend the flavors.
11. In the blender, puree the cilantro, oregano and 1 cup of the broth. Add to the vegetable mixture along with 4 cups additional broth.
12. Drain the posole and add it to the pot. Season with salt and pepper and return to a simmer. Thin with additional broth if necessary. Serve in warm bowls.
The End. Go Eat.